I know the topic is jaded, but this post has long beenwritten, just no hands did not reach to put his case on the network. Although perhaps someone does not know anything about this very massage, what it really is. I remember myself before the trip to Thailand thought that this was not connected with massage, but with very different things, well, you understand what I mean. For some reason, here in Russia, this expression is used to denote erotic massage. Nobody knows where it went? Maybe the very first tourists who visited Pattaya introduced this term?
The content of the article
Thai traditional massage
When we arrived at Chiang mai, everyone asked me if I tried Thai massage in Thailand, and it so happened that only two months later we got to the massage salon. Here we are lazy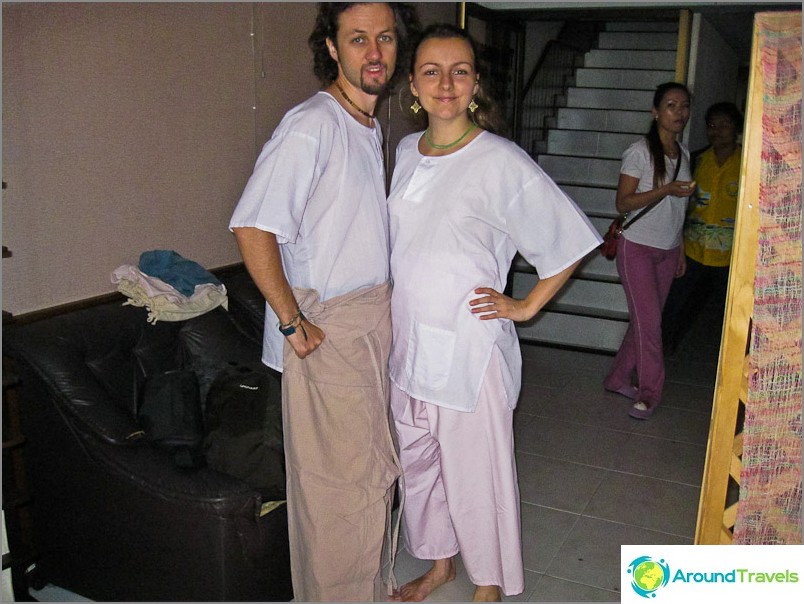 Thai body massage (Body massage) turned out to be veryinnocent, no erotic and porn, although if you enter in the search engine "body massage in Thailand", it will be about that. As I understand it, this is mainly found in Pattaya, and even then not everywhere, so the signs of body massage are not necessary. So, we were not only dressed in spacious clothes so as not to touch the body, but we were given the appropriate sex by a masseur. Moreover, women can do a massage and more. Daria was doing just that, at least in appearance it was exactly a ladyboy.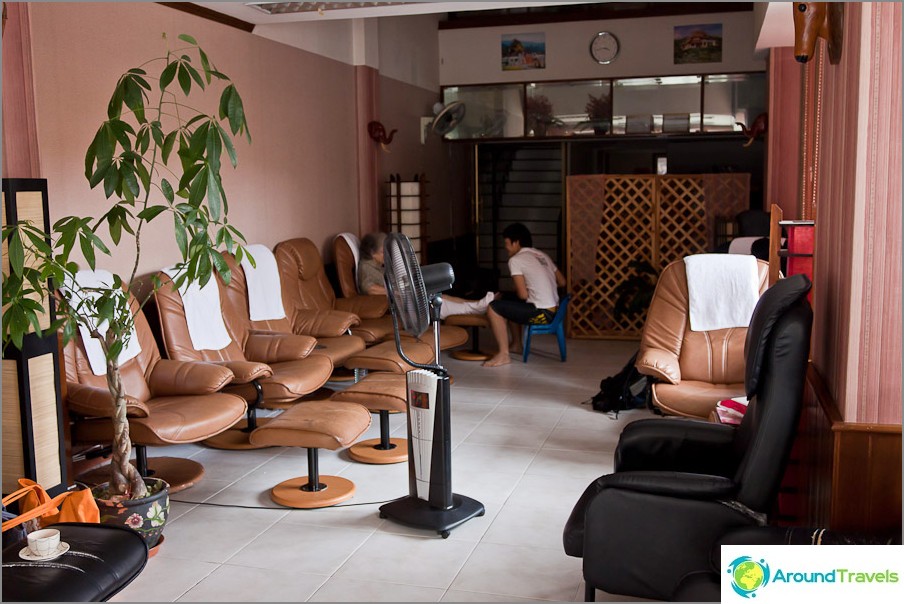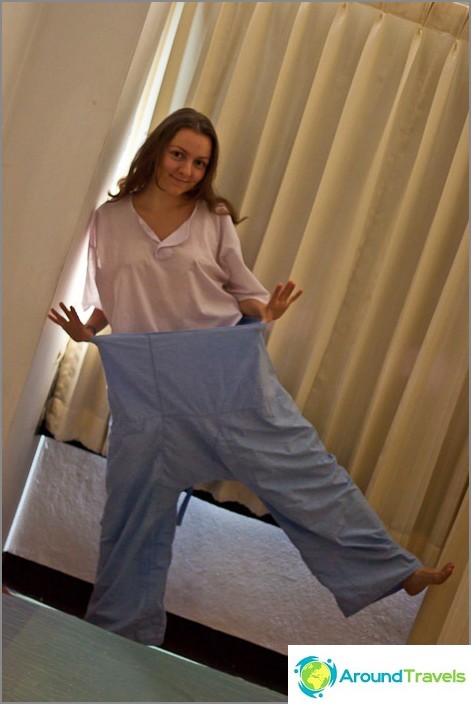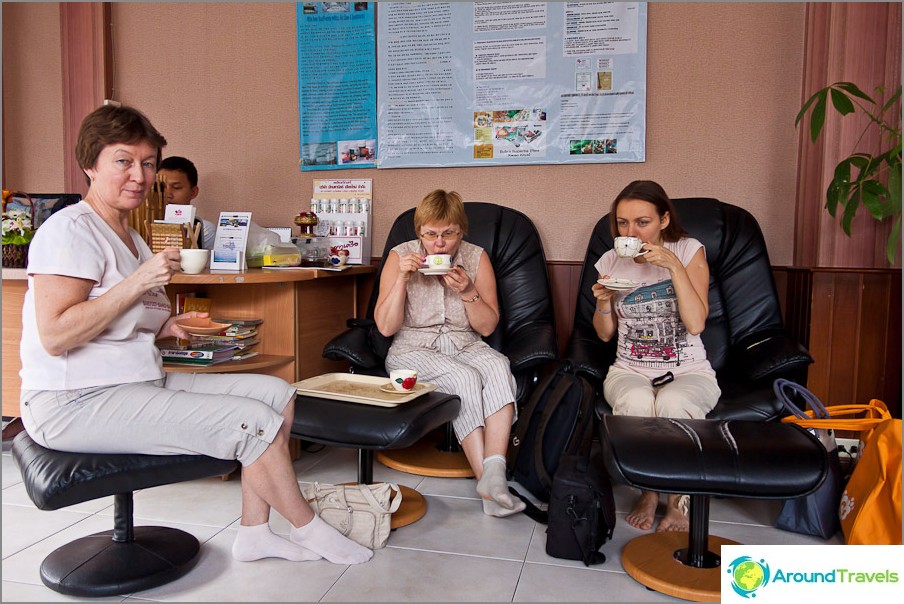 Foot massage is done withoutaccessories to the floor and with the use of available tools (some sticks). Very nice thing, and convenient because you do not need to change and at the time of massage to do their own thing, for example, to write an article on a laptop.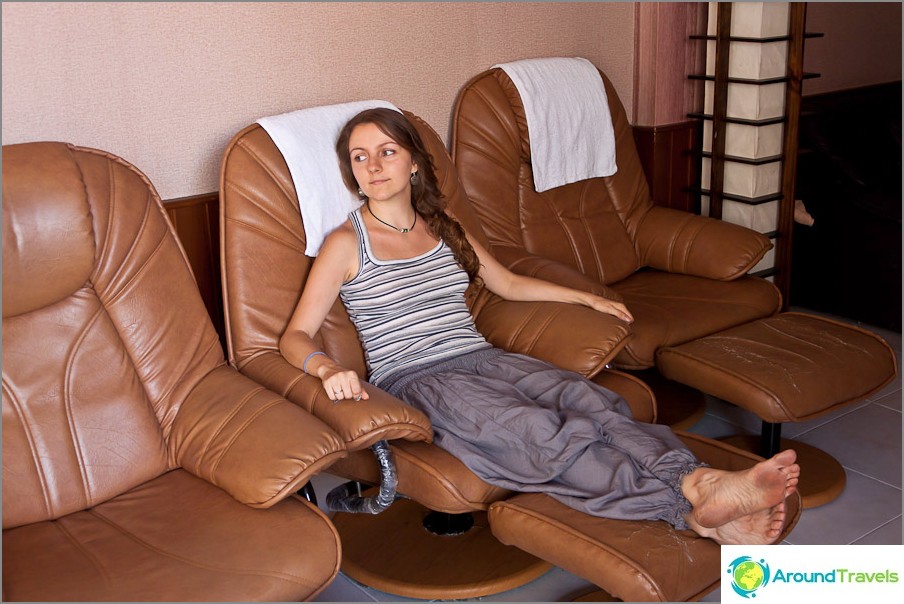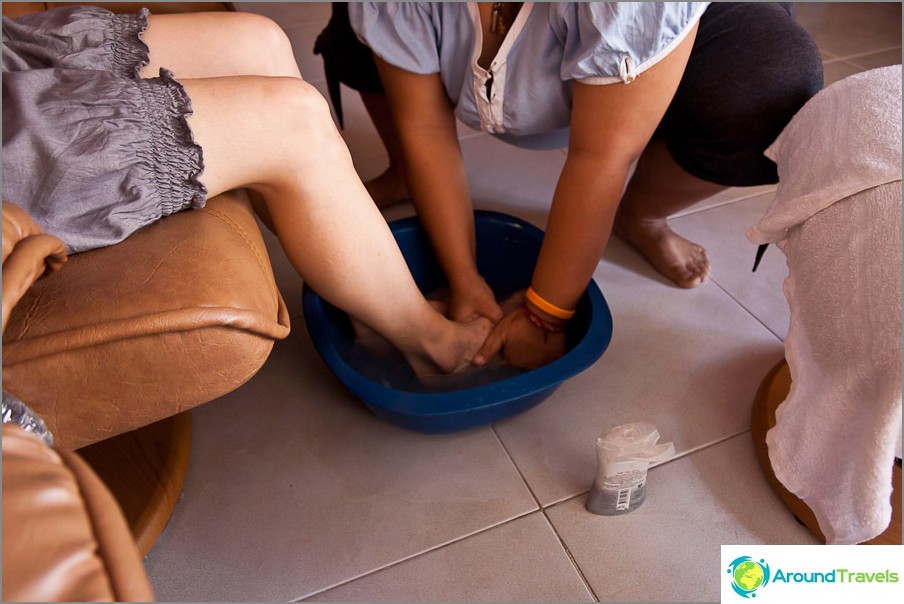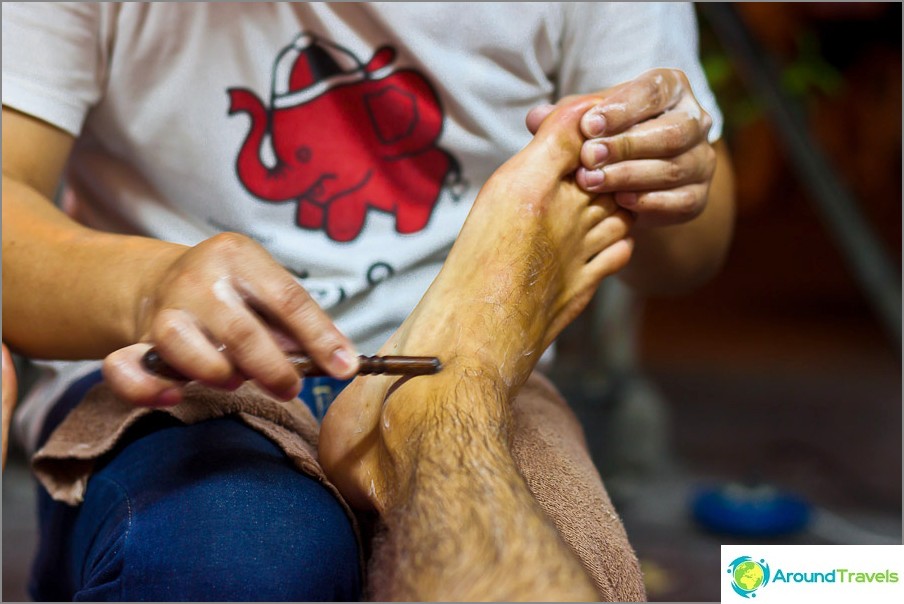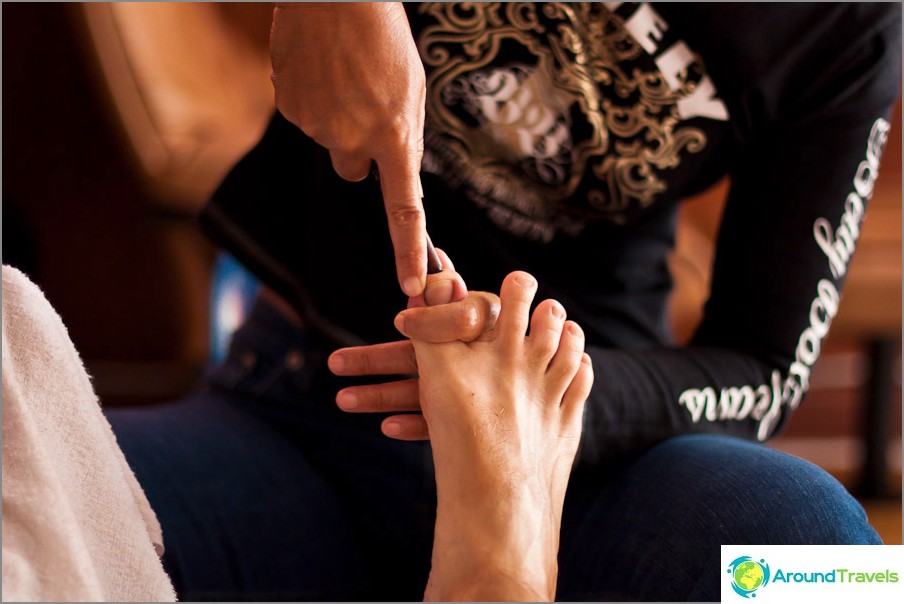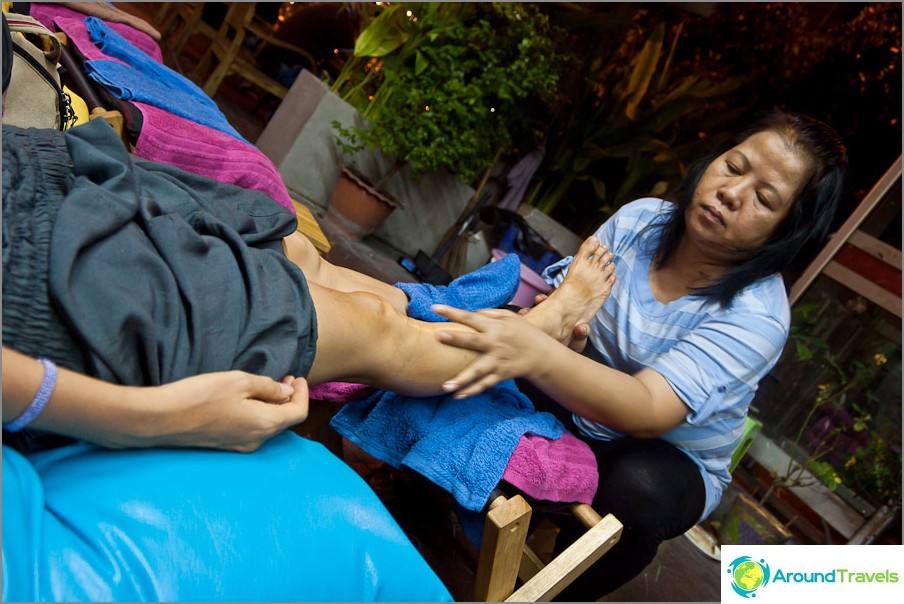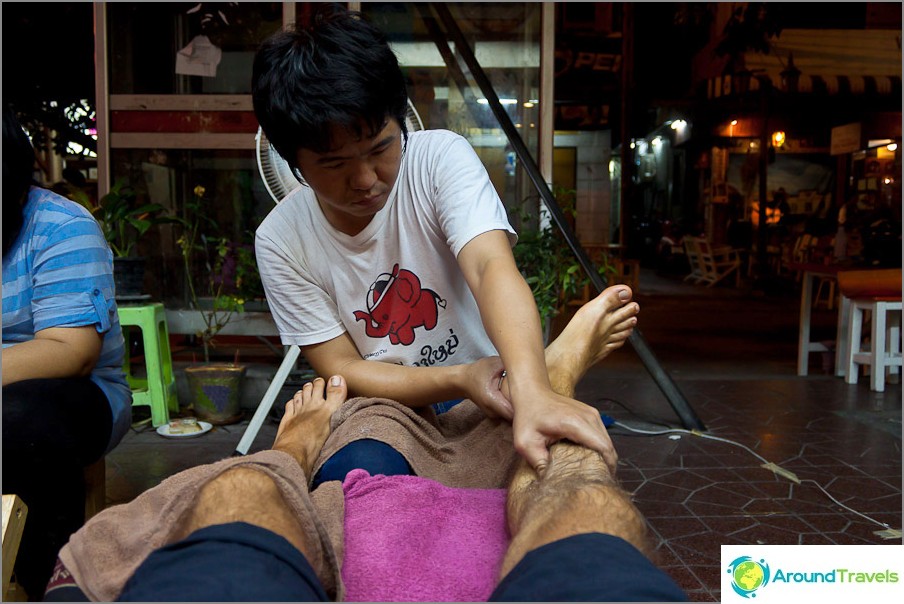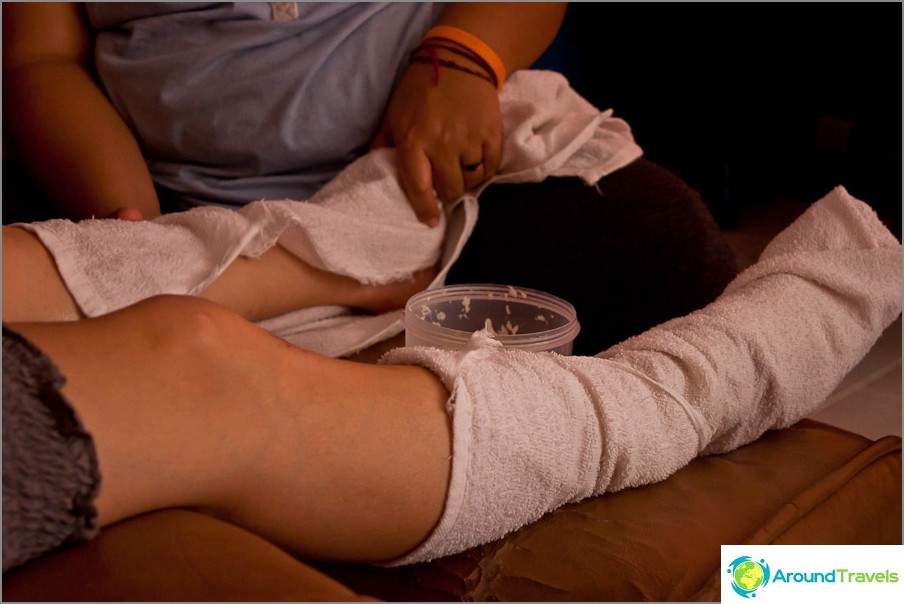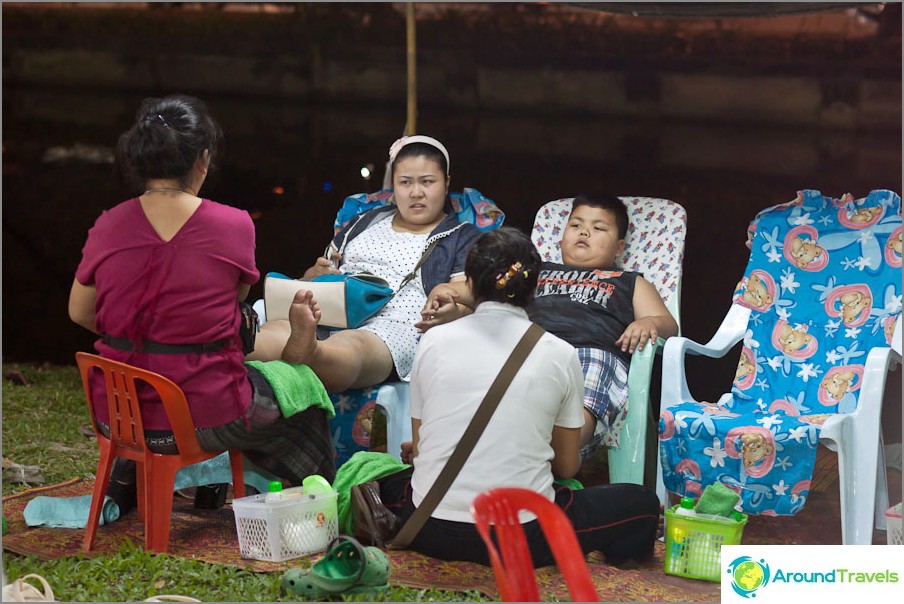 By itself, the traditional Thai massage pointand strong enough, not very relaxing, so someone can really hurt. Although you can ask weaker to do. I observed such a picture in Bangkok: a guy-farang howled from every touch of a massage therapist, I don't know what his body was doing wrong, because they visually did the same as me. True, I am a fan of strong pressure and I was only in a rush.
Somehow we chatted with a woman that didme foot massage We tried to find out if she felt any energy and state of a person at the touch. If we understand each other correctly, then there is no esoteric here, just the massage therapists do their work, click on the dots and look at the reaction by which they can determine what is wrong. And not all of this can, but only massage therapists with experience.
How much is Thai massage
In Chiang Mai 150 baht (150 rubles), and in Phuket 300Baht (300 rubles) - for one hour of a foot or body massage. Oil massage is slightly more expensive, 250 and 400, respectively. This is just a magical price for such a pleasant time. We have prices in Moscow several times higher ...
The most interesting thing is that in a decent salon with air conditioning and leather seats the cost was the same as on the streets in the open on a plastic high chair ... At least in Chiang Mai.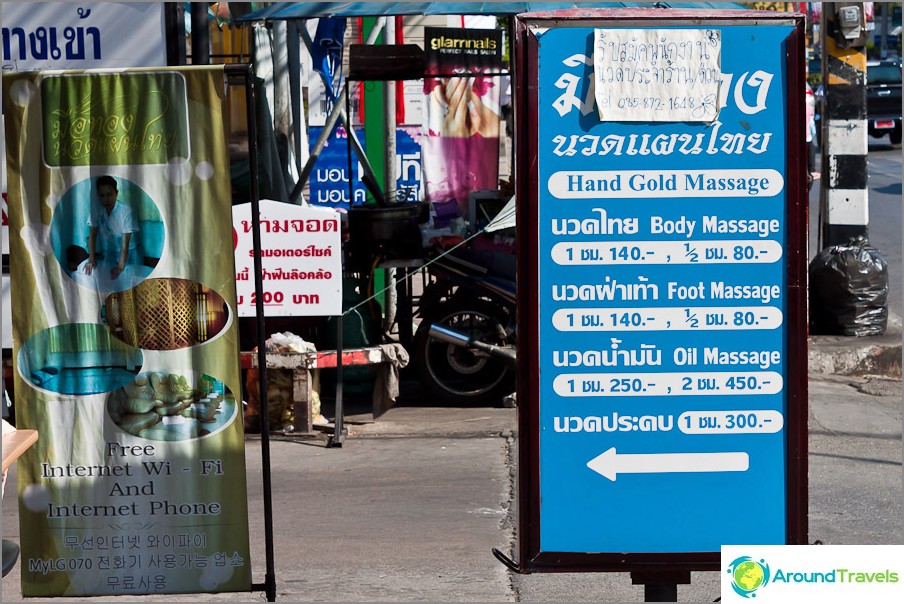 Thai massage video
Well, and those who are interested in how it looksTraditional Thai body massage can offer video. An hour of massage is compressed to two minutes. For the most part, they are engaged in the lower half of the body, so it is best, I think, to take about two hours to complete the whole time to do. Or as an option, ask to do back massage (back), then only the upper part will be treated.
Life hacking 1 - how to buy a good insurance

Choosing insurance is now unrealistically difficult, so to help all travelers, I compile a rating. To do this, I constantly monitor forums, study insurance contracts and use insurance by myself.

Life hacking 2 - how to find a hotel 20% cheaper

First, choose a hotel on Booking. They have a good offer base, but the prices are NOT the best! The same hotel can often be found 20% cheaper in other systems through the RoomGuru service.

Discount hotels