The further we go south, the better is the accommodation.we come across. However, in this case, the price has also increased dramatically, because the resort is also because there are not a lot of apartments in our village of Dzhemete (a settlement near Anapa), here it is mainly the private sector. But for this money we also received apartments of a completely different level: 3 bedrooms, a fireplace, a huge area, a large terrace, walking distance to the sandy beach. We were not going to Anapa initially, but the guys wrote to me, whom I met by chance a couple of years ago in Thailand, they say, come to Dzhemete, it's best to swim. And, indeed, a cleaner sea compared to Gelendzhik, a gentle entrance and a sandy bottom are much better suited for a small child who does not know how to walk. How did I not think of it myself? And then you can go to Gelendzhik / Sochi on our business.
In general, in Anapa, you can stay at the hotel, before the trip I was preparing for the trip and already laid out the post - A selection of hotels in Anapa. I chose the best in reviews and ratings, take a look.
The content of the article
Apartment in Dzhemete without intermediaries
Price and reservation
Through Airbnb, you can rent housing from private individuals andwithout intermediaries, both for a day and for a week, a month. If you sign up for the service, you can get a $ 20 bonus via this link. The bonus can be used within a year after registration by making the first reservation. And be sure to look at my post. about the Airbnb servicein which I told how to register, how to confirm an account, how to search for housing and so on.
The cost of an apartment is 6000 rubles per day. Here is a link to the description and booking via Airbnb. The price includes daily cleaning.
Interior
This apartment is located in a three-story privatehouse. On the first owners live, the other two are dealt. We live on the second. And on the roof you can go look at the stars. They promise to make another gym and sauna, but apparently as early as next year.
The apartment has 3 bedrooms. In two of them there are double beds, in one there are two single beds. The living room is a rather large sofa that unfolds. The area is simply huge and it begs for the stay of the crowd. It is also convenient that there are 2 bathrooms (one of which has a bath), no need to stand in line. In each bedroom and in the living room are installed fan coil units powered by a heat pump. Cool technology! But, in order not to load you, we will assume that these are just air conditioners working on cooling in the summer and on heating in the winter. The kitchen is well equipped, there is a fridge, an induction stove, an oven, a slow-cooker, a large dining table and a bar where I sit working (highly, Egor cannot get me). There is no special view from the terrace, but it is possible to have a big company there.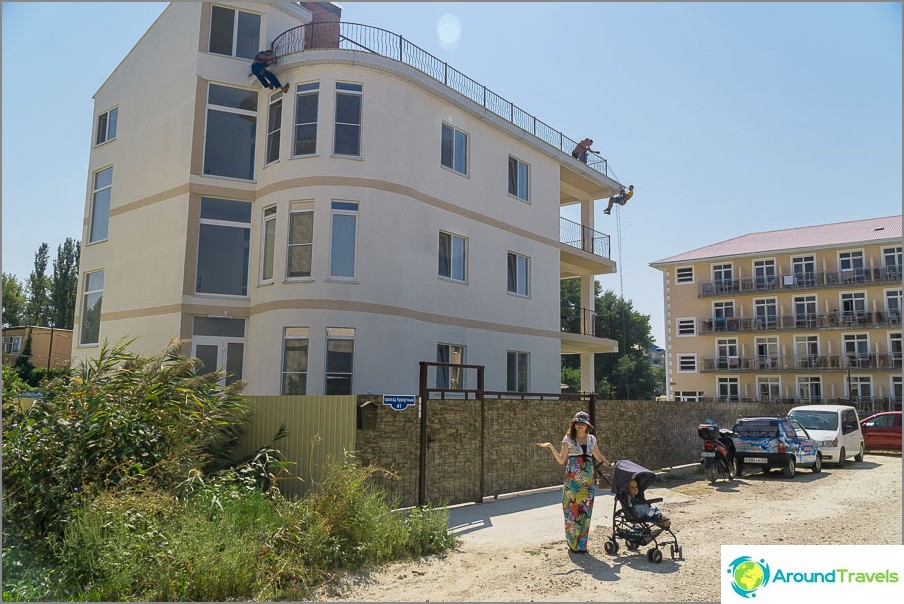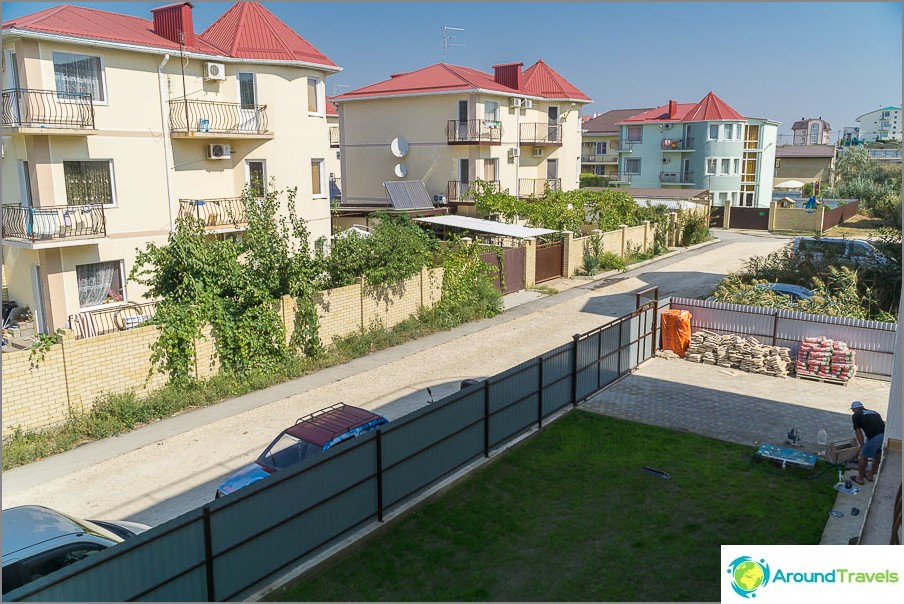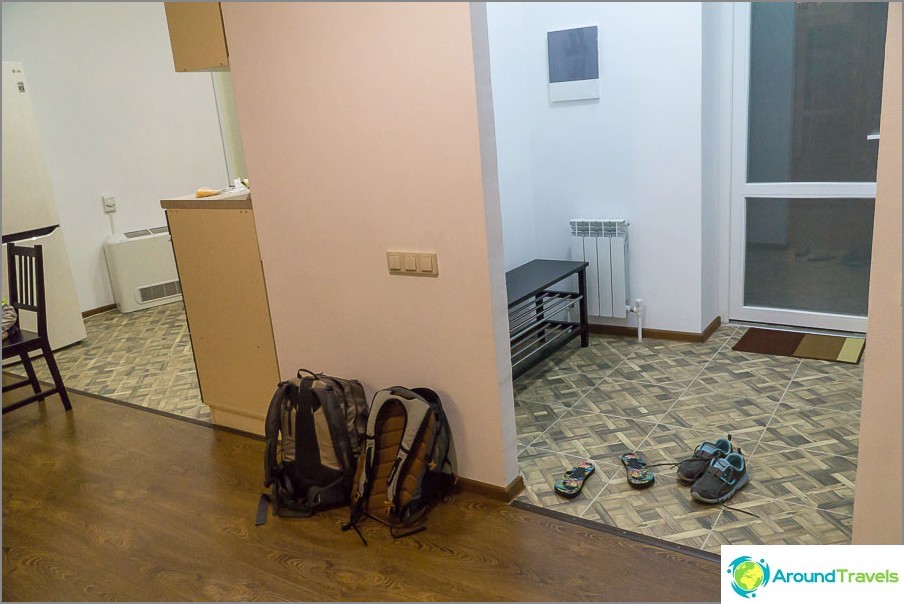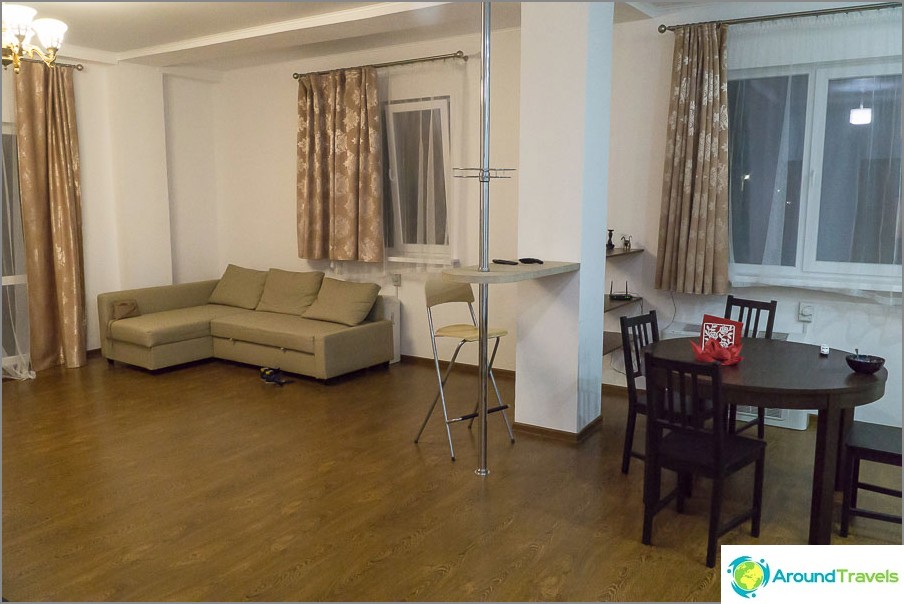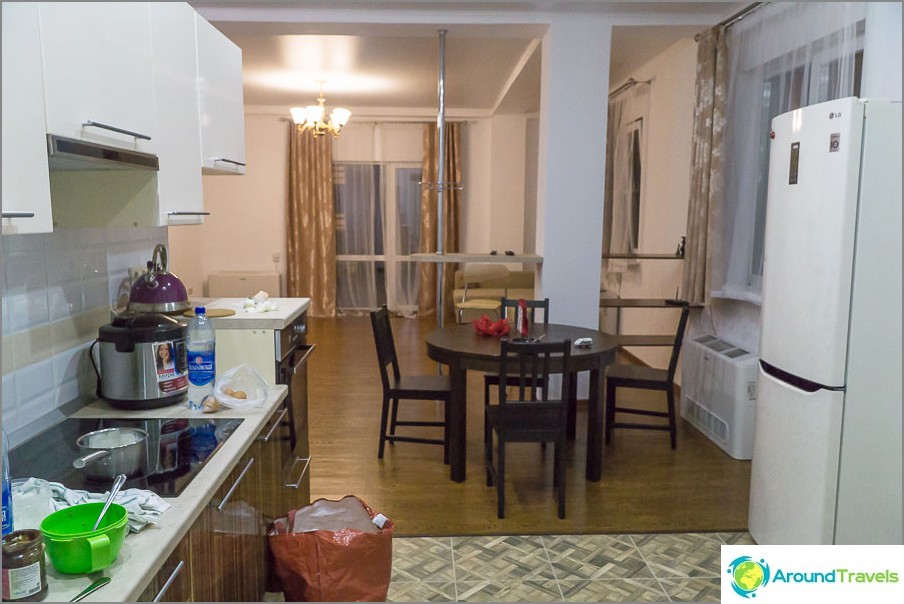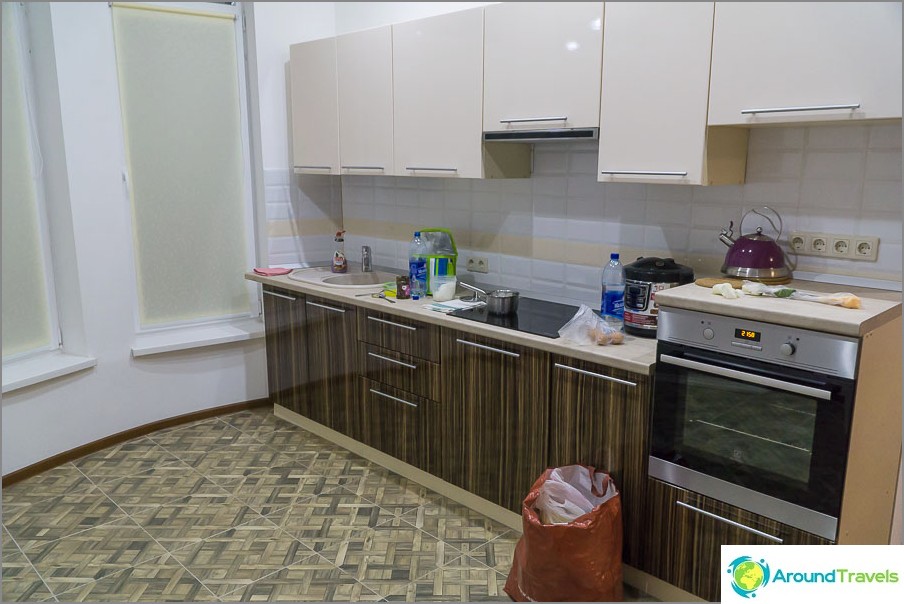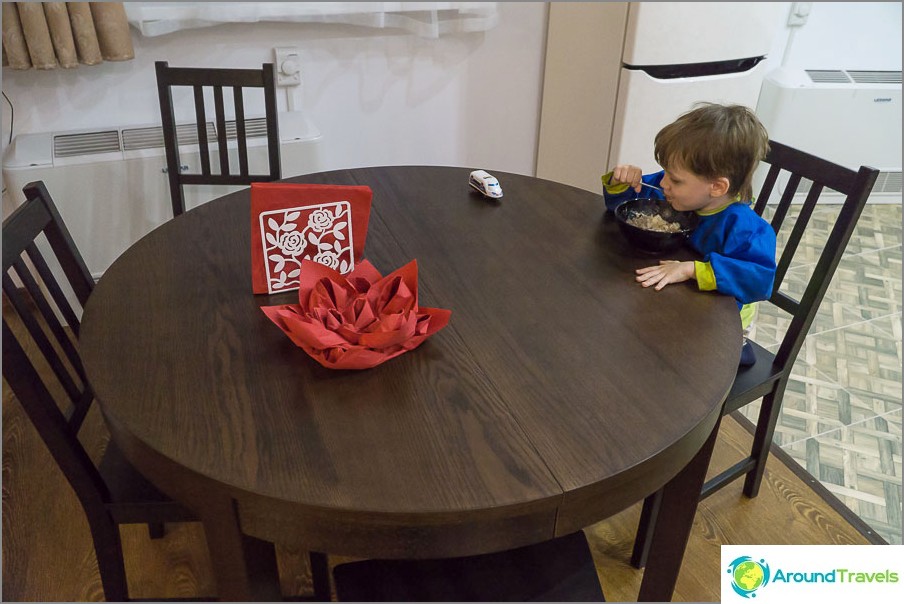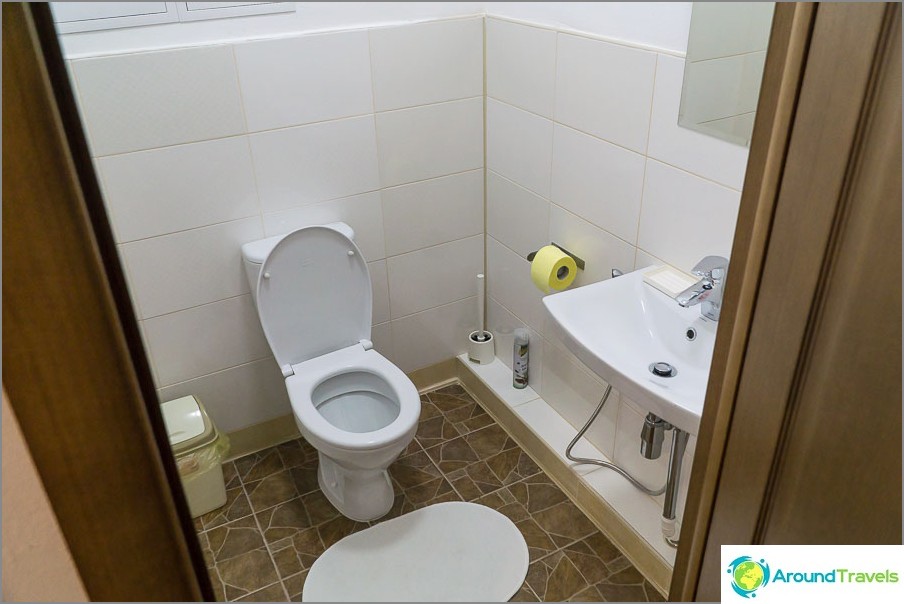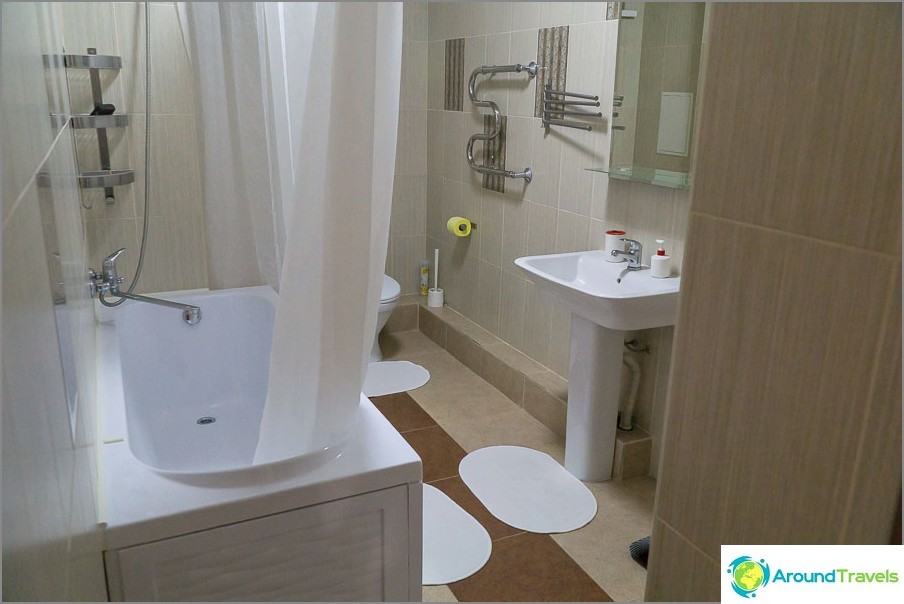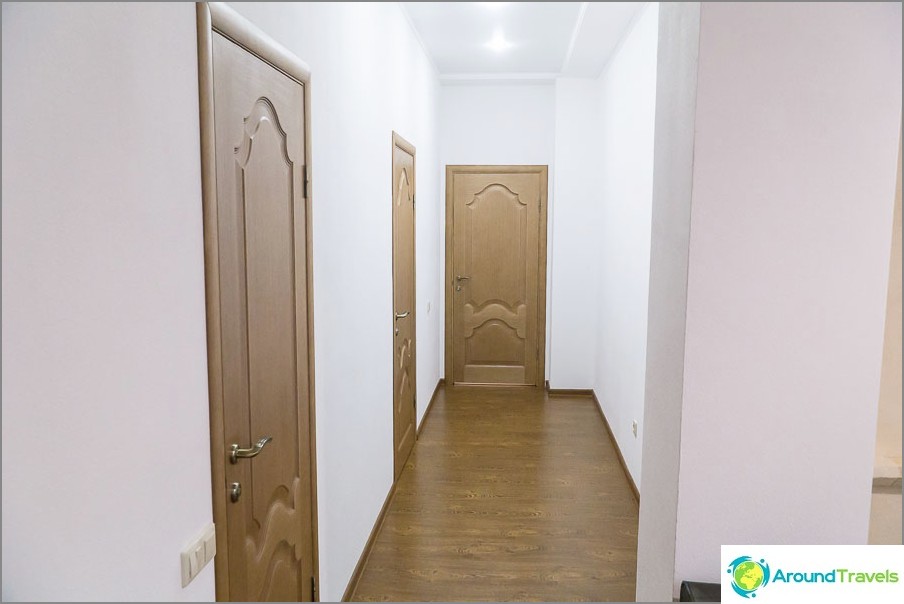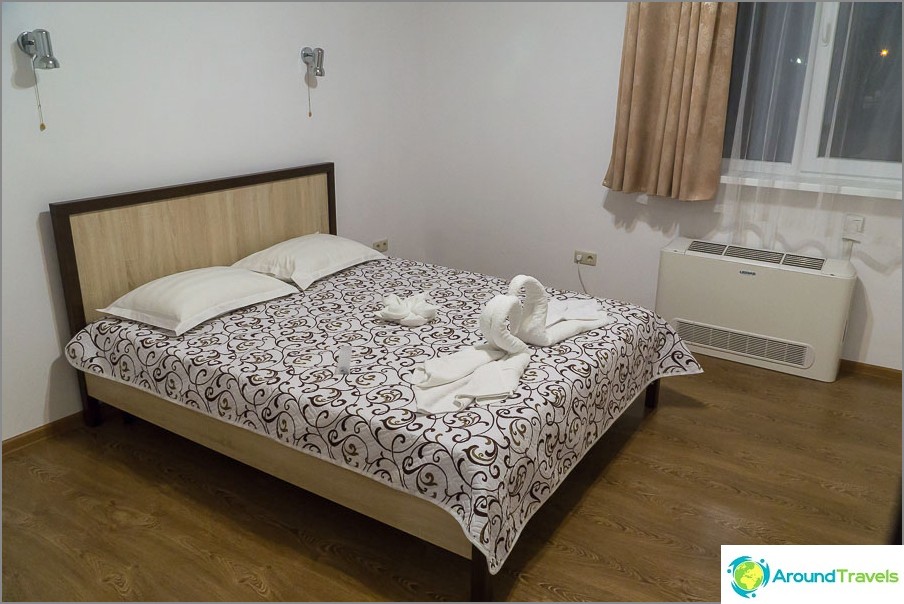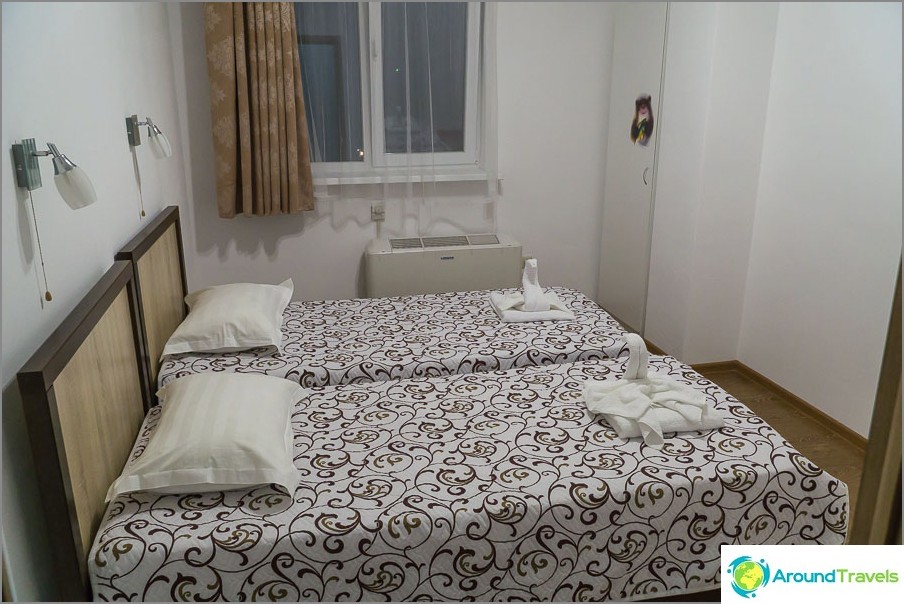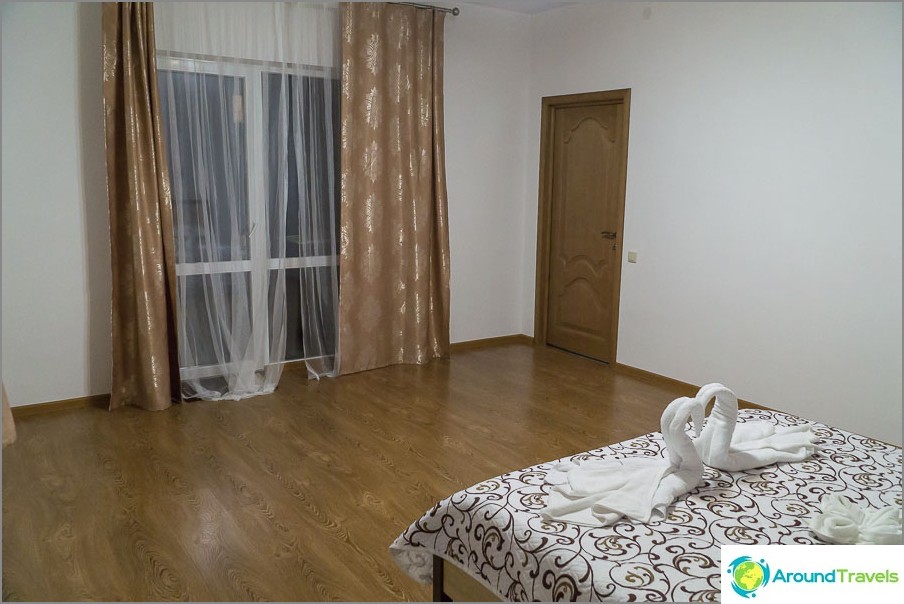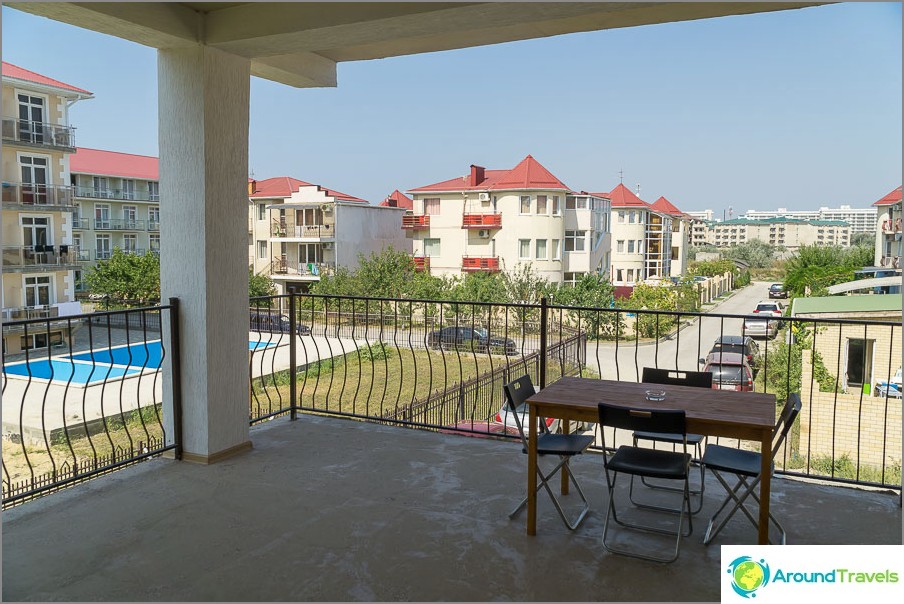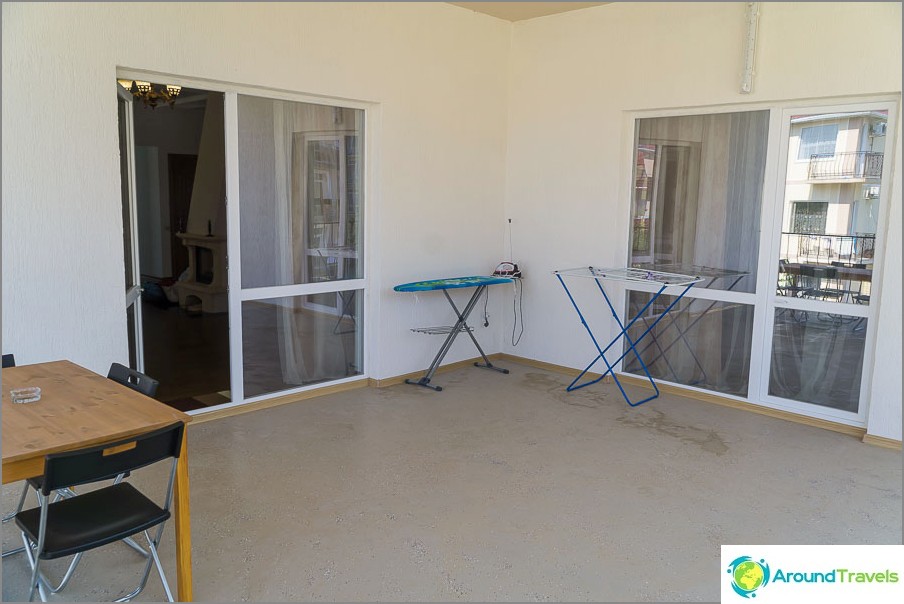 From entertainment - TV on the wall. Only I would have moved the sofa, but the diagonal is too small for such a distance. By the way, you can watch not only TV, but also a fireplace. True, in hot weather, it is not at all desirable.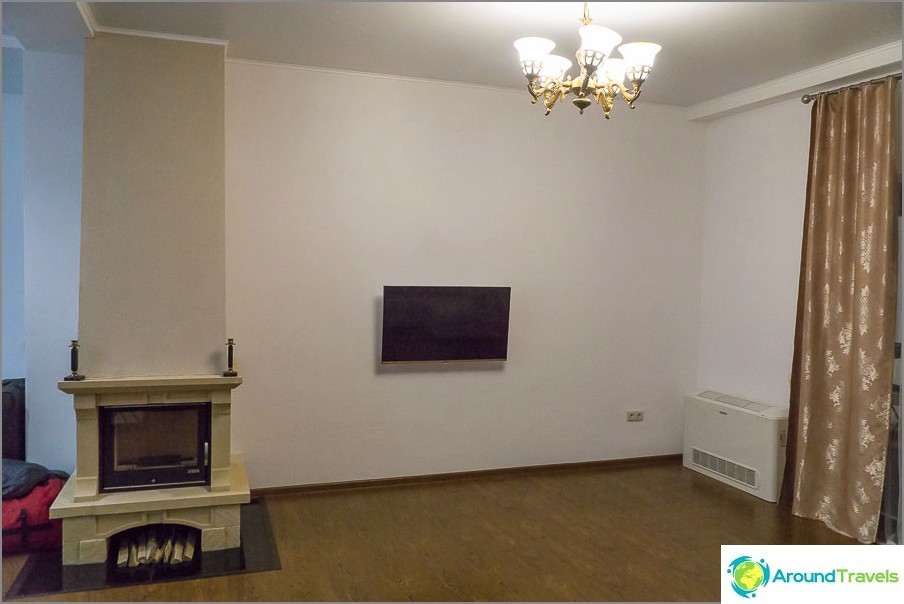 Internet here is 3G from MTS, distributed over WiFi(the router is in the living room). The speed jumps a little, but in general it works well. But my Megaphone in the smartphone catches very badly, and if the connection is normal, then the Internet is only EDGE, for 3G or H + you have to go closer to the sea or even go to Anapa.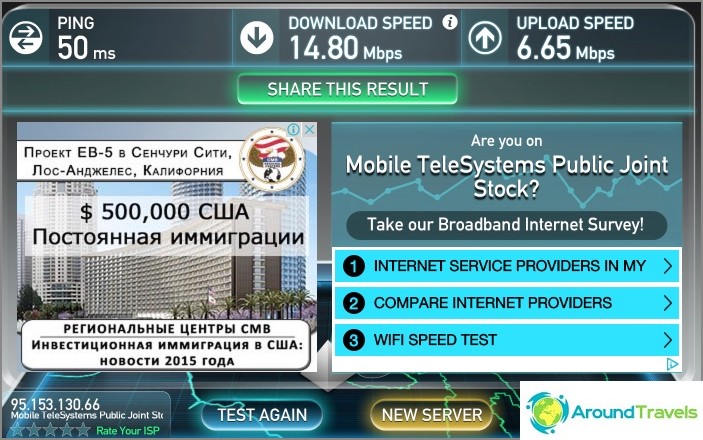 The only cant I see in this house isthe absence of your washing machine. I do not know why they did it, because most likely families with children stay who usually need to wash things 1-2 times a day. There is a washing machine (standing in the basement), but it is paid, something like 200-300 rubles, although ironing / drying is not included in this service, only the wash itself. And in fact, I see no reason why it would be more convenient to put my washing machine than to look for a maid every time.
For a company or a large family
First of all, I will answer the question why we removedsuch housing, as I was asked about this by a couple of people in social networks. The fact is that if the main task is to go to the sea, then it is better to live in Dzhemete or Vityazevo, and within walking distance to the beach. Since we need housing only with a kitchen, we have only stayed in apartments for the last years. And there are very few apartments in these villages, there are almost no high-rise buildings. Therefore, in the best case, you can find such apartments with a kitchen in a private hotel (or perhaps the best term apartment-hotel). Well, and as I have repeatedly written, I need to spend Airbnb bonuses that are about to burn, but you cannot withdraw them.
However, these apartments are greatfor a large family or company, when you need 3 bedrooms and plenty of space for gatherings. By the way, the apartment accommodates as many as 8 people, because you can still sleep on the sofa in the living room. In general, the whole crowd can sleep on the floor in a camp-walk on their foam but, according to the terms of the announcement, the owner is ready to see only 8 people. Thus, if you divide 6,000 rubles by 8 or 6, you will receive only 750/1000 rubles per person, which is quite a normal price for such conditions. I really hope that someday, we will come to such a house as a company, otherwise it is empty.
On the map
Accommodation is located quite well. The sea is within walking distance, to go somewhere 10 minutes, just next there are 2 passes to the sea, either in one or in the second you need to dive. We walk through the one to the right in the direction of travel from the house. On Pioneer Avenue in this area there are a couple of grocery stores, canteens, and fruit trays. The prices for them, however, are Moscow, but you can drive a car, or go to the Vostochny market in Anapa, or to the village of Tsibanobalka, it's close by. Also 10 minutes walk to Magnit, he is the only one here in Dzhemete.
Apartment in Dzhemete
Apartment in Dzhemete
Very nice apartment in Dzhemete for largeFamily or company: 3 bedrooms, living room, terrace, fireplace, fully equipped kitchen. The location is also good: 10-minute walking distance to the sea and Magnit, next to two canteens and fruit trays.
More about apartments
Very nice apartment in Dzhemete for largeFamily or company: 3 bedrooms, living room, terrace, fireplace, fully equipped kitchen. The location is also good: 10-minute walking distance to the sea and Magnit, next to two canteens and fruit trays. More about the apartments