Cha Am - a small, little popular with ourstourist town 25 km from Hua Hin. Its main advantage is a long relief beach with a fairly developed infrastructure in several places. Right next to the sea and the beach is a brisk highway. A protective layer separates the coast from the road - a series of luxurious casuarinas. Due to this, Cha Ama beach is somewhat reminiscent of the coastal area of ​​Pattaya and Bang saena. Swimming here is problematic, but to relax, take a walk, have fun - completely.
The content of the article
Beach description
City Beach Cha Am (Sity beach Cha Am) looks like Hua Hin City Beach, in details it is different from it. This is a long (tens of kilometers, as long as an eye is enough) a rather wide (20-30 m) strip of coarse yellow sand with stones and shells. The shells are broken, the pebbles come across sharp, so you don't walk barefoot.
Cha Ama Beach is not as monotonous as in the neighboring (25 km) Hua Hin and more picturesque.
First, it stretches along the glorious, bustling highway in the city of Ruamjit Alley, which is densely strewn with shops with services, shops and cafes.
Secondly, trimmed with a strip of evergreenssprawling casuarinas. (Fans of palm trees will be surprised: there are almost none on the beach.) Actually, under the casuarinas, there is a small town for holidaymakers: umbrellas, sun beds, tables. In the shade there is enough free space where you can (for free) sit down, but do not lie down: untidy.
Thirdly, the beach in the small Cha Ame - centralplace of entertainment. Therefore, you can find all imaginable fun for rent: inflatable boats, bananas, boats, kites and even air sofas that plow the bay, clinging to small boats. You can ride a pleasure horse or launch a bright "remote"-controlled airplane down the wind - on a rope.
The most inexpensive and, perhaps, exotic service is the rental of car chambers. They are piled on sand hills and serve as inflatable circles - mostly for children.
Evenings and weekends are crowded on the beach. Thais are much more than pale faces. They come in pairs, companies, families, most often with babies. Due to this, the water edge resembles a kindergarten for a walk. But there is enough space for everyone: the beach is spacious. On weekdays, it looks deserted.
Sunset, depth and waves
Judging by the relief of the beach, the ebb and flowhere are sharp, violent. The sea has long been washing away the shore. The track, grove and beach infrastructure are at a certain elevation, and for loyalty they are still fortified - where there is a pile of stones, where there are sandbags.
The water is quite clear and calm and turbid, as in Hua Hin, when the wind and the waves.
The bottom is sandy, sloping, almost without a slope, so that 30-40 meters ahead - water to the adult ankle-deep. It is pleasant to wander, or to bathe the little ones, or to launch airplanes.
At low tide the sea is carried away without looking back, and the beach looks like this: a huge wasteland with shallow (hot) lakes, where you can lie and dream.
You can probably swim on Cha Ama beach, only sailing a hundred meters from the coast by boat or boat. In general, it is "fermenting", not "bathing".
Sun beds and shade
Before stripping Thai beaches in the summer of 2014 herethere was everything that is necessary: ​​sun beds (40 baht / one), umbrellas and plastic tables. Now, it is likely that only the shadow of spreading trees remained, which is also, in general, not bad.
With food - no problem, portable andstationary. You can intercept the kebab, sliced ​​fruit, grilled squid from food peddlers. You can eat more densely in a cafe (Thai dishes), including on the highway nearby. At the main entrance to the city beach, where a number of scoops, the range is especially colorful.
Beach photo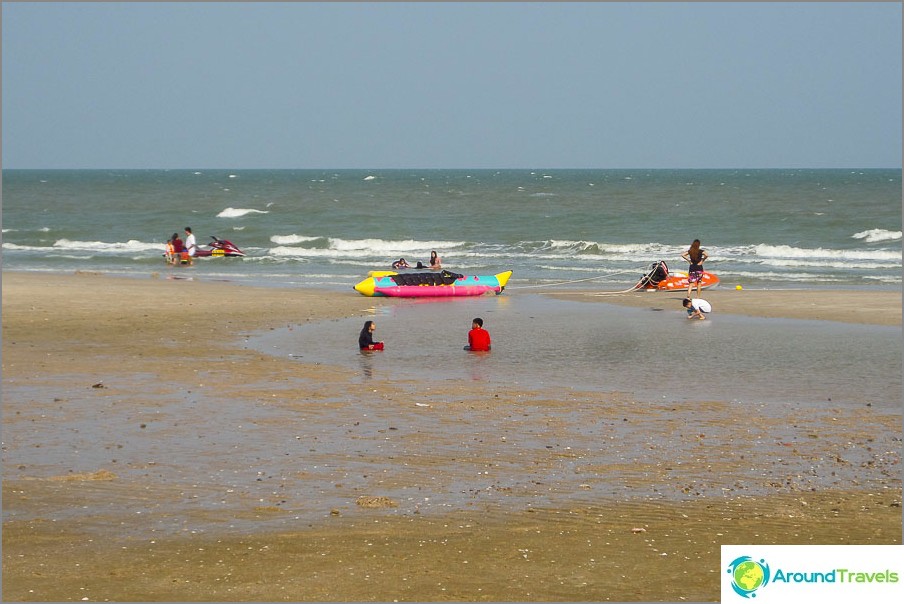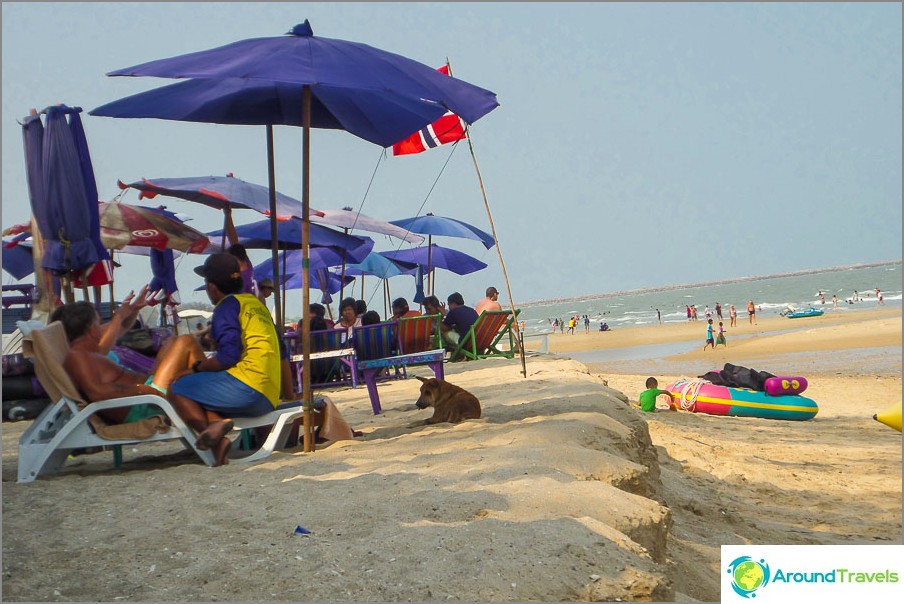 Shops and attractions on the beach
On Ruamjit Alley, which stretches alongcoast, there are not only shops and cafes, but also bike rentals. The central access to the beach is equipped with a market for ready-made food and tents with beach souvenir trifles. Party places, like on the beaches of Koh Samui or Phangan, on the coast of Cha Ama can not be found.
Razolbasa, as on the coastal boulevard of Pattaya, -especially. The town itself is quite deaf, provincial, few tourists compared to Hua Hin. Lovers of spicy-peppered life and the beach and the city seem boring; for people who are tired, families with children, introverts - a pleasant safe haven.
There are no large supermarkets, but you can buy them in the central market, which operates from 6 to 10 in the morning.
Houses and hotels on the beach
The coastal zone Cha Ama on the other side of the highwayRuamjit Alley is tightly built up. Dozens of hotels, from simple (400 baht / night) to luxury (4 or even 5 stars). Townhouses and houses for rent - also abound.
Hua Hin hotels>
Be sure (and I insist) check availabilitydiscounts or special offers on the excellent Roomguru service. It will quickly and simply show you discounts in all existing reservation systems. In Asia, for example, there are lots of offers on Agoda.com that are much more interesting than on exactly the same hotels on Booking.com.
How to get to the beach
In Cha Ame you need to get to Ruamjit Beach Alley. On Alley, dozens of alleys lead out. From it the coastal area is perfectly visible. Life on the beach is in full swing in two or three places. And between them - a desert strip of sand in a frame of dense green.
Cha Am Beach on the map
Cha Am Beach Map
Cha Am beach map:


Life hacking 1 - how to buy a good insurance

Choosing insurance is now unrealistically difficult, so to help all travelers, I compile a rating. To do this, I constantly monitor forums, study insurance contracts and use insurance by myself.

Life hacking 2 - how to find a hotel 20% cheaper

First, choose a hotel on Booking. They have a good offer base, but the prices are NOT the best! The same hotel can often be found 20% cheaper in other systems through the RoomGuru service.

Discount hotels