Nui Beach on Phi Phi is pretty pretty andclean beach, where it is cool to swim even at low tide, only it is difficult to get there: walk through the cliffs or sail on a boat. There are brave comrades who are ready to row here on a rental kayak from Phi Phi Town itself, but I did not dare to do that.
When I was at Nui Beach itself, when I was brought toa few boats a group of people snooping. Given the number of stones in the water and all sorts of corals, this is also rather a good place for snorke than for a beach holiday. Walking here is not a good idea, a couple of times for a vacation is better to get by taxi-boat.
The content of the article
Beach description
Sealing beach and wild recreation. Like all miniature beautiful things, Nui Beach on Phi Phi Don is a special pleasure to visit. Piglet of light yellow sand, 60 meters long and 30 meters wide, enclosed in a semi-circular bay with high cliffs and dense jungle vegetation is downright cinematically delightful place, which in real life should not exist.
But there was a spoonful of tar - tourists. Nui Beach is a rather famous place on Phi Phi Don, so boatmen land troops during a daylight hours, leaving only morning and evening lovers of silence and authenticity.
Sunset, depth and waves
The beach is very small, flat, despitethe tall rocks under which Nui Beach is located. Somewhere up to a hundred meters under water, a relatively clean surface is kept, without stones and corals, and then the coral reef begins, with all the consequences.
The depth at high tide probably reachesthe belt is ten meters from the shore, and at low tide the water goes 130-150 meters. This can not affect the attractiveness of Nui Beach, so at low tide here is not a heavenly place.
Waves are extremely rare, due to the geographical location of the bay, although in the off-season there is not at all interesting to swim.
Sun beds and shade
This is a wild beach, on which there is nothing butsand, stones and trees. Nui Beach faces west, so until about noon along the green and at the edges of the beach there is still a shadow, but then the sun rises into zenith and you can't get away from it.
People come with their rugs and towels, or simply located on the sand by savages. Rental lounges is not provided.
Beach photo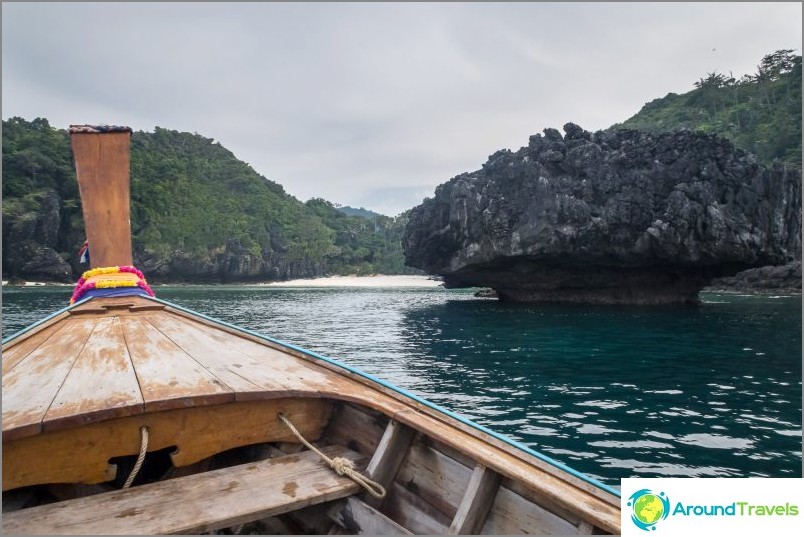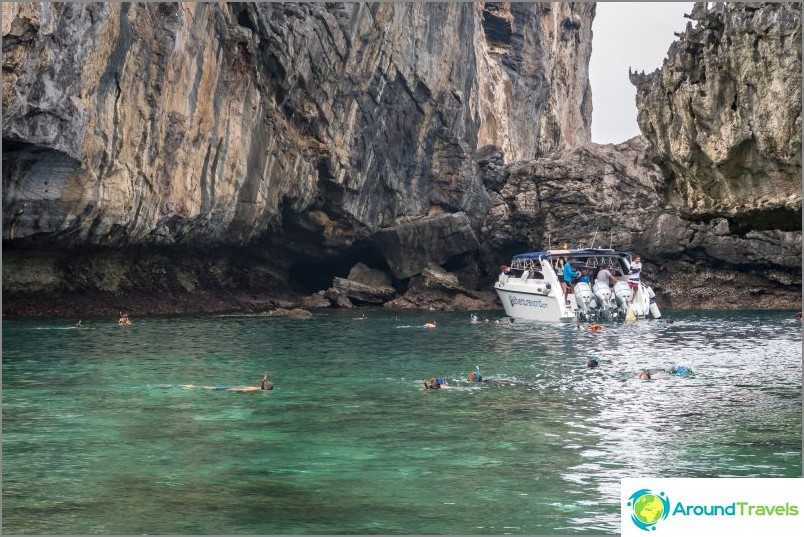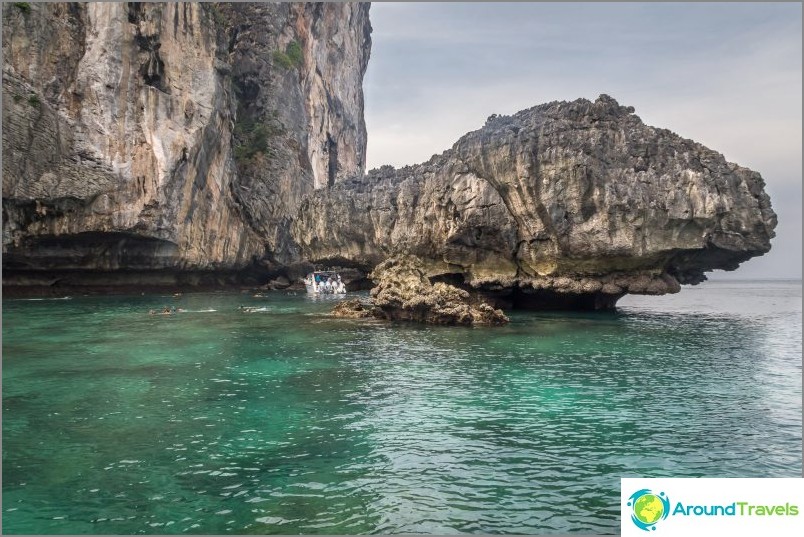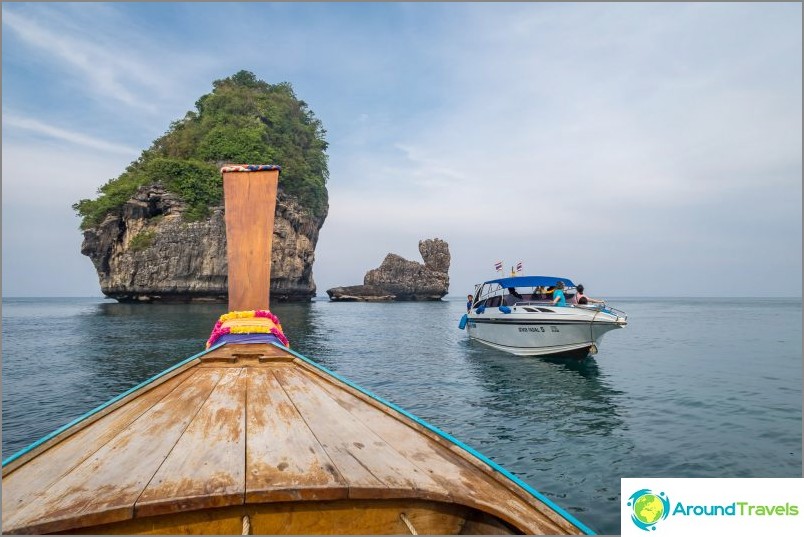 Infrastructure
What could be the infrastructure of the beach 60x30meters? Boat traffic, and an impromptu toilet in the jungle behind the beach. That's the whole infrastructure. Of the sights - a fairly large cave on the right end of Nui Beach, and a rich coral reef (by local standards).
People come here with flippers and snorkeling masks.- under the water you can see and take a lot of interesting things. It should be noted that in my opinion, and the opinion of many users of Runet, Phi Phi Islands are included in Top 10 best spots for snorkeling in Thailand.
Houses and hotels on the beach
There is no housing on the beach. The nearest buildings, from where you can get to Nui Beach by land, are located on the beaches Lo lana (about 250 meters as the crow flies) and Lo Ba Bao (almost a kilometer in a straight line). We must be frank: I'm not sure about the pedestrian availability of these two beaches from Nui Beach.
I myself personally did not move there by land, butscarce information in RuNet speaks more about the theoretical possibility of walking through the jungle than about the presence of a beaten track. I did not find any photos or trekking reports on Nui Beach online, so I'm waiting for your feedback in the comments if you have such experience.
Under the link below, you will be transferred to the general list.hotels on Phi Phi Don, but you click on the icon with the map and there already decide on accommodation options on Nui Beach. The island is so small that Roomguru does not even try to share hotels along the beaches.
Hotels in Phi Phi>
Be sure to check for discounts orspecial offers on excellent Roomguru service. It will quickly and simply show you discounts in all existing reservation systems. In the same Asia, for example, there are lots of offers on Agoda.com, which are much cheaper than in the same hotels in the Booking.com system.
How to find the beach
In view of the wildness of the island itself and the unconfirmedwalking route, the only option for you to get to Nui Beach is the sea. A boat with a guided tour, renting a taxi-boat or renting a kayak is not important. You will be brought to the bay, and for a couple of hours they will be allowed to take a walk along the beach. Ideally have with you
Beach map
Map of Lo Ba Bao, Lo Lana and Nui Beach beaches
Map of Lo Ba Bao, Lo Lana and Nui Beach beaches:


Life hacking 1 - how to buy a good insurance

Choosing insurance is now unrealistically difficult, so to help all travelers, I compile a rating. To do this, I constantly monitor forums, study insurance contracts and use insurance by myself.

Life hacking 2 - how to find a hotel 20% cheaper

First, choose a hotel on Booking. They have a good offer base, but the prices are NOT the best! The same hotel can often be found 20% cheaper in other systems through the RoomGuru service.

Discount hotels