Samui is the second largest island in the KingdomThailand, and its dimensions are 20 to 16 kilometers. For comparison, it is a little more than the city of Tver. Those who spent more than one month on Samui do not need to use a map, but for beginners it can be very useful, especially when preparing for a trip. Also I have similar cards for Phuket.
I personally like google maps, which II consider it one of the best online maps for Thailand: there are photos of places, almost all streets and paths are present, there is map search and navigation. In addition to them, it is convenient to still use paper cards in place or their scans on a computer. They clearly give an idea of ​​what the areas and beaches on the island are and where they are located. And also you can immediately figure out where the attractions are located. Yes, the detailing of such cards sometimes leaves much to be desired, but every time I take them on the spot, I put a bike or car in the glove compartment, and the first days with them are very, very convenient.
These cards are available at the airport, shops, onracks of hotels or car rental. If you fly directly to Samui, then do not rush to buy a card in the shop of Suvarnapumi airport. Excellent free maps of several kinds, on good paper, are located in the lounge area of ​​Bangkok Airways, the only carrier from Suvarnapumi on Koh Samui.
The content of the article
About Samui beaches in general
If we consider the island globally, thenThe north, north-east and east coasts are lively and interesting for swimming. The south of the island has an extremely shallow and rocky bottom. It is not safe to swim here in places, but the scenery and color of the sea leave the impression of a bounty-tale. The western part of the island is not popular with the mass tourist, but differs in beautiful sunsets and stretches of coast, on which there are completely wild, isolated from people beaches. In the west, there are two main piers of the island of Samui, which does not add to the purity of the local ecology.
The most popular beaches of Koh Samui are: Chaweng. Lamai and Maenam. Chaweng Beach is considered the unofficial capital.entertainment island. Lamai Beach is the light version of Chaweng, although the length of both beaches is almost the same. Behind the Maenam beach, the reputation of a calm and family-like place with a "district" life falling asleep after dusk has long been entrenched.
My favorite beach on Samui is Maenam. A lot of shade, deep sea, no noisy parties and entertainment, a decent selection of cafes and two whole markets. As well as a convenient geographical position between the airport and the piers. There is a great combination of tranquility and infrastructure, and there are few people on the beach because of the small number of hotels, and those who stay for the most part live here.
No less attractive for us was the second beach, where we rented the first house - Bang Po. Being "through the wall" from Maenam, this beachdiffers deserted and quiet. Bang Po, this is an even more secluded version of Maenam. The sea is there for an amateur (children are good, adults are not very good), but I personally am ready to forgive him for the almost complete absence of people on the shore. True, after a month it becomes necessary to have more services within walking distance, and I want to go to a more civilized place.
If you come to Samui and are looking for accommodation, you can personally see what we have compiled. catalog of houses on Samuiwhere more than 80 houses with a map and a photo. Housing for a short period while looking for a house, you can zabukat through RoomGuru, it's just a mega-service, you can immediately see in which booking system (Booking, Agoda, Hotels, etc.) the hotel you need is cheaper. And we have our detailed review. best hotels in samui.
Supermarkets (Big C, Tesco, Macro) and the Central Festival shopping center are located between Bo Phutom and Chaweng, as well as the average size of Tesco therestraight on Lamai, why Lamai for many is quite an attractive beach. Actually, if I chose where we live with the child, I would choose between Maenam and Lamai.
Samui beaches on the map
First of all, take note of the Google map, whereI have marked all the beaches on Koh Samui. Private beaches, closed beaches, secret beaches, public beaches on the island of Koh Samui - had to work hard to visit them all. But now I have something to share with you. Clicking on the icon with the name, you will open a short summary with a link to the full description of the beach. Characteristics I painted in great detail, accompanying the article with photographs and coordinates of landmarks.
Samui Beaches
Samui Beaches:
Below are 2 different paper maps of the island.Koh Samui, which I enjoyed being on Saumi and photographed for you. Only the most famous beaches are marked on them. Almost all the pictures are clickable and by clicking on the map you can download to your computer in good resolution (2-4 MB files).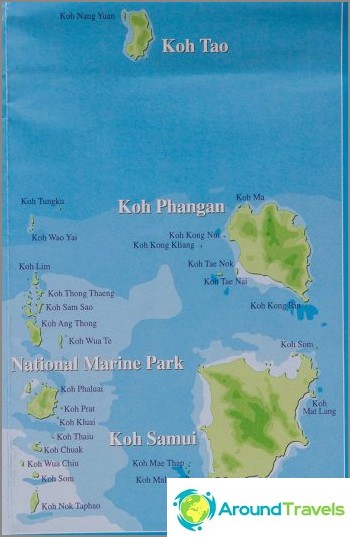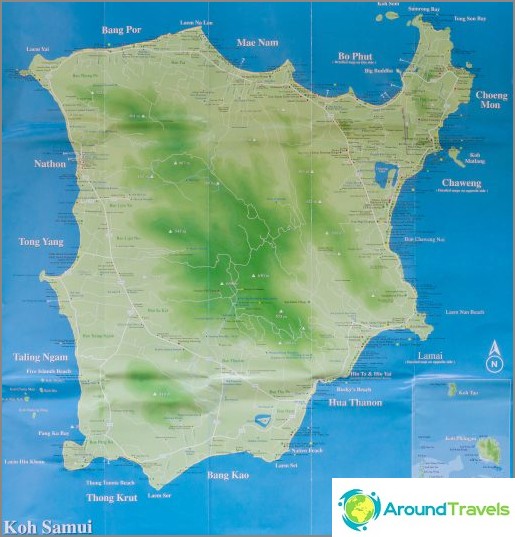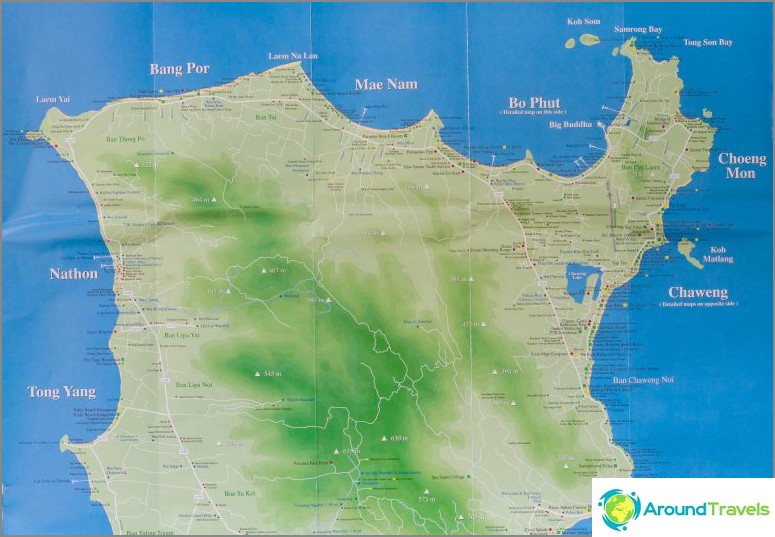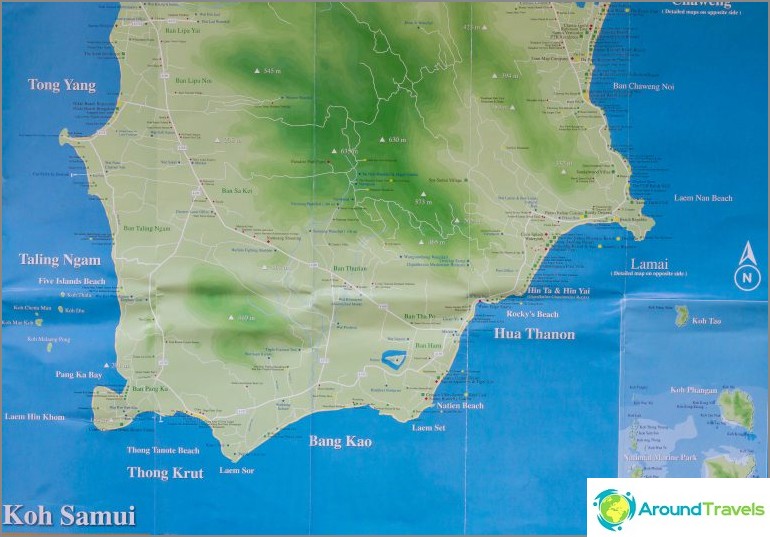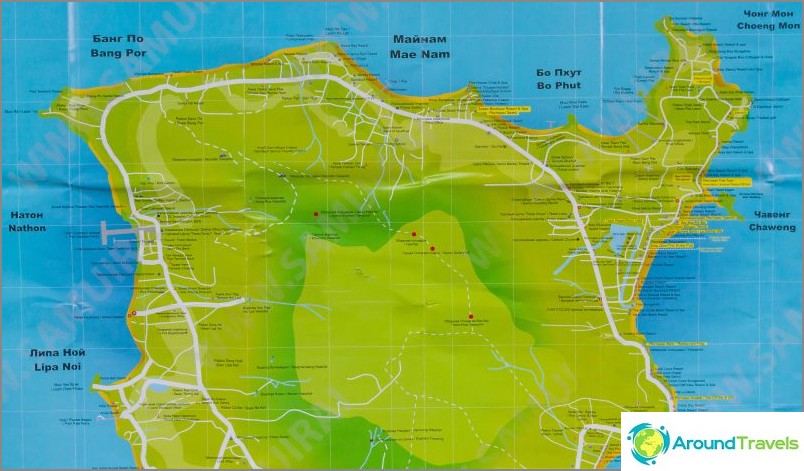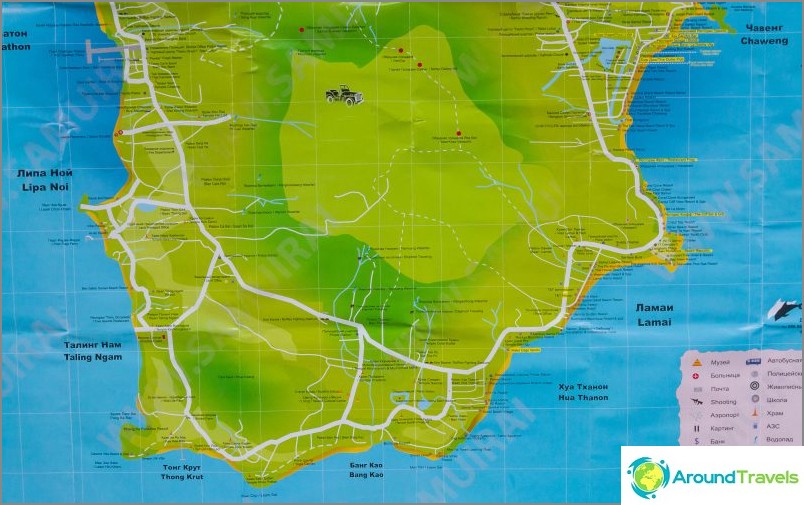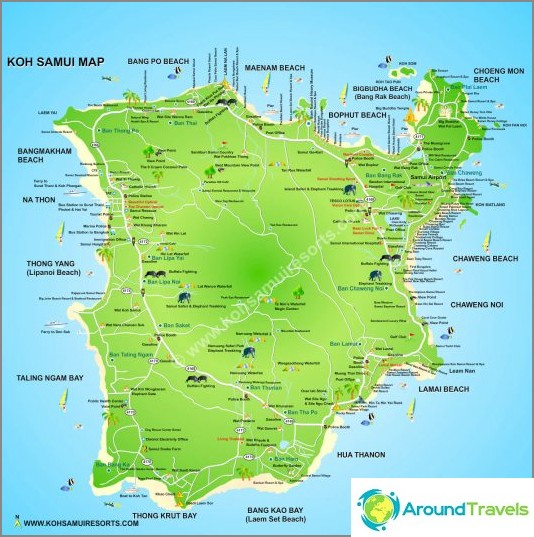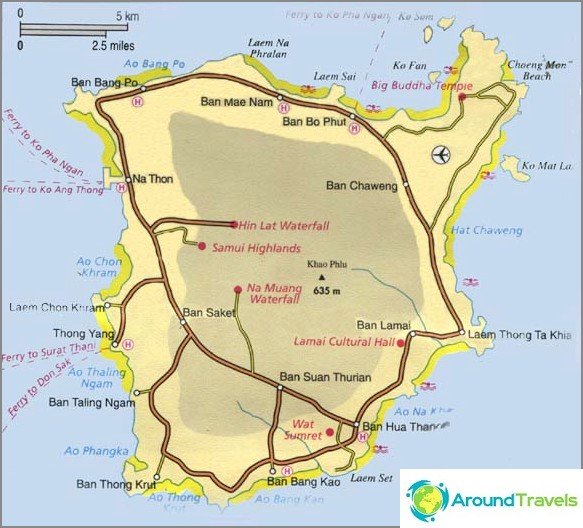 Maps of individual beaches
Now the enlarged sections of the most popular beaches are clickable and downloadable.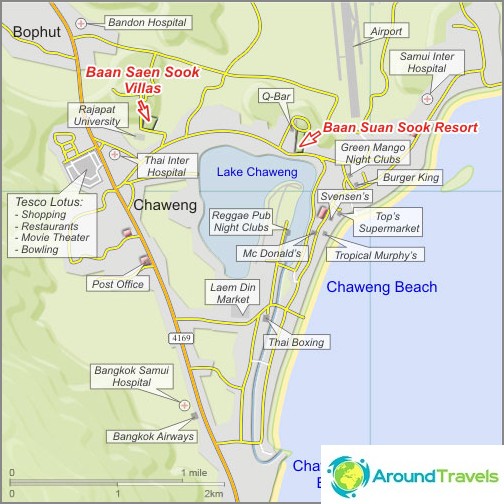 Nathon Map
The official administrative center of Samui, withwhich will begin your acquaintance with the island, if you arrive on the sea ferry SeaTran Ferry with Suratthani. And from here it is possible to sail from Nathon to the islands of Phangan and Tao.
In Nathon, there are offices of public services (in particular, the immigrant, where can extend the visa), several hotels, a sufficiently large number of housing for rent and a lot of shops, with lower prices than anywhere else on the island.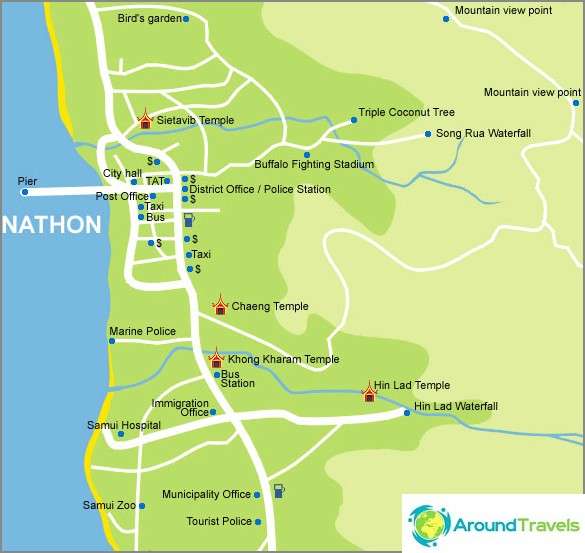 P.S. But that's not all, here on the blog we did a detailed description of all the beaches on Samui, with photos, valuable info and reviews ..
Life hacking 1 - how to buy a good insurance

Choosing insurance is now unrealistically difficult, so to help all travelers, I compile a rating. To do this, I constantly monitor forums, study insurance contracts and use insurance by myself.

Life hacking 2 - how to find a hotel 20% cheaper

First, choose a hotel on Booking. They have a good offer base, but the prices are NOT the best! The same hotel can often be found 20% cheaper in other systems through the RoomGuru service.

Discount hotels