Before you start browsing the bestSnorkeling spots in Thailand, I want to remind you that I am not a professional diver. All the information below is a summary opinion of both experienced comrades and just reviews of amateur tourists. I took my personal experience as a traveler, added the search results there on Tripadweiser, the Vinsky forum and narrowly targeted diving Internet sources with snorkeling forums. If you suddenly notice a mistake or you have a desire to add something written, I will only be grateful for your contribution to the common fund of wisdom. And not to get up twice - that's good post about the weather in Thailand.
The content of the article
About snorkeling in Thailand
I'll start with the most important thing: Thailand is the place to start, rather than continue your journey in snorkeling. To do this, the kingdom has a lot of resorts with excellent infrastructure and two main reservoirs that differ in the beauty and richness of the underwater world.
According to the majority (and in my opinion, as well),The most interesting in terms of snorkeling is the Andaman Sea - that is, the Indian Ocean, washing the western shores of the mainland. Slightly simpler and poorer - the Gulf of Thailand of the South China Sea (Pacific Ocean). For swimmers, who have seen the beauty of the Red Sea before, who have been snoring at the Philippines and Japan, snorkeling in Thailand will seem dull and boring.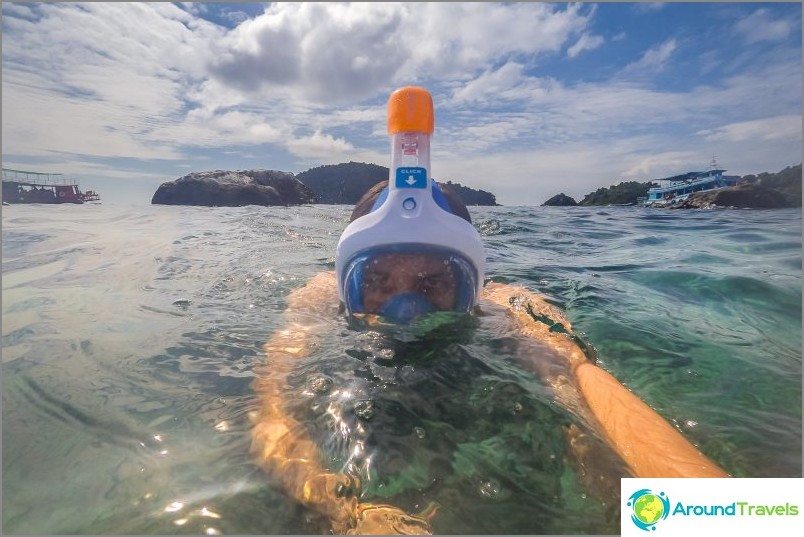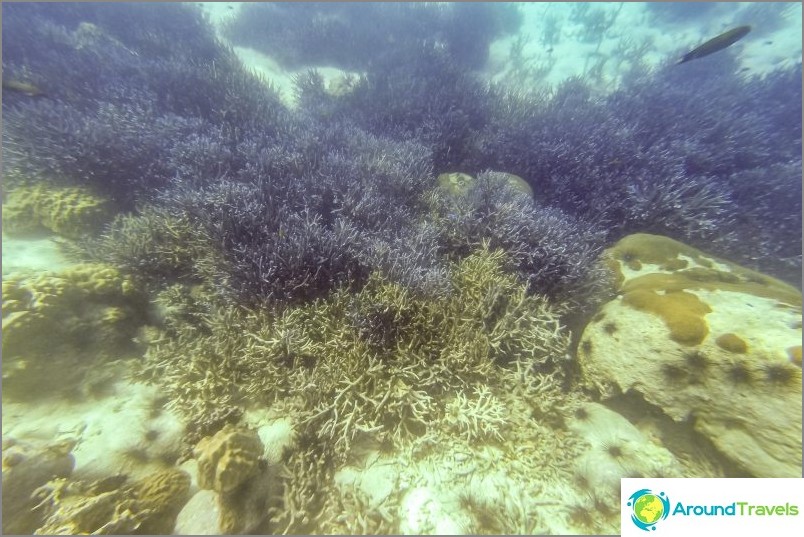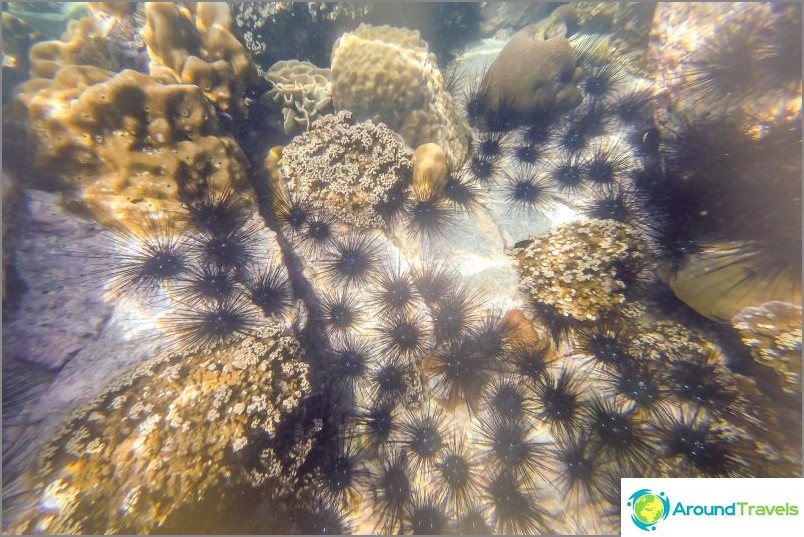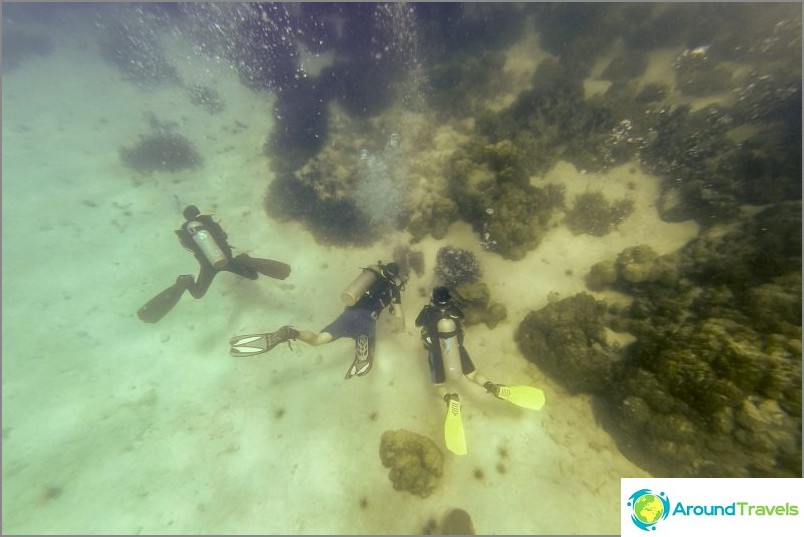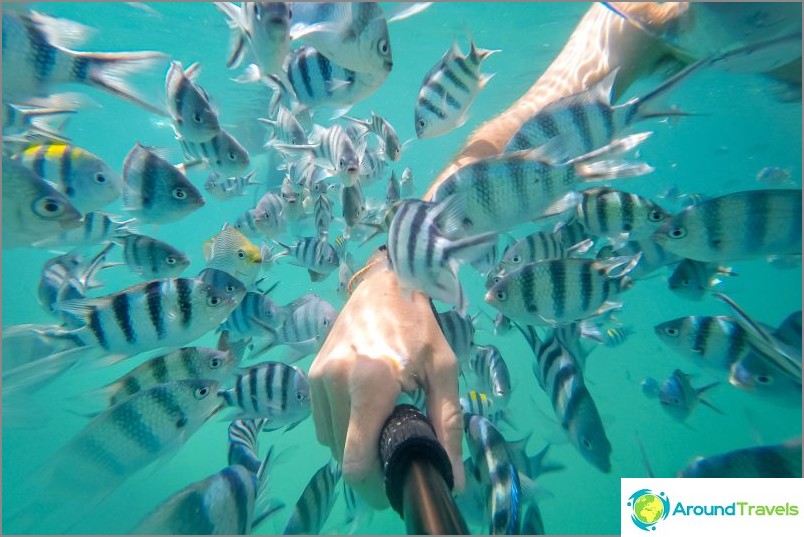 Top 10 Snorkeling Places in Thailand
Similan Islands, Phang Nga Province
Getting there
Similans are located in the Andaman Sea. It is cheaper and easier to come to the Similan Islands by purchasing a trip for a period of one to three days. I, by the way, at one time did just that. You can get on Similan yourself. Stuffing the bumps you can get to Tap Lamu Pier, hire a boatman (you need to negotiate with him a day before sailing), swim to Similan, pay a fee, rent a bungalow, but what next? On the sites for snorkeling need to somehow get to the sea, and between the snorkels something to eat and drink. So Similan is a tour, and for at least two days.
Location Infrastructure
There are nine islands in total, and each is assignedyour number: Hu Young (1), Pa Yang (2), Pa Yan (3), Miang (4), Ha (5), Paju? (6), Hin-Pu? Sar (7), Similan (8) and Ba Ngu (9). And two islands without numbers: Tachai and Bon. Bungalows, tents and two cafes are on island 8, and another tent stands on the 4th. Alternatively, you can pay a little more and spend the night in specially equipped cabins on the ship. In fact, Similan has no hotels and resorts available in booking systems, but three types of accommodation can be booked through the reserve site: a tent, a bungalow with a fan, and a bungalow with an ayrcon. The best rated hotels near Thap Lamu Pier are: Tuaprod Home and Sawasdee Home Stay Resort & Pool.
Snorkeling Features
The islands are open to tourists from late March tomid-April, and since May, they are closed to restore nature. It is possible to go ashore only on islands 4 and 8. It is impossible to swim in the sea in swimming shoes. In season - the visibility is gorgeous. Sharks are caught, but very rarely, mainly seahorses, turtles, lobsters, pygmy dancing shrimps, stingrays, moray eels, anemone glades and fish soup with a large set of ingredients. It is interesting to swim at night - if you touch the water with your hands, you can stir the plankton in the shine. But it is also dangerous - at night a predatory fish approaches the shore and swimming can be fraught. The best places for snorkeling know only the local and teams on the excursion boats, and this is another plus in favor of the group tour.
Phi Phi Islands, Krabi Province
Getting there
Phi Phi Islands are located in the Andaman Sea andequidistant (20-30 km) from the nearest resorts of Thailand: Phuket, Krabi Town and Koh Lanta. In any street travel agency, you can order a transfer to Phi Phi, and it will cost you the real cost of tickets, plus a 50-100 baht commission for the agent's troubles. I am voicing only a lightweight standalone option, so as not to waste your and your time on signing all the nuances of transfer from each location. You will find many useful things. here in this article. If you go to Pi-Pi for a short time, do not speak English, and generally in Thailand for the first time - then take a tour for a couple of days. When compared with independent trip, organized will be cheaper.
Location Infrastructure
Phi Phi Islands is an archipelago of Krabi province. The following islands are included: Pi-Pi Don (inhabited and main), Pi-Pi Lei (exotic for excursions, where Maya Bay is from the movie "The Beach" with DiCaprio), Ko Jung (aka Moskito Island), Ko My Pi (aka Bambu Island), Bida Nok and Bida Nye. Of all the above, the infrastructure is only on Pi-Pi Don. From exchangers to luxury hotels, shops, cafes, travel agencies, diving centers and resorts on the beaches. There is only a small campground and a few bungalows for those who arrive at May Bay overnight. Of the well-rated hotels on Phi Don Don, I recommend Holiday Inn near which there is a good snork from the shore, and - Paradise Resort for the same reason. In general, for high-quality snorkeling you need to float to small islands.
Snorkeling Features
Season with the most favorable conditions for snorkeling: from February to May. Going to Pi-Pi lay in the budget for renting a boat or buying excursions to places for snorkeling.
At Pi-Pi Don, one can only watch from the shore.fish soup on the edges of the beach, opposite the hotels mentioned above, as well as in the area of ​​Monkey Beach, Ranti Bay and Lo Mo Mo Di Bay. Mostly around Pi-Pi are only dead corals and dull landscapes in the clear water, and to see something interesting, you need to swim away, for example, to Sharks Point opposite Long Beach. But keep in mind - just behind the beach buoys that stretch along the coast, you will get into the incredibly active and dangerous boat traffic, which is fraught with a broken backbone.
On Pi-Pi Lei - almost perfect conditions forsnorkeling in Thailand, if not unreal number of tourists, which sometimes makes the snorke impossible. It is better to go far away, in the middle of the bay, but there is already a little more depth, and you will have to dive deeper. Frustrating debris at the bottom, happy high opportunity to see sharks. According to snorkel reports, sharks tusyat in the right half of Maya Bay in the afternoon right near the shore, at a shallow depth. If you go through the island through Maya Bay, then after a cleft in the rock with ropes is an excellent site for snorkeling.
Many tourists come to Bamba because of them andbecause of the waves, the water is turbid and nothing really can be seen. If you are sailing on a rented boat, then explain to the boatman that you have not come here to swim, then he will stop at good sites near the shore. Mosquito Island pleases with a living reef, good transparency of the sea with fish soup, but very monotonous and boring from that. On Bida Nok and Bida Nai is good not so much the snorkel itself, as many beautiful views that open under water. Animals there are few.
Koh Kradan, Trang Province
Getting there
Kradan Island is located in the Andaman Sea to the southKo Lanta and belongs to the province of Trang. The nearest resort is the island of Lanta, which is 22 km away (about forty minutes by boat). From the mainland to Kradan you can get on the ferry from the Hat Yao pier, breaking 12 km by sea. From the pier to Trang Airport - about 50 km. Lazy option to get to the island - buy any excursion, which includes a visit to Kradan. Next door there are the islands of Ngai and Muk, but of these three, Kradan is the best in all respects. In the high season, the Andaman ferry is launched from Phuket to Langkawi, with which you can get to Kradan from any point of the ferry's route.
Location Infrastructure
Kradan is a very expensive island, by Thai standards. Everything here is imported and with a brutal surcharge. There are no ATMs, no pharmacies, no grocery stores, which means you need to carry more cash with you. There are several cafes and restaurants, kayak rentals, a couple of dozen resorts and everything. Over three to five days there is nothing to do, very boring. The island is quiet, secluded, entertainment and parties here is not provided. From hotels, people recommend The reef resort (opposite it has its own reef) The Sevenseas Resort and Kradan Beach Resort (reef literally 50m).
Hotels in Koh Kradan>
Snorkeling Features
The best time to visit is from December to April.
The main value of Kradan is snorkeling from the shore. Already 50 meters from the beach begins a coral reef, slightly affected by the tsunami of 2004, but in general - under the water so beautiful that underwater weddings are held here. Most of the island belongs to Chao Mai National Park, so going beyond the permitted limits may result in a fee (200 baht) to the first ranger. But this happens rarely and should not prevent you from getting to the isolated beaches in the western part of the island, although it is easier to get on a kayak to some. There are moray eels, lionfish, sea anemones, clown fish, but sharks do not seem to come across to anyone.
Koh Roc, Trang Province
Getting there
Rock Islands (Koh Rok Noi and Koh Rok Yai) arein the Andaman Sea, about an hour from Koh Lanta. You can get both independently on the ferries and as part of the tour. Ferries run from the major resorts of Phuket and Krabi, as well as from the closest islands to Ko Rok: Ko Ngai, Ko Muk and Ko Kradan. It will not be possible to come to Koh Rok on a rented vehicle - such ferries do not go here, the islands are uninhabited and are part of a national park (entrance fee is 200 baht). If you are thinking of taking a tour, I highly recommend that you do not sell at a cheap price, and not be limited to one day, especially if you go not from Ko Lanta, but from somewhere far away.
Location Infrastructure
On Ko Rok Noe there is nothing but beaches, and on KoRock Yai stands the representation office of Mu Ko Lanta National Park and a tent camp (400-500 baht per tent) with showers and toilets. For those who stayed here for one or two nights there is a small restaurant. Everything is roughly similar to the infrastructure of the reserve in Similan: in a simple way, without any frills and not designed for long-term residence. The nearest hotels to the Rock Islands are located on nearby Kradane, Ngaye and Muku - see which ones by clicking the green button below.
Snorkeling Features
The best time to visit is January and February. Snorkeling on the Rock Islands is considered one of the most fascinating in Thailand, comparable in level to the beauty of the Red Sea. Apparently because it is still the outskirts of tourism and visitors did not have time to trample and spoil everything. Although experienced people already see the unpleasant difference between Ko Rock ten years ago and now. Snork directly from the shore, no need to float to remote sites, you will find a coral reef 50-100 m from the shore. Overnight is good because after 4 pm all the tourists are taken away. Acroporus, anemones and gorgonians grow right along the coast. From living creatures: various grouper, parrot fish, moray eels, scorpions, lion fish, morish idols, triggerfish - a lot of beautiful and interesting things. Krupnyak swims here rarely, but still people sometimes see turtles and sharks.
Koh Tao and Koh Nang Yuan, Suratthani Province
Getting there
Both islands are 500 meters apart.and, according to most, their surroundings are the best place for snorkeling in Thailand, in the Gulf of Thailand. If you are coming from Bangkok, you can get to Tao from the mainland by ferry from Chumphon (70 km). If from Phuket and Krabi, then you are at the pier in Donsak (88 km). Or from the islands of Samui (55 km) and Koh Phangan (46 km). At Koh Tao there is a full-fledged road network and transport ferries come here, so you can get there and ride a rented vehicle. On the island of Nang Yuan usually get already from Tao on a hired boat or as part of the tour.
Location Infrastructure
Koh Tao (although Koh Tau is right to say) is normala small island with a developed infrastructure. There is a large selection of hotels and resorts, most of the beaches are in normal access, although there are still wild places. Shops, ATMs, travel services and personal services, everything is present here. The most interesting hotels in terms of "went out and went into the sea to snorkel" are the bays of Tanod Bay (Montalay Beach Resort) and Mango Bay (Mango Bay Boutique Resort). Ko Nang Yuyan (although it is correct to speak Nanyuan) - these are three monoliths connected by sandy braids. The only building on the island is the hotel. Nangyuan Island Dive Resort and wooden bridges around the island for trekking.
Snorkeling Features
Best time to visit: mid February - mid April. For snorke from the shore, Koh Tao has only two more or less decent places, which I wrote about above. A good snorkel begins at a distance from Tao, for example, there are sharks in Shark Bay (but the corals there all died). And a good snork near the island of Nang Yuan, but there is a chip there - you can not use flippers. And it is better not to walk barefoot, but in special shoes because at the bottom it is easy to step on a cucumber. A cool snork is all in the sea, and the places are known either by local boatmen, who are easy to negotiate with, or by local diving agencies, who also carry snorkel lovers too. The optimal algorithm with a lack of time: to settle near the pier Mae Haad, immediately buy a trip to Nang Yuan for the whole day and the next to agree with the boatmen about the good places.
Koh Chang and its satellites: Kham, Rang, Vai and Kood
Getting there
It's not a problem to get to Koh Chang itself, I already have a detailed article about how to get from bangkok to koh chang. If you live in any other resortThailand, then in the very first travel agency on the street they will sell you a comprehensive transfer to the island. But all the islands, interesting in terms of snorkeling, are located at a distance from Koh Chang, and you can get here either by hiring a boat or a boat, or as part of an excursion, which usually carry around the most popular places. The distances between the islands do not exceed 5-10 km between each other, so for a day trip you can visit all of them.
Location Infrastructure
To the south of Koh Chang there are manysatellite islands, but not all of them are interesting as sites for snorkeling. According to reviews of people in RuNet and from personal experience, I would say that the best snorkeling in this part of Thailand can be found on the islands: Ko Kham, Ko Rang, Ko Wi and Ko Kood. And if with tourist-developed Koh Chang everything is clear in terms of infrastructure, then there are nuances for small islands.
On Ko Kood, there are also hospitals, banks andtourist segment of services, but it is less habitable, and some may seem boring here. Koh Mak is a large island and there is a good choice of hotels. Koh Kham is considered a private island, an additional fee of 200 baht per person is taken at the entrance, and there is a snack stall, a fresh water shower and a public toilet. Koh Rang is part of Mu Koh Chang National Park and there is only a pier with rangers headquarters. On Ko Vai there are bungalows, where they give light from 18 to 01 hours. Koh Wai is a tiny island with four bungalow resorts and one pier.
Snorkeling Features
The best time to visit: the end of November - the end of February.
Koh Chang: Snorkeling offshore is available in Klong Prao and Cai Bay beaches. On Klong Prao, the underwater world is poorer, and there is an island of Suwan, a mile and a half from the beach, where you can get on a kayak and snorkel. Kay Bay has kayak rental and a reef bay. The underwater world here - just warm up in front of distant islands.
Ko Kham is much more interesting than the whole big KoPoppy next door. On Ko Mak there is no snork from the shore, on Ko Kham it is better to snork in the second half of the day, when a crowd of tourists is taken away from there, which scares away all life under water. It will be possible to see both sea creatures and corals (mostly dead), and there are also many sea urchins here.
Koh Kood is considered more attractive than Rang and Wai, and it's better to go into the water near the hotel with a kayak Koh Kood Island Resort (northeast of the island). The water here is very clear, shallow water and usually no excitement. There are holothurians, coral fish soup (albeit mostly a trifle) and live corals. If snork around Ko Where, then you can meet stingrays, colorful shells, barracudas.
Koh Rang is called a coral classic. For snorkers and divers in these places an additional bridle is installed: 200 and 400 baht, respectively. Stingrays, corals, fish soup, and fish are particularly bold. Despite the bribe, the darkness of tourists comes here, so be prepared to jostle.
Koh Wai is a good snorkel right from the shore. The colorful Calist shores and the snorkeling site are already 10 meters from the shore. Enter better around the hotel Koh Wai Pakarang Resort
Krabi: Riley, Poda, Hong
Getting there
How to get to Krabi I have already described in detail earlier. In general, Krabi has its own airport and it speeds up the trip from any part of Thailand. From Bangkok, the plane flies no more than an hour, from Phuket can be reached by land transport. The only thing that is not available in the province of Krabi - a railway that runs along the other side of the mainland. It should be noted that the province of Krabi - this is the mainland, and the scattering of islands, where you can only get by sea, which means you have to rent a boat / boat or buy a sightseeing tour.
Location Infrastructure
The resort part of Krabi, where there are severalThere are some poor sites for snorkeling, it has a well-developed tourist infrastructure and a full range of services and services for both leisure and longstey. Choose Ao Nang, closer to Centara Beach. By itself Hotel Centara - it's expensive, so it's easier to settle on Ao Nang, in its left part. About the best hotels can be found here - Best hotels in Ao Nang.
Riley Peninsula separated from the outside world by the cliffs and there is no wayplenty of space to organize good infrastructure. There is a large selection of accommodation, several attractions, shops, pharmacies and bars and restaurants. Prices are higher than in the resort of Krabi, but you can live here for a couple of days. On the island of Poda (6 km south of Ao Nang) there is only one resort - Poda Island Resortand the rules of the reserve apply here (paidentrance). Hong Island (6 km west of Klong Muang), also known as Ko Lao Bile, belongs to the national park. Snorke is not very comfortable because of the shallow water, and on the island itself there is a cafe and a toilet.
Snorkeling Features
The best time to visit is January and February.
Fact: in Krabi, on the mainland of the resort, there is no good snorkeling. You can make training swims on the left edge of Centar Beach, closer to Riley, but ideally - hire a longtail and saw it on the side of the reef cans, and the boatmen themselves know the places. There are both living creatures and reef sharks and corals. There is no snorkeling along the coast - empty, muddy, full of garbage. On the Riley Peninsula, relatively good snorkelling on Beach Phra Nang Beach. In the morning, until the motorboats have flownswim along the cliffs at the edges of the beach, as well as get to Ko Rang Nok at 900 meters opposite Phra Nang. And the best snorkeling in Krabi can be found on the islands of the province.
Koh Hong is a very beautiful reef. There are fewer people here than on the island of Poda, and in order to save time on the way - hire a boat, swim with a mask longer. And one more plus of the boat in front of the boats - you get to the site faster than the main crowd of tourists. At low tide you can see a lot of fish and corals. Island Poda: in a season very good visibility, and if you snort in the morning, there are still not scared large parrots, barracudas and large snappers. Opposite the beach there is a rock sticking out of the water, along the left wall of which you will find an interesting stall, where sea snakes, large lionfish and fish soup meet.
Koh Surin, Phang Nga Province
Getting there
Surin Islands is an archipelago of five islandsdifferent sizes, which are located 60 km (about one and a half hours by boat) from the mainland, and as if they should belong to the group of Similan Islands. However, according to external signs, Surin is not at all like Similan, although in terms of the underwater world there are similarities. You can get to this regular national park only by sea, for example, through travel agencies of Krabi, Phuket or Khao Lak closest to it. Independent trips are associated with a number of uninteresting troubles, which are better provided to travel agencies.
Location Infrastructure
Infrastructure on Surin, as on any reserveisland - at a minimum. Rangers office building, several air-conditioned houses with weak Wi-Fi and no hot water, a tent camp with rental tents, simple household amenities. A lot of people come here, but not in the same way as on the neighboring Similans. In general, it is boring, but very beautiful. It does not make sense to drive in for longer than a couple of days with an overnight stay. Catering is organized by the organizer of the trip, three meals a day, there are no shops here.
Snorkeling Features
The best time to visit is from November to April. The flippers are necessary - there are currents. The sea around Surin is shallow and in general opinion there are no colorful, bright corals, although the coral abundance around the island is not questioned. Sharks, octopuses, large fish, turtles, parrots, moray eels - there's something to see and two days to do. Especially for the sake of snorkeling to Surin does not make sense, although it is clearly more interesting here than in the coastal waters of the mainland of Thailand. And also: there are monkeys on the island, so do not throw things on the shore and always close the houses and tents.
Island-province Phuket and Ko Racha
Getting there
How to get to Phuket, I think, there is no need to describe. Direct flights from the Russian Federation to you for help and lots of descriptions in RuNet, for example, this post - How to get from Bangkok to Phuket. Concerning satellite islands where it isgo for snorkeling, I have a small list: Ko Racha Yai and Ko Racha Noi. The islands of Racha are located 20 km south of Phuket and can be reached there only by sea, with a guided tour or independently from the beaches of Chalong and Rawai.
Location Infrastructure
Phuket's infrastructure is the infrastructure of a big city, everything is there. If you look at the beaches where snorkeling from the shore is possible, then this is: Kata. Naiharn and Ao Sein. And let me not rewrite what has already been set out in the links. On the islands of Racha there is a small village in the center of Racha Yai and several hotels of different levels of comfort, for example The racha or Ban Raya Resort & Spa. The roads on the island are mostly dirt, there are restaurants and cafes, services and services for tourists, but there are no ATMs - you need to take more cash with you.
Snorkeling Features
The best time to visit Phuket is January, February and March.
Kata Beach: there are few corals, trash is caught, but there are animals under water at a depth of three meters. The best time of the day is morning. There are lionfish, parrots, scorpions, shrimps, cuttlefish, small-sized squids, sea snakes. Nayharn beach is more interesting on the right edge, where there are large-scale coral thickets and living creatures: lionfish, barracudas, parrots, snapper and even rays. On Ao Sein, clear water is something to see from living creatures. People recommend not to swim close to the rocks and stones because of the balanus - sharp and dangerous. Large fish and sharks are rarely caught, and even if you snort in the morning, and you will not behave very actively.
Koh Racha: The best places for snorkeling are in the bays of La Bay, Ban Raya and Siam Bay. What is characteristic of snorkeling on Koh Racha from Phuket - it is available here everywhere, in any part of the island. The coral reef is impressive, and there are different opinions about living creatures. However, if you behave calmly enough and do not make unnecessary movements, then snorkel you will get more than successful. Be careful on the differences in the depths near the capes - sometimes there are strong currents.
Koh Lipe, Satun Province
Getting there
Ko Lipa belongs to the reserve Tarutao andLocated on the southern sea border of Thailand and Malaysia, and more precisely, then 30 km from the island of Langkawi (Malaysia). You can get to Ko Lipe from Pakbara village in Satun, from Ko Lanta (Krabi), from Hat Yao Pier (Trang) or from Phuket (Seed pier). The distances are decent, so there will be no fast and always choose speedboats, even if they are more expensive. From Phuket to Koh Lipe almost 180 km, and from Ko Lanta - 111 km by sea.
Location Infrastructure
Once tropical paradise has now becomebusiness island, with developed infrastructure and even its immigrant office. That is, for tourists, there is everything here and everything is located compactly on an island measuring 700x1600 meters. Huge selection of hotels on all main beaches, but I would recommend these two on Sunrise Beach: Mali Resort Sunrise beach and Wapi Resort, because Sunrise is great for snorkeling from the shore.
Snorkeling Features
Snorkeling on Koh Lipe fits perfectly intothe definition of "out of the bungalow and began snoring", the main thing to get into the quiet season without rain - from November to April. An excellent coral reef, some kind of living creatures along the coast, but I would recommend contacting travel agencies that carry day trips to neighboring islands - and there are about a dozen of them here. And there already opens the splendor of the Andaman Sea as in the pictures.
Location Map
The best places for snorkeling in Thailand
Ao Sane Beach:
Nai Harn Beach:
Chalong Beach:
Kata Beach:
Rassada Pier - Phi Phi Ferry:
Ao Nang Beach:
Had Yao Pier (Trang):
Centara Grand Beach Resort:
Andaman Sea:
Gulf of Thailand:
Similan Islands:
Pier Thap Lamu:
Similan Island:
Myang Island:
Hu Yong Island:
Pa Yang Island:
Pa Yan Island:
Island Ha:
Hin Pusar Island:
Paju Island:
Ba Ngu Island:
Bon Island:
Tachai Island:
Tuaprod Nome:
Sawasdee Home Stay Resort & Pool:
Phi-Phi Don Island:
Island Phi Phi Lei:
Phuket Island:
Krabi Town:
Lanta Island:
Maya Bay:
Koh Yung Island (Mosquito Island):
Ko Mai Phi (Bambu Island):
Laguna Pile:
Bida Nok Island:
Bida Nai Island:
Holiday Inn:
Paradise Resort:
Tent city and bungalow:
Ranti Bay Snorkeling Site:
Lo Moo Di Snorkeling Site:
Monkey Beach Snorkeling Site:
Shark Point Snorkeling Site:
Snorkeling site on Long Beach:
Snorkeling site on Lam Tong Beach:
Kradan Island:
Kradan Island:
Ngai Island:
Mook Island:
Trang Airport:
The Reef Resort:
The Sevenseas Resort:
Kradan Beach Resort:
Island Rock Yai:
Island Rock Noah:
Tent camp:
Tau Island (Tao):
Phangan Island:
Koh Samui Island:
Nang Yuan Island:
Chumphon:
Pier in Donsak:
Tanod Bay Snorkeling Website:
Mango Bay Snorkeling Website:
Mango Bay Boutique Resort:
Nangyuan Island Dive Resort:
Shark Island:
Pierce Mae Hud at Koh Tao:
Koh Chang:
Koh Kham:
Klong Prao Snorkeling Website:
Suwan Island:
Kai Bay Snorkeling Website:
Island Mac:
Kood Island:
Koh Kood Island Resort:
Snorkeling site:
Rang Island:
Wai Island:
Pai Plong Beach (Center Beach):
Klong Muang Beach:
Lao Bile Island (Hong):
Poda Island:
Poda Island Resort:
Riley Peninsula:
Site for snorkeling at the beach of Tsentar:
Site for snorkeling at Phra Nang beach:
Snorkeling site Rank Nok:
Surin Island:
Kao Lak:
Bungalow and tent city:
Racha Noi and Racha Yai Islands:
The Racha:
Ban Raya Resort & Spa:
Ban Paradise Snorkeling Website:
Siam Bay Snorkeling Website:
La Bay website for snorkeling:
Lipa Island:
Pier Bara Village:
Mali Resort Sunrise beach:
Wapi Resort:
Sunset Beach Snorkeling Website:
P.S. It will be necessary to write more about this mask, a very handy thing, I liked it a lot more than the usual one.
Life hacking 1 - how to buy a good insurance

Choosing insurance is now unrealistically difficult, so to help all travelers, I compile a rating. To do this, I constantly monitor forums, study insurance contracts and use insurance by myself.

Life hacking 2 - how to find a hotel 20% cheaper

First, choose a hotel on Booking. They have a good offer base, but the prices are NOT the best! The same hotel can often be found 20% cheaper in other systems through the RoomGuru service.

Discount hotels