I decided to shoot a small video where I tell andI show the contents of my backpack, which I usually take with me to Asia and, in particular, to Thailand for wintering (that is, for 3-6 months). I once wrote an article about what to bring to Thailand with his advice, but decided to also put straightexactly what happens in my backpack when I go without a child. In any case, I also recommend that the post read to those people who are going to warm Tai and have no idea what things to take with them. Plus there in the comments, too, someone expressed his opinion.
The content of the article
My backpack
Video
Scroll
Clothing and Shoes
T-shirts - 5pcs
Shorts - 2 pieces
Pants - 1 pc
Sweatshirt - 1 piece (needed in buses, trains and airplanes, eerie air conditioners)
Waterproof jacket or raincoat - 1 pc
Pants - 5 pieces
Socks - 2 pairs of light and 1 pair warmer
Tourist sandals - 1 pair
Rubber slaps - 1 pair (needed to go to the shower or the beach)
Useful stuff
Plastic tray and spoon (storage tray, spoon for mango and papaya)
Fruit knife
Needle with thread
A piece of rope (to dry the washed laundry, in cases when the laundry is far away or breaks to go)
Kettle and green tea (I drink tea every day constantly)
First aid kit (minimum set: plaster, iodine, citramon, activated carbon, nurofen)
Waist bag for wallet and documents
Sunglasses (comfortable to ride bike)
Equipment
One or two phones (I don't have a two-digit phone, so I often have two)
A laptop
Camera + lenses (our set of photographic equipment)
Two travel bags with accessories and charging
Network filter (usually me not enough outlets in the guesthouses)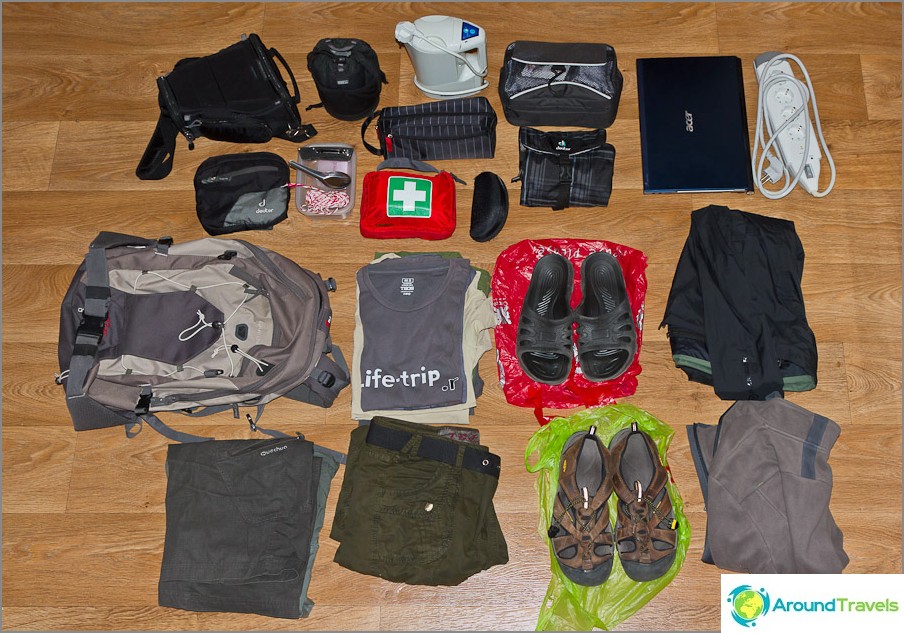 Why do I travel with a backpack
I will explain a little why I travel with a backpack. Because I don't like horror when my hands are busy, I feel much more mobile with a backpack. I never go with bags in the city, always only a city backpack. In addition, in the same Tae, there are almost no sidewalks, which means the bag or suitcase on wheels turns into a heavy burden. It is clear that there is a taxi, but mobility is still somehow lost. But I do not persuade, do not think. If the suitcase turns out to be quite small and light, or if you come for a couple of weeks and are not going to move from place to place, then you hardly need a backpack. For example, when I come to Tai with the whole family (wife and child), we have with us 1-2 suitcases and hand luggage in the form of urban backpacks.
My backpack usually weighs about 15 kg, of which somewhere around 10 kg, this is a technique. Such a weight on the shoulders is much easier to feel than in the hands. See below for how to reduce it.
How to reduce the number of things
Enough backpack 30-50 liters for a traveler
In fact, for Asia is quite enough backpackliters at 30-50 like what I have used as a city. You have seen that the clothes are small and they will easily fit in it. But I have with myself a rather weighty set of photo and computer equipment, including various wiring, charging, and other accessories. With them to cram into 30 liters is much more difficult, but again you can, if you try. I just do not like it when a backpack is cracking at the seams and at the same time I don't have any reserve in space at all. Better to let my 70-liter backpack (how to choose a hiking backpack) will be half empty and I'm into it, if anything, I canthrow a bag of groceries on the way, or, leaving the country, put gifts to your loved ones, or any other things that appear on my way. I remember once drove the blanket when I moved from Chiang Mai to Phuket.
Look still mine review of the light version of my backpack. I have a city backpack there and in generalminimum of things. This option is perfect for minimalists, and those who do not like to check in items. In this format, I also travel, depending on the situation, for example, if it lasts only a couple of weeks. After switching to MacBook and mirrorless, it became much easier to get into smaller volumes.
What not to take
If I had to aim to reduce the numberof things, it would really be possible not to take some of them, since one can do without them, and almost everything can be bought on the spot without any problems. Therefore, below are some adjustments to my set for minimalist fans or active travelers. Still, there is a difference when you go for half a year and combine travel with work, sitting on the spot, or just a vacation in a couple of weeks, when there is only travel.
Do not take a surge protector if you charge a little technology. If needed, buy on the spot.
Do not take a kettle and rent hotels more expensive, there it will already be. Recently, I also came to this option.
To dispense with a raincoat instead of a waterproof jacket, bought in 7-eleven.
Do not take a first aid kit, especially if you do not have any chronic diseases, and buy travel insurance! It is much more practical, because, and the doctor will look, and he will write out the necessary medicines.
Do not take soap-ryl accessories, as in normal hotels (and not super budget) often all this is available (soap and shampoo). And also because it is sold at every corner in 7/11.
Take only one universal shoe, because I personally rarely use the same rubber spanking. Although, again, when staying only in the south of Thailand, just slap will be behind the eyes.
Do not take a notebook for records, for a long time already everything can be recorded in the phone, only I can't rebuild it.
Take even less clothes because it is sold on the spot.
To take with you instead of a separate city backpack some light and compact waist bag, or not to take anything at all if things for city walks fit into the pockets of shorts.
Reduce the number of wires or try to pack them more compactly.
Use fewer photo equipment andcases for it, since the same camera without a photo bag takes up much less space. After some time, I switched to a mirrorless lens with one lens, and all the technology was significantly reduced.
Thus, you can go to the minimum set of Asian backpacker - a small backpack, which contains a minimum of summer clothes, a laptop, a compact camera and a wallet. Everything!
Still there is such an option for those who are used toto hang out in one place for a month or more - to have only the minimum set with you, and when renting a house, just buy something in the house every time. But I really do not like to throw out something, especially when the thing is not spoiled, so I rarely do so. True, you can not throw it away, but leave it to the following tenants, and if the thing is useful (some kind of blender), then they will be just happy.
P.S. If someone has thoughts on how to make something more universal in my set, please unsubscribe in the comments. Or I will be glad to hear other points of view on the number of necessary things when traveling to Asia.
Life hacking 1 - how to buy a good insurance

Choosing insurance is now unrealistically difficult, so to help all travelers, I compile a rating. To do this, I constantly monitor forums, study insurance contracts and use insurance by myself.

Life hacking 2 - how to find a hotel 20% cheaper

First, choose a hotel on Booking. They have a good offer base, but the prices are NOT the best! The same hotel can often be found 20% cheaper in other systems through the RoomGuru service.

Discount hotels