Probably everyone already knows that from October 1, 2012, AirAsia is not flying from Suvarnabhumi, and from Don Muang airport, thatmade some difficulties for traveling, as now, having arrived in Bangkok from the same Moscow, you need to take a taxi or shuttle to another airport to transfer to an Asian low-cost airport.
The content of the article
Don Muang Airport
How to fly to Bangkok
I flew to Don Muang from Macau and Vietnam on AirAsia and NokAir to an international terminal. And flew to Phuket several times and from Phuket via the terminal of internal lines. If you arrive from Moscow or another country, then you will not come here, but to Suvarnabhumi, which is indicated on the tickets with the BKK code, and Don Muang with the DMK code, look carefully. But if you, having arrived from Russia, transfer to AirAsia, then you will need to come to Don Muang.
Tickets to Thailand are best monitored throughflight search engines such as Aviasales.ru and Skyscanner.ru. Then you can see offers from all airlines in one place. Below in the calendar you can estimate prices in different months.
Online display of the departure and arrival in Don Muang
Below is an online scoreboard with arrivals anddeparting flights. Information on the board is displayed in real time and you can always see which flight is expected, which one is delayed and so on.
Arrival and departure area
Don Muang Airport Terminal 2, Internationaland Domestic, are nearby. If suddenly the taxi driver brings you to the wrong place, that's okay, move from one to another. At the airport itself, it is felt that it is not the same as Suvarnabhumi, smaller rooms. Although if you then go through passport control, then there is already inside the duty free, a lot of gates, waiting rooms, everything is as it should be.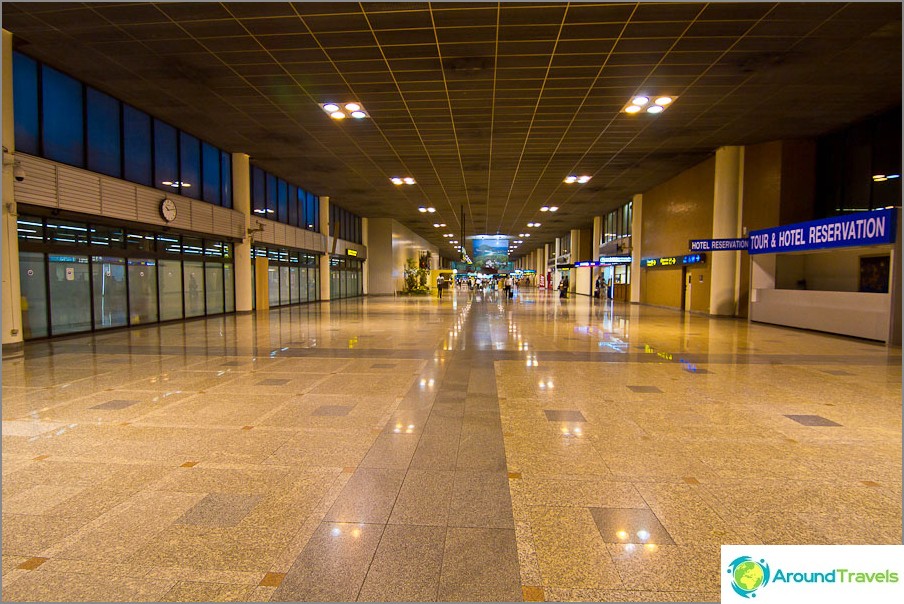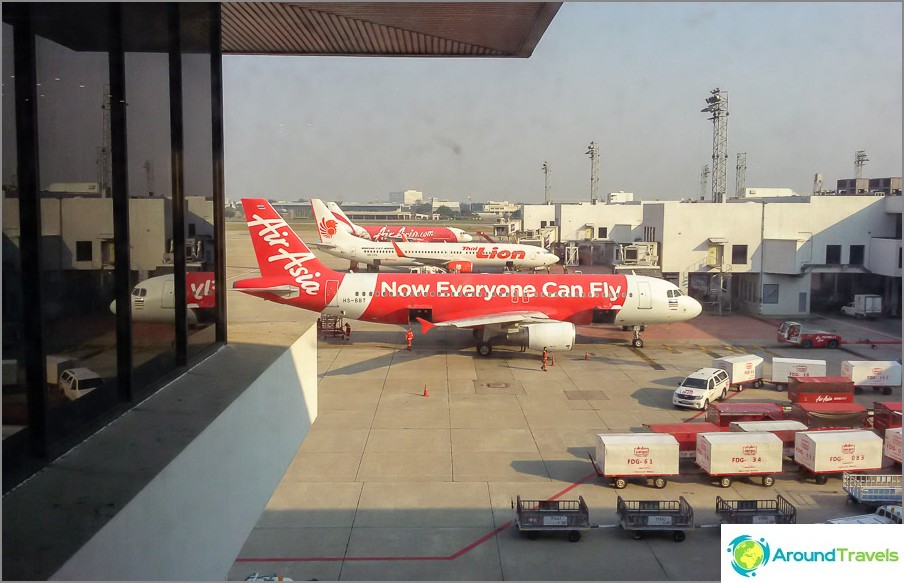 There is a luggage room on the second floor of the Domestic Terminal, 75 baht.
Visa-on-Arrival (Voa) is obtained in the same way as in Suvarnabi, there is no difference.
If you want to find a hotel in Bangkok in advance, it is convenient to choose accommodation at RoomGuruThis is a service where you can compare hotel prices.in different booking systems. I have stayed in Bangkok many times and in different hotels. I will not give links to all my reviews, I will give only a few. Nasa vegas - convenient for stopping near the airport and metro, Rajata - a good place to spend the night near Khaosan, S3 residense located in the center near the park and the Victory Monument.
From Don Muang Airport to the center of Bangkok
There are several options for getting from Don Muang Airport to the center of Bangkok: by bus, by taxi, by shuttle or car rental, and by train.
Bus from Don Mueang
Cheap way, cheaper only train, but abouther below. As I wrote on the blog, the bus service in Bangkok is developed and only traffic jams interfere with it. It is a pity, of course, that the Don Muang airport does not go to the metro, as is done in Suvarnabhumi, but will soon have to correct this omission.
From the 1st of May, 2017, A3 and A4 express buses were launched from Don Myang to Lumpini and Khao San Road.
Price 30 baht.
Bus 4 to Siom Rd
Bus 13 to Sukhumvit Rd and on to Ekkimai bus station
Bus 29 goes to Hua Lumpong Railway Station via Victory Monument
Bus 59 goes to Khao San Road, it is written everywhere that it is round-the-clock, they only told me at the airport before 10 pm
Buses 10 and 510 go to Victory Monument and further to the southern bus station Sai Tai Mai
Bus 538 goes to Victory Monument
I once flew to Don Muang in the evening and sat on510 bus, for 20 baht drove to Victory Monument (Victory Monument). From where I took a taxi to Khaosan Road for 150 baht. The result was a total of 170 baht to get from Don Muang airport to the hotel. If I took a taxi directly from the airport, it would be 250 baht somewhere. That is, the difference is small and easier to take a taxi immediately.
Taxi from Don Muang
If you arrive in the evening or at night, you can notthinking about taking a taxi should get about 300-600 baht, not more. At least I did not succeed anymore, the last time was 400, but we drove a whole hour, collecting all the traffic jams. The price depends on the time of day (at rush hour it's more over the counter), whether the taxi driver will go on toll roads (this is faster, but more expensive). Separately about taxi in bangkok I wrote a whole article.
Therefore, do not fall for the entreaties of the Thais for a fixed price;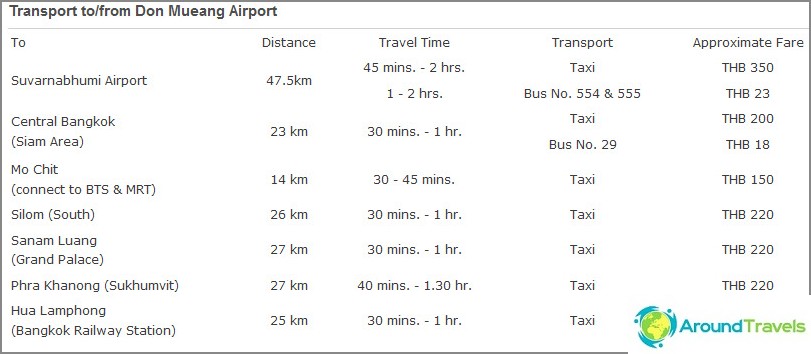 Transfer to order
Anyone who wants a minimum of gestures canin advance via the Internet to book a transfer to Kiwitaxi. You will be met in the arrival hall, you will take luggage, put you in a car and take you to the right place. The method is good because there are no problems at all, but it costs like a regular taxi.
I have already used this service several times and described my personal experienceread.
Transfer from the airport>
Car rental
If you fly to Bangkok, but then you are going tomove somewhere further without staying in the city, then consider the option of renting a car. It is clear, for Bangkok itself to go to an amateur (I traveled well after Moscow as well), but it's a good idea to get to Phuket / Hua Hin / Chiang Mai by your own transport. In general, I love driving and driving, and you can drive into all sorts of interesting places on the road, and things are not a problem to transport things, and the family fits perfectly. Very detailed about all the nuances car rental in thailand.
The car is best booked throughproven broker Economybookings, it will be cheaper than directly. Plus on one site you will see offers from all major distributors at once, you can choose something suitable.
Discounted car rental>
A train
The most difficult, but also the cheapest way, thereforelet it be. There it's not quite clear how to get to the station there, but I know for sure that you can walk, my friends rode quite recently. Follow the signs for public transport and at some point go where it points to the train. The Don Muang train station is approximately opposite the airport.
By train you can reach the very centerBangkok to his railway station. In order not to give here the schedule, I'd better give a link to it. There you need to choose the departure station (Don Muang) and the arrival station (Bangkok), or vice versa, if you get from Bangkok to Don Muang. The stations are not in alphabetical order, you need to scroll! Approximately 35 trains per day, travel time about an hour, the first at 3.14 in the morning, the last at 22.28, costs about 20 baht.
How to get from Don Muang to Suvarnabhumi
I decided to write in detail what are the ways to get between the two airports of Bangkok and therefore I wrote a separate post on this topic - From Suvarnabhumi to Don Muang and back. Free bus, metro, taxi and so on.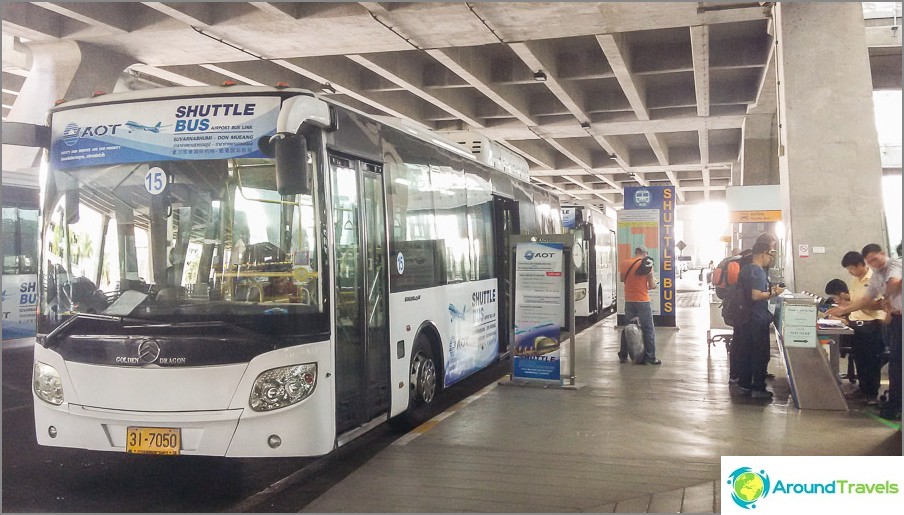 Don Muang on the map
Located in the north of the city. If you need to get somewhere further, you will have to go first to Bangkok itself, to the bus station, to another airport, and so on. The nearest bus station is Mor Chit, but it is northbound, and from there you can only get to Chiang Mai, but in a minibus somewhere like Hua Hin.
Don Muang Airport
Don Muang Airport
Second international airport in Bangkok. From here, fly low-cost, types AirAsia and NokAir.
Read more.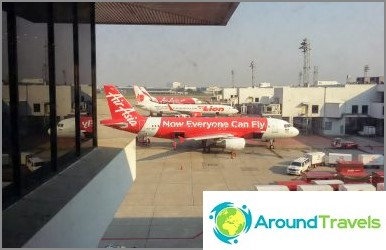 Second international airport in Bangkok. From here, mostly low-cost fly, types AirAsia and NokAir. More details.
Life hacking 1 - how to buy a good insurance

Choosing insurance is now unrealistically difficult, so to help all travelers, I compile a rating. To do this, I constantly monitor forums, study insurance contracts and use insurance by myself.

Life hacking 2 - how to find a hotel 20% cheaper

First, choose a hotel on Booking. They have a good offer base, but the prices are NOT the best! The same hotel can often be found 20% cheaper in other systems through the RoomGuru service.

Discount hotels