Today, Pavel Kozlovsky (Pavlozavr) decided to offer us ready-made recipes for how to relax in Feodosia, with tips and necessary data. I hope this information is useful to travelers in the Crimea.
In my youth every summer I lived in Feodosia (Crimea) by2-3 months. So it was 15 years old. Now I come there only for 2 weeks. And I bring with me not only my family, but also my friends. Then I realized that in 2 weeks it's not so easy to actively and interestingly spend time. You start to rush about :)
In this post - the story of the 3 places that are definitely worth a visit. All of them are related to the ancient extinct volcano Kara-Dag. It can be said that these places are the Kara-Dag Golden Triangle :)
In truth, in the last years of existenceThe USSR, and especially for the period of early "independence" of Ukraine, these places began to look worse. But the natural potential is so great that it is still worth visiting.
General advice: go to Feodosia, then to break off on a trip to the same Yalta, in my opinion, unprincipled. Theodosia is located in the southeastern part of the Crimea, away from the Crimean mastodons: Yalta, Sevastopol, Evpatoria, Alushta. Therefore, it is better to plan a separate vacation to visit the South and South-Western Crimea. In Feodosia and the surrounding area there are many places worthy of attention.
But if you are in Feodosia and you have only 2 weeks, then do not miss the opportunity to visit Kara-Dag. I propose to do this
1. Boat trip to Kara-Dag.
What are we looking at? Kara-Dag ("Black Mountain") is an ancient volcanic system. At the moment, the volcano is not valid. However, the bizarre forms of the mountains, reminiscent of fairy-tale characters and real objects, make an impression.
If you are lucky with your guide, they will share with youstories and interesting facts from the history of not only Kara-Dag, but also places along the route: Cape Ilya, Dvukhakornaya Bay, Koktebel village, Cape Chameleon and other places.
At the end point of the voyage is the Golden Gate (in the photo), next to which the boat stops for the sea bathing of passengers. Very clean water!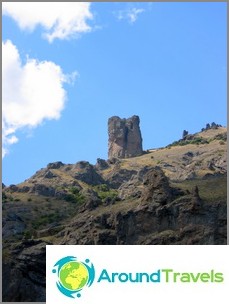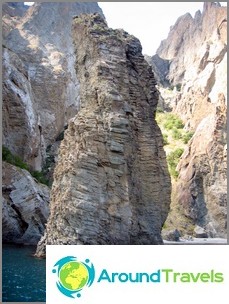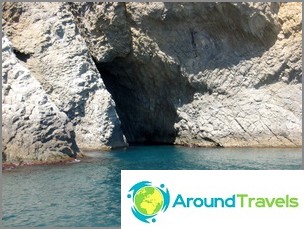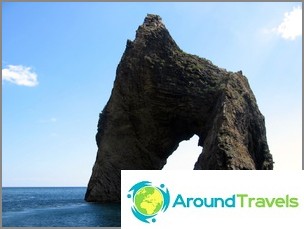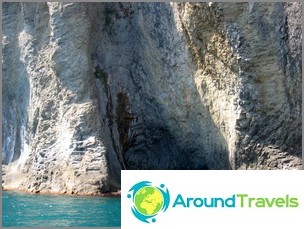 Technical details. Ride on a boat. 2 times a day. Takes 4-5 hours. Either in the morning (departure - 9 am), or in the evening (departure - 15-16 hours).
Tips:
• In the high season (August), I recommend arriving 20-30 minutes before departure. I had a case when, even with tickets bought, my wife and I had no place on the boat.
• If you are not sufficiently tanned and oftenburn, transfer the trip to the end of the vacation. On the boat the sun will process you not only from the sky, but also being reflected from the water. It will not find it :) Even very strong creams do not always help.
• I like evening walks more: the sun is not so active and there are fewer people. Apparently, the rest are preparing for discos :)
2. A hike in the Ordzhonikidze bays - Planerskoe (Koktebel)
What to see? This route will not be offered to you by local tour operators. They find it difficult to predict time, and there is nothing special to tell here. And just to admire the views and swim in the sea can be without a guide, right?
I talked about this campaign in detail in a separate post on my blog.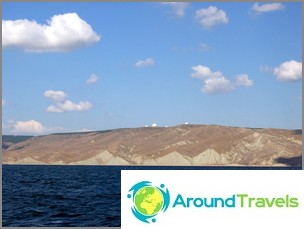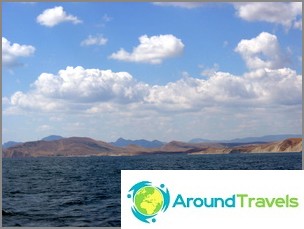 3. Biostation
What are we looking at? Biological station is a place of scientific research on the nature of Kara-Dag and the Black Sea. This place is located near the Kara-Dag, in the village of Resort.
The main attraction is the Dolphinarium. In the summer, for vacationers twice a day they hold shows. In 2010, there were 2 dolphins and 2 fur seals.
The presentation is very interesting. Not only children are delighted, but also adults. Dolphins swim fast, jump high, bring and throw balls, draw and dance. Seals are also much to work with the ball and rings.
The only thing that strains a little is persistent. Biostation desire to make money. For 40 minutes of the presentation held an auction and paid lottery. After the end of the show - a paid photo session with animals. Behavior of time, what to do.
Also on site is a small aquarium and various interesting plants. In a small bay you can swim.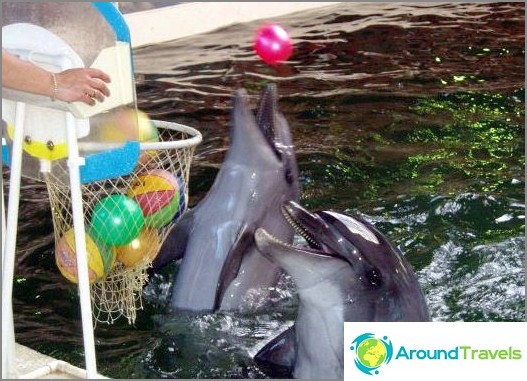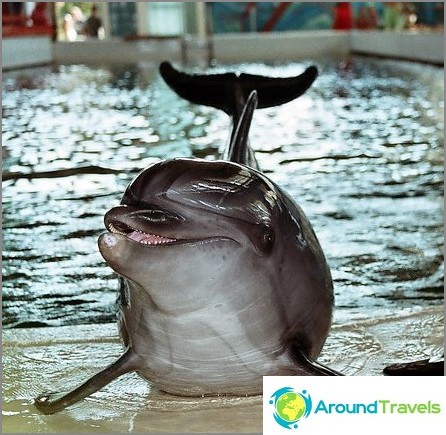 Technical details. A boat trip from Koktebel, by bus or tour bus from Feodosia. Presentations - 2 times a day (in the morning and about 15 hours). Takes 40 minutes.
Tips:
• Those who sit close to the pool will almost certainly get wet: dolphins jump high and fall hard :)
• It is better to go in the afternoon. Less people in the dolphinarium.
• Inside the dolphinarium is stuffy. Do not forget to take the water and camera :)
Great impressions from the trip and I will be glad to your comments here or on your blog.
Life hacking 1 - how to buy a good insurance

Choosing insurance is now unrealistically difficult, so to help all travelers, I compile a rating. To do this, I constantly monitor forums, study insurance contracts and use insurance by myself.

Life hacking 2 - how to find a hotel 20% cheaper

First, choose a hotel on Booking. They have a good offer base, but the prices are NOT the best! The same hotel can often be found 20% cheaper in other systems through the RoomGuru service.

Discount hotels