On this trip to Thailand, I decided to buythe insurance is more expensive - ERV (Euro-Centr), since according to reviews it should have been better and sent to Bangkok in particular on Samui. And I was not mistaken. Under the insurance, in the end, there were 3 hospitals - pneumonia, getting into intensive care, transportation of San-Aviation to Bangkok, huge bills for treatment.
The content of the article
ERV insurance and pneumonia in Thailand
Life hacking. If you buy by the link, it will be cheaper by 12% and will give the option "Telemedicine" as a gift. These are online consultations with Russian doctors, you can always find out if you already go to the hospital, clarify the appointments of the Thai doctor, ask about medicines, etc. detailed instructions.
ERV insurance with 12% discount>
The story is long, with sanaviatsii, resuscitation,tears and other things. In total, we spent almost a month in the hospital, and not just one, but three at once. In order not to overload the post, otherwise it will turn into a long sheet, I will try to briefly and in the case: about the prices, about the speed of the operation of the station, in general, some feedback about the work of the insurance ERV.
And the details will be on the links leading todescription of hospitals. Looking ahead, I want to say that I am really very pleased with the ERV and very glad that I did not do Liberty, which would probably send us, because the amount was huge. We spent about 1.5 million baht (3 million rubles).
Phuket Provincial Hospital
December 31st in Phuket my son Egor abruptlyhigh fever and cough appeared. The next morning, I called the phone number listed on the policy and told me what had happened. They asked only the number of the policy, the date of arrival and departure, they did not ask for a passport / visa / stamp scan. Asistens responded quickly, within 20 minutes he called back and sent an SMS to the address of the hospital, it turned out to be a hospital - Phuket Provincial Hospital. Honestly, I was embarrassed that we were sent to such a hospital, I thought it would be more awesome.
Upon arrival, the letter of guarantee was not immediately found,I had to call asistens. But after 10 minutes, all the paper questions were settled. Passport did not take a deposit, cash deposit, too. The hospital is Thai, but it seems to be considered quite good among Thais, and they said that to me on the phone too. The doctor conducted the inspection together with the translator. Reception + drugs = 3000 baht, the insurance paid no questions, that is, we just left. More about Phuket Provincial Hospital.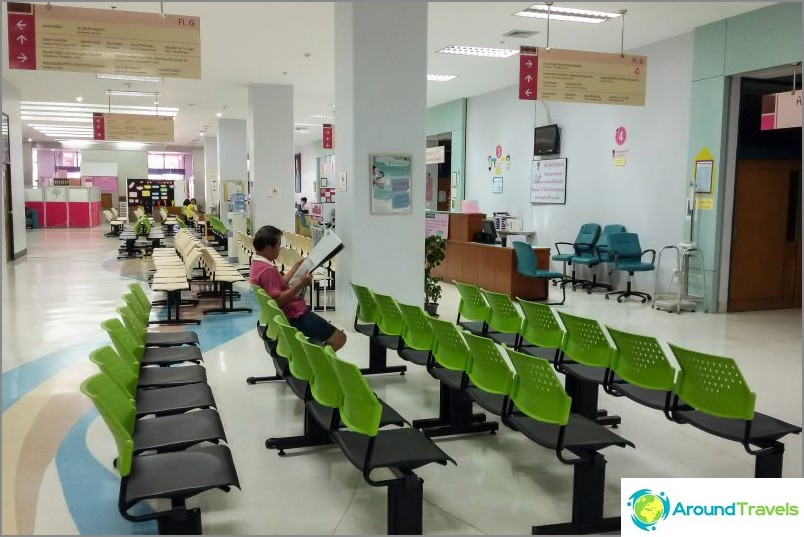 Phuket International Hospital
After 2 days, it did not get better, I called Assistanceonce again and said that we need a second reception. Only this time asked for another hospital. Not entirely willing, but sent to International, saying that they had many clients served at Provincial and were satisfied. Upon arrival again, we waited a bit until the Thais found a guarantee letter.
After examining the doctor (we refusedtranslator, as she more or less spoke in English), rather quickly made an x-ray, took a blood test, put it on a drip (dehydration). And when the results were ready, Yegor was hospitalized with bronchitis. Just at this stage they took my passport as a deposit. We also offered to choose the type of house and I asked for the one that is paid for by the insurance, that is, without upgrading the class.
Next 6 days we were treated in the Phuket hospital,we had a luxurious chamber, where we were three (there was a folding sofa). They went out for a walk in the classroom in which the child was sitting, and a dropper hung on the top of a metal pin.
Everything was great, but something went wrong. An hour before discharge (we had already been discharged, we were waiting for the documents!), Deterioration abruptly occurred and Yegor boomed with pneumonia in resuscitation with artificial respiration. The bill for 6 days inpatient + 1 day in intensive care was 134 thousand baht. The passport was given without problems at discharge from the hospital, I didn't talk about money. Learn more about Phuket International Hospital.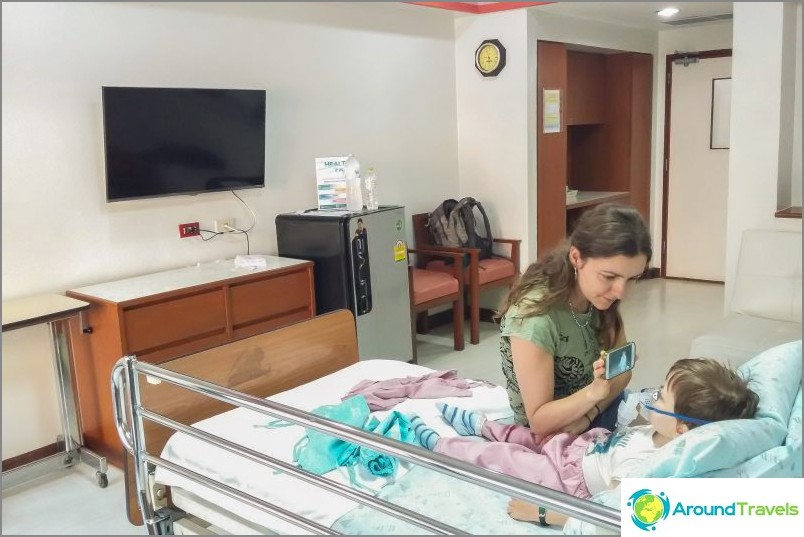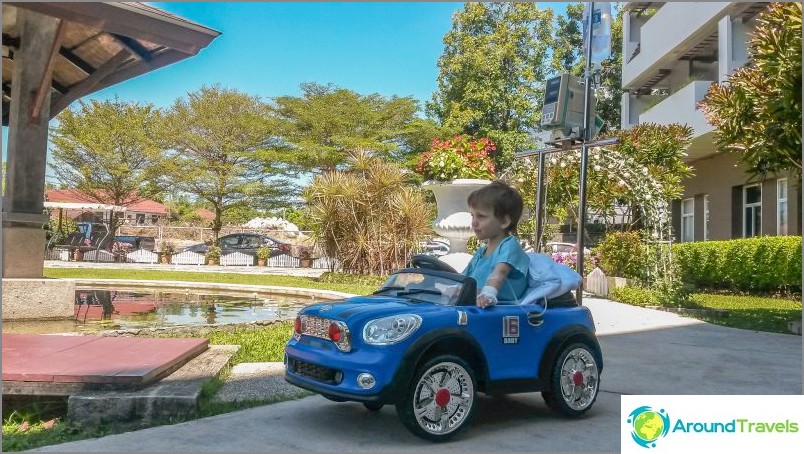 Transportation Phuket - Bangkok
I remind you that if you are going to Thailand, then you should definitely make travel insurance, as medicine in Thailand is very expensive. I got 3 million rubles, but all paid for insurance. I have very useful post on insurance, with a rating of insurance for Thailand and all the nuances: how to use, how to choose, and so on. Be sure to read.
Since in Phuket International, resuscitation is notEspecially designed for children, and according to our doctor there were no places in Bangkok Phuket Hospital, the insurance company decided to transport Egor to Bangkok by plane. After spending the day in Phuket intensive care, Yegor was transported by sanitation in the capital. To the airport and from the airport by ambulance.
There was another option to transport completely by car,but we did not decide, but doctors and insurance, apparently decided not to risk it. Transportation by plane went well. By the actions of doctors it was clear that this is a cool team that knows what it is doing. The flight cost about 420 thousand baht.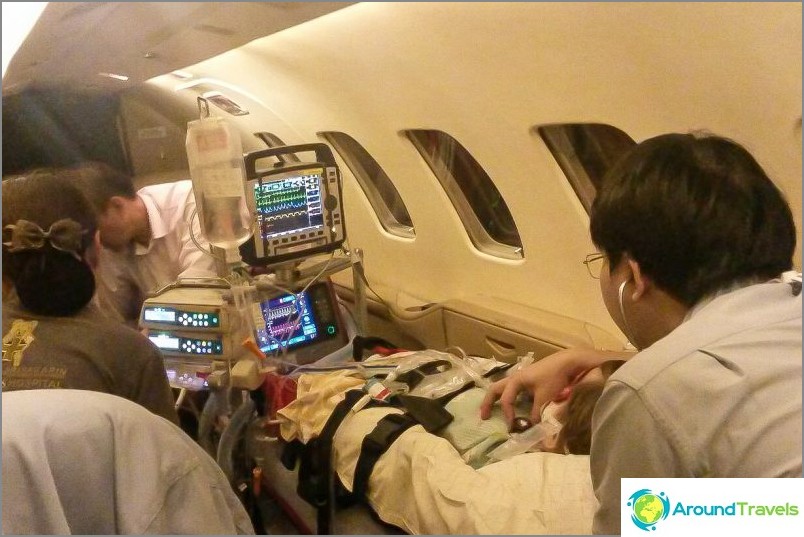 Samitivej Bangkok Hospital
When turned up in Bangkok in Samitivej BangkokHospital and communicated with the physician pulmonologist, I finally got relief, as it was clearly visible that the doctor understands what he is doing. I just have the habit of always checking all the actions and appointments of other doctors (well, as far as possible), and in this case, our doctor did not forget anything, she knew the answer to all my questions, and also told me that the treatment in Phuket was not quite correct.
Indeed, if you really seriously ill, it is betterin Bangkok and not at the resort. I talked with how many doctors and people in the subject, everyone said that medicine is much stronger in the Thai capital. Well, everything is just like we have in Russia, almost that, then immediately to Moscow / Peter
Yegor spent 15 days in intensive care, of which 12days with mechanical ventilation. The intensive care unit was very cool, I have only seen such films before. The doctor came 1-2 times a day, the nurse was constantly on duty (one per ward), and when it was necessary to wash the child or make the bronchial sanation, several more came to the rescue.
All the time was in touch (if needed) managerfinancial issues and sometimes they called me from the insurance company insurance company. The staff at the hospital spoke English, though the nurses were so-so, but the doctor was generally bilingual, her second native English (not Thai).
Then Yegor was transferred to the pediatric ward,where he spent 8 more days. Everything seemed to be like a ward in Phuket, the same sofa, fridge, TV and so on. Only a bed in the form of a mattress on the floor, for small children, is a very good decision, in my opinion.
At the hospital, the total bill was over 1 million baht. More about Samitivej Bangkok Hospital.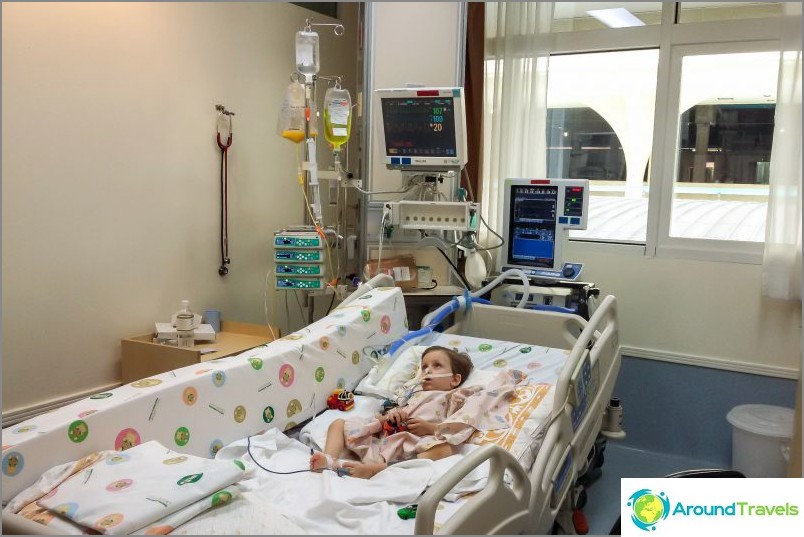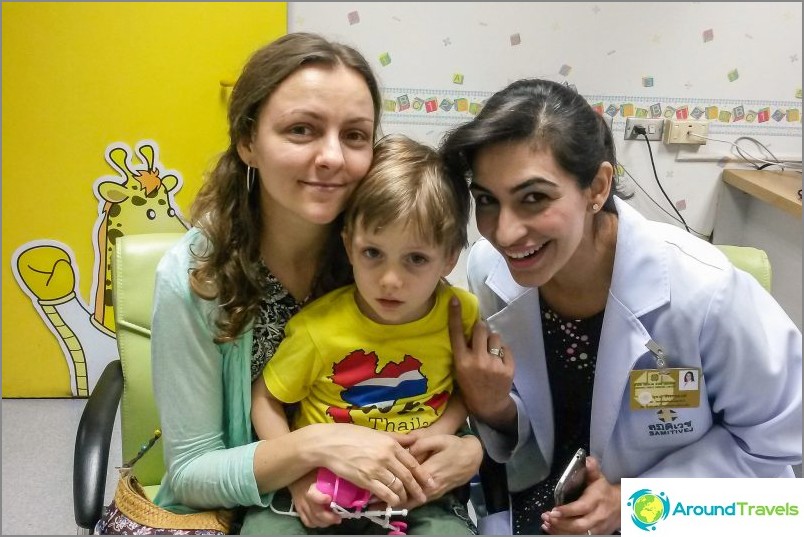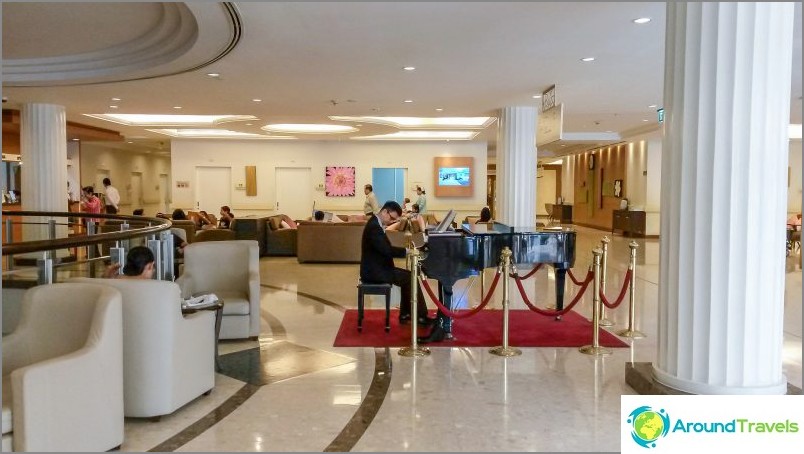 My review of the insurance company ERV
Everything ended well, we lived in Bangkoka month near the hospital (observed), then spent a month near the sea, where Egor was recovering, crawling along the beach and breathing the sea air, and then returned to Moscow. Let's move on to the practical moments.
How did ERV work?
From personal experience, I can safely recommend ERV.
The best choice for a child, as there is no multiplying factor due to age.
Dengue fever, baggage loss, exacerbation of chronic diseases, riding a motorcycle are included.
They insure the complication of pregnancy and childbirth to 31 weeks (the best insurance for pregnant women)
We got the experience of staying in three hospitals.Thailand and experience with the insurance. ERV Insurance Company and their assistance worked well. Yes, I called them almost every day, I was worried, I asked questions, but it seems to me that my calls didn't help much.
All questions were resolved promptly and without mycalls. At the very beginning, I received the address of the hospital 20 minutes after the call for assistance. Then the decision to transport from Phuket to Bangkok was made and everything was organized in 24 hours. And further in Bangkok, Samitivej Hospital accepted us and treated us under a letter of guarantee for a large amount without any collateral.
ERV insurance with 12% discount>
Our regular readers know that Yegor has a genetic syndrome, due to which we run from winter and in particular were in Thailand. This feature could affect such a course of the disease. However, it still needs to be proved, because, at a minimum, there was a doctor's jamb in Phuket, and it was even possible to sue, but you understand that we didn't have it before.
But I'm on a friend right now if the doctor is in the hospital.decides that it is somehow related to a chronic disease and informs the insurance company about this, then she may well refuse, if the policy initially categorically does not cover anything related to the chronic. So, insurance from ERV covers emergency situations associated with the chronicle, it was according to this scheme that we were paid. I hope they will not remove this item from their contract.
I myself am surprised, until recently I did not believe that they would pay in full.
My findings
You know, after this incident, I was once again convincedthat you need to make insurance and now I will not save on it. On the one hand, the usual appeal to the doctor costs only 1-3 thousand baht, which is not critical. On the other hand, you can see for yourself in what amounts a hospital stay can go. Enough even one day in the hospital to discourage the purchase of insurance for several years in advance.
Repeatedly familiar with children fell by 1-2a day at the hospital is banal due to dehydration of the child (it was necessary to drip the drip) and received a bill for 20-30 thousand baht, well, that was insurance. Also in Tae, they often fight on bikes or pedestrians are shot down, I heard a lot of such stories in the hospital ... Better to be safe.
In our case, accounts for the first days in intensive care were about 100 thousand baht / day, which terrified me. Well, that was insurance.
Insurance needs to be done, no doubt! Let inexpensive, but working. Therefore read my post about insurance and asistensyand choose. Of course, read the forums too.
It is better for the child to buy more expensive insurance withthe sum of $ 100 thousand. It is the children's organism that can react to some kind of infection in the form of complications, which will require hospitalization or even sanaviatsiyu, because everyone is resting in the resorts, and not in Bangkok. And precisely sanaviatsiya can gobble up most of the insurance.
Patriots may not believe me, but after talking withdifferent people "on the ground", and also having got into such a situation later, I can say - do not count on the Ministry of Emergency Situations. They will not arrive just like that. Such a flight is very expensive and costs about 100 thousand dollars, it is unprofitable to fly for one person. Think yourself, this is logical. Even more I will say, even in a few did not arrive. Therefore, either own money or insurance.
If I was asked where it would be betterI would have a hard time recovering, I would firmly say that in Tae, where it's not that a child is allowed into intensive care, they even ask to be present so that the child is not afraid and that the parent can calm the child in time. We were on duty around the clock. Well, the equipment, space!
If I ever go to Tai with a child, then I will buy good and expensive insurance anyway. And the sum insured will make $ 100 thousand.
P.S. Something did not work out briefly, but the story was long. All the money and not get sick!
Life hacking 1 - how to buy a good insurance

Choosing insurance is now unrealistically difficult, so to help all travelers, I compile a rating. To do this, I constantly monitor forums, study insurance contracts and use insurance by myself.

Life hacking 2 - how to find a hotel 20% cheaper

First, choose a hotel on Booking. They have a good offer base, but the prices are NOT the best! The same hotel can often be found 20% cheaper in other systems through the RoomGuru service.

Discount hotels