Bali Beach (Bali Beach) on Lanta, aka Klong Khong - the next major beach and area of ​​my route on this trip. The third after Klong Dao and Long beach. Between Long Beach and Klong Khong there are two more beaches (Relax Bay and Secret Beach), but they are small and can be ignored. Therefore, the third largest and longest beach on Lanta is Klong Khong.
Quite a strange place, "an amateur" in mysight. I understand that it is not very popular with ordinary tourists who come for a beach holiday, and I understand why - this is some kind of Mars, and not a beach. Nevertheless, people come, and housing here seems to be cheaper, so Klong Khong will always get its customers.
The content of the article
Beach description
The length of Klong Khong is about 2.6 kilometers. An uneven line of the coast, somewhere a bay is formed, somewhere on the contrary a cape protrudes, but on the whole, it is all kind of a cable, with stones. From small ones that are scattered underfoot everywhere, to large heaps of boulders.
The entire first line of Klong Khong is occupied by bungalow resorts, and there are cafes-bambustayl on the shore, which is traditional for Lanta.
If you are facing the sea, then the left part of the district is the least buoyable, and if you already settle on this beach, then it makes sense to consider housing in the area from the 7-Eleven mini-market and to the right.
Everything after it to the left is a beach more.technical, there are heaps of stones, and the beach itself expands and becomes a huge flat glade, and even with high water it is almost impossible to swim here.
The depth of the beach increases slightly, i.e.capital shoal, in short for the beach such a bottom relief is tin as it is. Everything looks not very profitable, plus coarse yellow sand with stones. I would call only the right side of Klong Khong, and even then an amateur, suitable for bathing. I did not just call this post "fabulous" Bali on Lanta, just the meaning is not that it is fabulous — incredible, but that fabulous — made-up.
Sunset, depth and waves
What Klong Khong seemed strange to me wasrelief of the bottom and ... quality of coverage, let's say. In spite of the fact that in some places it is cupable, and at high tide and during low tide, the beach does not look very attractive. Even with a good deal with the tide, you can clearly see that under the water along the beach there is a barrier of stones.
If you go from shore to the horizon, then youYou cross this barrier that looks like a layer cake: sand, sand with stones, stones, a lot of stones, again sand. If it is possible to swim this cake at high tide, then further behind it will be pure sand and the depth may, to the waist, up to the neck.
And at low tide, the water will have to wade on foot and barefoot through all these stones, and only 40 meters away will be relatively deep. In general - look at the pictures, everything is clearer there than in words.
Sun beds and shade
Sun beds are near the territory of hotels and cafes, andeven on the beach there are quite a lot of bamboo arbors with palm leaf roofs (such is tropical comfort, with a couch and a table). Excellent shelter from the sun, but for free, without ordering anything from the menu, you will not be allowed here.
I did not see the rental of sun loungers and umbrellas, and there is more than enough natural shade here, although the beach facing west will always be hot in the afternoon, so in any case there is little use of umbrellas.
Beach photo
Right side of the beach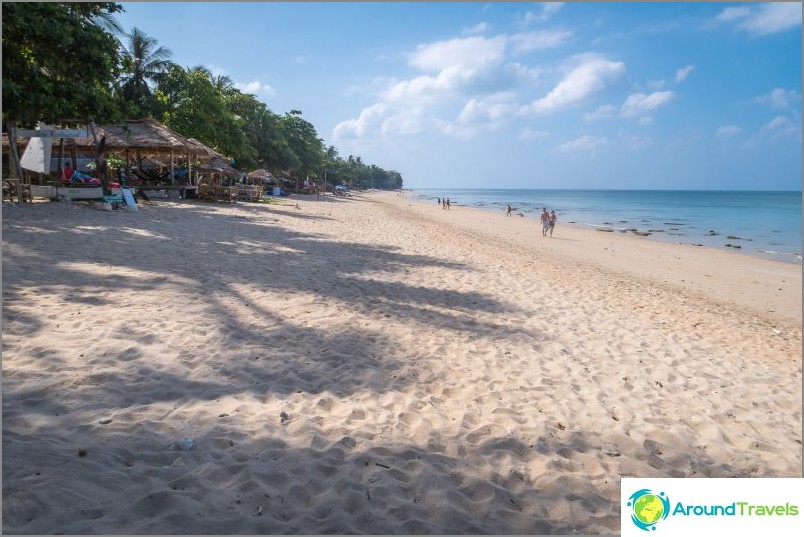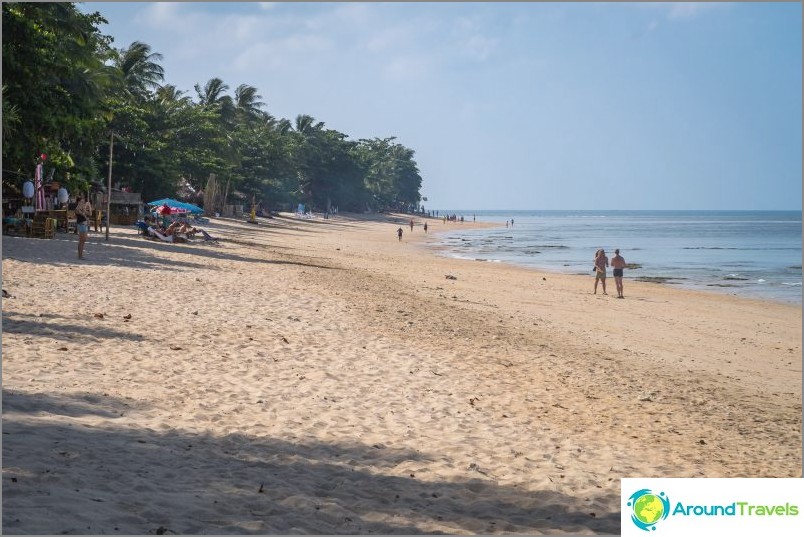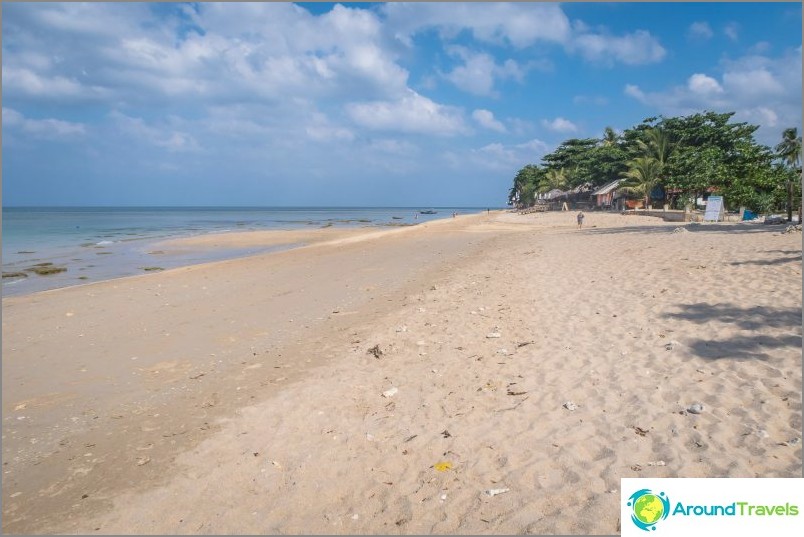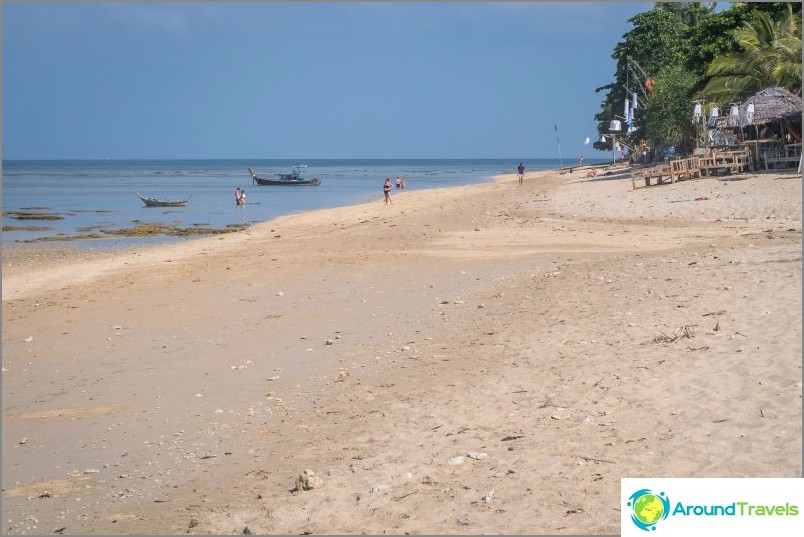 Left side of the beach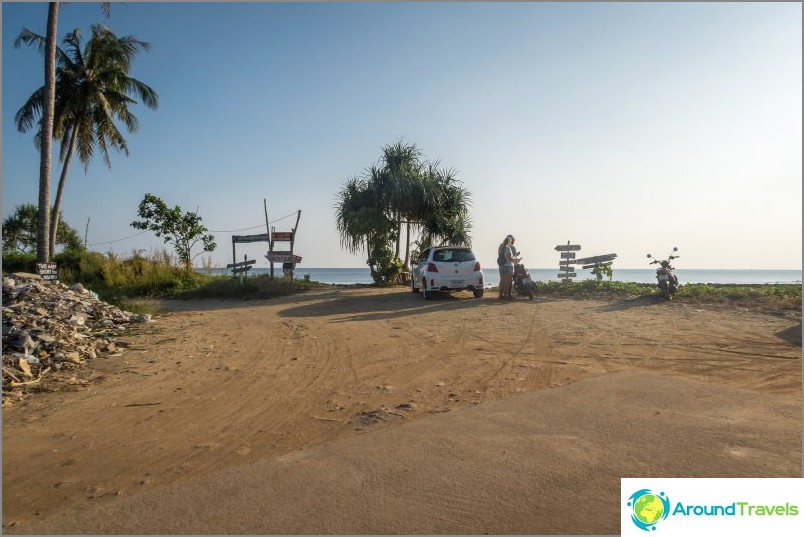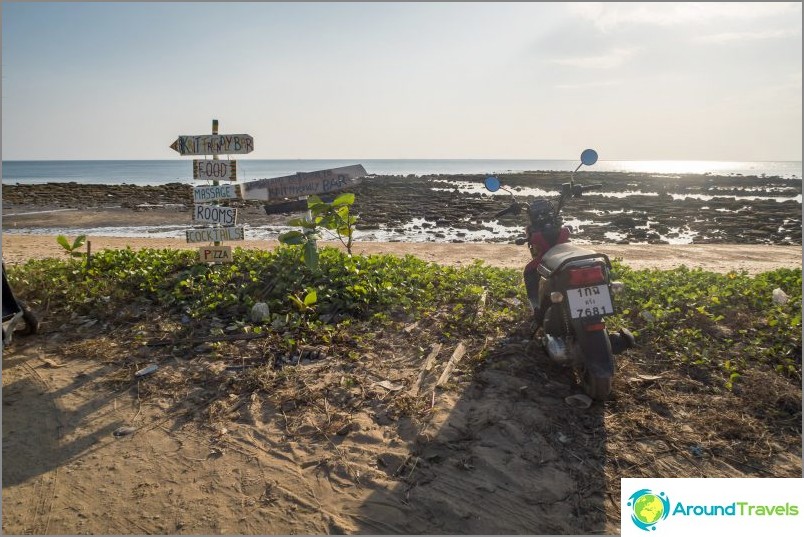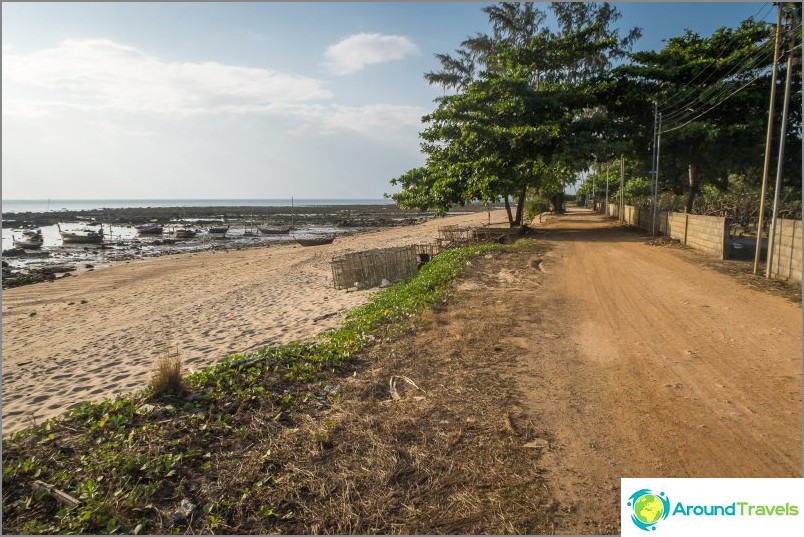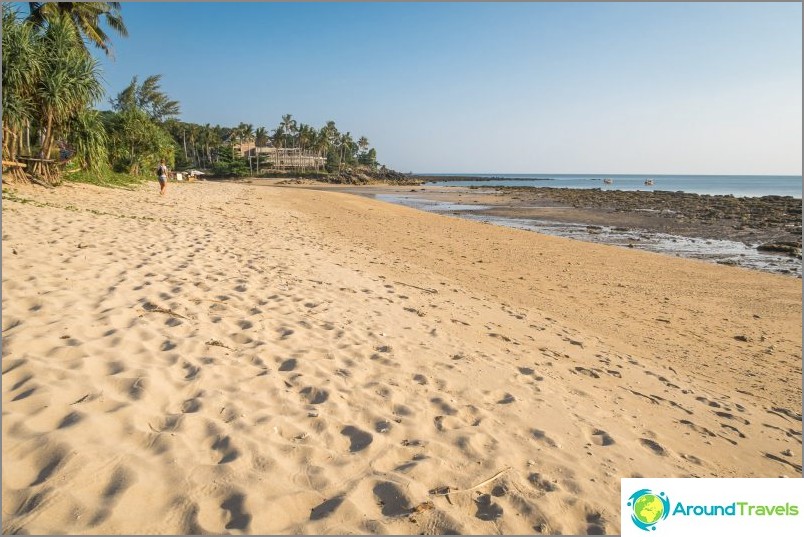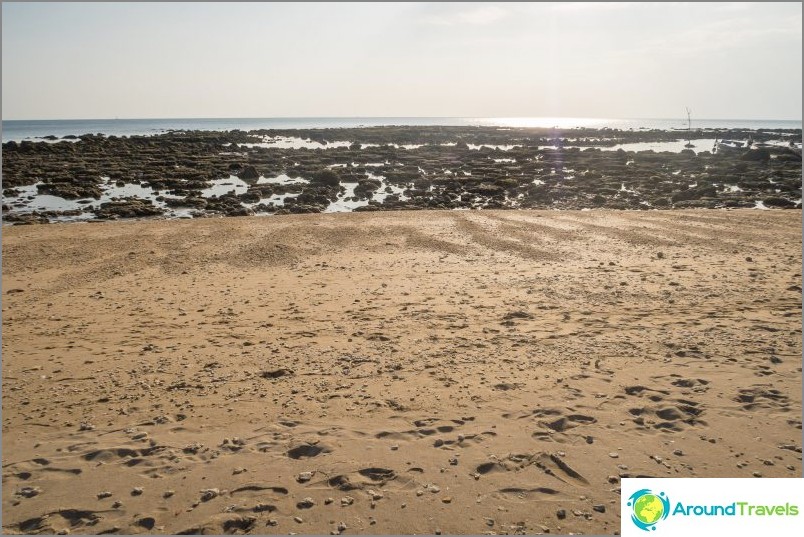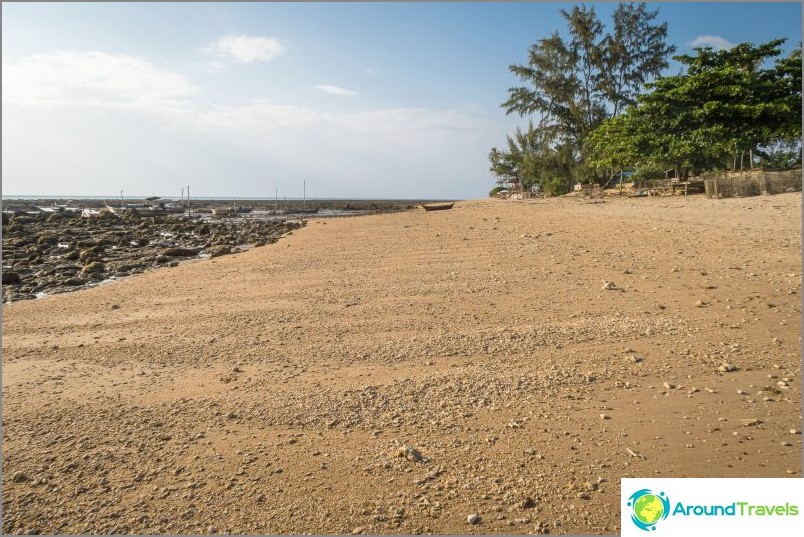 Infrastructure
Infrastructure on Klong Khong too, reallyit is a bit thinned out: everything is concentrated around 7-Eleven, and a little farther from it - everything is less and less dense there. A lot of cafes, that on the beach, that along the road. In style, they are all so rastamanskih, bambustayl, and create the atmosphere of careless hippies, backpackers paradise.
In this area there is one networkmini-market 7-Eleven, near which the maximum concentration of cafes, shops and other tourist services, but in principle and throughout the area all this is.
Houses and hotels on the beach
Despite the fact that the choice of housing on the beach KlongKhong is quite high, I recall my recommendation - to settle in the right half of the beach and closer to the center. There is more or less tolerable infrastructure at hand, and a more or less decent seabed for swimming. Before the trip, I wrote to myself these three options for hotels:
Lanta Fa Rung Beach Resort

Hana Lanta Resort

Lanta new coconut bungalow
Hotels on Lanta>
Be sure (and I insist) check availabilitydiscounts or special offers on the excellent Roomguru service. It will quickly and simply show you discounts in all existing reservation systems. In Asia, for example, there are lots of offers on Agoda.com that are much more interesting than on exactly the same hotels on Booking.com.
For the lazy, here are the direct links to the hotels listed above:
How to find the beach
The road passes a hundred meters from the shore and get there.You can go to the beach through the territory of a resort, or along adjacent jays (secondary paths of the settlement). Jays on Klong Khong are most often unpaved, rather than concrete, and there are always roadway signs on the main road.
I turned one at a time, with the inscription Bali Beach,Perhaps this is a cafe, in which you rested on the shore. Maybe they are positioning this beach as Balinese, but she herself does not have the word Bali in her name.
Beach map
Map of Klong Khong Beach
Map of Klong Khong Beach:


Life hacking 1 - how to buy a good insurance

Choosing insurance is now unrealistically difficult, so to help all travelers, I compile a rating. To do this, I constantly monitor forums, study insurance contracts and use insurance by myself.

Life hacking 2 - how to find a hotel 20% cheaper

First, choose a hotel on Booking. They have a good offer base, but the prices are NOT the best! The same hotel can often be found 20% cheaper in other systems through the RoomGuru service.

Discount hotels