We had a long list of things on the hike that we made up for ourselves when we first got together for this event. I present it to your attention!
All things, of course, do not need to take with you! Otherwise, you will not lift a backpack, you will understand this when you collect it. It all depends on the complexity of the hike, season and duration. Therefore, you can focus on this list of things in the campaign and decide what you need specifically, or not. It makes sense to take some things not for each person, but for a group. We try to take backpacks of about 15 kg for simple trips, and about 20 kg for hiking is more difficult.
If you are going to the sea, it is better to use this list: List of things on the sea in a camping.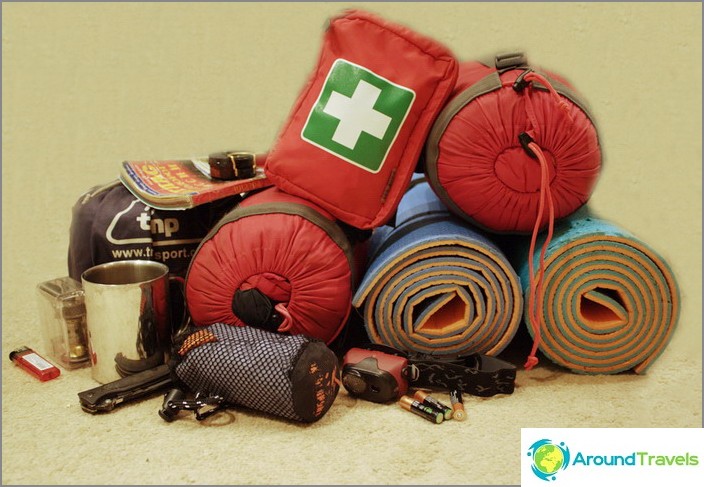 A list of things to hike
Main:
- yourself
- passport, ticket, money
- map
- tent
- sleeping bag
- foam mat
- backpack (how to choose a backpack for a hike)
- sidushka / hoba (a small rug that clings to the pope with a rubber band so that at any moment you can sit anywhere)
Hygiene:
- soap, shampoo (you can use soap), toothbrush, paste (all in small containers)
- toilet paper
- wet wipes or antibacterial cream (we use toilet paper and iodine as wipes)
- cotton swabs, cotton pads
- pads, tampons
- razor and shaving cream (I use soap instead)
- comb (we do not take)
- handkerchief (we do not take)
In Cosmetic Bag: (this is more for women)
- hairpins invisible, krabik, gum
- tweezers
- small scissors
- file
- mirror
- moisturizing cream
- earplugs (on the train they come in handy! Checked!)
- hygienic lipstick
- needles, threads, buttons, pins
Things:
- notebook, pen
- phone, charging
- player with batteries (in a train you need, well, or a smartphone)
- plastic tray or bowl, cup, spoon
- knife
- clock
- alpenstocks
- map, compass
- sunglasses (optional)
- camera, batteries / batteries for it (which camera to choose for traveling)
- headlamp, batteries to it
- lighter (matches), dry alcohol (in case of wet weather), candles (we take a couple of Ikeev candles)
- a torch + a gas spray (1 on two people for a week)
- ordinary rope
- kettle 1-1.5 liters (each pair carries a kettle)
- food hiking (what food to take on a hike)
- food on the train
- insect repellent
- small moment glue (optional)
- belt or chest bag for documents (if any)
- scotch / duct tape (optional)
First Aid Kit:
- patch
- iodine
- hydrogen peroxide
- freezing
- bandage
- elastic bandage
- cream for bruises (we do not take)
- aspirin / citramon
- antibiotic
- Activated carbon
- noshpa
- asterisk
- sunscreen (we do not take)
- instructions for use of drugs, if needed (so that the packaging does not drag)
Clothing:
- T-shirt to walk with a backpack
- T-shirt (to go to camp)
- a shirt with a long sleeve from the sun
- headdress / bandana
- thermal underwear (well, or, if not, something under the pants and a warm thin jacket)
- two warm things, so that one is put on the other (thermal underwear that is higher + fliska or thermo + sweater (although it is heavy) or a thin warm jacket + fleece / sweater).
- windbreaker from wind and rain (or windbreaker + cellophane raincoat)
- tight windproof pants, preferably from synthetics, so that they dry quickly and do not tear about threads
- waterproof pants (optional)
- shorts or summer pants
- civilian clean clothes on the way back (if it fits into the backpack)
- high waterproof trekking boots, covering the ankle + sandals / sneakers
- packages for legs (if all of a sudden your feet got wet, in order to change your socks and put bags on top, you could walk in wet shoes again)
- gaiters (although it is not necessary if you are not afraid to soak your pants on wet grass)
- woolen socks to sleep, socks to walk there (if there is, trekking and regular hb)
- elastic tights
- swimsuit, pareo, swimming trunks
- towel
- Underwear
P.S. I hope that those who are going through the mountains and forests, this list of necessary things in the campaign, come in handy. Once again, I don't have to take everything from the list, and vice versa, something may be missing here, because the trips are very different, ranging from duration, to complexity. Have a good rest!
Life hacking 1 - how to buy a good insurance

Choosing insurance is now unrealistically difficult, so to help all travelers, I compile a rating. To do this, I constantly monitor forums, study insurance contracts and use insurance by myself.

Life hacking 2 - how to find a hotel 20% cheaper

First, choose a hotel on Booking. They have a good offer base, but the prices are NOT the best! The same hotel can often be found 20% cheaper in other systems through the RoomGuru service.

Discount hotels