Somewhere a year and a half ago after my next trip to Thailand and Hong Kong, I posted a video from the contents of my travel backpack Asia. Then I reproached that, they say, I carry too much junk with me, and half is not needed
In principle, I agree with this, but when you takehiking backpack, then there is already a lot of things you can take, there is no point in saving on grams, especially when you go for a couple of months, you want to take more things for comfort. Yes, of course, you can buy them on the spot (clothes, for example, or some extension cord), but in the end, you still have to carry it with you. In any case, if a minimalist approach to the collection of things and go to Thailand, then you can easily do a 30-liter backpack. I am talking about Thailand, because it has year-round summer, and there may be winter in other Asian countries, you need to look at the specific climate.
The content of the article
Video review of the contents of my backpack
List of things in Thailand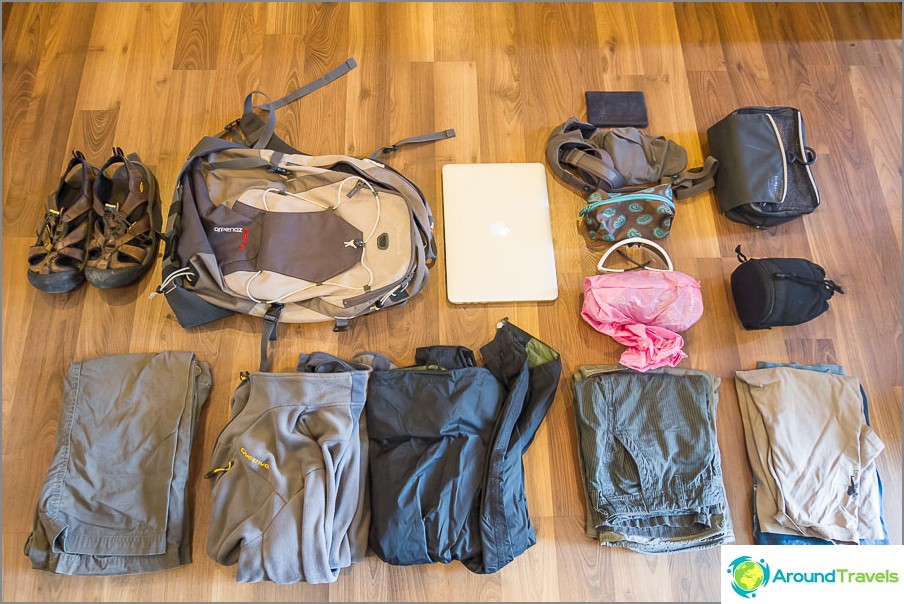 Clothing and Shoes
T-shirts - 3 pcs
Shorts - 2 pieces
Sweatshirt - 1 piece (needed in buses, trains and airplanes)
Windbreaker - 1 pc (needed in the north of Ty, otherwise you can not take)
Pants - 1 piece (needed in the north of Ty, otherwise you can not take)
Panties, socks (socks, too, only in the north)
Tourist sandals - 1 pair (better to take quick-drying, then you can walk into the guesthouse in the shower)
Equipment
Smartphone
A laptop (MacBooks weigh very little)
Camera + lenses (if you take a soap box /mirrorless, then the weight will still decrease)
Toilet bag with accessories and chargers
Other
Documents (foreign passport)
Soap supplies
Waist bag for wallet and phone
Sunglasses with interchangeable glasses dark / transparent, comfortable to ride a bike (but you can get along with a rented helmet)
Explanations
With this set, I rode a week and a half across the north of Thailand, and the rest of my stuff remained in apartment in bangkok. But with such a backpack you can come straightfrom Russia, you will only need to resolve the issue with warm clothes in case you go in the winter. I usually ask friends to take them to the airport and then meet them as well, then they can leave a winter jacket, hat, etc. Although again, the car is warm, and in principle, almost nowhere warm clothes on the road is required. True, last year I was very sorry when transit in Novosibirskthat I didn't have anything warm with me, -36 degrees and I almost got lost.
In this set, much may be missed by someonefirst-aid kits or something else. But all these issues are resolved on the spot, so everyone here chooses for himself what is closer to him: to travel quite lightly, but with less comfort, or to carry more weight with him. I personally have not yet come to a single version, then so, then I can, but rather lean towards the minimalist version.
Also, after overwintering this year and small Tay raids, I concluded that I'm really calm without any photo bags and photo caps. Yes, and generally more and more I think aboutThe transition from a SLR to a compact mirrorless, apparently soon I will finally decide. After all, usually the technique takes a significant part of the baggage and is the heaviest element in a backpack. We still have to think of what to replace the tripod.
P.S. I also recommend reading my article. What to take to Thailand and what not to take and comments to it to better understand the big picture.
Life hacking 1 - how to buy a good insurance

Choosing insurance is now unrealistically difficult, so to help all travelers, I compile a rating. To do this, I constantly monitor forums, study insurance contracts and use insurance by myself.

Life hacking 2 - how to find a hotel 20% cheaper

First, choose a hotel on Booking. They have a good offer base, but the prices are NOT the best! The same hotel can often be found 20% cheaper in other systems through the RoomGuru service.

Discount hotels