I would like to tell you about severaltourist routes of the Crimea, but we have so far passed only two. Therefore, the information will be only about them and about those points that should be considered when preparing for the hike. I hope that those who go for the first time, this post can be useful. Experienced people are unlikely to find something interesting for themselves, especially since I do not pretend to anything, I prefer to go on light hikes and am not an avid hiker. If you have questions, ask.
The content of the article
Maps of Crimea
Below 4 pictures in fairly good resolution. They are in GIF format. Full image on the links.
First
The second
Third
Fourth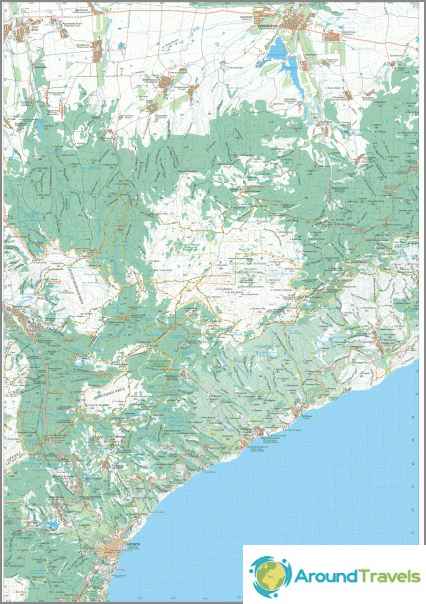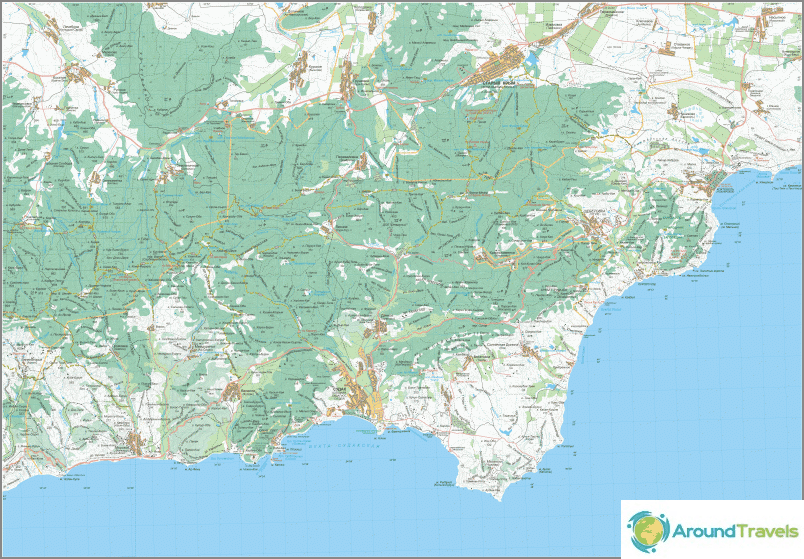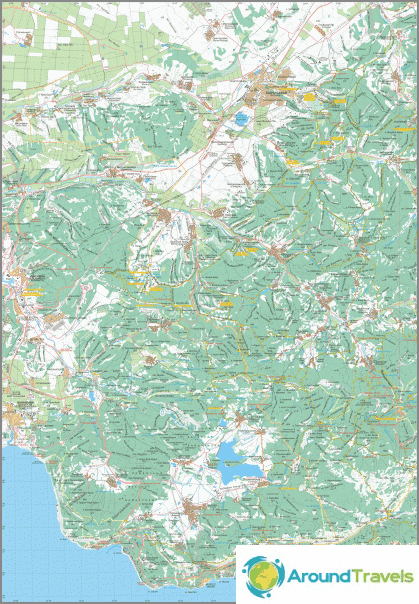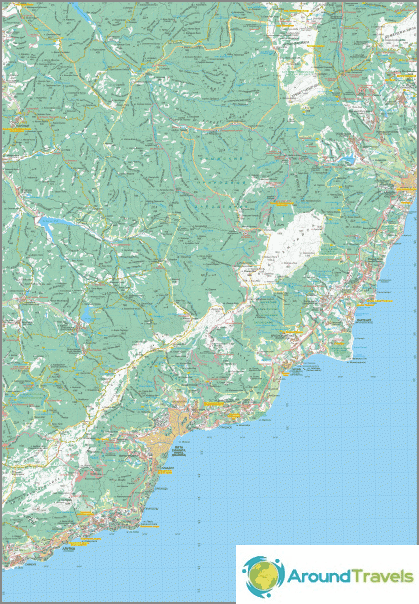 Route through the mountains to the sea
So we went in the summer of 2010 in hiking in the Crimea (link for a detailed report on the campaign), in the so-called "through the mountains to the sea." Although maybe its official name is different, we christened it that way, because it reflects its essence.
The only mistake is we are there in one place.plutanuli, and spent the night on the river Sualtan, although it was necessary to go further. The paths there were clearly not traced, but we are to blame for what we wanted to cut. It's better not to do this without GPS.
Path length: About 60 km, day crossings - as you please. We passed it slowly in 7 days, you can go for 4-5.
Thread route: Tank - Mangup (spring) - s / s Source (spring) - per. Bechku - t / s Ai-Dimitriya (spring) - t / s Tea house - t / s Silver streams (spring) - t / s Grand Canyon (river) - t / s B (river) - t / s Bash-Dere (river) - Ai-Petri - on the shuttle bus to Yalta.
Map of the tourist route in the Crimea
The route through Tyrke Yaylo and Karabi Yayloi
In the summer of 2012, we also went campingmountains of Crimea. This time it ran along the Black Sea coast and we periodically saw the sea in the open. As a result, we still, of course, went to the sea, so you can call it the same way - through the mountains to the sea. And we literally reached the sea on foot and without transport. But the last 5 km is just a gentle dirt road, which is not of particular interest, well, except that there are grape plantations everywhere.
This route is also good because it is the least likely to meet with foresters, since these places are not very popular.
Thread route: with. Perevalnoe (Kurlyuk Su river) - m / s Kurlyuk Bash - m / s East Suat - m / s Ai Alexiy - m / s Chigenitra - Rybachye.
Path length: About 35 km, daytime transitions at will, but it is easier to focus on the tourist camps (t / s), because there are springs there. Although they meet a couple of times. We passed in 5 days with a radial exit, but it is realistic to go in 2-3 days.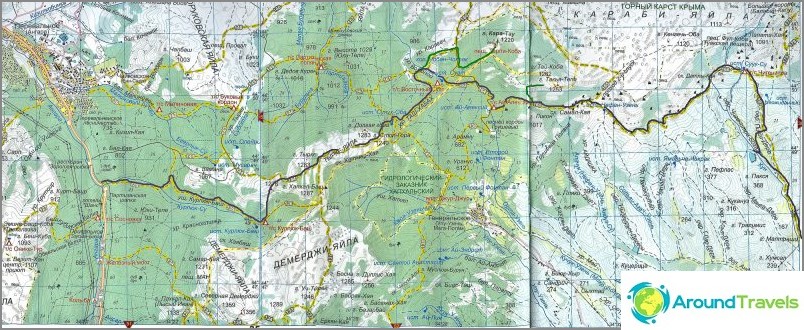 What should be considered when going hiking in Crimea
There are much more moments, but this is what is our personal experience. First read how to get to the Crimean peninsula, described all the ways.
Officially, before hiking in the Crimearegister with the KCC (Rescue Control Service), providing them with a route thread and pay for all the overnight stays, as well as transitions between them, if required. On what kind of parking and transitions are paid, you can find on the website of laziness. In fact, it is not necessary to register, and to pay, too.
Also, before the trip it makes sense to find out whatfire situation in the region. First, you will not be registered if you want to do this, and secondly, in areas marked by reds, you can run into foresters and get a fine. Yes, and purely from a human point of view, it is better to refrain from visiting the Crimean forests at this time.
Consider that in the Crimea a large number of "Ostap Bendery" divorced who can try to dissolve you for money. Therefore, the link above, read exactly where and for what you have to pay.
To reduce the risk of hitting money, betterjust pass the place of possible payment either in the morning or in the evening It is also better to take pictures of overnight places early in the morning, in order to avoid unnecessary questions. For example, it is impossible to spend the night on Mangup-Kale officially, therefore it is better not to intersect with those who carry tourists to UAZ.
Officially, overnight stays can only be carried outtourist parking (there is a list), in fact - almost everywhere. And if anyone asks, say that they spent the night on m / s such and such. If you demand money, you can pay one day, saying that he is the last. But it is better not to spend the night on the territory of the reserve outside the tourist sites.
Tourist parking (t / s) representtrampled glades with fireplaces. This is me to the fact that there, as a rule, there are no shops, lodging and other services. An exception is the parking near the tracks, or near the forester's houses, where there is something edible. Often at the sites there is a spring.
Do not try to make a fire inreserve outside the tourist sites, not only because of the large fine, but also because of the frequent fires in the Crimea. The best option is to use a gas burner. And in a fire-dangerous season, it is better without any fire at all.
The river in the Crimea a little and often they dry up. In addition, hiking trails rarely go along them, and therefore it is necessary to have an adequate supply of water until the next spring. And also plan your trekking route so that it ends at the tourist parking lot, where there is a spring.
Enough to go hikinghave a map of the area on a scale of 1 cm - 500 m with the Crimea's tourist routes and a compass. If you can, then you can grab a GPS. It is necessary to take into account that the Crimea map was made on the basis of a military map of 30 years old, therefore some dirt roads may not exist anymore, therefore it is best to lay your route along the tourist paths that are highlighted in color on the map, rather than along dirt roads.
If you forgot something for a hike (a list of things incampaign), that is a good tourist shop Vertical (Blvd. Lenina, 14/2) near the railway station in Simferopol. There and mountain atlas in the Crimea, you can buy, and gas cylinders, and in principle any equipment. Go literally 5 minutes.
Regular buses in the Crimea are quite budget, andgo quite often, so the main areas can be used. And in those areas where trolley buses go (Yalta-Simferopol, Alushta-Simferopol), it is better to ride them, often they are air-conditioned and at the same time even cheaper than buses.
P.S. Good hikes to the mountains on any routes of the Crimea! And, if possible, take the garbage with you!