Everyone who hitchhiker has his ownrules how to ride. For the most part, they repeat what is written in books on this topic, but some moments are individual for each person, or they like more. I also revealed such rules for myself. True, they sometimes resemble "dancing with tambourines" ...
And if you still doubt this method of movement, I recommend reading my post Hitchhiking in Russia - Dispelling Myths.
Some moments of hitchhiking
First of all, I hitchhike in casewhen I have a lot of time, and I'm not in a hurry, otherwise hitchhiking from pleasure turns into a race. And every small 20-minute simple seems like an eternity. Also, hitchhiking is desirable to consider as an adventure, and not just a way to move.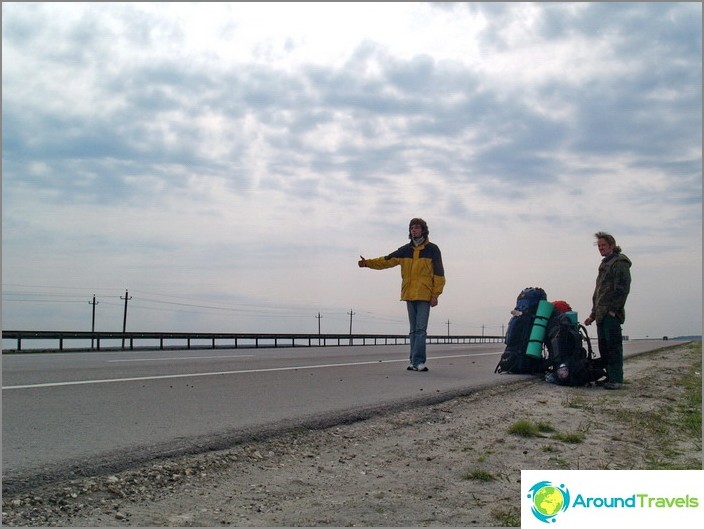 The key to a good hitchhiking is a good mood. Well, who wants to carry a gloomy sad creature, so it is useless and even harmful to be angry at the cars passing by. They are simply not yours. It is best to stop in a state of a certain rage, cheerful enthusiasm. Sometimes, this way you can cheer yourself up.
You must understand that no one is obliged to you.to bring, so thank the person for an interesting conversation, an apple, or at least mentally. Raise a person's mood! And the next time, he will again want to take a companion. Give hitchhiking to the masses!
Rules how to stop
First we choose a place, it's very desirablewhere the driver will be comfortable to stay. For example, if there is no curb, and stopping entails braking of all who are behind, then this is a bad place. For those who drive, it will be easy to understand what the place is. Also, it is necessary that you could be seen from afar, otherwise they may just slip through, noticing only a shadow with lateral vision. A good place after 100-200 meters after the ascent, with a wide shoulder, just the driver slowed down and saw you. I accepted the rule for myself, if I do not stop for more than 20 minutes, then I change my place, because I either chose badly, or it was enchanted by evil fairies of anti-hitch-hiking.
Often I use mental images and visualization. I am trying to imagine that a car pulls up and stops, and there is a cool uncle in it. You can also represent the arrival at the end point of the path to speed up the process. Scientifically, these methods are not provable, but work for those who believe in them. And I believe. I don't know any other ways ... By the way, hitchhiker gurus materialize cars down to color or brand, he himself once traveled with such a person. Entertainment is just not interesting to go, give us the Universe green foreign car with conditioner.
An important point when stop, I try to look atdriver, well, or if it is not visible, then there, where he supposedly should be. I establish mental contact! Know, if you are standing for a long time, and nobody pays attention to you, it means for sure that you are doing something wrong. Usually, in response, they wave their hands, heads, show all sorts of strange signs, for example, soon turn off, or others, the meaning of which can only be guessed.
I also noticed a feature (maybe only mine),that before stopping the car, you must meet your needs. And it is not funny fig. While I wanted to go to the toilet I could not stop anyone. And, I remember once, the thought of an apple in a backpack did not let me rest until I ate it, FIG.
Good hitchhiking!
P.S. It makes sense to search for fellow travelers in various tourist forums, and if you are ready to pay money for the trip, then there is a good service BlaBlaCar (applications: Android, iOS).
Life hacking 1 - how to buy a good insurance

Choosing insurance is now unrealistically difficult, so to help all travelers, I compile a rating. To do this, I constantly monitor forums, study insurance contracts and use insurance by myself.

Life hacking 2 - how to find a hotel 20% cheaper

First, choose a hotel on Booking. They have a good offer base, but the prices are NOT the best! The same hotel can often be found 20% cheaper in other systems through the RoomGuru service.

Discount hotels