When was the first time I was in big Thaithe supermarket, it seemed to me that the prices were not at all low: chocolates, cheese, oat flakes - all this was more expensive than in Russia. And this is despite the fact that there was no crisis yet and there was a good dollar rate. I kept thinking what kind of food I would eat in Thailand. Pretty quickly, I came to the conclusion that in Thailand (as elsewhere) it would be much cheaper (and also tastier and healthier) to eat local food - rice-based dishes and tropical fruits. And what I then saw was imported products brought from afar, so they are by definition more expensive.
A little accustomed to and examining the rangesupermarkets, I realized that I like it here and what does not. I loved Thai rice so much that I order it now in Moscow, I loved mango and papaya. In any case, it's great that the products have almost everything, and you can always find a suitable basket for you.
The content of the article
Products in Thailand supermarkets
Supermarkets in Thailand are represented by severalchains that can be found throughout the country: 7/11, Tesco Lotus, Big C, Tops Market, Makro. 7/11 is a network of convenience stores within walking distance of virtually any accommodation in Thailand. Makro often purchases wholesalers, cafe owners or owners of a very large family. We can say that this is the Thai equivalent of Metro. Tesco Lotus and Big C are the most popular supermarkets in Thailand, such an analogue of Auchan. At each resort there is at least one or two large hypermarkets of these networks and many smaller ones.
Minimarkets 7/11
7/11 (or alternatively 7-eleven) is a network24-hour minimarkets across the country. They are in every city, almost every corner and are very popular with both Thais and foreigners. Only there is nothing special there - water, soda, chips, canned food, yogurt, coffee, cookies, muffins, ice cream, ready-made frozen food in plastic containers that you just need to warm up in a microwave, sausages. In other words - fast food.
We take usually 7/11 for breakfast -cupcakes for tea, condensed milk, yoghurts. As well as chilled or frozen rice with shrimps, it is sold in trays and can be either heated in a microwave right in the store, or at home. It saves a lot when moving around Thailand (7/11 is at every gas station), and is also suitable for some food in the fridge in case there is too much laziness to leave the house or there is no time. Details about 7-eleven.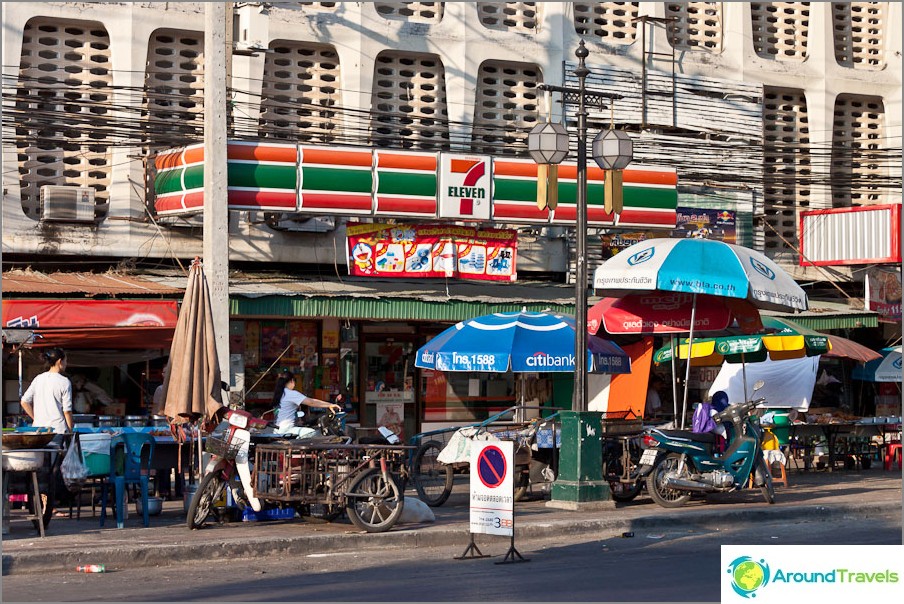 Tesco, Big C, Tops Market and Makro
Tesco, Big C, Tops Market, Villa Market and Makro -full-fledged big stores with enough choice for the Russian people. If you want something familiar, this is also there, just more expensive. The only thing you need to look for is ordinary cottage cheese, not sweet yogurts, and also some cereals such as buckwheat. It is worth mentioning about the Villa Market, this is a store for foreigners, there is the largest selection of imported products with corresponding prices.
First of all, you need to get used to that in ThailandThere are no walking supermarkets we are used to in Russia, instead of them 7/11. Therefore, in order to buy normal products, you need to go by transport, as you do at home, going to Auchan. You also need to know that supermarket chains are of three types: small, medium and hypermarkets. In small you can, of course, walk, but the range will be similar to 7/11. In the medium is usually a completely normal set of products, but there will be nothing besides them. In hypers there is everything, including appliances, furniture, clothing, and so on. It is in the hypermarket and worth the ride, there is the largest selection. By the way, from Tesco or Big C you can order home, which is very convenient, I wrote about it (shipping from Tesco). It is a pity that not all cities are available.
Over the years, foreign products have ceased to beThailand is so rare. In large Makro and Tesco you can find not only beets, airan, an analogue of our cottage cheese (cottage cheese) and natural yogurt (greek style natural yogurt), but also pickled cucumbers, buckwheat and even mint gingerbread! In Pattaya and Phuket, where most foreigners, including Russian, in the supermarkets make special racks of "imported products". This is where you need to look for sweet buckwheat and real Italian spaghetti. In addition, for expats and Russian cafes, enterprising compatriots have long since established production of cottage cheese, kefir, dumplings and black bread. Sometimes small trays with these products can be found next to large supermarkets in tourist areas. In more detail about it I wrote in a post - How to find familiar food in Thailand.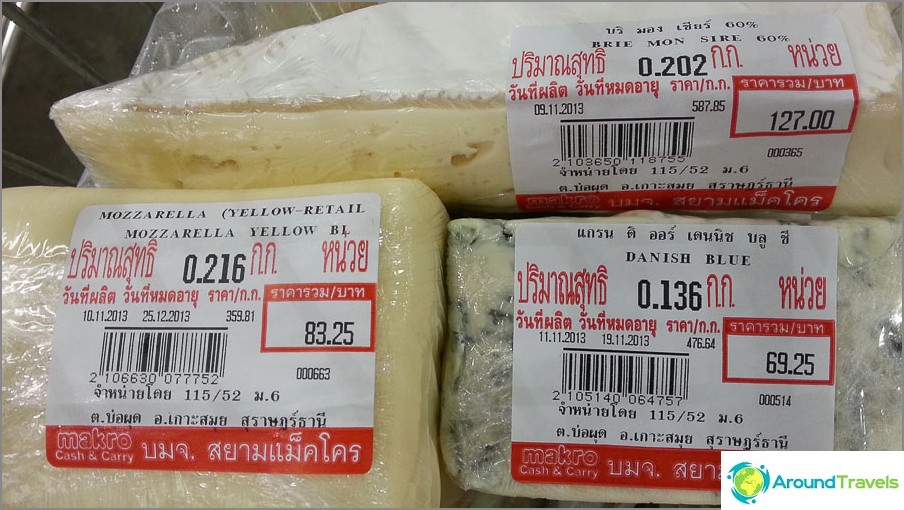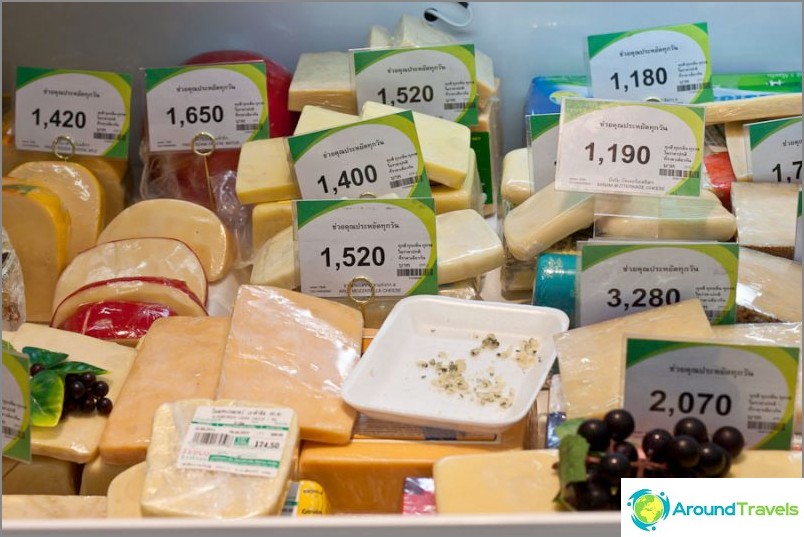 Of the usual products in large thaiTesco or Big C supermarket must have trays with fresh meat (mostly chicken, pork and beef, but the rest can be found, including duck and lamb) and seafood that are laid out on the ice. Quite a large selection of fresh pastries, for sweet teeth is a paradise.
Apples and oranges are considered overseas here.fruits and are more expensive than ours and than local Thai fruits. Branches with fresh fruits and vegetables usually contain another large tray with greens, which is always sprinkled with water. Greens in Thailand eat a lot. Along with the parsley and basil we are used to, many more different herbs are sold here in bunches, unknown to the Russian people. From the usual vegetables, you can buy carrots, cabbage, potatoes, cucumbers, tomatoes.
The fruit department in supermarkets is one of the most joyful for the eye. Almost all year round you can find coconuts, watermelons, papayas, mangoes and other Thai seasonal as well as imported fruits.
Meat, fish, seafood, as well as vegetables and fruits can still be bought and Thai markets, prices are usually always cheaper, and products are fresher, as they are brought directly from farms in the morning. Although in Macro in this regard, everything is about the same.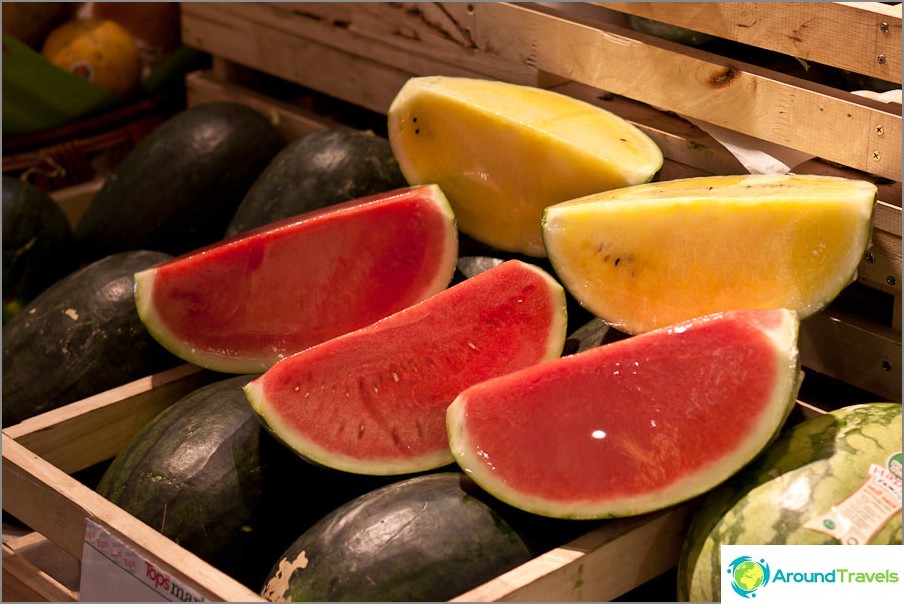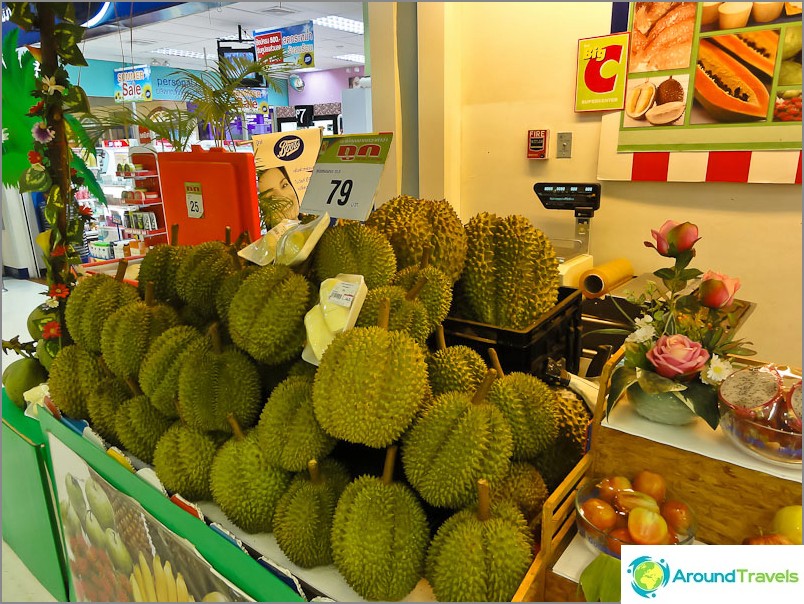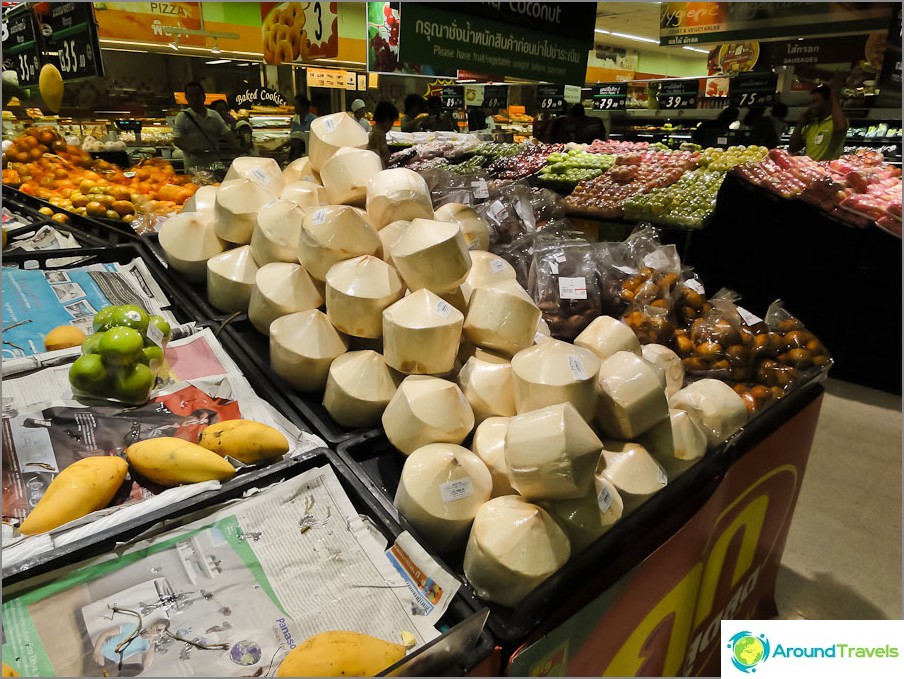 Near the fruit department there is often a tray withfresh juices in ice, peeled and chopped fruit in the package. Chopped fruit is a joy for the lazy, no need to peel or cut. We were also lazy and often bought, and later it became a tradition to sit on a bench near a supermarket and whet tropical fruits.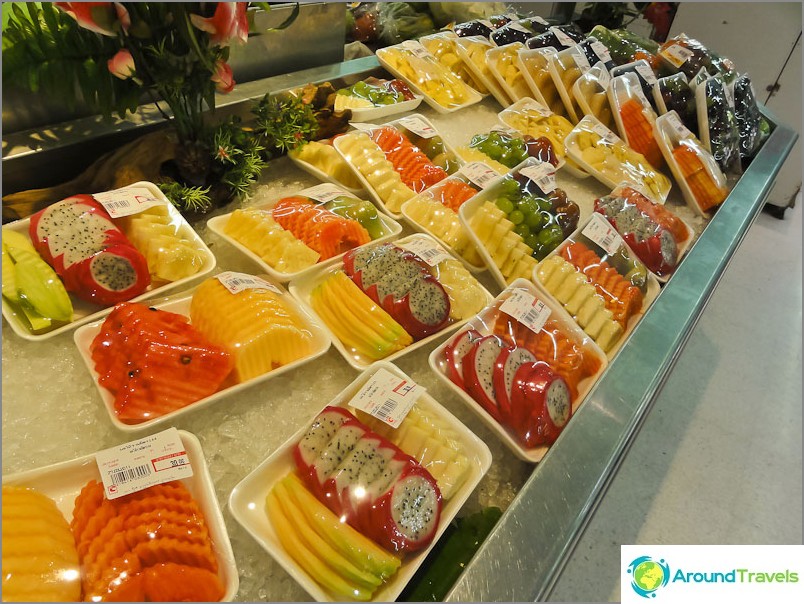 Dairy products in Thailand are not very popular,therefore, there is a large dairy department, either in large supermarkets, or in those where there are often foreigners. In small dairy products, usually chemical drinking yogurts with a large amount of sugar and betagen are Thai fermented milk products. Also very sweet and taste to the amateur. Sausage, cheeses and other "exotic" (from olives and pickled gherkins, to raspberries and currants) in large supermarkets are sold, but in small "local", somewhere on the outskirts, this, of course, will not.
Muesli, cereal, babyfood, vegetable oils, crackers, as well as soda-type Coca-Cola and chips here can be found without difficulty. Although traditional for Russia, gingerbread and sushyk in most supermarkets still can not be bought. Separately, I wrote about what to feed a child in Thailand.
Even here they sell ready-made dishes such as friedrice with chicken, noodles, meatballs, sausages, salads. All this often happens in inflated rubber bags. This method of packaging is one of the characteristic features of Thai catering.
Discount promotions are often held in supermarkets.There is usually a booth with discounted products, where someone always rummages. There are also discounts on some kind of products. Moreover, employees go around the supermarket and re-stick price tags. In the evenings, the discount can be up to 50 percent or more. It's not customary to keep ready-made food for more than one day in Thailand, so by the end of the day, packages with ready-made meals are sold for a penny.
It is convenient to come to big supermarkets andpack up products for a long time, however, as in other countries. From purely Thai features - a large selection of different varieties of noodles and rice, they are sold in huge bags and are quite inexpensive.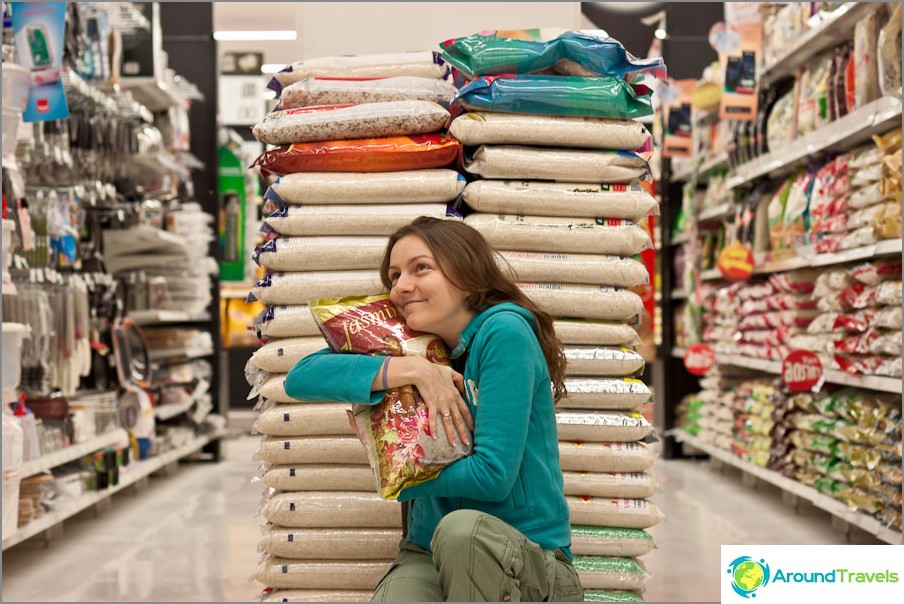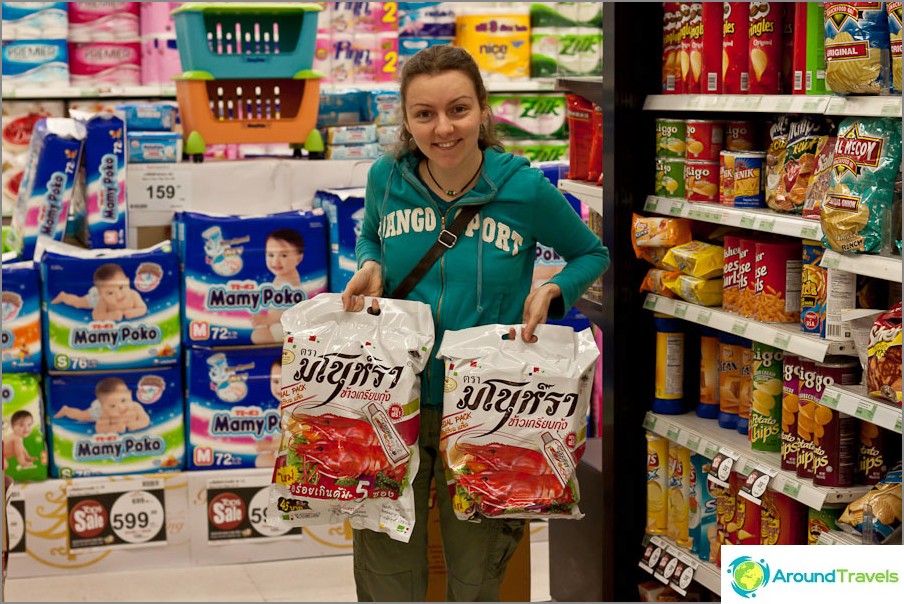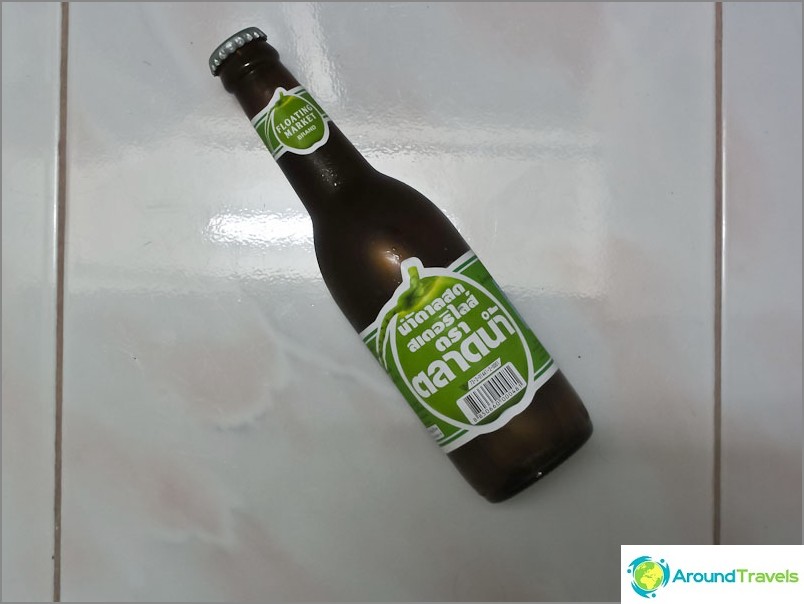 Some product specific prices
Surely everyone will have different purchases, but just in case I will list how much food costs in Thailand. and what I bought in Thai supermarkets. Separately, I did price tour in Tesco, went to the supermarket and made photos of basic products with price tags.
Vegetables: onions, carrots, tomatoes, two types of papaya, mango, watermelons. Usually in those cases when the market was far away or it was not working. Prices are comparable.
Cut fruits: papaya, pineapple, cantaloupe, guava (on average 30-50 baht tray). In Chiang Mai, there was a "buy two trays for the price of one" campaign in Tops Market, which was cheaper than in the market.
Baking: freshly baked banana muffins at 40 baht for a few pieces, croissants - 5-15 baht, donuts - 10-15 baht, white toaster bread - 40 baht per package.
Drinks: juices (80-100 baht), bottled tea thai tea (40 baht).
For cooking: rice and rice noodles, seasonings, mayonnaise (100 baht), sukiyaki sauce (40 baht), tofu (30 baht), eggs (50 baht). By the way, I got hooked on sukiyaki sauce, just a mega thing.
More prices for an example:
Oatmeal in the region of 50 baht per pound, depending on the size of the package
Potatoes in the region of 30 baht / kg
Mango from 20 baht / kg (for local green) to 100 and more baht for large yellow
Young coconuts from 18 to 35 baht apiece
Milk from 40 baht per liter, drinking yogurts - 25-40 baht per bottle, depending on the size. One yoghurt in a cup - around 20 baht
Fresh juice in a small bottle 45 baht
Dragon Fruit 45 baht / kg
Pork from 100 baht / kg, chicken about 50-60 baht / kg
Beer from 30-50 baht per bottle (depending on size, 0.33 or 0.5)
Local cigarettes 30-50 baht per pack, foreign (Marlboro type) - about 90 baht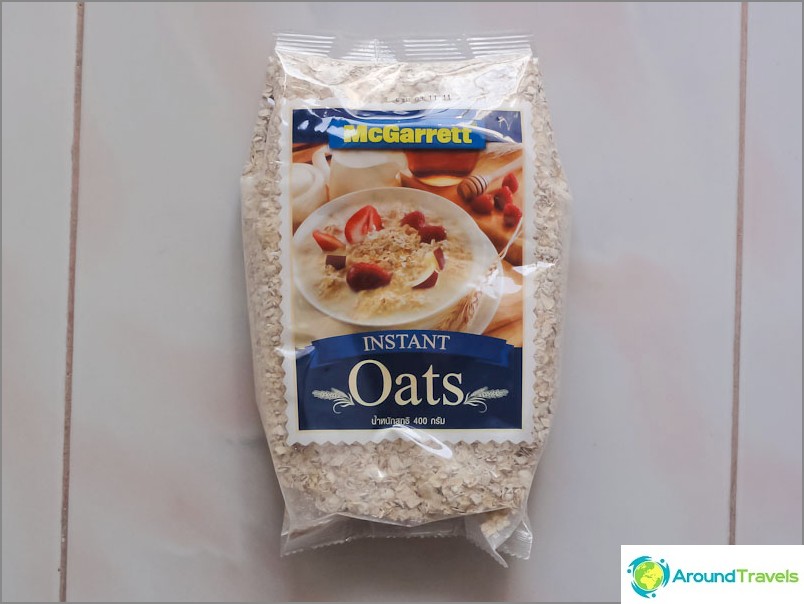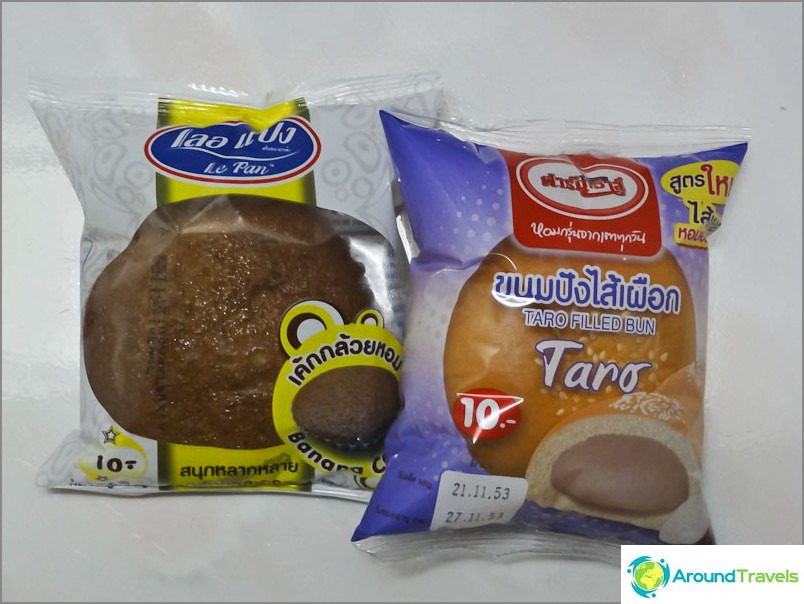 What I missed
At first, I missed the usual Russiancheese, black bread and chocolates. But after my mother came to visit, she brought a present and I safely devoured everything, the desire to eat these foods disappeared for another six months. The more delicious bread I later found in the bakery, occasionally I took Lindt chocolates (they are even better than ours), well, I somehow cooled down to the yellow cheese and switched to Camembert / Brie from Macro.
Thus, living in Thailand only in winter, II do not have a shortage of anything at all. Perhaps if I lived there for years, it would be different. And even great to change the kitchen 2 times a year, so as not to bother. Probably, you only want red caviar sometimes, but you can buy it in Tae (they sell it in social networks). In general, in all the following visits to Tai, I already acted according to the finished scheme, switched to Thai food and already knew where to find familiar food in Thailand.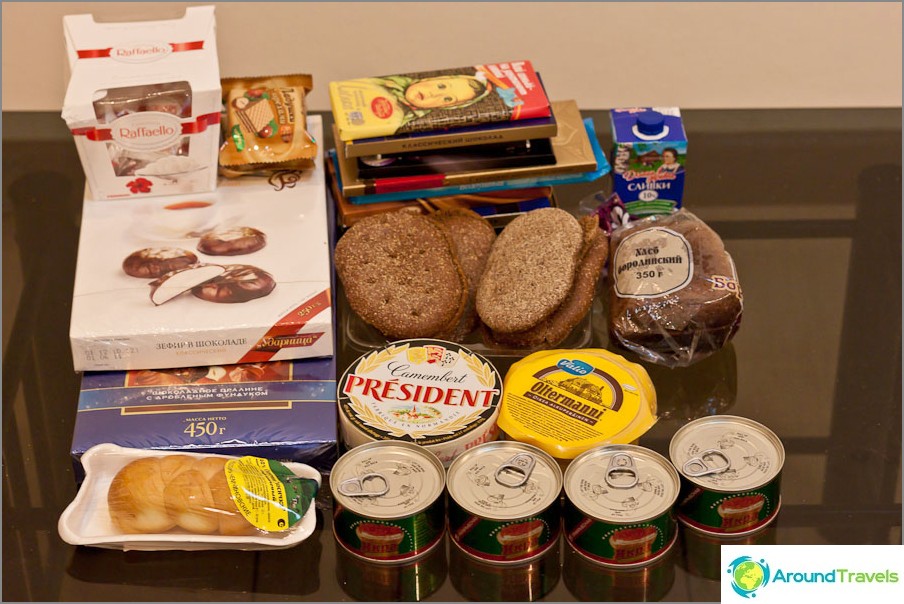 How will you, I find it difficult to say. It seems to me that only something completely specific can be lacking. Or it may be inconvenient and unusual to go for bread in a special place, instead of buying it around the corner, as in Russia. Now there are quite a few small bakeries with delicious baguettes, chiabats and other rolls in Phuket and Pattaya, but if this is not near your property, you will have to go looking for it.
Also this conclusion: to eat at home about Russia, it is better to rent a house with a kitchen and a stove and cook on your own. If you like Thai food, you can eat only in general. Thai cafes, do not have to cook and wash dishes.
Life hacking 1 - how to buy a good insurance

Choosing insurance is now unrealistically difficult, so to help all travelers, I compile a rating. To do this, I constantly monitor forums, study insurance contracts and use insurance by myself.

Life hacking 2 - how to find a hotel 20% cheaper

First, choose a hotel on Booking. They have a good offer base, but the prices are NOT the best! The same hotel can often be found 20% cheaper in other systems through the RoomGuru service.

Discount hotels