Many times I wrote about Thai temples. There are probably a dozen or even more articles on the blog. Some are remembered, some are not, but it is impossible not to visit them if you live long in Thailand. Why is it impossible? Yes, if only because they are often located in beautiful places or somewhere on top, from where again you can admire that very beauty. Well, and usually the territory at the temples are quite pleasant to the eye, thanks to the efforts of the monks living there. Wat Phra That Chom Kitti is no exception - nice territory, typical brilliant buildings, but the main thing is the view! Moreover, the view is interesting at sunset, magically easy! Apparently, I have some kind of aptitude for aesthetics, so I cannot long without nature and in a concrete metropolis.
Wat phra that chom kitti
After about two weeks in the north of Thailand, having been in stunning Ang Khangsipping delicious tea in Me SalongeI returned back to my favorite Chiang Mai.
By the way, for those who are going to Chiang Mai on a tour, I recommend the service for booking hotels RoomGuru and our Guesthouse overview in the historic center of the city (squared).
Before leaving for Bangkok, my friends and I drove toBikes to see the dam, and on the way back from her accidentally drove into this temple on the mountain. Not really, just the way back turned out, because the temple is located further from Chiang Mai than the dam. We drove for an hour along empty roads, partly along country roads. We drove just where it was going. Immediately I remembered my childhood, just as then, aimlessly riding bicycles all day around the dachas, then to the pond, now to the forest, then we jumped from the springboards.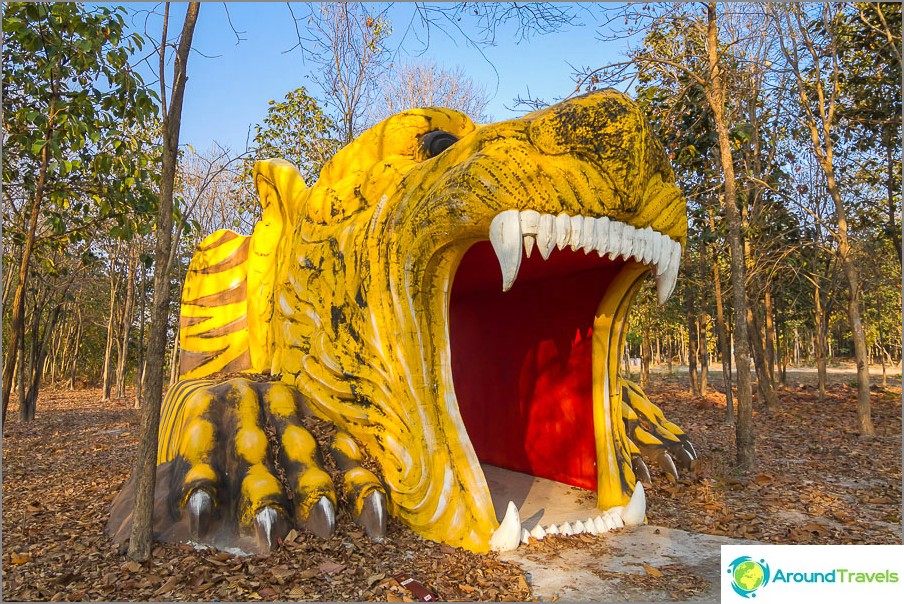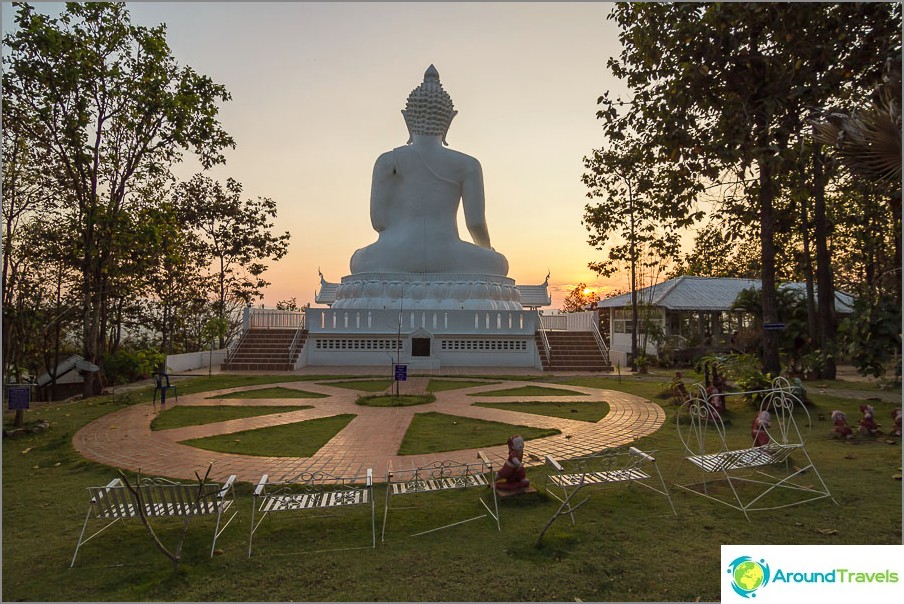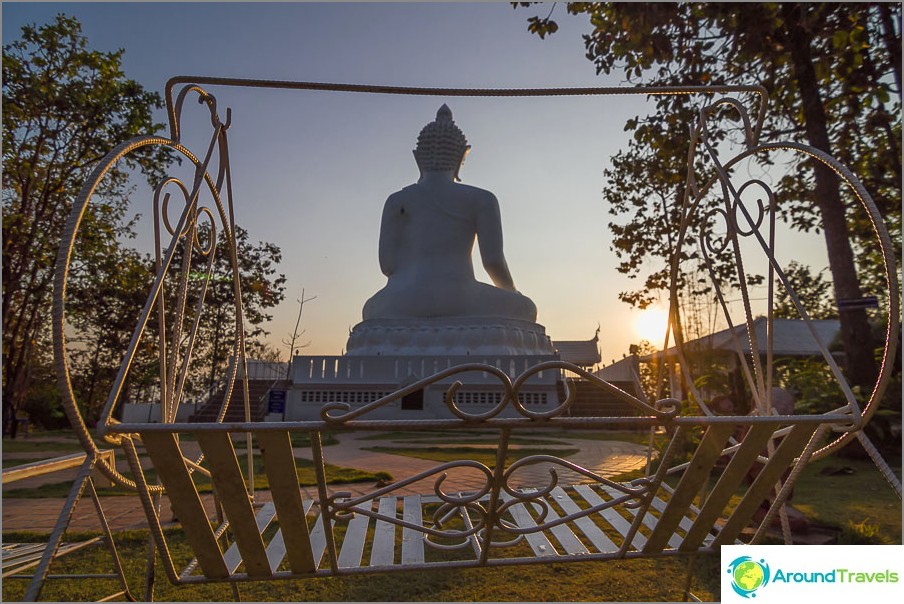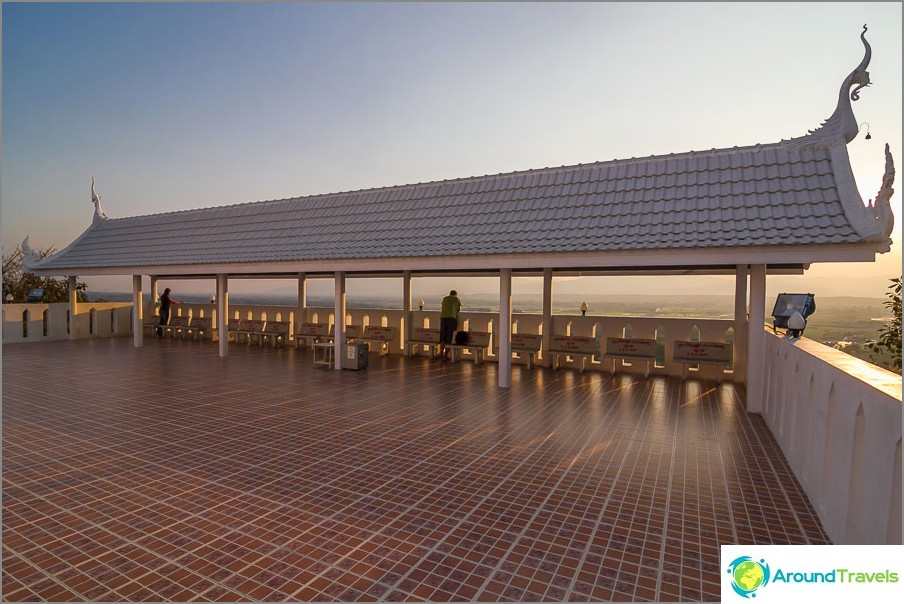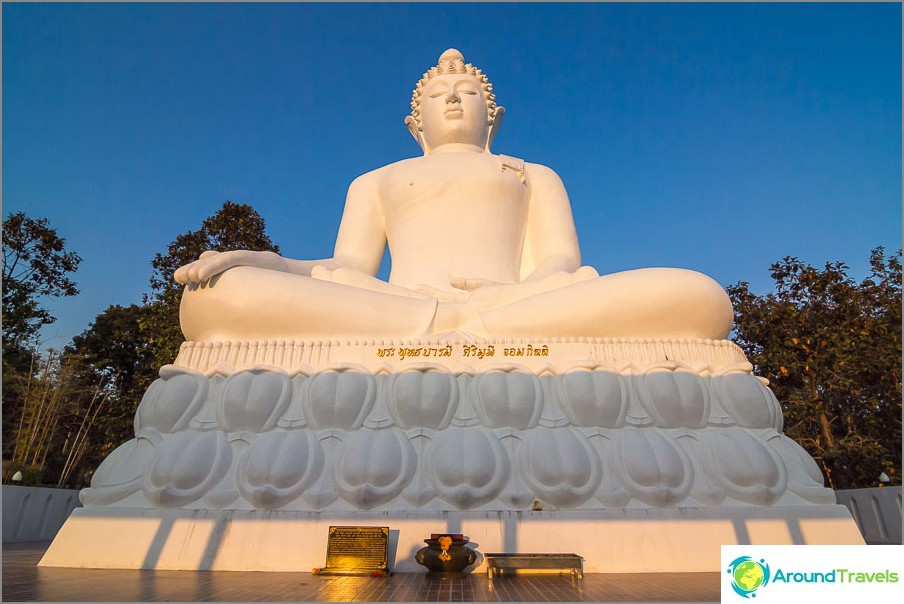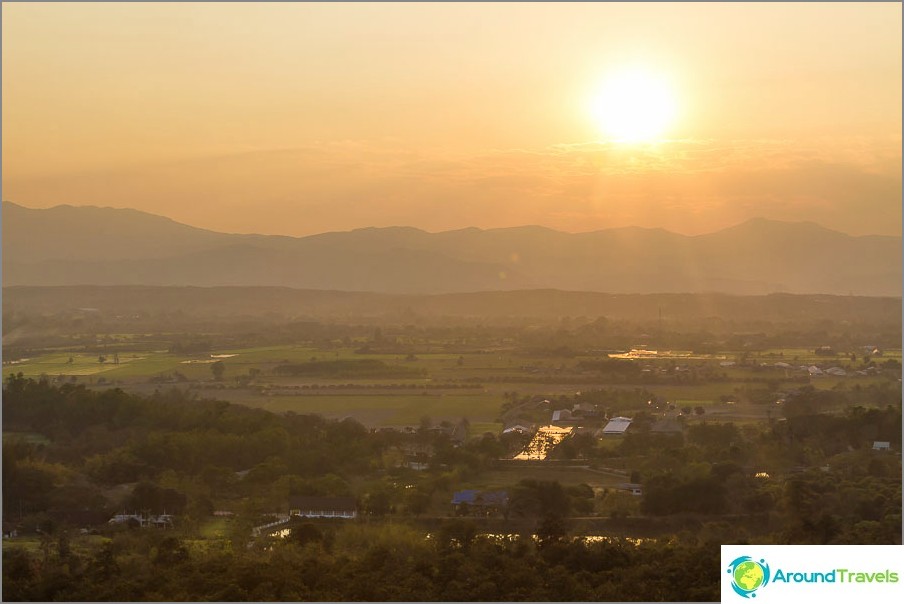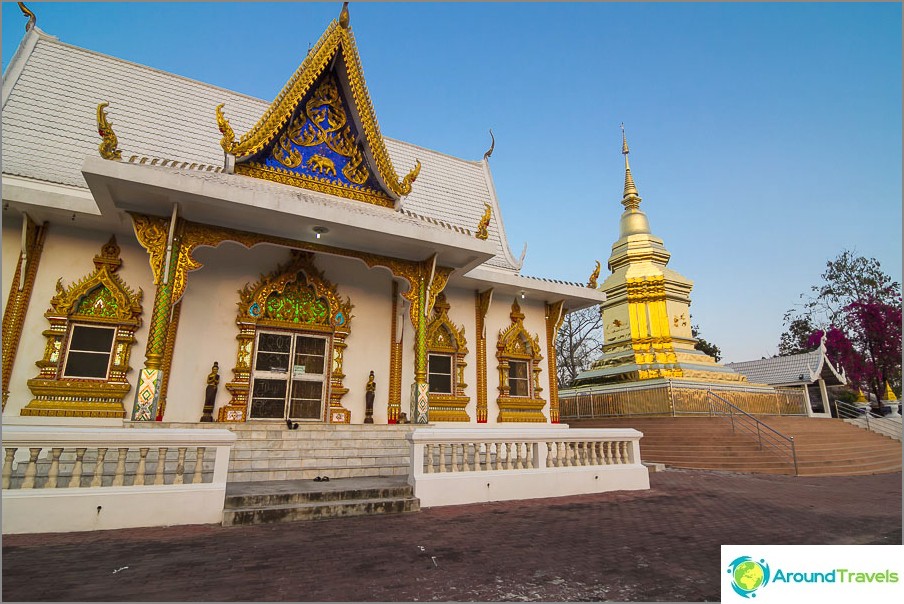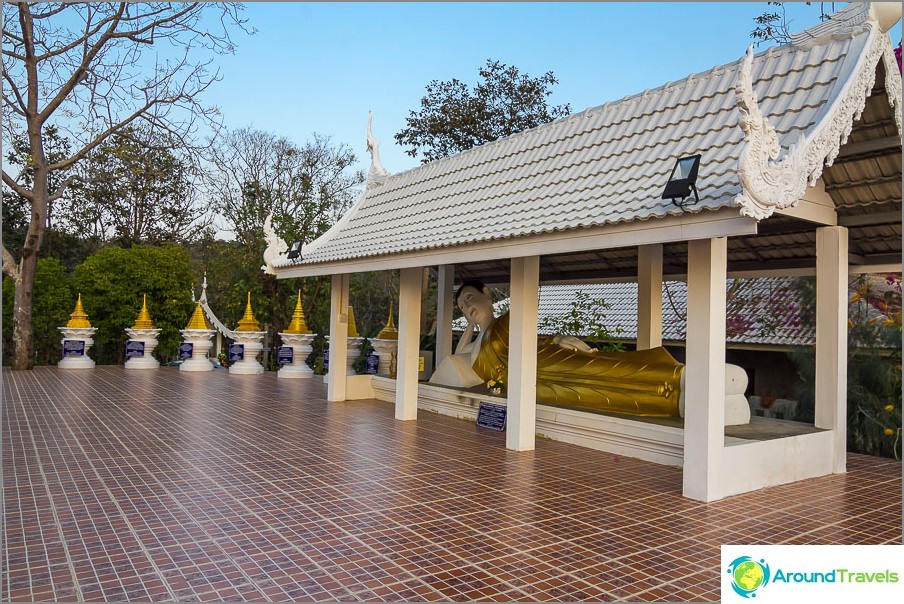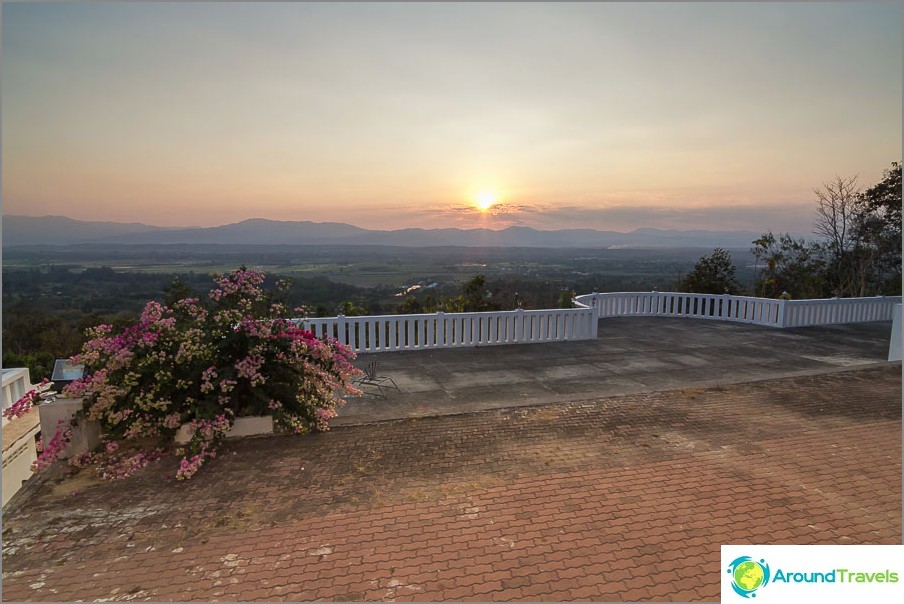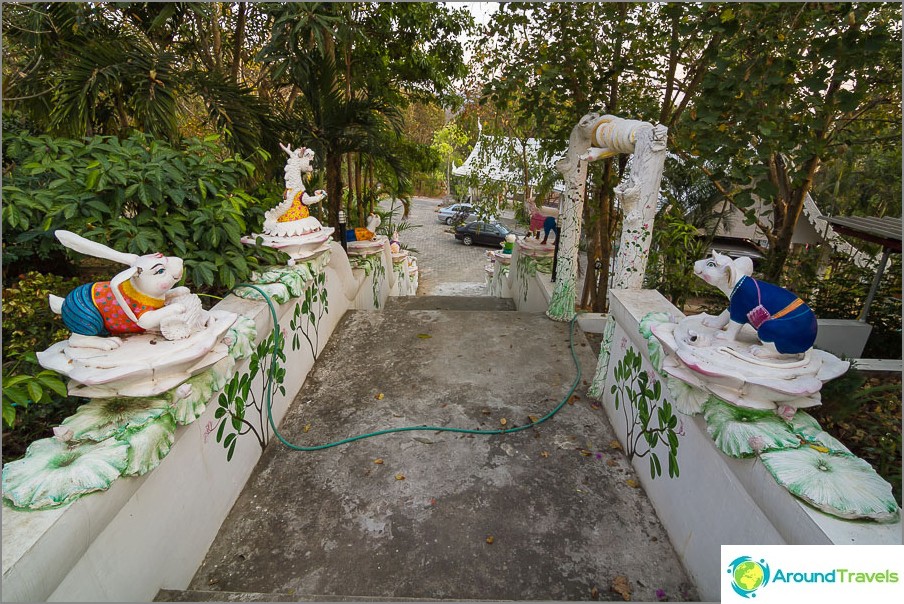 By themselves, the structure is typical and I personally havedo not cause much interest. But here is the sunset ... By the way, why so, I have seen the sunset in my life much more than any sights, but the sunset is always beautiful (especially from above), but the sights are boring. Why natural beauty can be enjoyed every day, and all man-made pall? Or is it just me?
Perhaps, if we were there at another time, I wouldn't even write about this temple, so I recommend going there, if it is, then towards evening.
Phra That Chom on the map
Getting there is not difficult at all. Straight along Highway 1001 north of Chiang Mai and you will have to see straight from the road in the distance on the mountain Wat Phra That Chom to the right. The pointer at the desired turn is also present.
Temple Phra That Chom (Wat Phra That Chom)
Temple Phra That Chom (Wat Phra That Chom)
Not too frequented by the temple, but it offers a magnificent view, especially at sunset. Nearby is a golf club.
Read about the temple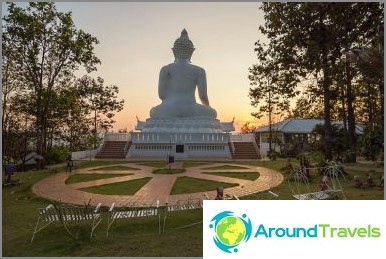 Not too frequented by the temple, but it offers a magnificent view, especially at sunset. Nearby is a golf club. Read about the temple
Life hacking 1 - how to buy a good insurance

Choosing insurance is now unrealistically difficult, so to help all travelers, I compile a rating. To do this, I constantly monitor forums, study insurance contracts and use insurance by myself.

Life hacking 2 - how to find a hotel 20% cheaper

First, choose a hotel on Booking. They have a good offer base, but the prices are NOT the best! The same hotel can often be found 20% cheaper in other systems through the RoomGuru service.

Discount hotels