In Thailand, many beaches are characterized by ebb. Somewhere they are so noticeable that they will not be able to swim. Since water comes / leaves once a day, it is not so critical for rest. However, it's still worth knowing about it, because for someone it can be very critical and it's better to choose another beach in advance. The post serves as a supplement to my Phuket guide.
Ebb and flow
There are quite a few beautiful beaches in Phuket, where ebbs are expressed (but not like in Krabi). When the water goes away, it is difficult to swim in such places, either too far from the water, or too shallow, ankle-deep. But during high water, these beaches are very beautiful, quiet and comfortable for swimming, especially with children, as the entry into the water is shallow and shallow.
The most comfortable days when the difference in water heightbetween the maximum and minimum value is the smallest. That is, that the tide, that the ebb, there is not much difference. But this does not happen all year. In season, on most beaches it is comfortable and good to swim, but from April-March on some beaches there are great ebb in the daytime, when people usually swim, which is not very convenient. Moreover, it is quite difficult to guess the time of low tide by yourself, so it's better to use the tables. How to use them, I will tell below. Although in general, Phuket is not the resort, where it is worth much to wear this topic, you can always go to a deeper beach.
Ebbs are primarily visible on the Kata beaches,Bang Tao, Knighton, Nai Yang, Cape Panwa, Mai Kao. This is an exemplary list, because the beach's cupidity or non-beach cupiness at low tide is a relative thing, it depends on taste, and the ebb are stronger and weaker in the same place, depending on the time of year. Holidaymakers, I think, will be most interested in Kata and Knighton beaches, since the rest are less popular.
You can find a table of ebb tides on the site. The site is in English, but it's not difficult to understand.
You can also put an application for Android.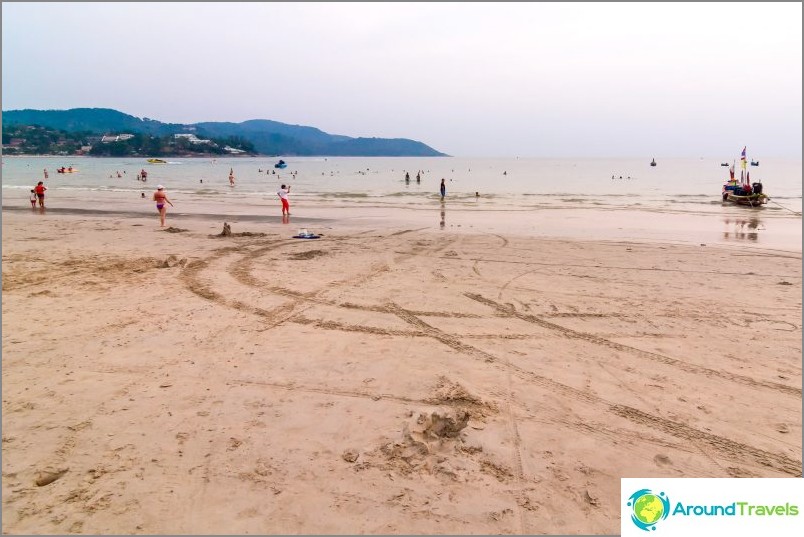 How to use the table
Just in case, tell you how to usetables, if immediately it is not clear. I prefer tables, not graphics, but you yourself see what you understand. There can be 2 refluxes and 2 high tides per day. Below in the screenshots look at how these tables look, there is indicated the height in meters at the time of day. At different beaches, the time may be a little different, as it seems to me, but in general, everything looks like.
Low Tide - the minimum water height.
High Tide - the maximum height of the water (we need it).
You need to come closer to that time (plus or minus an hour), when the water is the greatest height, then you can normally buy. There are night tides, you probably will not need them.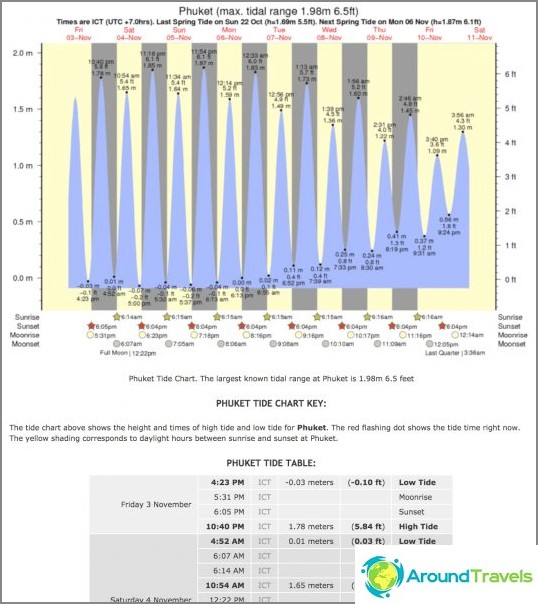 Life hacking 1 - how to buy a good insurance

Choosing insurance is now unrealistically difficult, so to help all travelers, I compile a rating. To do this, I constantly monitor forums, study insurance contracts and use insurance by myself.

Life hacking 2 - how to find a hotel 20% cheaper

First, choose a hotel on Booking. They have a good offer base, but the prices are NOT the best! The same hotel can often be found 20% cheaper in other systems through the RoomGuru service.

Discount hotels