Few places on Earth can boast such an abundance of tourist bases, such as the Altai Territory, which is located in the south-east of Western Siberia, or rather Mountain Altai.
Altai is an amazingly beautiful place with amazing energy. We could feel it on ourselves when we went to Hiking Altai. If you do not want to go on a mountain hike, then you will suit various camp sites of Gorny Altai, with different levels of services, prices and comfort. How to get to the Altai Mountains You can also find out on our blog.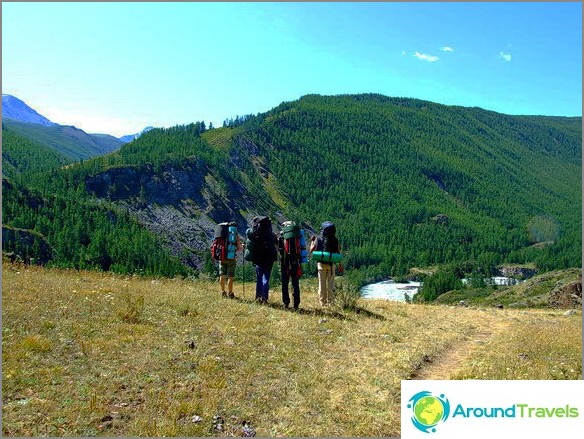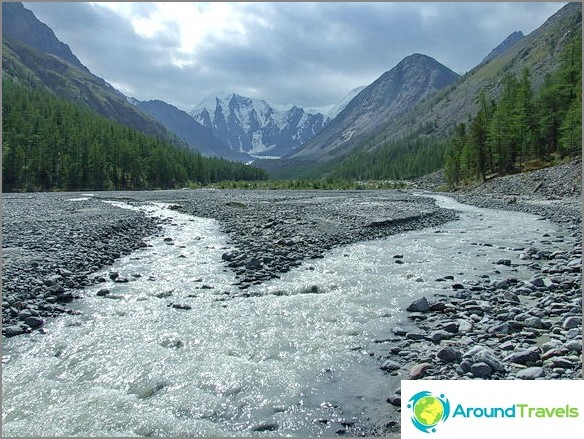 The choice of tourist bases, of course, depends on the intended type of recreation - whether it is a winter tour, summer leisure in the form of mountain tours, bike tours, river rafting or a relaxing holiday with children.
Tourist camps of Gorny Altai
So, it is possible to distinguish the following camp sites of the Chemal region, the most famous of which
the Katun camp, named after the river in the Chemalsky district, where it is located, is three hundred kilometers from the capital of the krai, Barnaul, not far from Ust-Semy.
This is not a fashionable hotel, but a recreation area,seasoned in the ascetic Siberian style. Room categories are divided into different levels, depending on the location of the bathroom - in the room (category A), on the floor (category B).
Separate enclosures are designed for winter and summertypes of recreation. The recreation center, in addition to a broad excursion program that includes river rafting, a review of the surrounding sights, including the Tulundinsky nature reserve with bison, horseback riding and mountain climbing, also offers therapeutic and recreational activities - various baths, therapeutic fasting, herbal medicine, etc.
Particularly pleased with the choice of catering - local dining, which offers a comprehensive three meals a day for only 250 rubles. per day, various bars, cafes, tavern.
The price for a double room varies from 600 to 1000 rubles per day. For groups of 15 people there are additional discounts.
In addition, in Gorny Altai there are such camp sites as Berel, Altair, Cedar Island, Park-Hotel Krutsky Manor and many others.
If we consider the camp sites on Lake Aya, thenFirst of all, I would like to highlight the Bear Corner recreation center, located just 7 km from the lake on the left bank of the Katun River. This is a small resting place designed for only 16 rooms, but with a rich leisure infrastructure - various excursions around the region, horse riding, a Russian sauna with a pool - a font, various playgrounds. This is a favorite vacation spot for families with children, which is also promoted by the fact that children under three years old live free of charge and have discounts at the age of under 12 years.
In general, the price for rooms varies depending on the category - luxury, junior suite or economy class. So, prices starting from 1000 rubles per day and above.
You can also call such camp sites of Gorny Altai- as the Heart of Altai, Stove-benches, Lukomorye, Hunting grounds and many others, no less than others, conveying the Siberian region's flavor and way of life.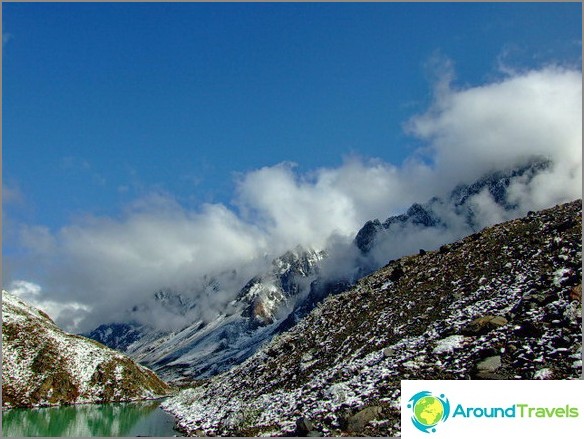 Life hacking 1 - how to buy a good insurance

Choosing insurance is now unrealistically difficult, so to help all travelers, I compile a rating. To do this, I constantly monitor forums, study insurance contracts and use insurance by myself.

Life hacking 2 - how to find a hotel 20% cheaper

First, choose a hotel on Booking. They have a good offer base, but the prices are NOT the best! The same hotel can often be found 20% cheaper in other systems through the RoomGuru service.

Discount hotels