I have long wanted to write a post about bankingtravel card with features: Tinkoff AllAirlines. Something is good in it, something is not very good, the reviews in the internet are very different. It is even difficult to definitely advise her, although I myself use it and for the time being satisfied with it. I will try to tell all the nuances, what kind of card it is, what are its pros and cons. Everything is as it is. And then you decide for yourself whether you should arrange it or not. Let's get started
The content of the article
Why is it all
As a preface. There are people like me who are interested in looking for lucrative offers and getting profit from it. For example, a cash card with a cashback of 2% (what is cashback) with every 100 thousand rubles of expenditure brings to 2000 rubles for free. If you spend 100 thousand each month, then this is already a gift of 24 thousand rubles a year. Not bad, and this is zero effort, essentially money from nowhere.
Under the link you can get 1000 rubles as a gift after the first purchase from 1000 rubles. And for the action, everyone who spends 300 thousand rubles for 3 months will receive 5000 rubles. All in miles, but then they are easy to compensate.
Checkout AllAirlines (gift 1000 rub)>
I periodically I test different bank cards and change them. Sometimes I write these research posts. Yes, you can even pick up a bunch of cards, each for its own category of purchases (gasoline, groceries, travel, etc.), but for me this is already too much. Therefore, I have 3-4 main cards and that's it.
I use the last Tinkoff AllAirlines cardyear constantly. As a result, it has now become my main card for Russia (ruble) and abroad. At the moment I have already compensated tickets for 40 thousand rubles. And now I don't have to buy travel insurance, as it is attached to the card for free.
It will be necessary to potest other similar cards.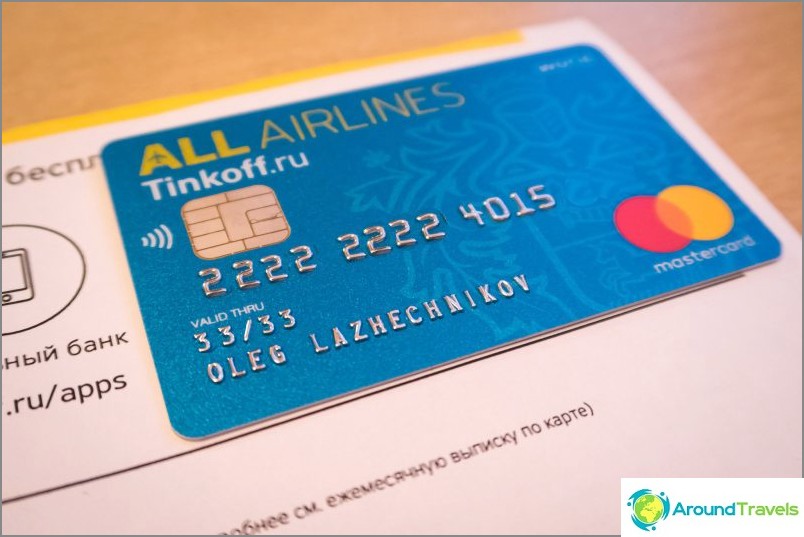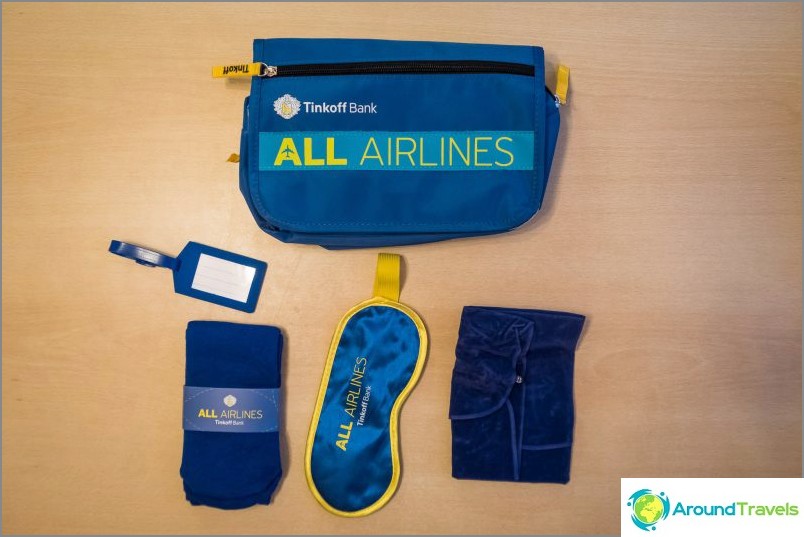 pros
Cashback 5% for the purchase of air tickets, 10% for booking hotels and cars, if all this is done on the website tinkoff.ru/travel. But hotels from Tinkoff-Travel are the same Booking, so there is no difference.
Cashback 3% for buying a ticket on any other site.
Cashback 2% for all purchases in Russia and abroad.
Free annual medical insurancetraveler from Tinkoff (Europ Assistance). Without limiting the number of trips, each trip up to 45 days. The insured amount is 50 thousand dollars. Once a year the policy must be renewed. That is, the insurance is "eternal" until you close the card.
A good conversion rate for purchases in foreign currency (exchange rate + 2%) abroad. That is, due to the cashback of 2%, 0 losses are obtained.
The card is made a couple of days and you bring it straight home.
One could add to the pros that credit card is convenient by itself, but credit cards are full on the market and this is not what a credit card can stand out now. So the main advantages are cashback and insurance.
Actually, that's all. Everything looks good, but what really? Go to the minuses.

Minuses
A tricky compensation scheme for miles. It must be known in advance, so that later not be disappointed. About this below.
The cost of annual maintenance is 1890 rubles orfor free if spending a month is more than 50 thousand rubles. In fact, this is quite an easy condition to fulfill. A debit All Airlines for free, if spending from 20 thousand rubles. Also, the first year can be asked in technical support to give you free. Do not hesitate, do not take money for the demand. Consider life hacking, many give. For me, the condition for spending is easily doable, so for myself I do not consider this a minus at all.
On the tinkoff website.ru / travel prices may be higher than in other services, and profitability is lost. Therefore, we always have a cashback of 3% for air tickets on any website, and it's quite difficult to get 5% for air tickets; By the way, this year I have only 1 time for 15 flights (Moscow-Tel Aviv) tickets from Tinkoff were the cheapest.
SMS alerts on transactions cost 59 rubles per month.
How to spend AllAirlines miles
As I said, the main disadvantage is in the compensation scheme.
All these cashback percentages are in the form of miles,although this name is conditional, because 1 mile = 1 ruble. These miles are accumulated on a separate account and they can ONLY compensate for the purchase of air tickets. However, travelers fly more than once a year and they will have enough flights for later compensation.
But the problem is exactly how it happens.compensation: not less than 6000 miles and only a multiple of 3000 miles. For example, if you bought a ticket for 2000 rubles and want to compensate for the purchase, then 6000 miles will be written. If the ticket cost 6100 rubles, then 9000 rubles will be written off. If the ticket cost 10,000 rubles, then 12,000 miles will be charged. Do you understand what the catch is?
Now, when you understand the whole picture, it soundsall worse. But I still get to compensate very well. Below in the screenshots you can see that I almost lost nothing, compensating for 3 purchases. By the way, two of them are bungee jumping (69 meters and 207 meters), counting jumped for free. Nicely. But yes, the scheme is with so-so miles, so decide for yourself whether you need it or not.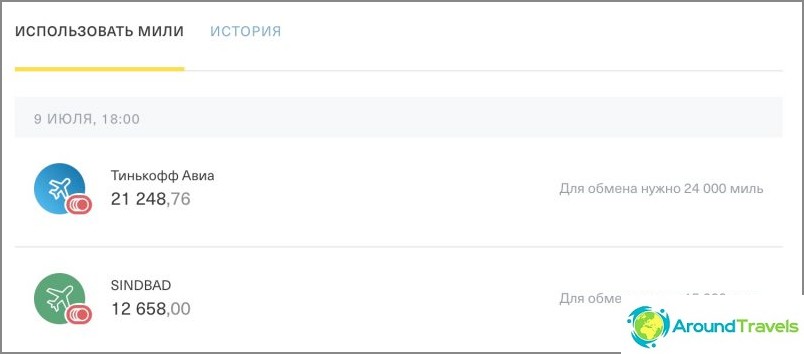 How to use the card
Try to pick and compensate tickets.so that as little as possible burned for nothing. You can simply score and not compensate for "unprofitable" tickets, such as what costs only 2000 rubles. The points burn in 5 years (!), Everything will be done.
Disable debt insurance. This is an extra service and it costs money.
Put limits on spending so that when you steal a card, you can spend only a small amount from it, for example 10-20 thousand rubles. It is better to frequently change the limits in the mobile application before shopping.
Never take a Tinkoff All credit card.Airlines cash, you will fall out of the free period and will fall on interest and commission. Immediately after receiving the card, set a limit of 0 to withdraw cash in the mobile application.
Never get out of the free period, pay off the debt on time once a month. Otherwise there will be very high percentages.
Gift 1000 rub credit card AllAirlines>
A gift of 500 rubles for debiting AllAirlines>
The last 2 points are the basic principle.use of most credit cards. And that is why so many negative reviews about credit cards. Like, the interest is large. Hmm. Guys who do not know how to use, it is not necessary. Who can not keep yourself in hand and always get into debt - do not make a credit card, take a look at Tinkoff Airlines debit card or other banks debit cards


AllAirlines Black Edition card
To simplify the compensation scheme, you can ordernot just All Airlines, All Airlines Black Edition. It also happens, and credit, and debit. With such a premium card, there will always be 1 to 1 redemption of miles. You do not have to bother and win, which ticket is better suited for compensation.
Write-off of miles to 1 to 1. Well, and the maximum number of miles per month can be 30,000 instead of 6000. It will be relevant only to those who have big expenses.
Provides insurance for 100 thousand bucks for the whole family of up to 5 people, including common-law spouses (few give this) and minor children. Issued directly from the mobile application.
2 free passes per calendar month in the business lounge of the program Lounge Key, then for 30 bucks per pass. You can go with satellites.
SMS alerts are free.
The rest of the buns, such as a concierge service and a personal manager, essentially do not give anything, so I don't write them as a plus.
For free annual service at allaccounts need to keep from 3 million rubles, including investments. Or spend a month in total from 200 thousand for any cards. In principle, if there is a brokerage account with Tinkoff and hold shares, then this is already a normal condition.
P.S. Which travel cards do I have a closer look at? I want to take one more for the test. Can Opening "Travel"? First of all, the conversion rate during travel is important, not just the cashback size.
Life hacking 1 - how to buy a good insurance

Choosing insurance is now unrealistically difficult, so to help all travelers, I compile a rating. To do this, I constantly monitor forums, study insurance contracts and use insurance by myself.

Life hacking 2 - how to find a hotel 20% cheaper

First, choose a hotel on Booking. They have a good offer base, but the prices are NOT the best! The same hotel can often be found 20% cheaper in other systems through the RoomGuru service.

Discount hotels