This post was very hard for me. Try to choose a couple of dozen photos, because they are all similar. When you walk in the woods, you take photographs of trees, paths and stones. And for several kilometers the way is the same, and at the same time it is equally beautiful and indescribably. If you photographed the forest, then you know what I mean.
Yew-boxwood grove, or rather a walk throughexcursion route, will not leave indifferent any nature lover. Always in such moments, I regret that there is no similar trail next to the house. Here you will find both mountains, trees, swallowed by moss, winding paths, a bright blue river, and a canyon with steep walls. Tell me, can any city square with such beauty and diversity?
The content of the article
Yew-tree grove
We went along with mine to the Yew and Boxwood Grove.friend that recently moved to Sochi. So I did not prepare for the trip at all. However, in my opinion, there is nothing to prepare for, just come to the place and walk for several hours. Even the reviews do not make sense to read, because it is worth seeing a visit to this attraction as a walk through the woods and mountains. A kind of small civilized tracking for several hours. I read somewhere that a big ring was given to someone hard, but for an ordinary person with no health problems, I do not see any difficulties. The same about "nothing to watch". Obviously, there is no Colosseum, only nature.
In total, the reserve offers two routes. We first passed the Small Ring, then Big, that is, both passed. It seems to me that it is necessary to go exactly along the Bolshoi, everything is the most interesting. And in general, when you pay the entrance fee, you need to bypass everything
Places there are good. Unfortunately, only the box was almost gone, his fireball had eaten, and all the trees were standing as if in winter, without leaves. But the yew is fine and gorgeous. I have not been to the grove before, so I can not say how it was before, but now it is beautiful there. I hope my photos can at least partially convey this. The route is safe and signed, everywhere there are signposts, dangerous places are fenced off by a chain, half of the tracks are even too civilized and rolled into concrete, but it's great that not all.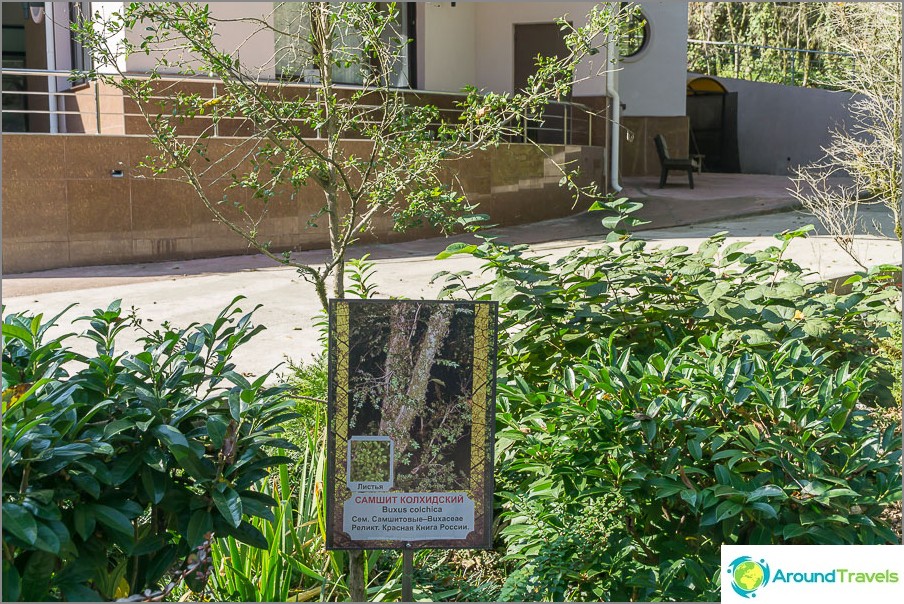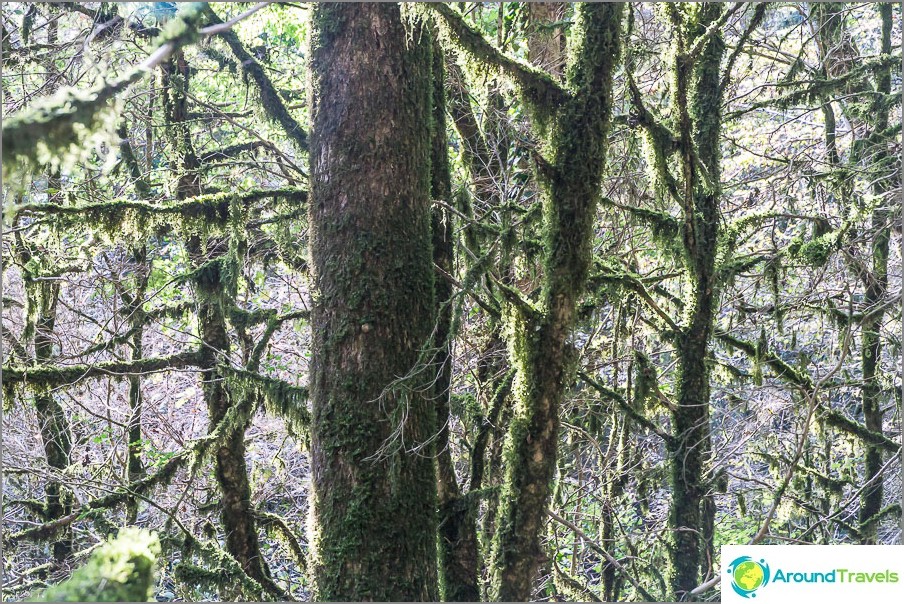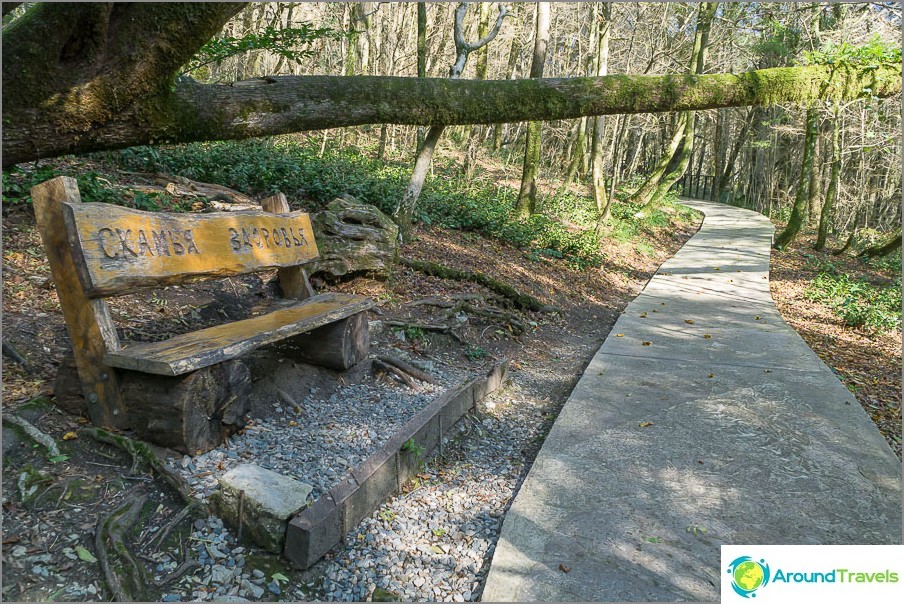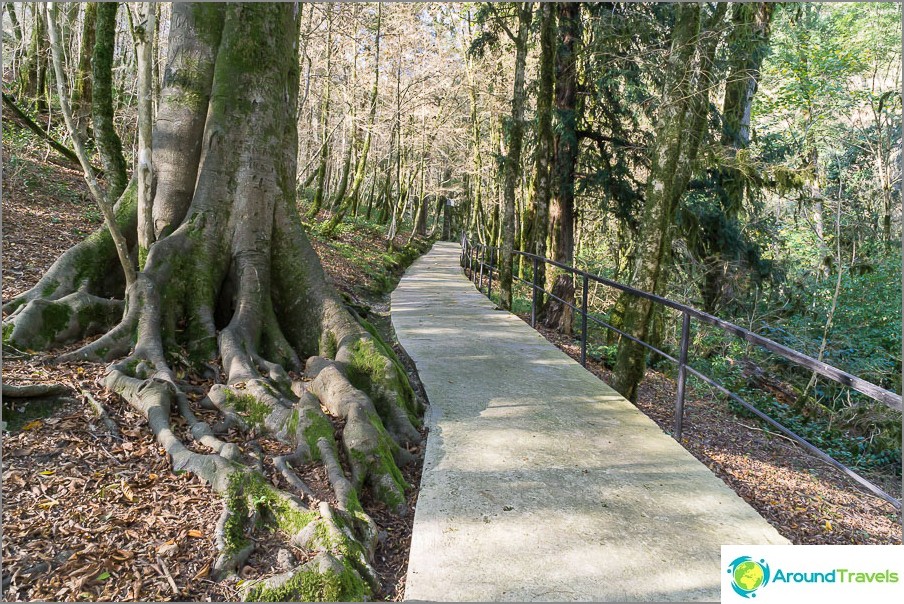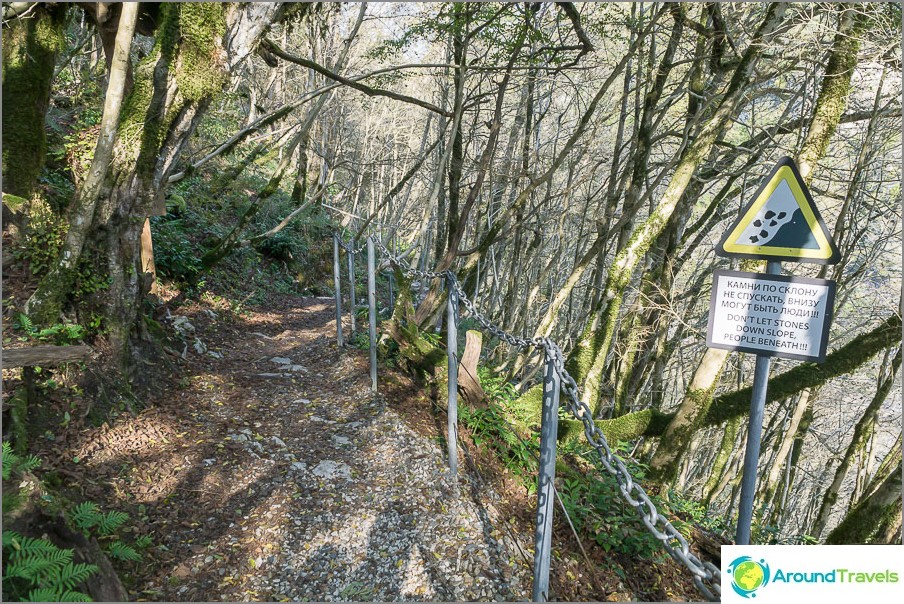 The end point of the Big Ring is the Devil's Gate canyon, it looks like Grand Canyon in Crimea, sheer cliffs and river bed. It would be great to go lower in the summer (the usual route runs on top). Also on the way you can go to the ruins of the Khostinsky fortress of the 8th century AD True, only fragments of the walls remained of it, and the rest must be fantasized.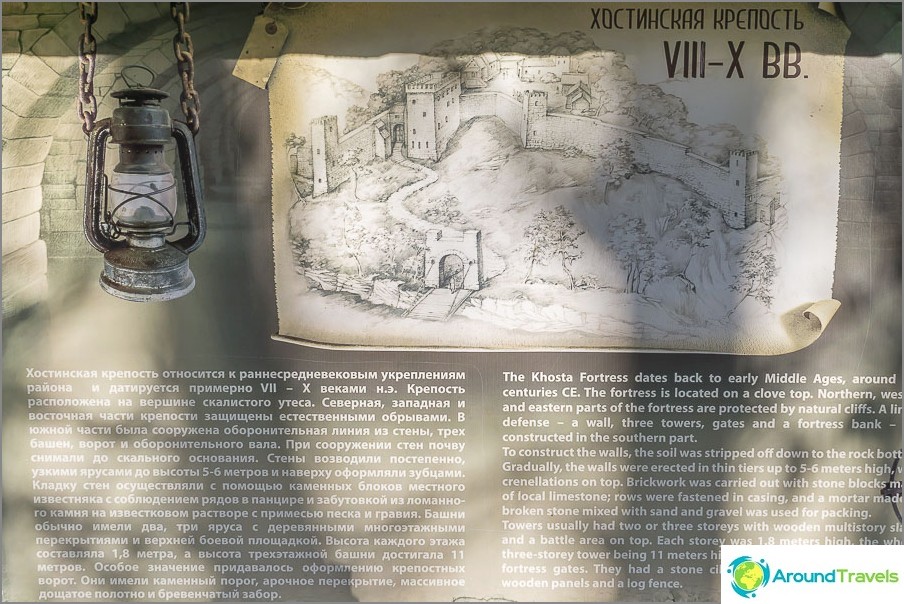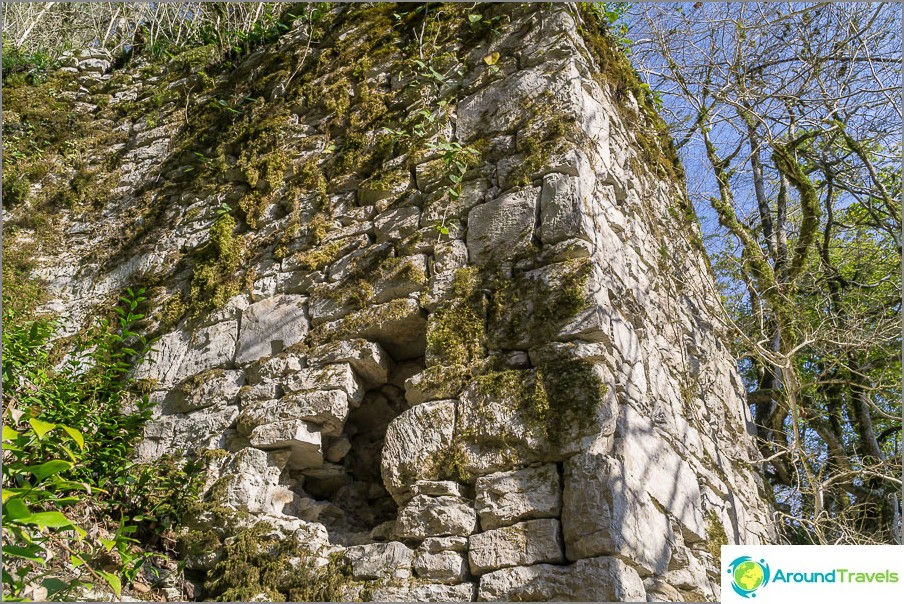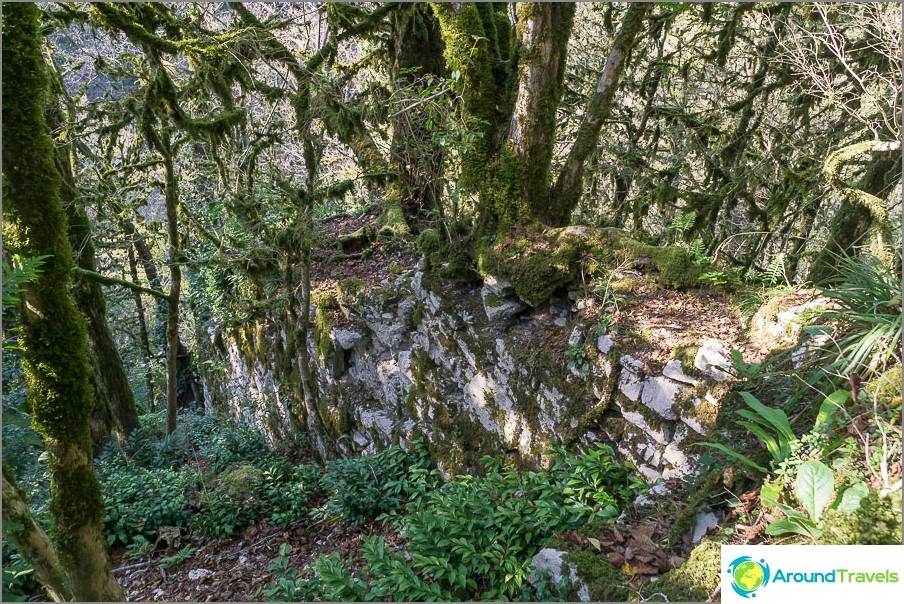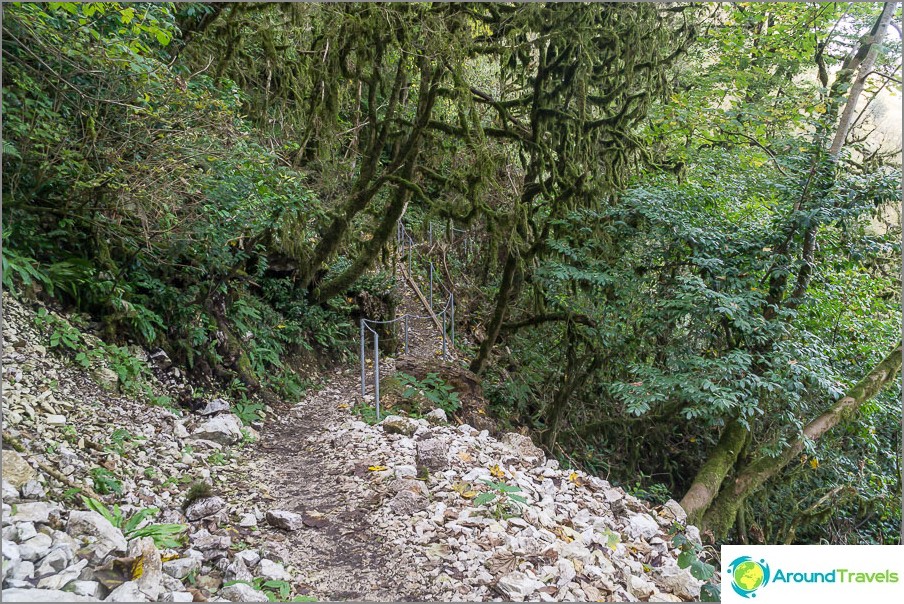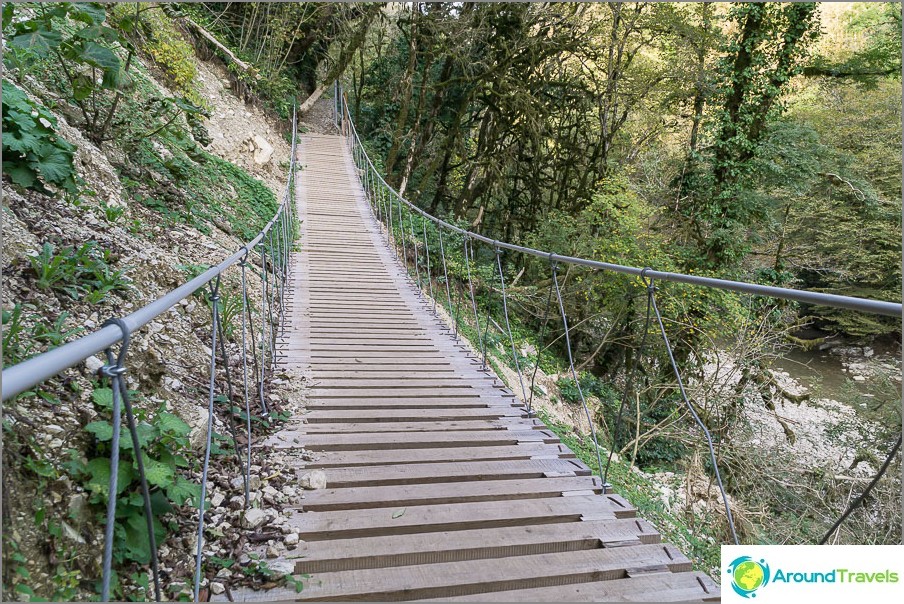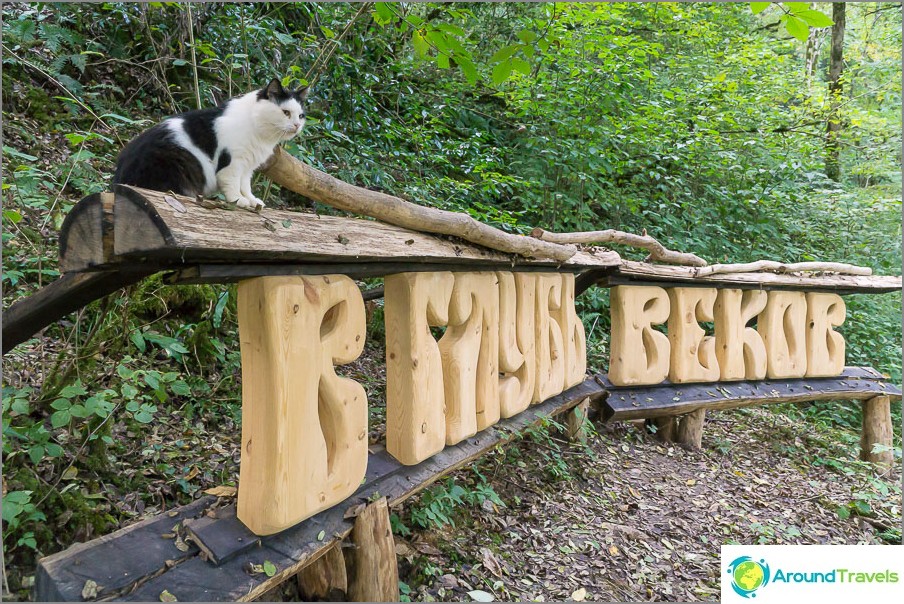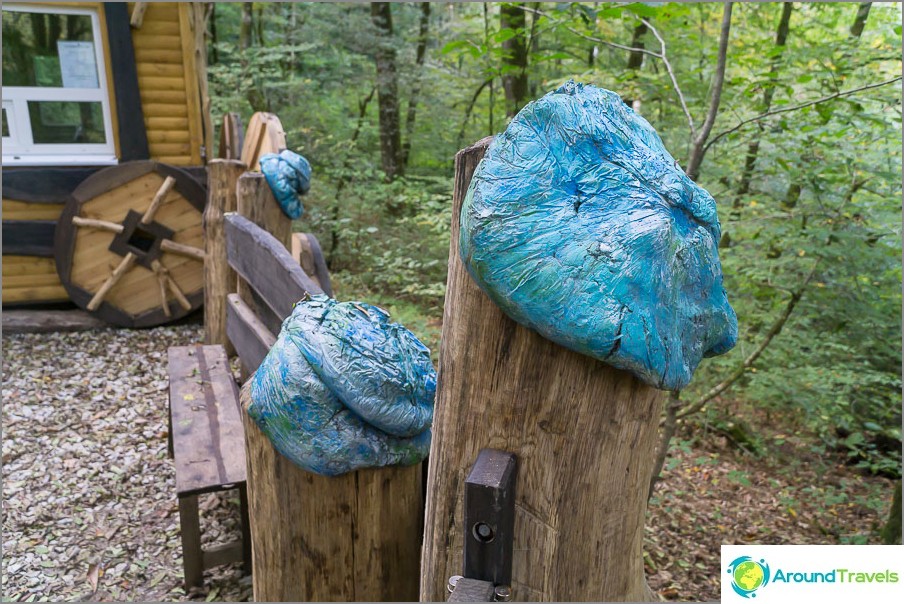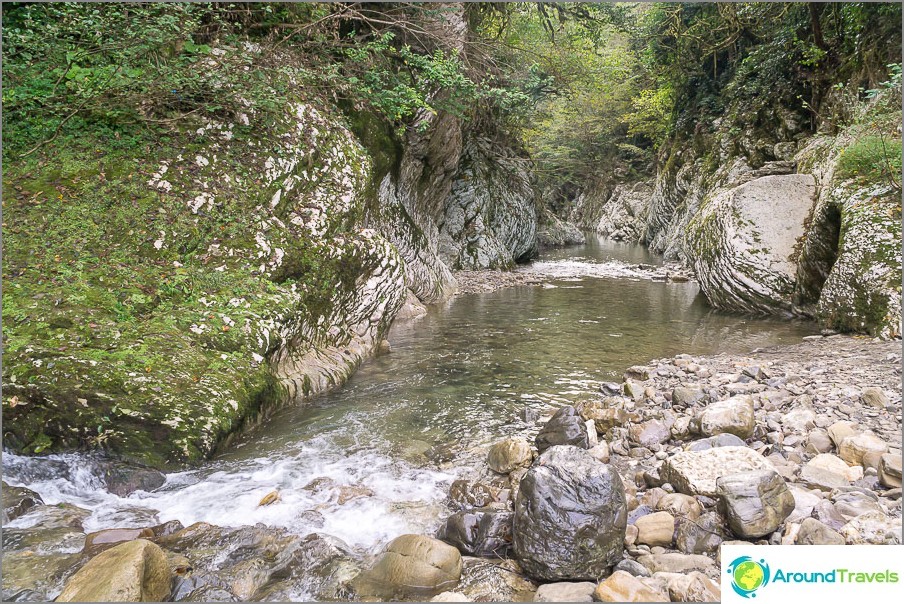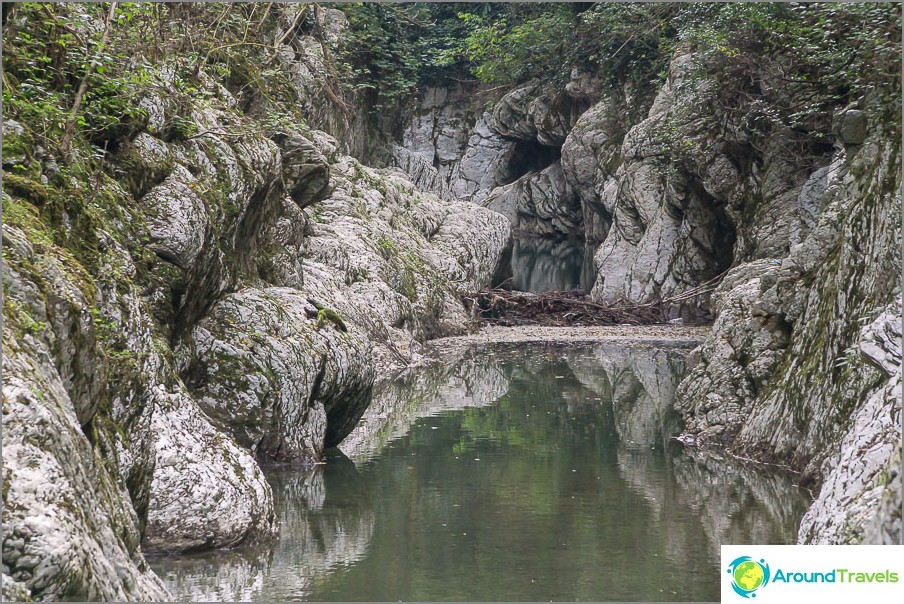 Back we went back along the Khost riverbed,having a blue color. I wanted to stop at a picnic to enjoy the surrounding nature more. By the way, it is a good idea to take food with you and have a snack on one of the benches or right on the rocks. On this part of the route, the canyon is already ending and just walking along the valley. On the way there will be a cave, the entrance to which is prohibited, but still enter. There is nothing to watch, it is quite small. They say that bats lived there before, but I have not seen one.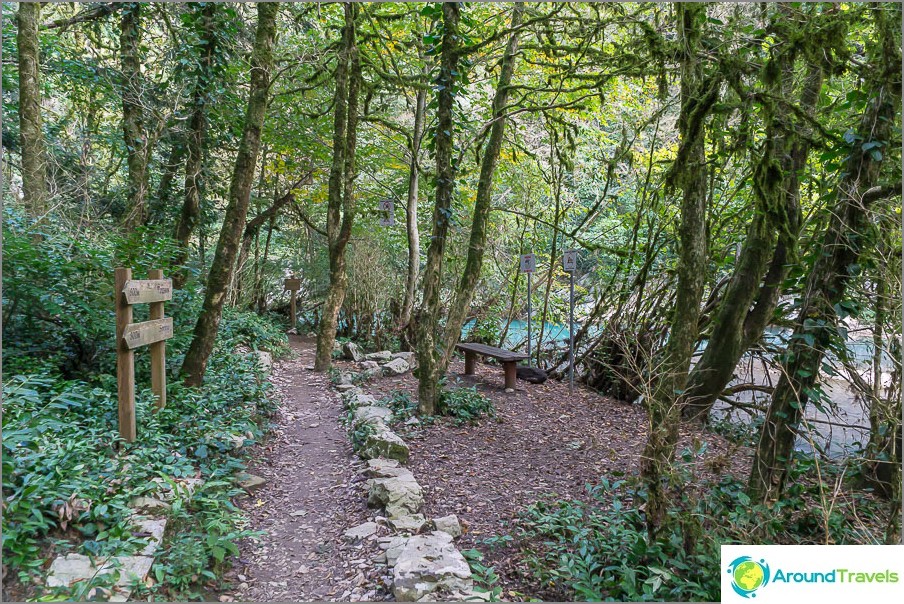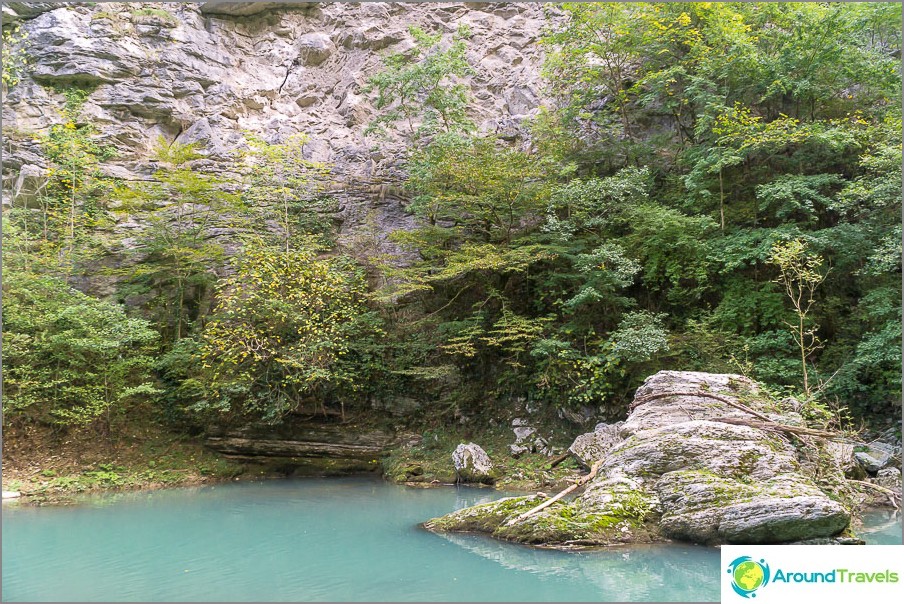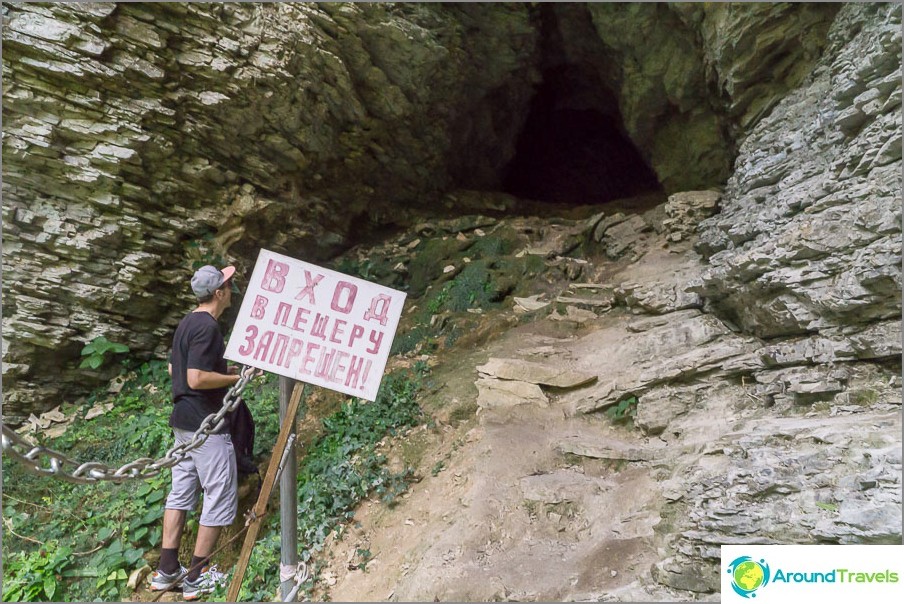 Sometimes you go and it seems that you are somewhere far awayOverseas jungle, not in Russia. One maze is worth something (a path in the rock from which trees grow), for some reason he reminded me of Ankor-Wat in Cambodia. When you are in nature, you want to absorb it as much as possible, to remember, to breathe fresh air for the future. I can not imagine how some people live in a city without any eyes and are nowhere else, except concrete boxes.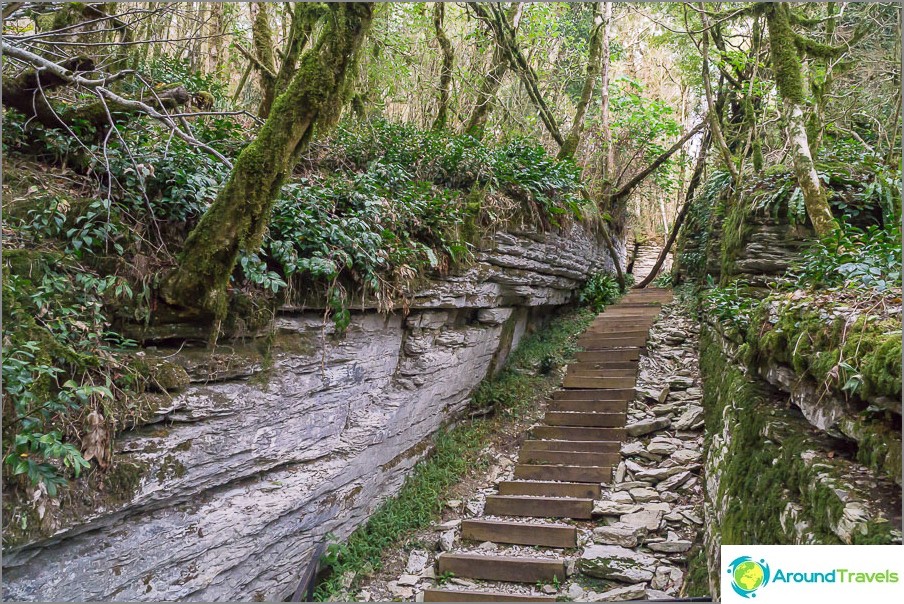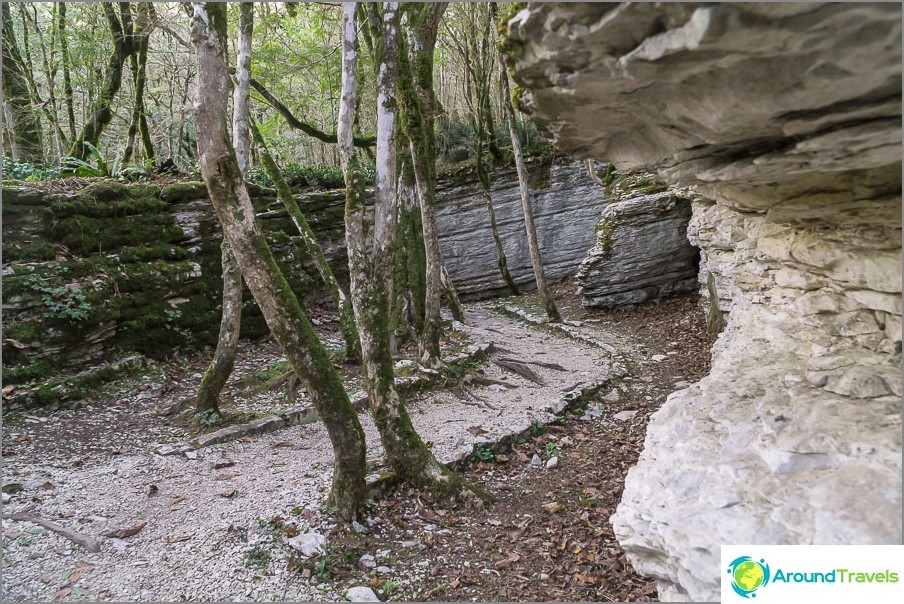 Video
A short sketch that does not pretend to the whole video. Just a couple of minutes to convey the atmosphere.
Information to visit
What else can you see in Sochi and its surroundings
Where to stay in Sochi - a selection of cheap hotels
Opening hours from 9 am to 18 pm.
Ticket price: 300 rubles per adult, 150 rubles per child 7-12 years old. Children under 7 years free. Previously, the ticket cost depending on which ring you go on, but at the end of 2015 the price is the same for everyone. You need to buy a ticket before 5 pm, then the ticket office closes and the reserve will work out. That is, no one bothers to go back even in the dark.
Time to visit need to lay at least2 hours (3-4 is better). But it depends how much you want to get around. There are 2 routes: the Small Ring and the Big Ring. In my opinion it is the Big that makes sense to get to the very end and see the Devil's Gate canyon, and on the way go in and look at the ruins of the old fortress. We walked slowly around 4 hours, passing both rings, stopping to think and take pictures.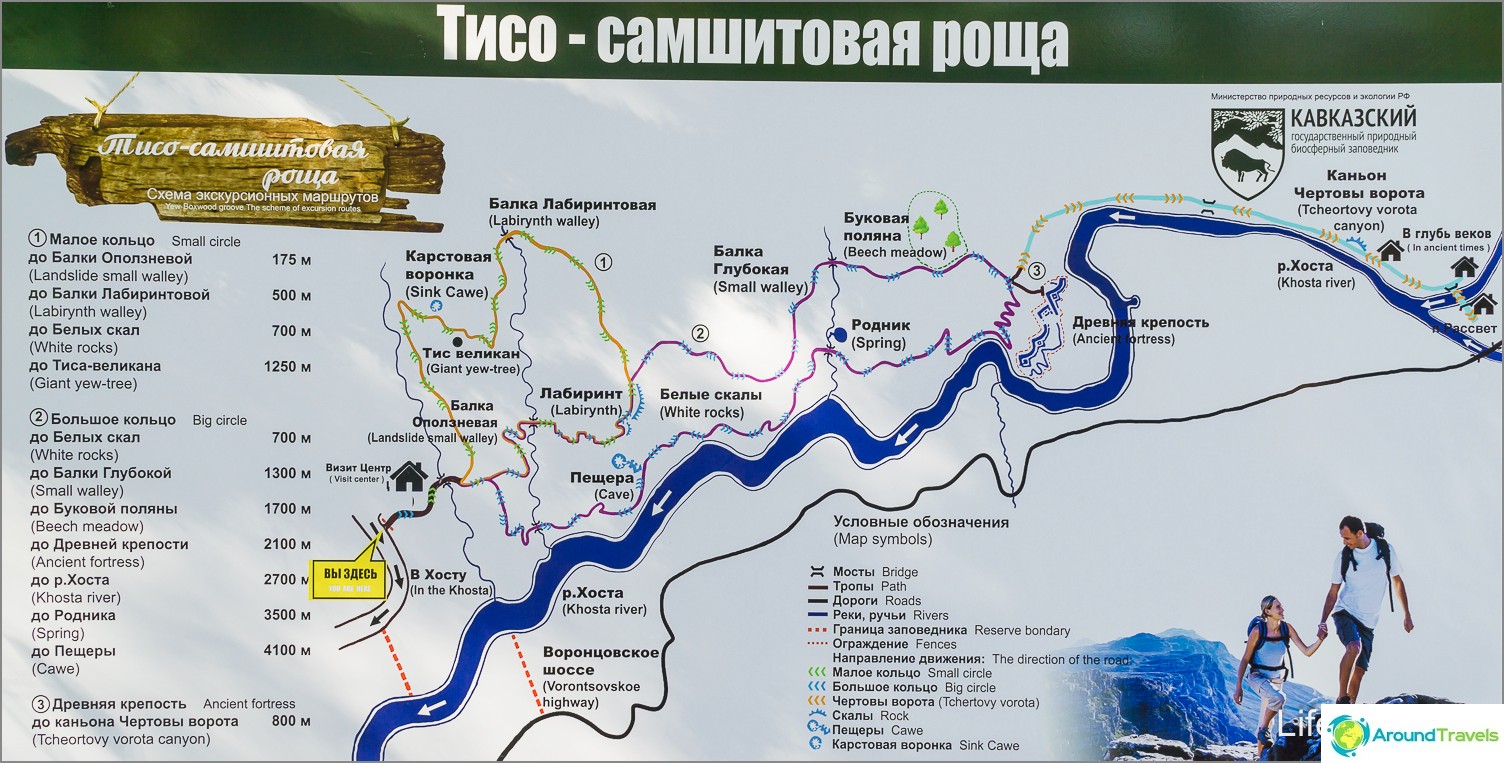 Map and how to get
If you go there by car, then noproblems, just use the map below. It's not difficult to drive there, especially if there is a navigator in the car. On the way from Sochi, do not miss the turn at Khost, it is right after the tunnel.
But if you get by public transport,You can get on any bus from Sochi or Adler, which goes to Khost and passes the Blue Hill (Khost-Bridge) stop. For example, these are minibuses 122, 125, 134 and bus 4 and 4c. From the stop you will need to walk for about 15 minutes on an asphalt road to the entrance to the reserve. You can also get by train to Khosta and walk there (about 30 minutes) to the entrance to the park.
Also in the Yew-boxwood grove you can take a tour, which in the summer season you will be offered in any travel agency on the street. Does this make sense, you decide, I personally prefer to visit all on their own.
Yew-tree grove
Yew-tree grove
Yew-boxwood grove and ecological trails. From here you can walk to the canyon Devil's Gate. Read more about the grove.
Yew-boxwood grove and ecological trails. From here you can walk to the canyon Devil's Gate. Read more about the grove.