If you come to Singapore with children, thenBe sure to visit the Singapore Zoo. This is a very pleasant, green place where zoo pets run among visitors. Next to you, long-tailed lemurs will frolic and savor fruit, peacocks and other birds will walk about. You can eat in a restaurant in the jungle or go with children to the aqua zone.
The content of the article
Singapore Zoo
Singapore zoo or Mandai zoo like hisalso called, is located in the central water reserve on the banks of the reservoir covered with dense forest. It occupies 28 hectares and 40 hectares are given for night safaris and river safaris.
The zoo has won many awards many times.considered one of the best in the world. It is built on the principle of an open zoo. Mostly open-air cages, animals are separated from visitors only by a moat. There are also glazed enclosures with landscaping inside to make the animals more comfortable. There are no cages and small pens in the zoo. Animals are kept in the most comfortable and close to natural conditions.
At the entrance is a booklet with a zoo scheme. It also shows the schedule of feeding animals - a great time to take good photos. In one of the interesting shows, visitors can not just watch from the side, but also take part. The show is called "Breakfast in the jungle", runs from 9:00 to 10:30 allows visitors to get acquainted with the orangutans, to share a meal with them and make beautiful photos with a whole family of these large animals.
Manday Zoo is not very big, but it is veryrich, green and beautiful. There are many plants and flowers in it. Contained in excellent conditions, a huge number of animals, more than 2500 individuals. Many species of animals and birds collected in this zoo are listed in the red book as an endangered species. There are animals that are no longer found in nature. For example, tigers, but not ordinary, but white handsome. And in the zoo you can feed a white rhino, for money of course.
Elephants lead to swim in the pond, which is locatedalso in the zoo. You can watch the bathing. These huge animals adore the water and from there they are difficult to pull out, do not want to go to any.
Many animals and birds that do not representdanger, fly and move around the zoo freely. For example, a mouse deer, a peacock, long-tailed lemurs that are constantly worn under their feet, storks, royal pigeons.
It is possible to purchase tickets in whichIncluded movement on the territory of the zoo in small trams. Singaporeans are great in this regard; they always try to foresee everything in order to be comfortable. In this zoo, you can even rent a pram.
In my opinion, animals in the zoo of Singapore live very well. All plump, with smooth shiny hair and look contented.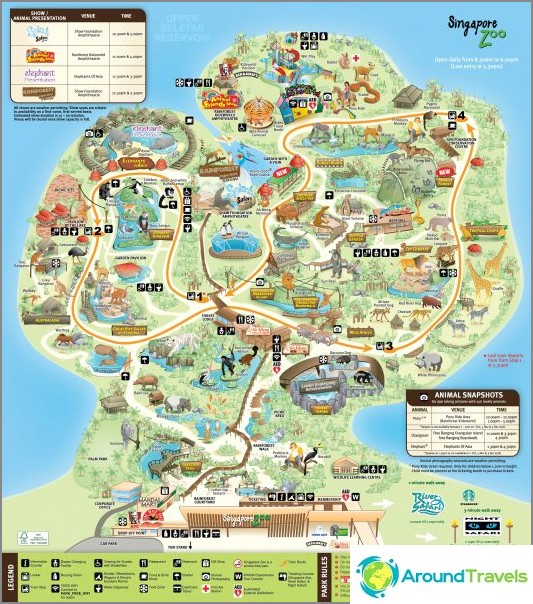 Visit Information
Opening hours: from 8:30 to 18:00.
Ticket price: adult 40 SGD; child 26 sgd.
Tickets at a discount of 38.25 SGD>
The discount is small, but if you go to the zoo throughoutfamily, then not bad, then you can buy ice cream for the money for children at the exit. Go to the site Klook, register and take tickets for a convenient date. After payment will come to the mail voucher. It is shown at the entrance on the phone screen. It is also convenient to buy online because there will be no need to stand in line at the cashier.
On the territory of a lot of pointers so you can always navigate the direction you need.
There is a luggage room, where you can take the things, so as not to carry them with you.
It is better to visit in the morning, because at this time the animals are more active.
There is a children's aqua-zone and foodcourt with acceptable Singaporean prices.
Near the zoo opened 2 more interestingPlaces to visit with children are night safaris and river safaris. River Safari: Adult 32 SGD; on child 21 sgd. Night Safari: Adult 47 SGD; on child 31 sgd.
Breakfast in the jungle runs from 9 to 10:30 in the AH MENG RESTAURANT (TERRACE). Ticket price: adult 35 SGD and child 25 SGD (children from 6 to 12 years).
At the box office of the zoo, you can buy a ticket to visit Jurong Bird Park. Ticket price: Adult - SGD 30; child: 20 - SGD.
On the map
Singapore Zoo
Singapore Zoo
There is a wonderful zoo in Singnapurbuilt on the principle of an open zoo. There are no cells and small aviaries. Many animals and birds move freely among visitors. I think you should definitely go to the zoo, because Singaporeans know how to surprise and calculate everything to the smallest detail, and therefore they got a very good zoo.
More about the zoo
There is a wonderful zoo in Singnapurbuilt on the principle of an open zoo. There are no cells and small aviaries. Many animals and birds move freely among visitors. I think you should definitely go to the zoo, because Singaporeans know how to surprise and calculate everything to the smallest detail, and therefore they got a very good zoo. More about the zoo
Life hacking 1 - how to buy a good insurance

Choosing insurance is now unrealistically difficult, so to help all travelers, I compile a rating. To do this, I constantly monitor forums, study insurance contracts and use insurance by myself.

Life hacking 2 - how to find a hotel 20% cheaper

First, choose a hotel on Booking. They have a good offer base, but the prices are NOT the best! The same hotel can often be found 20% cheaper in other systems through the RoomGuru service.

Discount hotels