Tiger Park opened in early 2017, but alreadybecame popular with tourists. The creators of the park actively advertise it, you can see flyers with tigers and the park logo all over Pattaya. Judging by the reviews, most people like it, because a selfie with a tiger is unusual.
The content of the article
Zoo Tiger Park in Pattaya
The idea of ​​a tiger zoo, on the one hand, is notnew: photos with different exotic animals have long been a profitable source of income in tourist places. On the other hand, the park has its own zest: it's not just a place for a photo with a tiger, but a whole complex where you can spend some time and "chat" with big wild cats.
In addition, in a relatively small Tiger park there are as many as three cafes. That is, you can not just take pictures and stroke the tiger, but also have a tasty dinner with a view of the striped predators.
As far as the idea of ​​such a zoo is ethical, eachdecides for himself. All advertising booklets emphasize that tigers do not sit on a chain here and are not overfed with drugs. They just get used to people from birth, are trained and become almost home. How to check it, I do not know. Therefore, below will be just a description of what is in the park and what services are offered to all who wish to participate in this attraction. So let's say bezotsenochno.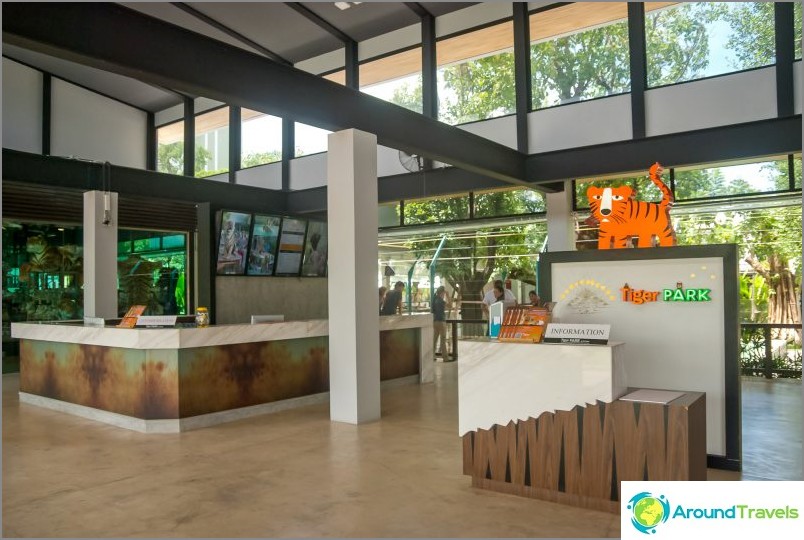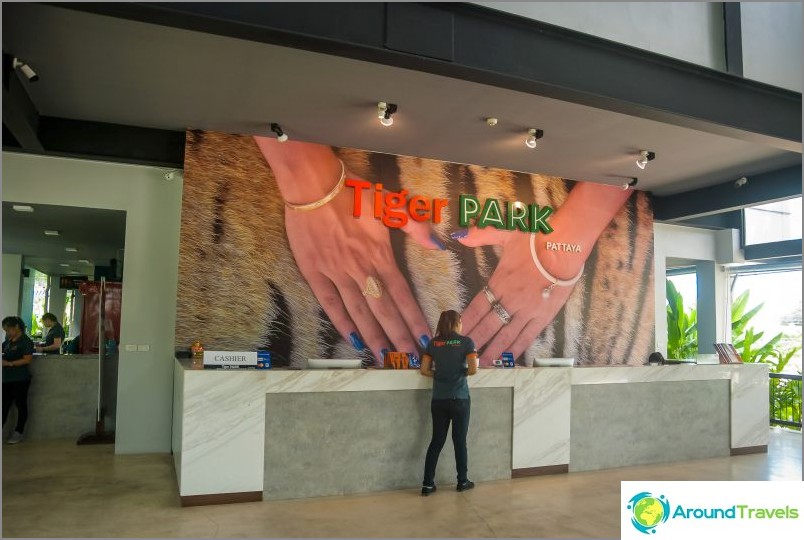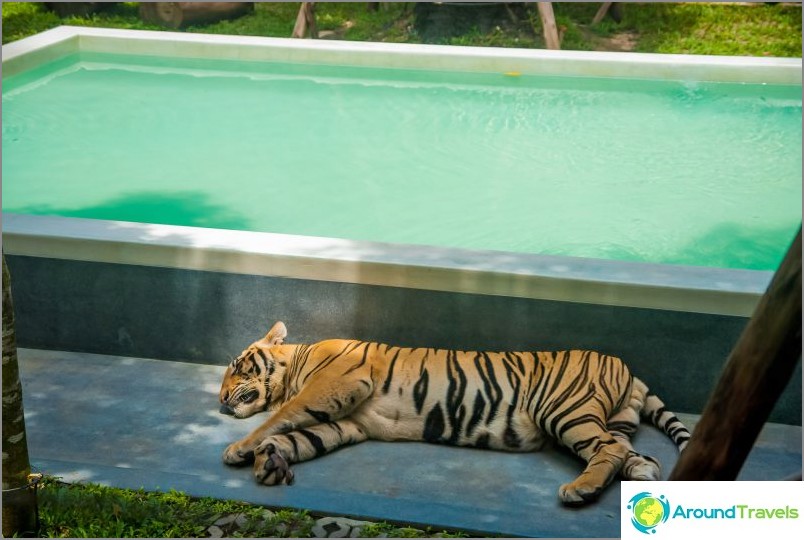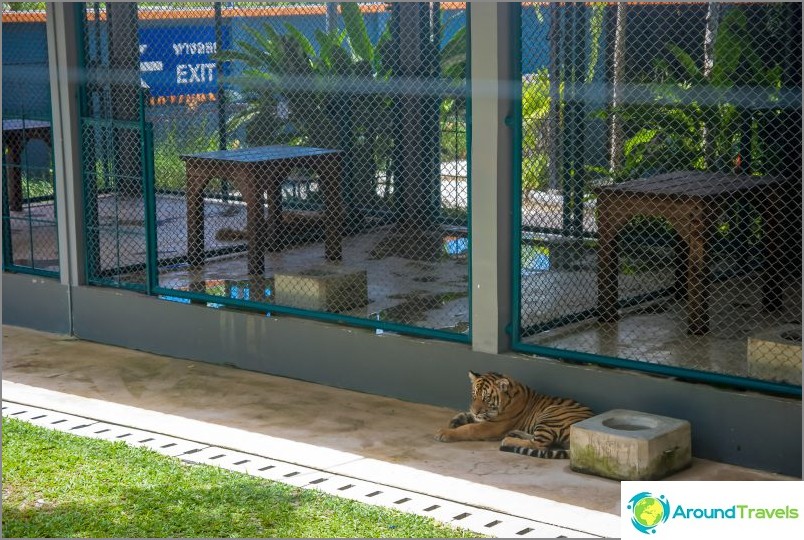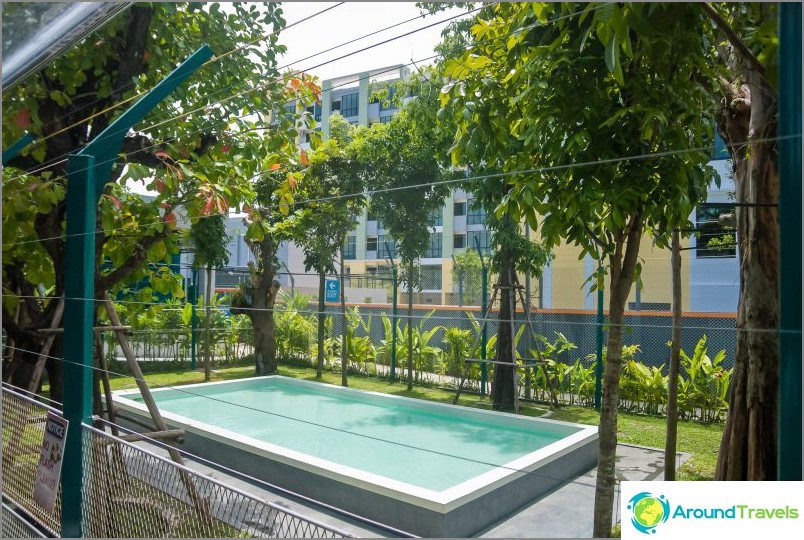 In the zoo Tigor can go and look atlarge and medium tigers in enclosures are absolutely free. But this is not the main entertainment. For an additional fee, you can enter the premises or an aviary with tigers for 15 minutes and, under the supervision of trainers, play with them, take a selfie or pose for a professional photographer of the park.
Since, how many do not train the tiger, it is completelyhome will not be, then children in the cages with adult tigers are not allowed, only to small tiger cubs. And you will only communicate with tigers of any age under the supervision and guidance of trainers, who spend whole days in enclosures with tigers.
The park is very clean, aesthetically pleasing and comfortable. There are no extraneous smells, the animals are well-groomed, the rooms and furniture are new.
There are several cafes in the park: Amazon's network with coffee and cake in an air-conditioned room, two souvenir shops, an open cafe with fans and Wi-Fi, where you can buy snacks and sit at tables, watching tigers and a restaurant with a good buffet, also in an air-conditioned room and tigers That is, if you want the stress of meeting face-to-face with tigers, you can immediately sit in any of the above institutions.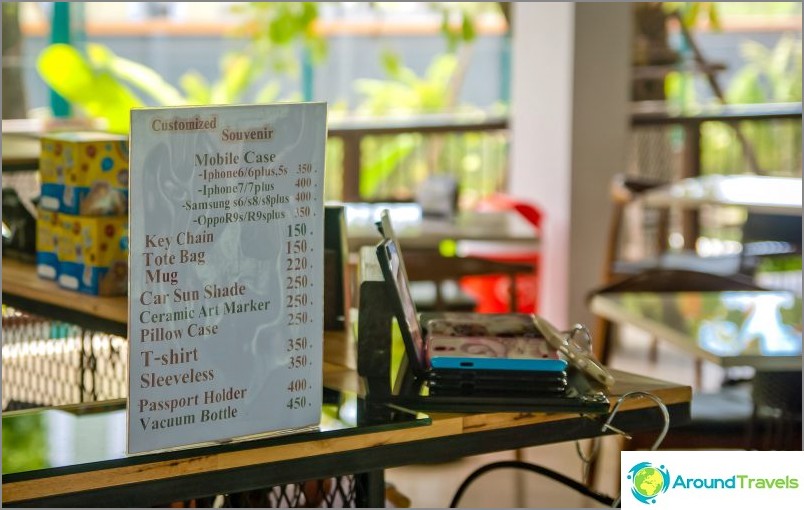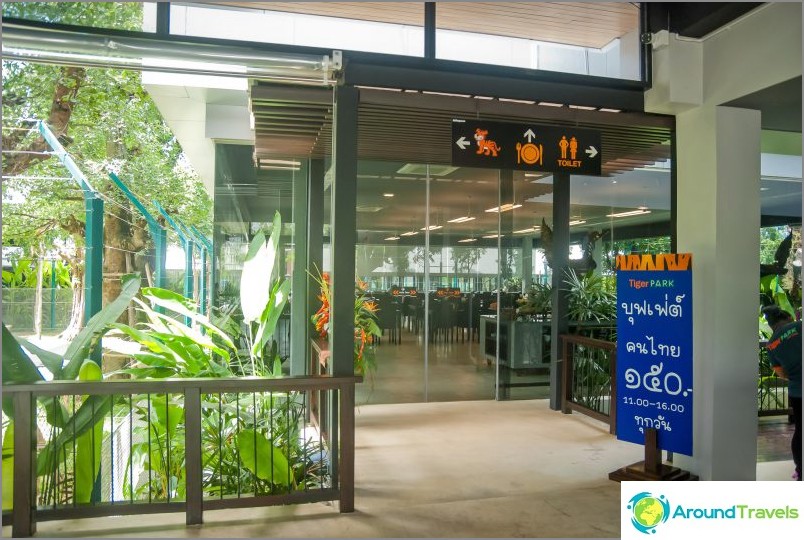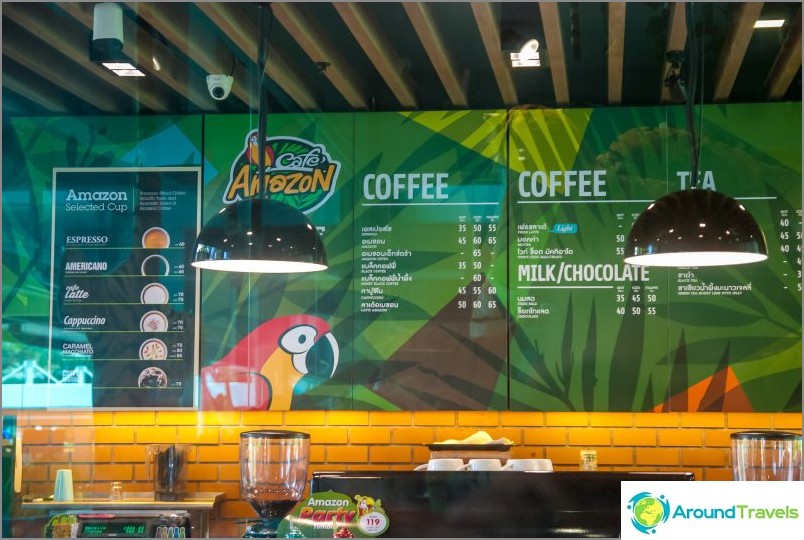 But the main adventure is still a game and a photo withtigers inside the enclosure. Tigers are divided by age into very young tiger cubs, bigger ones, adolescents and adult tigers. For each age group your price. Judging by the reviews that are already on the Internet, communication with tigers gives a lot of unforgettable emotions and is loved by absolutely everyone (who came), both children and adults.
Information to visit
Park hours from 9 to 18.
The buffet restaurant is open from 11 to 16.
Lunch (buffet): 300 baht adult, 200 baht child.
Local photographer: 500 baht. Makes a photo while you are in an aviary or a room with tigers. Photos mostly staged. Gives a disc with 50-100 photos.
Communication with tigers, 15 minutes, indoors or in an aviary. The smallest tigers: 1000 baht, small and medium: 800 baht, adult tigers: 1000 baht.
In a cafe with snacks prices are slightly higher than in the store. Small package of chips: 25 baht, coconut: 50 baht. Coffee at Amazon: 35 to 65 baht.
Getting there
Tiger Park is located in the place where the SecondBeach Road Jomtien goes to Sukhumvit. If you go from the center of Pattaya to Sukhumvit to the south, then Tiger park will be on the opposite side of the road. We must drive a little further and turn around. You can use the white tuk-tuk that go around Sukhumvit. The park's logo is set on a very long pole and is visible from afar, and is illuminated in the evening, so it is difficult to miss.
You can get to the park by taxi. And from the south of Jomtien, you can even walk. For example, from the condominium Lumpini to Tiger Park is very close, you can walk for 15 minutes. If you go from the southern suburb of Pattaya, for example, from the Ambassador hotel, then you don't even have to cross the road; Very comfortably.
On the map
Tiger park
Tiger park
A place where you can touch the tigers, look at them sitting in a cafe and take pictures with them. New attraction of Pattaya, where tigers are kept in large aviaries and used to communicate with people all the time.
A place where you can touch the tigers, look at them sitting in a cafe and take pictures with them. New attraction of Pattaya, where tigers are kept in large aviaries and used to communicate with people all the time.
Life hacking 1 - how to buy a good insurance

Choosing insurance is now unrealistically difficult, so to help all travelers, I compile a rating. To do this, I constantly monitor forums, study insurance contracts and use insurance by myself.

Life hacking 2 - how to find a hotel 20% cheaper

First, choose a hotel on Booking. They have a good offer base, but the prices are NOT the best! The same hotel can often be found 20% cheaper in other systems through the RoomGuru service.

Discount hotels