I was not going to write another Finstrip, because a few months ago already published a post with earnings results for the two summer months. However, I received several emails asking aboutwhether something has changed since then, and in particular, what is the profit from the Aviasales affiliate program. Besides, I learned that recently a referral system has appeared in this travel affiliate program, so perhaps the information will be useful to someone.
By the way, at the end of the summer we have decreased traffic since 2000up to 1500 unique per day. This is most likely due to the fact that the summer theme was fairly well covered on our blog at one time. So the drop in earnings is quite logical. In addition, I almost did not sell the guards and articles.
The content of the article
Travelpayouts Travel Affiliate Program (Aviasales)
The essence
Briefly talk about the essence of Travelpayouts for thosewho else do not know. By installing a ticket search form on a blog or website, you will receive a percentage of the sale of a ticket or, to be more precise, 50-70% of the commission that the airline itself receives. The search engine itself is free, it simply redirects to various agencies or airlines' websites (728 airlines, 5 booking systems, 15 agencies), that is, the price for the end buyer remains the same. If in figures, then from the sale of one ticket you get an average of 100-500 rubles. It happens, both more and less.
The most interesting thing is that air shows are reallyquality service and we use it ourselves, as well as many of our familiar travelers. That is, you earn not on the fact that you are stuffing some kind of garbage, but rather doing good, that you send a person to a good ticket search engine. And as I have already said, the money will not come to you from the ticket buyer's wallet, but from the agency that sells the ticket.
Referral program
Recently there was a referral program. Attracting other webmasters, registering on your link, you get 5% of their income, and not from the means of your referral, but from the means of Aviasales itself. The program is single-level.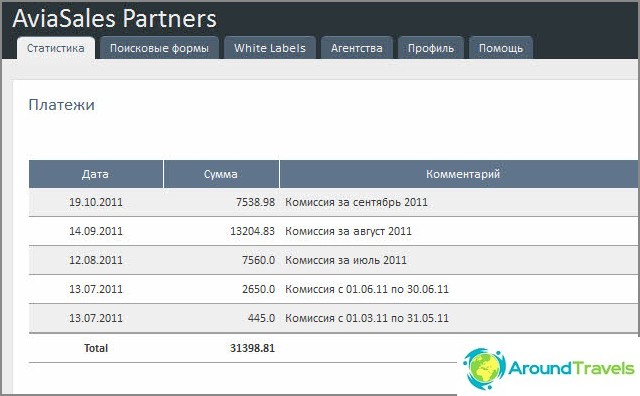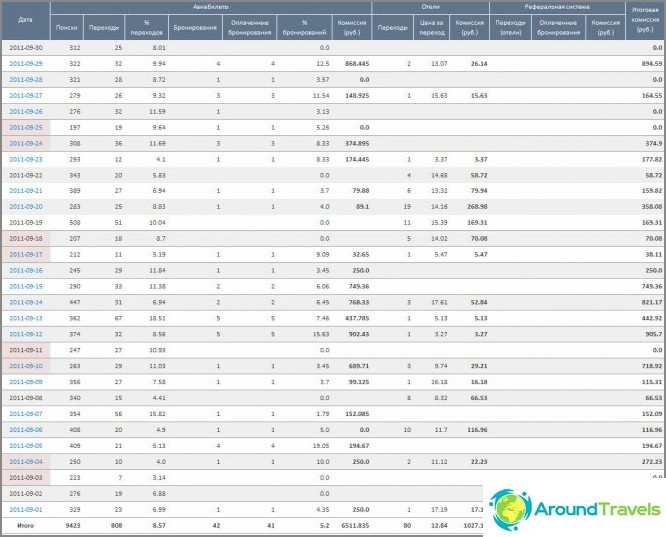 Hotel booking
When booking air tickets, the user hasthe ability to book hotels. Aviasales previously used the Roomguru.ru affiliate program, actually acting as an intermediary. It was convenient, they did not throw, as Hotelscombined did it themselves, and made payments with minimal thresholds and on webmoney.
Since the summer of 2013 it has become even more convenient, Aviasaleslaunched their own hotel search engine Hotellook.ru, but the principle of earnings is no longer the same as through Hotelscombined, but more profitable. You receive income not from clicks and conversions, but as a percentage of the actual reservation of rooms in all reservation systems (Agoda, Booking, Ostrovok, etc.)! That is, now there is no need to choose among reservation systems and set yourself a search form only from one of them.
However, someone likes to cooperate withthe same Agoda and everything. By the way, no one bothers to try different combinations for better exhaust. Oddly enough, but through Aviasales we used to get more, and now even more. I tried to work directly with Hotelscombined, and with Agoda, and with Booking.com.
Sign up for a travel affiliateAviasales Travelpayouts can be HERE, and here you can see a detailed description. I reviewed a bunch of other affiliate programs on this topic, and there are similar ones, but at the moment everything repeats only partially what Aviasales has.
Finstrip for 3 months
August 25935 rub
Visiting 1779 people / day
Profit-partner: 2845 r
Google Adsense: $ 168
Daos line: 120 r
Gogetlinks.net: 740 r
Blogun.ru: 1000 r
Miralinks.ru: 1000 p
Trustlink.ru: 788 r
Direct posting of articles and guards: 1200 r
-
Travelpayouts (Aviasales): 13204 r
September 16580 rub
Attendance 1391 people / day
Profit-partner: 2253 r
Google Adsense: $ 121
Line Daos: 400 r
Trustlink.ru: 832 r
Direct posting of articles and guards: 500 r
-
Travelpayouts (Aviasales): 7538 r
Affiliate Daos: 28 eur
Beget.ru: $ 12
October 18440 rub
Attending 1553 people / day
Profit-partner: 2582 r
Google Adsense: $ 137
Line Daos: 600 r
Trustlink.ru: 869 r
Direct posting of articles and guards: 930 r
-
Travelpayouts (Aviasales): 9351 r
P.S. Links in the post referral, and you do not lose anything if you register under me. I can even tell you something and help if needed.
UPDATE. Updated the information in the article, after Aviasales launched their own search engine on hotels.
Life hacking 1 - how to buy a good insurance

Choosing insurance is now unrealistically difficult, so to help all travelers, I compile a rating. To do this, I constantly monitor forums, study insurance contracts and use insurance by myself.

Life hacking 2 - how to find a hotel 20% cheaper

First, choose a hotel on Booking. They have a good offer base, but the prices are NOT the best! The same hotel can often be found 20% cheaper in other systems through the RoomGuru service.

Discount hotels