Watching the last post about downshifting (which is not exactly downshifting), revived the blog a bit and showed that we still have readers
It was very cool to read your comments, and Ieven a little later I will write a post about this (or Daria), but I did not want to say that. The funny thing is that everyone expects some kind of business, entrepreneurship from me, when they give advice on further earnings. And why do you exclude such a moment that I just belong to such a type as traveling plankton?
The content of the article
Traveling plankton
Hmm ... Traveling plankton? It is such a term came to mind. Indeed, you sit at home, you work quietly for yourself, and you want it to continue like this. That is, there are no over-ideas on increasing turnover and profits, there is no keen desire to earn as much money as possible at any cost, clever monetization schemes do not occur, no experiments are being conducted. You just do your job, live it and think with its framework. Probably all the same, like the office plankton, who I, too, was once. I did projects of communications of houses and, in general, nothing new every day foretold, only the equipment changed, yes technologies.
Now I am the usual office plankton,only homely and slightly geographically moving, on that and traveling. You can also call freelance plankton. By the way, it turns out that "home plankton" is quite a valid term, meaning housewives. I found out while the post was writing.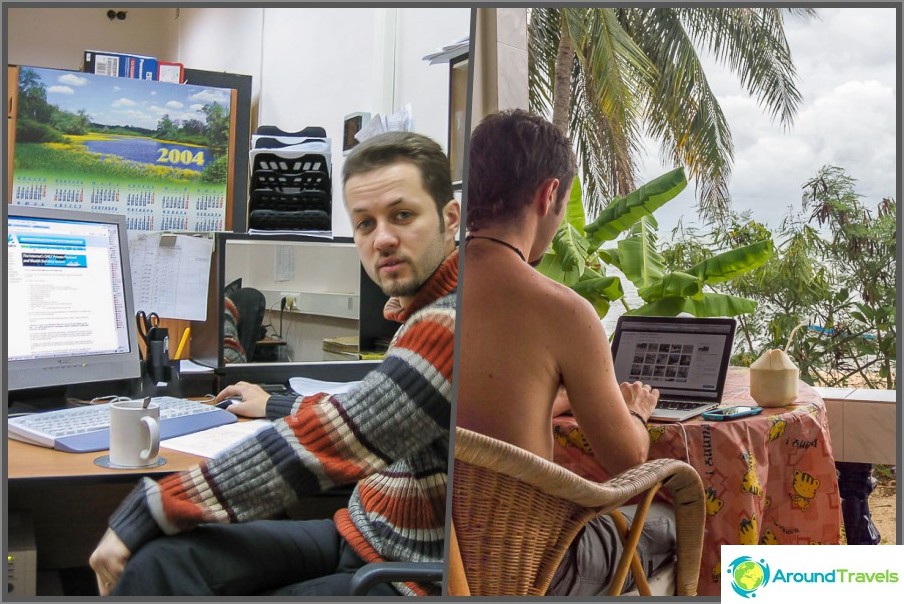 You can become a blogger by chance
I have a feeling that this is just randomcoincidence, luck. Just in a single point of space and time there are several factors. There was a person who was potentially ready to rivet content and periodically travel. He also knew about blogs earlier and even tried to start LiveJournal, but things did not go wrong, there was no subject for writing, and there was no motivation either. He was once told that if you do this and that, then there will be a lot of topics, and you can almost make money on a hobby, traveling. By this point in time, the world had prepared various tools for earning, ranging from the simplest creation of sites to various advertising platforms. In addition, such content has become demanded by society and it was no longer necessary to skillfully build beautiful images, weave rhymes, know yourself, describe what you see around in the form of a structural text. As they say, what I see is what I sing. Wow!
Imagine a person with the sameopportunities, born 50 years earlier, when there were no sites, would not have succeeded, because only a few are good writers, since blogging is not at all like it. Or born a little later, when blogs have sunk into oblivion, it is also unlikely that it would have happened. Truly we live in amazing times, so many skills can be used.
I am in the comments all the time offering a businesspure water, although I only get to write on the go. Moreover, it is desirable in the format of a personal blog, since copyright to order is still anguish with less income. Yes, nobody argues, you can make websites, buy / sell real estate, you can raise some services, but all this is not related to writing texts and traveling, all this is either work or business. Therefore, by and large, then there is no difference what to do, everything from scratch and without ready skills, and also without guarantee that at least something will come of it, because everyone has different abilities.
Question
So here is the question. Is it worthless to be such a traveling / home plankton? After all, in fact, most of us are such, we don't have enough stars from the sky, we don't own Facebook. Why when it comes to office plankton, no one doubts its normalcy? He doesn't say, yes, you're good at being an engineer.
P.S. Stereotypes? Are all bloggers necessarily entrepreneurs? Or, on the contrary, is a blogger such an unstable profession? True, your opinion is interesting.
Life hacking 1 - how to buy a good insurance

Choosing insurance is now unrealistically difficult, so to help all travelers, I compile a rating. To do this, I constantly monitor forums, study insurance contracts and use insurance by myself.

Life hacking 2 - how to find a hotel 20% cheaper

First, choose a hotel on Booking. They have a good offer base, but the prices are NOT the best! The same hotel can often be found 20% cheaper in other systems through the RoomGuru service.

Discount hotels