Perhaps many have already seen the announcement, but neverthelessneed to tell for those who still do not know. Travelpayouts has released its WordPress plugin, which can be a great help for bloggers. Now it's much easier to insert a search form code or widget into a post, not to mention the fact that you can use the API from Aviasales.
Previously, the plugin was called KPD Tourismus and cost $ 100. Somehow the toad choked me to buy it, although I had known about it for a long time. So the guys from Travelpayouts bought it and made it free.
The content of the article
useful links
Registration in Travelpayouts affiliate program
Download the plugin from the repository
Plugin documentation
Plugin Setup
By default, the plugin is already configured and you do notneed to do. More precisely, you need to specify only the data of your account in the affiliate program. There is an explanation of how and what to do, it takes about 10 seconds. Later, you can change the appearance of a block.
I will not tell in detail, everything is indocumentation, just explain how everything works. On the page for creating a record (post), 3 types of blocks are available in the panel: Search forms, Widgets and Tables. That we need them. There are more settings for each of them, but as I said in the beginning, you can not touch anything. Each unit consists of several tools.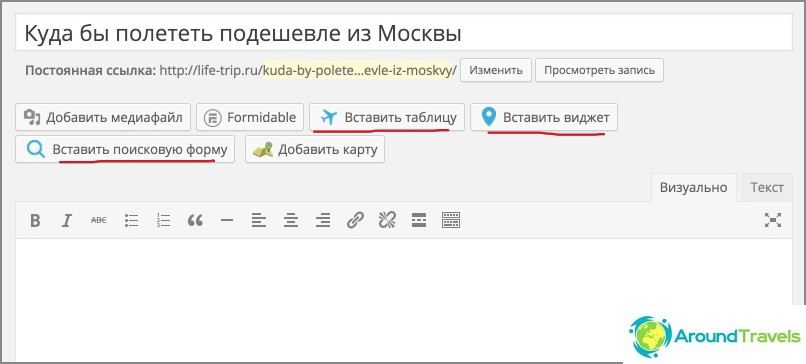 Search forms
Those that created in the admin affiliate
Widgets
Map widget
Hotel card
Calendar widget
Subscriptions widget
Hotel Widget
Popular Destinations Widget
Tables
1. Prices for the month in the direction, one way
2. Tickets for the coming days
3. The cheapest tickets in the direction
4. The cheapest tickets in the direction of this month
5. Prices of tickets by month
6. Tickets without transfer in the direction
7. Tickets without IZ
8. Popular destinations from the city
9. Popular airline destinations
10. We searched on our site
11. Cheap flights from the city
12. Cheap flights to the city
Perhaps there will be "Cheap flights for holidays" soon

As you already understood, earlier in the admin area of ​​the affiliate programonly search forms and widgets were available, and now an extensive list of tables has been added (data from the Aviasales API). Personally, I liked this feature the most. Yes, the API could previously be used, but now it is done in a couple of clicks.
Thus, during post creation, you canQuickly insert the desired widget or table in the form of a shortcode, they are ready to use immediately after the installation of the plugin. However, before you insert search forms into an article, you need to add them in the plugin settings by copying the code from your Travelpayouts personal account.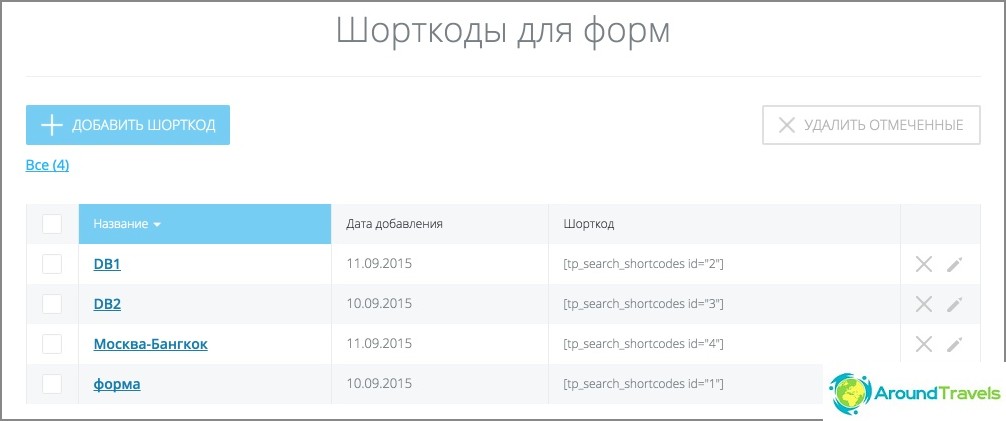 Why do I need a plugin
Of course, if you use only oneA standard search form in the sidebar, then the plugin does not need anything. But this form is very little confusing. The best option is to use the necessary tools directly in the articles, in the text. And posts should be somehow connected with aviatematics. It is clear that it's unrealistic to break through on requests like "a cheap ticket to Moscow", so you need to think of something on a topic. Here the Tables are very well suited, where there are prices for specific tickets for specific destinations and conditions, you don't even need to click on the search, the price is already indicated, which is supposed to improve the envelope.
Tables can be used when writingroutes, collections ala "where to fly for the weekend", place in their guidebooks about a particular city, in posts about airports, and so on. I know that they usually recommend working with sales inquiries, but in my opinion this is not for blogs, but rather for sites completely sharpened by avimatics and arbitrageurs. Probably everyone knows that I have another site associated with tickets, so at 20 times less attendance, he gives a little more money in Travelpayouts than this blog, despite the fact that I do not do it at all. In the sense that I once spent time I wrote several dozen posts and abandoned the case.
To fully work with the affiliate program especially inblog form (texts) will have to work with the bass and take the number of articles. It's not enough to write a couple of posts. Actually, this is all popular topics, now I'm mostly busy with hotels and I also have to collect a little, a little there, a little there. Well, as I said above, besides this, you need to look for posts on the blog, which are potentially related to the purchase of tickets, preferably those posts that are read before the purchase, and not after.
P.S. If someone has already installed the plugin, can you share how you use it?
Life hacking 1 - how to buy a good insurance

Choosing insurance is now unrealistically difficult, so to help all travelers, I compile a rating. To do this, I constantly monitor forums, study insurance contracts and use insurance by myself.

Life hacking 2 - how to find a hotel 20% cheaper

First, choose a hotel on Booking. They have a good offer base, but the prices are NOT the best! The same hotel can often be found 20% cheaper in other systems through the RoomGuru service.

Discount hotels