Just in case, I will tell you how we were driving on the highway.M4, can someone come in handy, a kind of report. So, the entire journey of 1,500 km took us 3 days and on the way we still drove into Divnogorie for a day, it was almost on the way. In principle, this way from Moscow to Gelendzhik / Sochi / Anapa can be overcome in 24 hours (18-25 hours), but I am not fond of such long movements in one sitting, especially at night and when there is no one to change you, the risk is not justified. Driving over 500 km is the most, the driver does not lose concentration. In addition, we perceived the trip as a journey, so there was nowhere to hurry.
If you want to quickly and without stopping, thenbetter by plane (via Aviasales / SkyScanner), indeed, faster and at the same time much safer. Moreover, when it comes to vacation in a couple of weeks, there are not so many things to take with you; for a family of three, 3 suitcases of 20 kg should suffice. But here the master is a master, as you like. We went for a month or even more, so we need a lot of junk with us and the car is in place to move.
The content of the article
General
Brief Impressions
Our route has changed a bit in the end. We decided to call in Anapa to stay on the sandy beaches for several days, and we ended up stuck here for rehabilitation, which we managed to fit in on the last day. Therefore, in Anapa we will be another 3 weeks, and then we will move towards Gelendzhik in camping (if not cold) and in Sochi. Well, that if nothing changes again.
After our last such trip to Gelendzhik 2 years ago, I wrote a whole suffering post about travel with a child. It is fit to rewrite it. How difficult it was to travel then, how much easier it was now. Everything is relative. Yes, Egor still does not sleep in the car seat, but he can sit in it all day! Unless, of course, he constantly throws up entertainment
Still, he became calmer and you can alreadyat least take something, for example, Lego, which we bought right before the trip. And now it was necessary to stop for one day's sleep, and not for two. In general, I was very afraid of repeating the previous time, but it did not happen. It is more difficult to go with a child than without him, but it is already quite realistic and even us. Especially if you go overnight.
The most top impressions are stilltoilets with their parking lots and smoking trucks, in this regard, unfortunately, nothing has changed for 5 years. From pleasant - the road became better, and the open spaces around did not disappear anywhere. But more on that below.
Route Moscow-Voronezh-Rostov-Anapa-Gelendzhik-Sochi
If you go with two nights, then the mostThe best stops will be in the Voronezh region and in Rostov-on-Don. Thus, the path will be divided into 3 sections of 500 km. On the one hand, these cities are full of housing on the same Airbnb (according to the link my detailed post about the service and bonus$ 20), on the other hand, it takes time to enter and leave the city, so in order to save it, it would be better to stay in roadside hotels rather than inside the city.
Remember, the city has the opportunity to save money, since a normal apartment costs 1500-2000 rubles (I recommend an apartment in Voronezh. in Rostov-on-Don), and a comparable hotel will cost twice as much.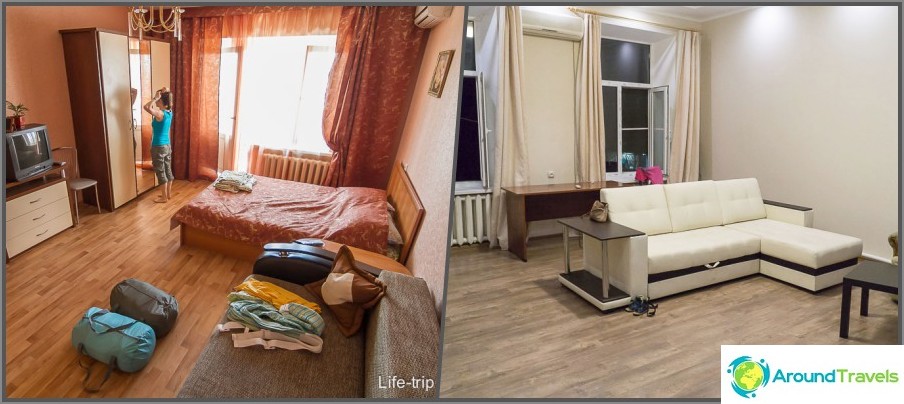 Alternatively, plan a route with onlyone night, for example, leave Moscow in the afternoon, get to Voronezh in the evening, spend the night in front of him in a hotel, and from early morning move on straight to the sea. Or plan a single overnight stop in front of Rostov, there just the highway passes through several settlements, where there are motels and housing from private owners.
Picky travelers can generallyspend the night in a tent, anywhere along the way (in the forest belts), and the "truckers" ride 18-25 hours without rest and overnight. I personally do not want to risk my family, so I try not to do large hauls, as I get tired and lose concentration, especially at night. Yes, I could drive these 1500 km in one sitting, but I see no reason.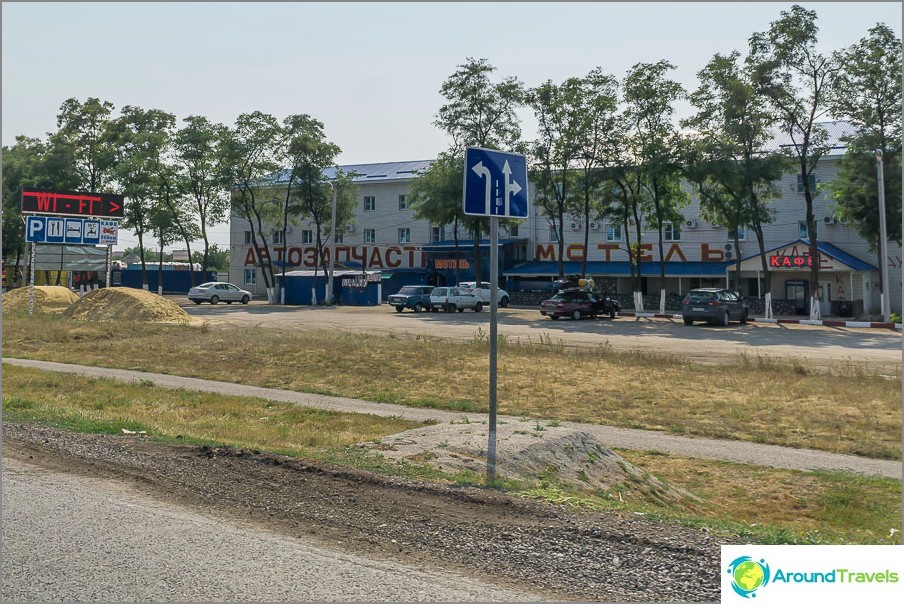 If the ultimate goal of Sochi, without priorit is a little pleasant to drive through the Tuapse-Sochi section, there are serpentines, traffic jams, and this segment can take a decent amount of time, 2–3 times more than usual (if compared with flat sections). Ideally, drive through it early in the morning, while there are few cars, or at night. When I went to Sochi, the average speed was 45 km / h, there were areas with one-way traffic (repairs), plus trucks even though sometimes passing on climbs, but on the whole it was not possible to drive fast anyway. Only closer to Sochi and after it normal speed. In the settlements (and they are there all the time), the limit is often 40 km / h, on the highway 70 km / h.
In Gelendzhik, I usually drive through Dzhubga, Ithere is more like a calm road, but there is an option to go through Novorossiysk. It is better to go to Anapa, leaving the M4 highway 100 kilometers after Rostov to the Kanevskaya stanitsa, and then drive through Timashevsk, Slavyansk-on-Kuban, following the Temryuk direction, but the road is so-so. After Slavyansk it will be necessary to leave for Anapa.
Travel time
As I wrote above, it all depends onhow much you want to do the night on the road and whether you want at all. We went there all together with the family, so we did 2 nights, as a result, the road took 3 days at a very relaxed pace.
I went back alone (the family flew off by plane)from Adler to Moscow. I got in 26 hours, of which about 5 slept in the car. That is, the road itself took 21 hours. It is quite normal, I think. Somewhere at 20-25 hours and it is worth counting, excluding long stops for sleep.
M4 highway
Stripes and coating
On the way to the Black Sea, I already traveled a fewtimes, hitchhike back and forth, and 3 times by car. The track is slow, but changing for the better. First of all, they almost made two lanes in each direction from Moscow to Goryachiy Klyuch. But, unfortunately, there are still areas with one lane. For example, in the Voronezh region in the area of ​​the villages of Losevo-Pavlovsk-Verkhniy Mamon, a site about 70 km long. Moreover, there is no repair, just a lane in each direction and no hint of expansion. And another piece closer to the Rostov region. Also there is a repair in the Rostov region already after Rostov-on-Don between the villages of Samara and Kushchevskaya (a piece of about 40 km). Even in the Rostov region, the metal separator periodically disappears with an oncoming lane, markings disappear, irregularities, cracks, etc. appear (it was already driving in the dark, quite uncomfortable), however, as in the Voronezh region. In fact, the best piece of M4 between Moscow and Voronezh, in theory, this should be all over. Will wait
After the Hot Key, one-way traffic withperiodic overtaking lane. She appears there quite often. From Dzhubga to Tuapse about the same scheme, only a small serpentine and the third band is quite rare. From Tuapse to Sochi, a particular serpentine and almost no way to overtake. From Dzhubga to Geledzhik also one lane, but there is almost no serpentine, so the site passes quickly.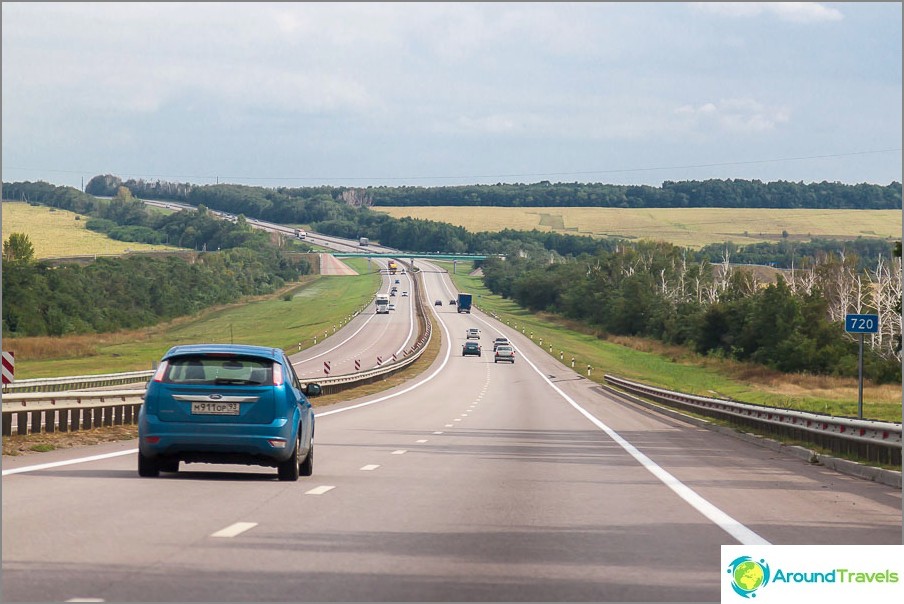 From Rostov to Anapa odnopoloska with a bunch of trucks andold KamAZ, and only after turning from Temryuk highway to Anapa, they disappear. We tried to navigate through the navigator bypass roads (we drove from Rostov to Azov and further to the detour of cities), but there is a bad road in some places, the distance is generally longer, but plus there are few cars. Won or not, I do not know.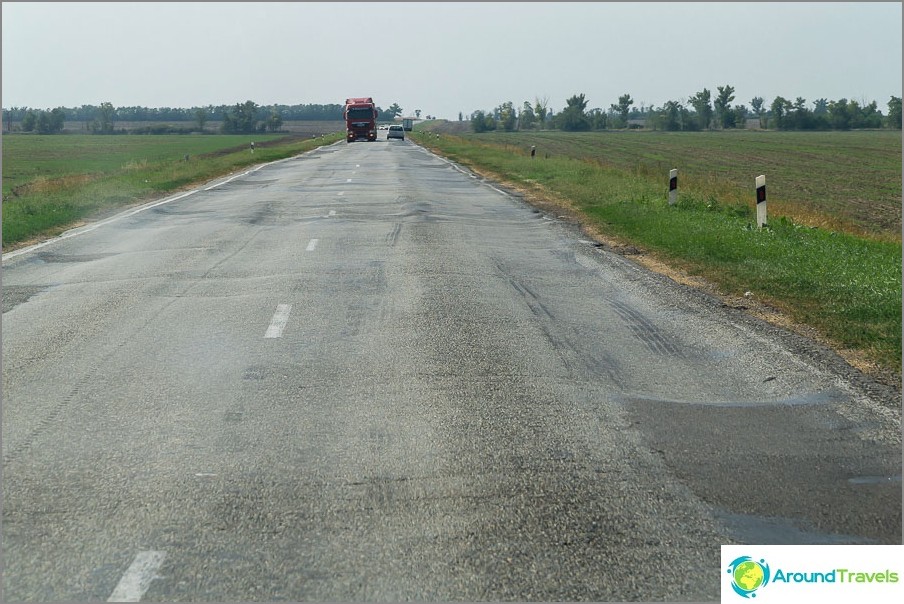 Fines and cameras
Cameras on the way very much, so run intothe penalty for failure to comply with the speed limit is not a problem. But it is for the better, we will all be more alive. I always moved at a speed of maximum +15 to the permitted, that is, if 90 km / h is allowed, then I drove 115 km / h. Everywhere, except for paid sites, just such a restriction. At the same toll - 110 km / h and on one of them as much as 130 km / h (that is, 145 k / h can go, if there is such a desire).
All the way back and forth, I received only one fine for 500 rubles. Somewhere in the Voronezh region was driving instead of 83 km / h in the village. Strange, usually there I certainly slow down.
Paid plots
In total now on M4 eight paid sites. They are all between Moska and Voronezh, but they plan to do more. Visually, they almost do not differ from other parts of the route, I did not notice any serious differences. Only on one piece did the allowed speed of 130 km / h, on the remaining 110 km / h, as well as on the rest of the segment M4, which is positioned as a highway.
At the price: 35-120 rub for a site, at night tariffs are cheaper. Moreover, it is necessary to show the check again at one of the sections, so don't throw away the checks.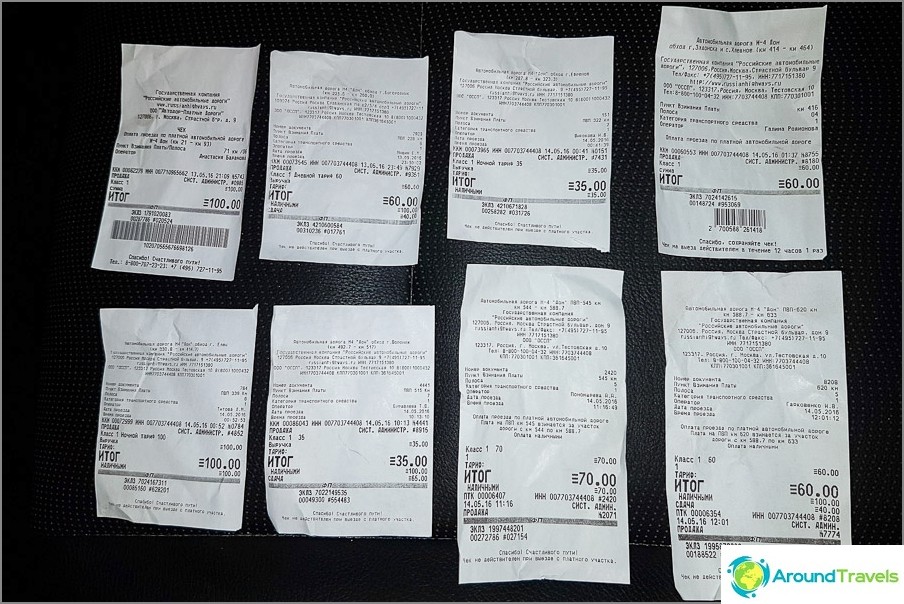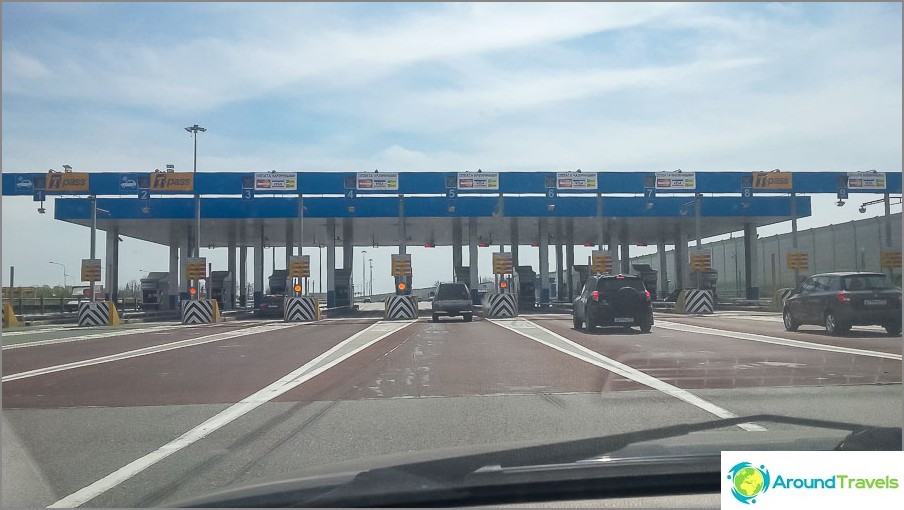 Rest on the road and refueling
We mainly stopped at Lukoil, becausethat there is a civilian toilet, a minimarket, a playground and tables outside for snacking. At least in the first half of the M4 refueling Lukoil is so equipped, then they go already smaller and without such a set. On the map, just in case, I noticed a very large Luikoil after Voronezh, where you can eat and stand in the shade. In the previous Lukoil in the cafe there were only coffee / tea and buns, and here the dishes are straight.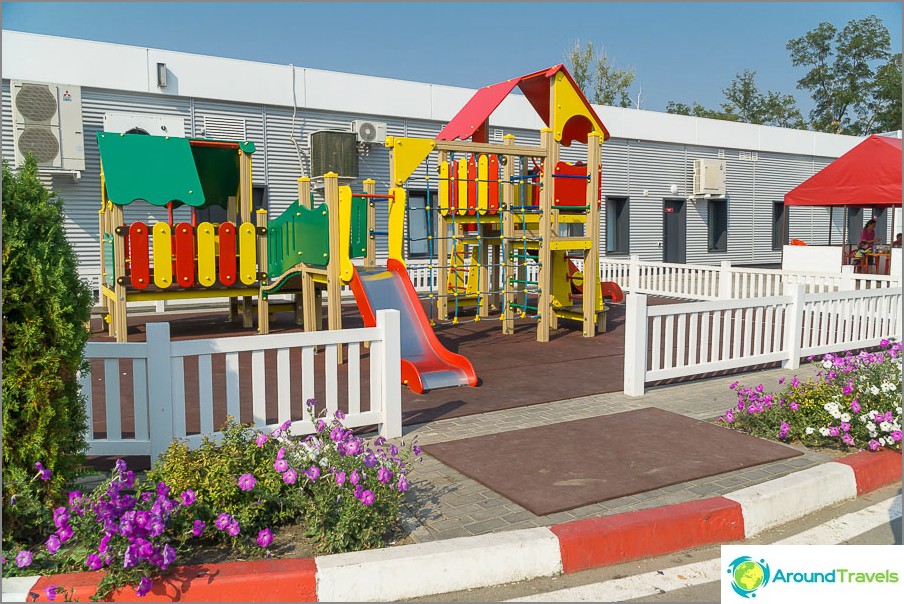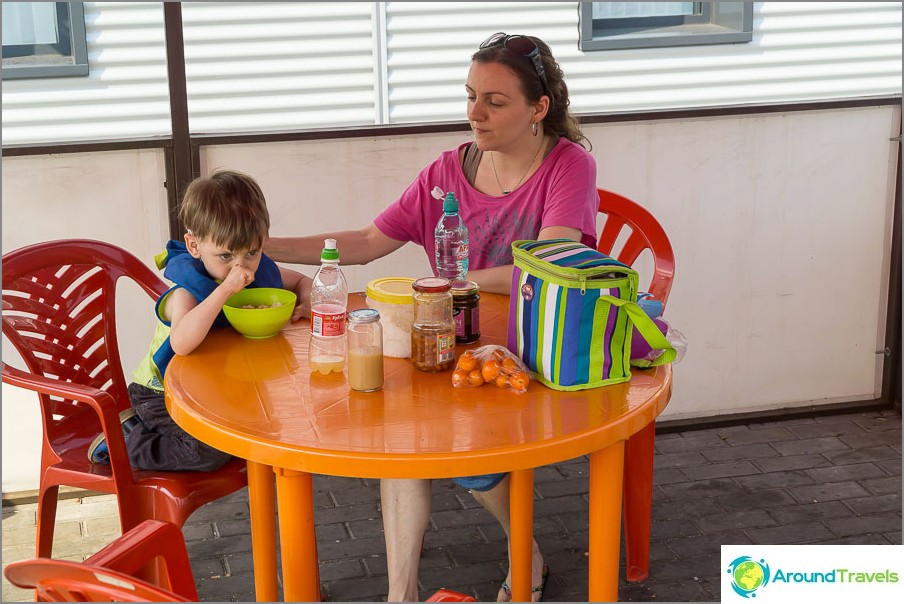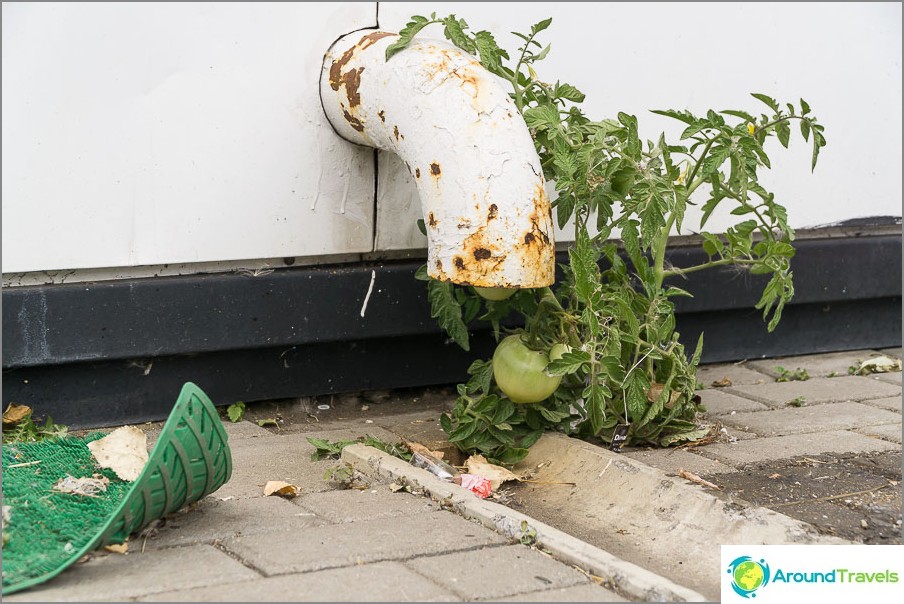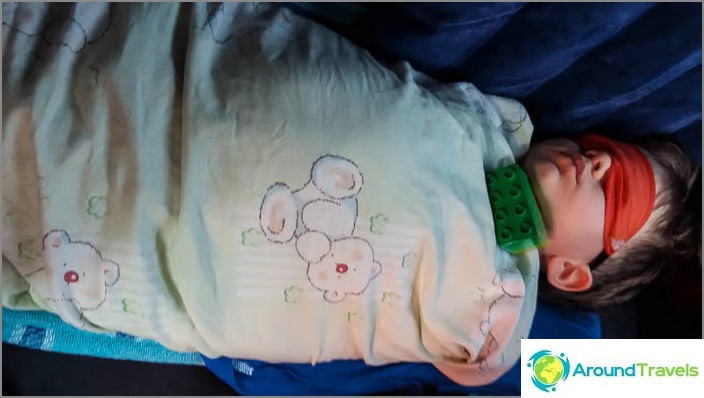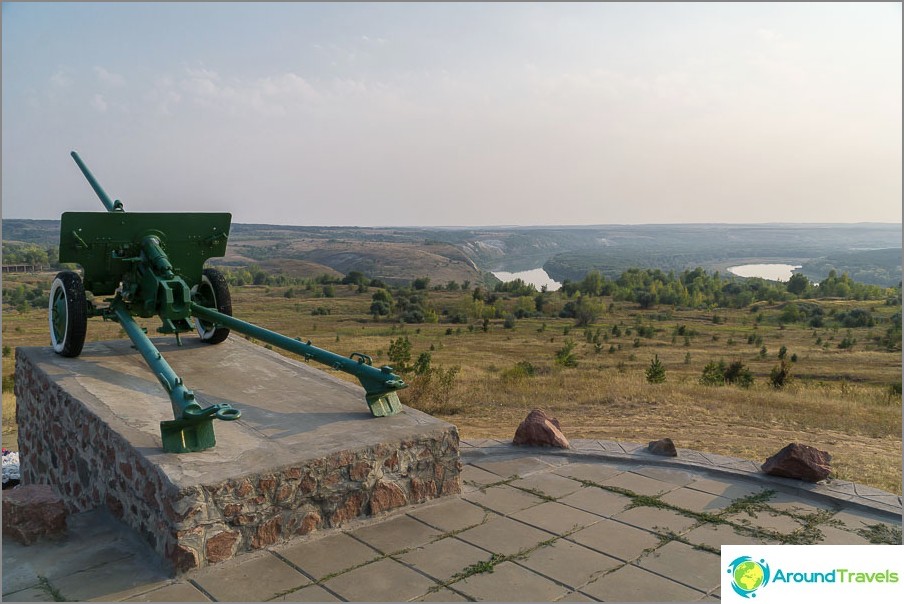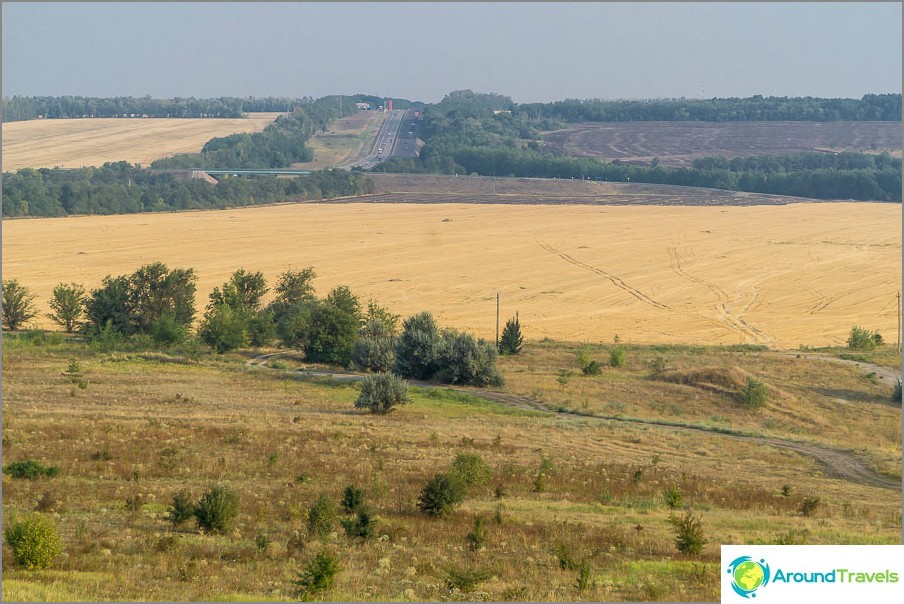 Large Lukoil
Large Lukoil
A large gas station Lukoil, there is a mini-market, a full-fledged cafe, a civilian toilet, a playground, and an area with tables in the street where you can eat.
A large gas station Lukoil, there is a mini-market, a full-fledged cafe, a civilian toilet, a playground, and an area with tables in the street where you can eat.
The territory of this gas station was very large andmany stood at the far end, where there is a shadow and benches with tables. So, in order not to go anywhere, the people immediately coped with the need for a partition, from which there was a wild stench, the heat. I was surprised not to be too lazy to walk 100 meters to the toilet, but the fact that no one smelled confused people sat there quietly and ate. Hmm.
If someone does not know, then along the way there is alsoparking lots. But, to put it mildly, they are not very pleasant: a lot of garbage and dying toilets. Moreover, if the parking lot has some kind of infrastructure, for example, illegal cafes, then it is much more than that. Therefore, it is better to stop to rest, either at gas stations, or just on the way in a forest belt, or in parking lots where there is no cafe. And there is such a minilefhak, if you still plan to go to the toilet made of red brick, then it is better not to go to it in the parking lot, go to the bus stop, there they also exist, but cleaner.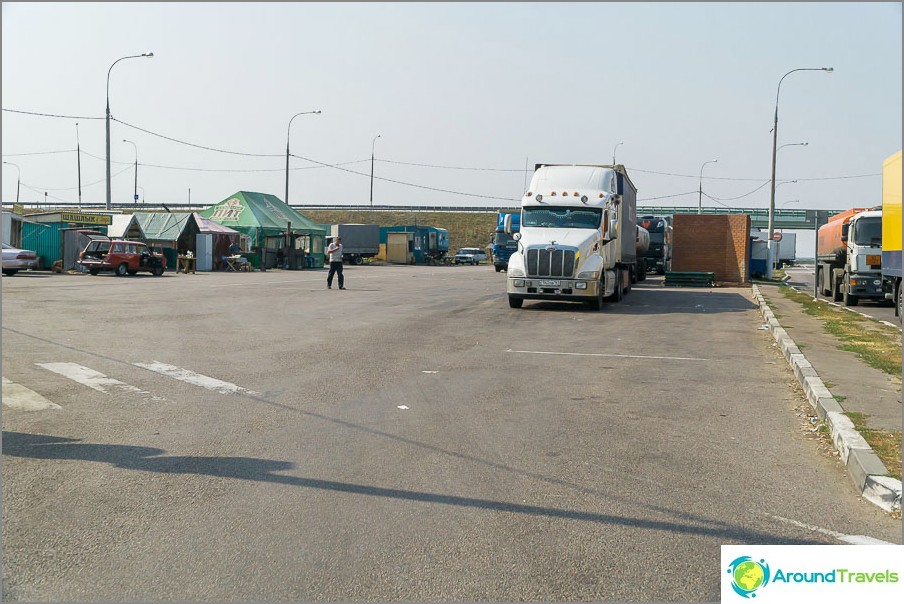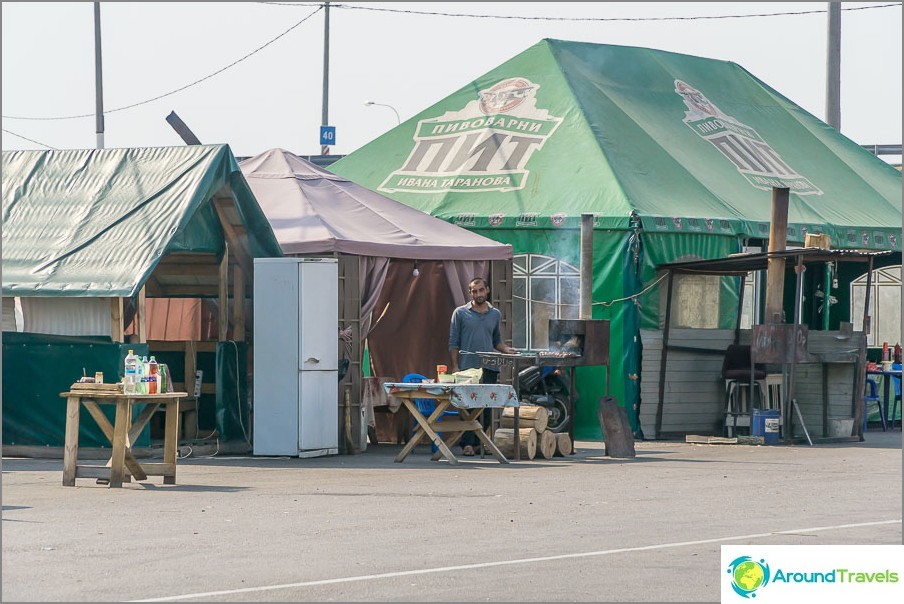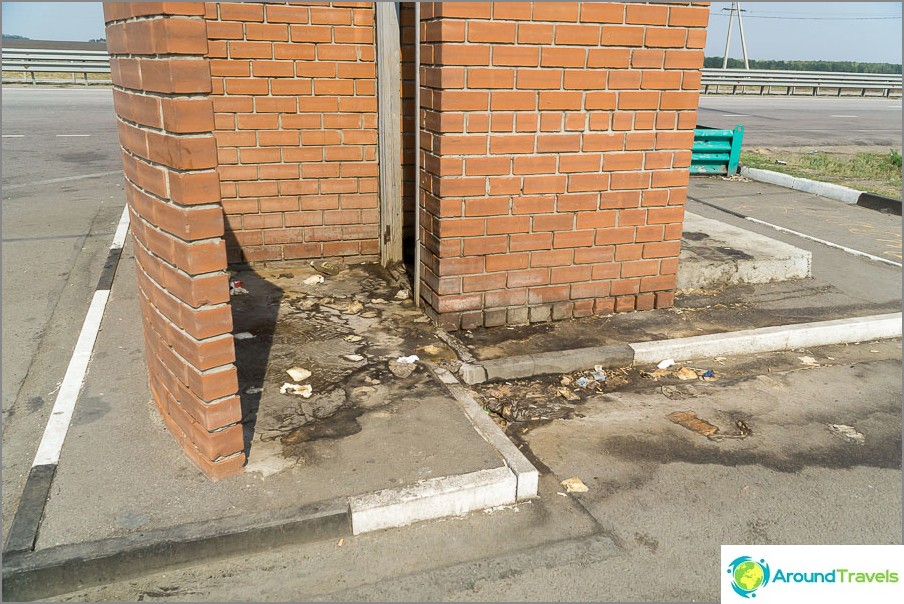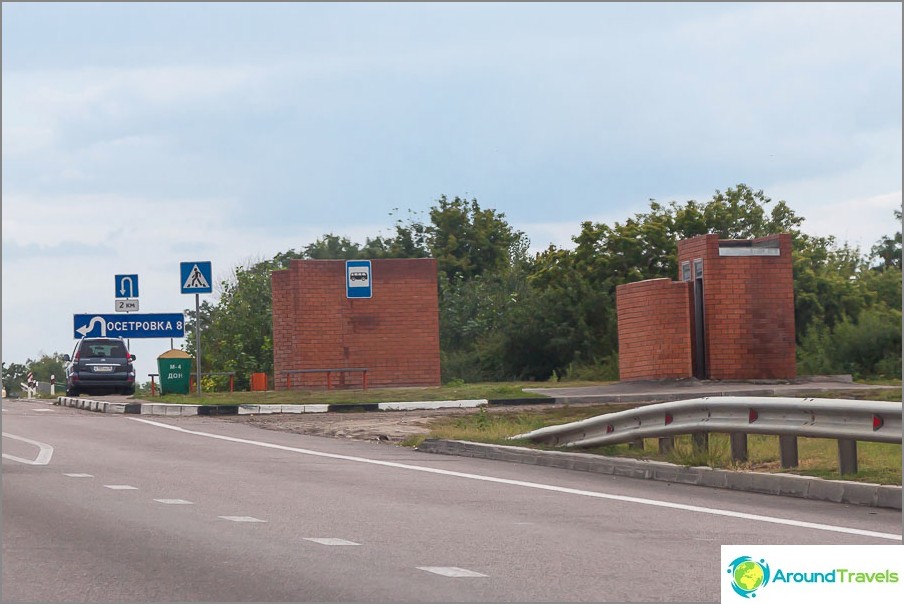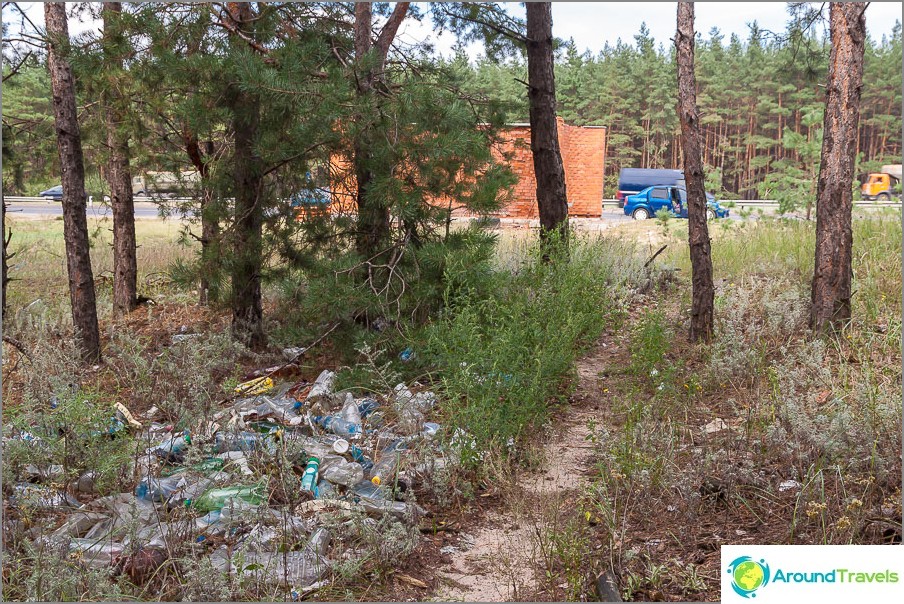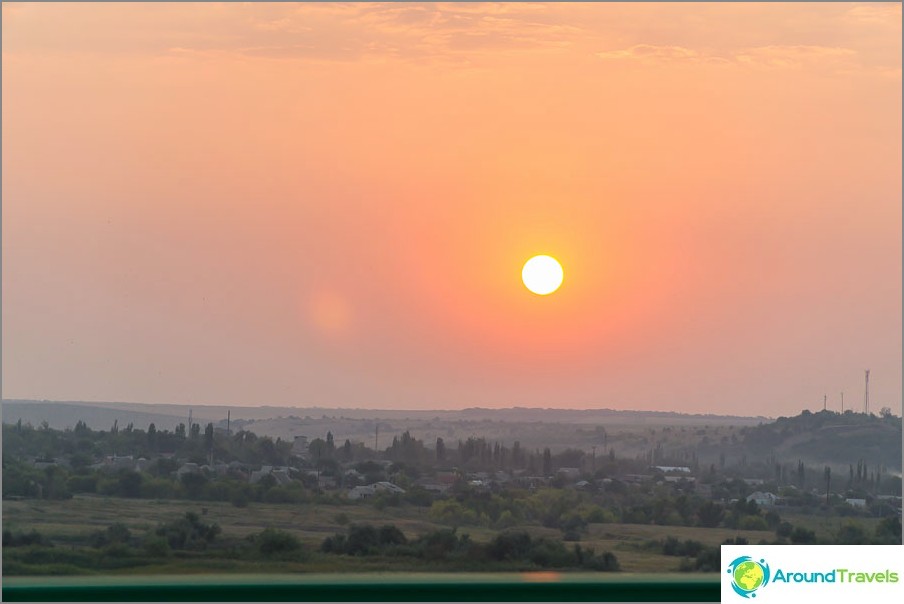 Other nuances
Noticed such a feature, the flow on the left lanegoing somewhere 140-160 km / h, on the right 80 km / h. Therefore, if you want to go 100-120 km / h, then no one of the lanes fits, you have to always change lanes from one to another. Uncomfortable, however.
After Rostov-on-Don, the single-lane road was slowing me down, but this is more important for those traveling to Anapa, Temryuk, Crimea (Port Kavkaz), that is, it leaves the M-4 to the right. We drove this last segment for a very long time, solid wagons (apparently they are going to Port Kavkaz). Wagon killed, not only are you dragging her 50-60 km / h, so also in clouds of smoke, no cabin filters will not save. And if I have asthma? And it's hard to overtake, the flow is continuous. At first, the permitted load is exceeded by loading goods 2-3 times more in weight, so that the car cannot crawl up the hill and is killed, and then they buy a state TO ticket, although this is no longer a machine, but a locomotive, and they go further.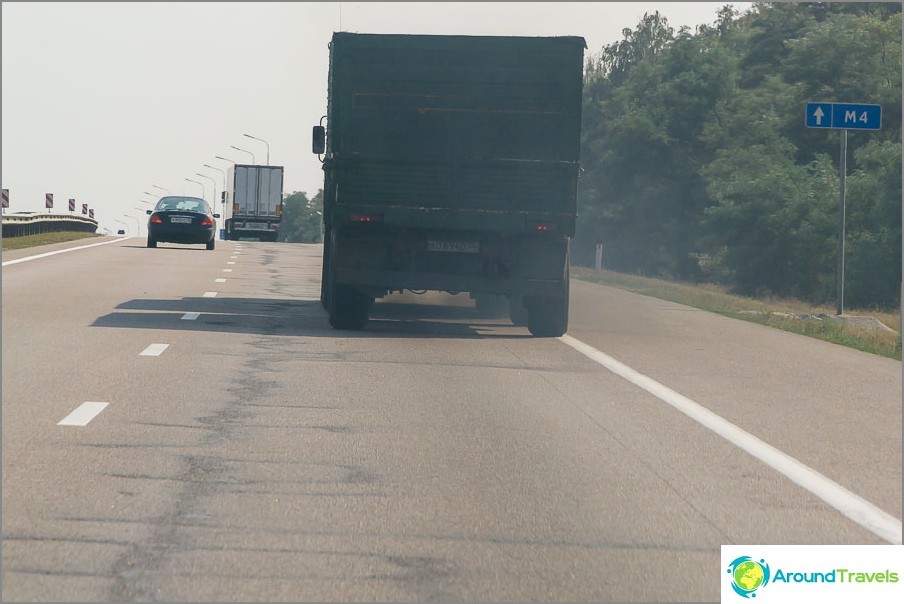 For some reason, the megaphone across the road catchespretty bad You stop at a gas station so Yegor can sleep and eat, you want to check the mail, post a photo, and the Internet is at best EDGE, that is, almost dead. In Rostov-on-Don, in the very center, precisely in the place where they rented an apartment, the same situation (the next day a quarter drove off and it earned). On the road Timashevsk-Slavyansk-on-Kuban-Anapa, H + almost did not appear. In Dzhemete (a settlement near Anapa), 3G is also in the same place and H + is caught in places. I remember in 2011 was with us a whole travel project about Russia, I took notes along the way, wiped it out, since it was impossible to post anything, it is a pity that little has changed since then.
Radio everywhere, to put it mildly, on the fan, eitherRussian retro or chanson. It is necessary to take discs or a flash drive. And by the way, not every radio tape recorder will steadily catch the signal at such distances from major cities.
Yandex Navigator leads the shortest way, evenif it is a primer, there is no "quick" or "short" choice. And, if a navigator is not particularly needed for a trip on the M4 (there is nowhere to get lost there), then to inspect any neighborhoods away from the road, it is better to use normal navigators. I have all gone with the change of the phone, you need to re-install.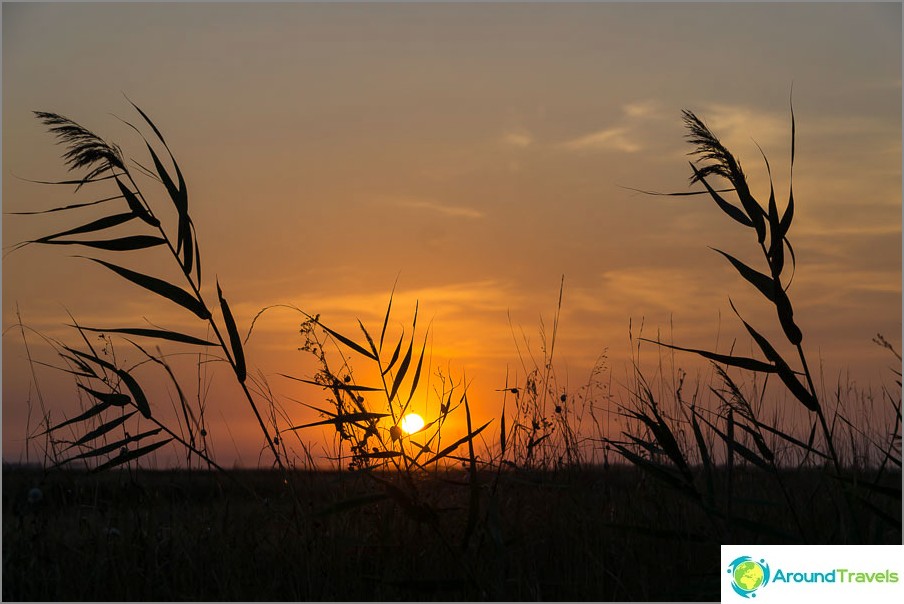 Video
Short sketch, what the toilet looks like on the most modern highway in Russia, on the M4.
P.S. When we get to Sochi, and then we go back, maybe something else will add.
P.P.S What application for car navigation in Russia do you use?