Information post for those traveling to Laos duringVang Vieng (Vang Vieng). Gathered here everything that I ever needed. The rest, as usual in the comments that I know will tell. If you are in Laos, you should go there, do not limit yourself only the capital of Vientianein which there is nothing to do.
The content of the article
How to get to Vang Vieng from Vientiane
Buses are very "comfortable". Therefore, if you are picky, it is better to buy tickets not at the bus terminal, but at your guesthouse. It seems like they should be normal. We chose ordinary buses to better immerse themselves in the atmosphere of the country.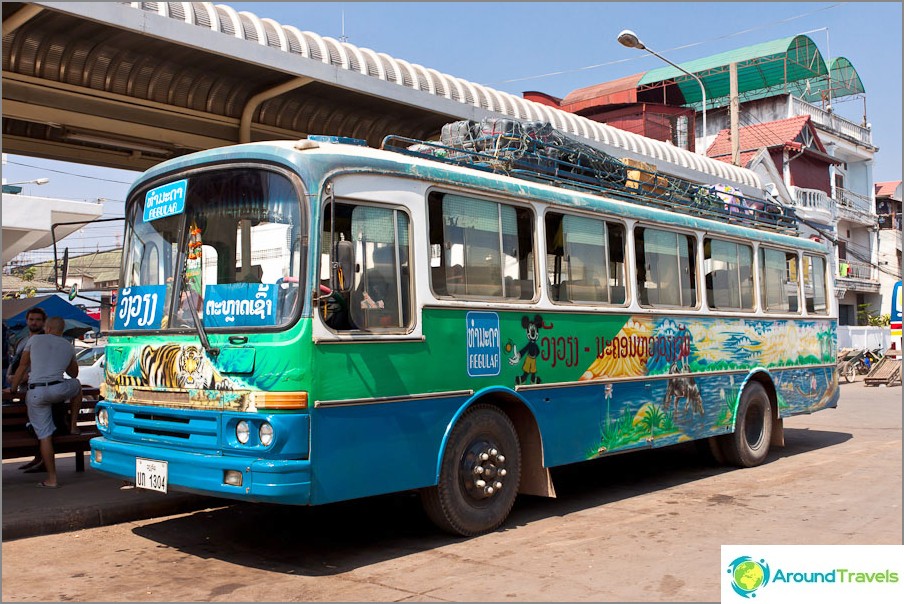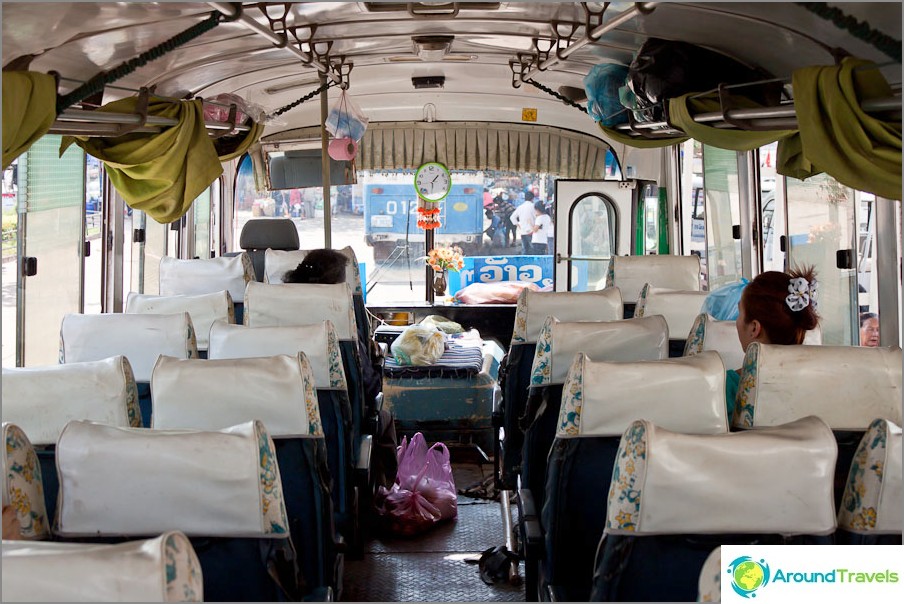 Bus timetable to Van Vieng (from the central bus station) 7.00, 8.00, 9.30, 10.30, 11.30, 13.00, 14.00 15.30, 16.00 (40.000 kip or 120r), travel time 4 hours
Bus timetable to Van Vieng (if you buy a ticket at a travel agency or guesthouse) 10.00, 14.00 (50.000kip or 200r), travel time 3 hours.
Bus timetable to Luanprobang (if you buy a ticket at a travel agency or guesthouse) 8.00 (150.000kip or 580r) and at 18.30 (170.000kip or 650r), travel time 10 hours
Bus timetable to Vientiane from Vang Vieng: 5.30, 6.00, 6.30, 7.00, 9.00, 10.00, 12.30, 13.00, 14.00.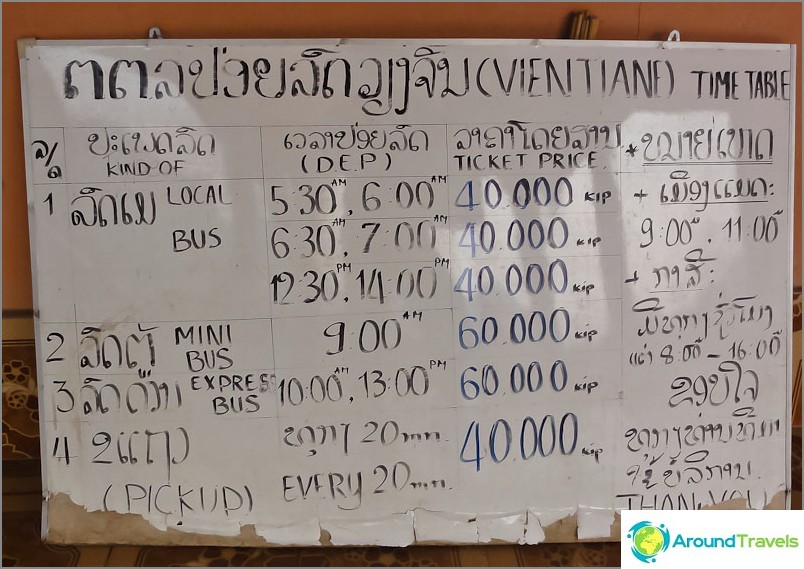 In Vang Vieng the bus stops neara large asphalt site is a former military airfield, and that's where we need to go. Literally 5 minutes in the direction of the river (on the left), there is the city center and a lot of guesthouses. The bus goes further to the bus station (another 2 km).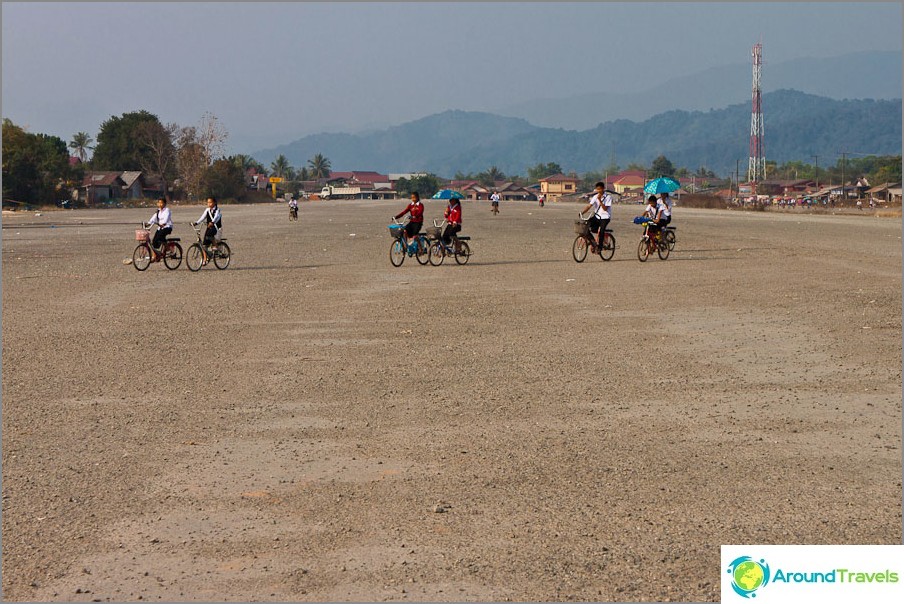 Where to stay in Vang Vieng - our guesthouse
Here with this question you can not bathe. The main part of Vang Vieng is solid guesthouses. It's definitely not a problem to find accommodation here, just go into everything and look at the room.
If you want to book in advance, here is a link to a convenient service for finding hotels in Vang Vieng, RoomGuru, c reviews from people and photos. Sometimes it is still more convenient to do everything in advance, especially to those who do not like to go and search on the spot.
The cost of living starts from 40.000kip (160r), but the most common price is 80.000 (320r). There are more expensive. Wifi is almost everywhere, but it is terribly slow, so in this regard you need to relax. Internet cafes are also common here.
We lived in a simple AK Guesthouse for 50.000kip (200r), shower and toilet inside, fan, wifi. The owners have their own cafe, and we ate only there, very tasty.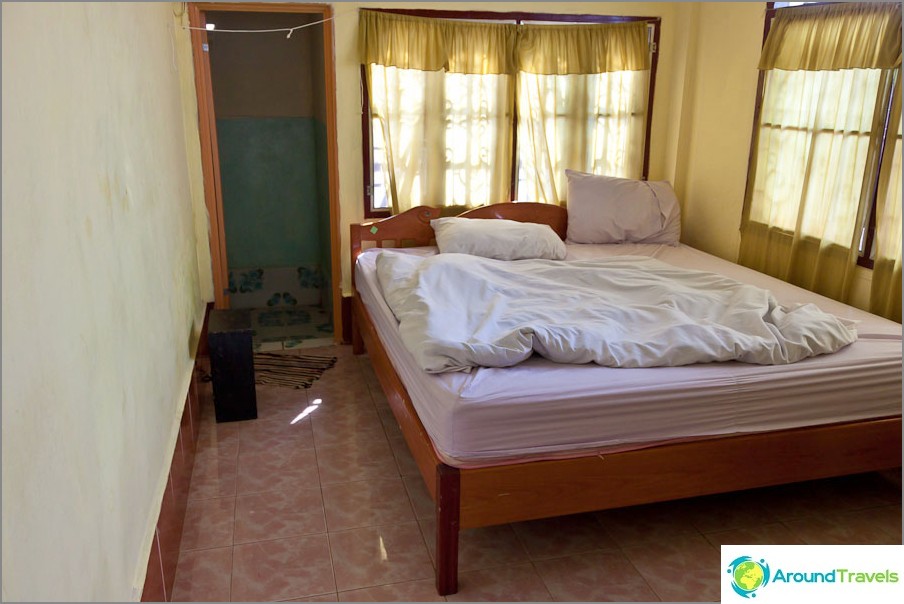 What to see in Vang Vieng
Vang Vieng offers a large number of entertainment for tourists - caves. kayaking, tubing rock climbing, hiking and cycling trekking. These services are designed for people who try these sports for the first time, or they can only be considered as entertainment. We tried rock climbing and kayaking, which is interesting, but we expected more.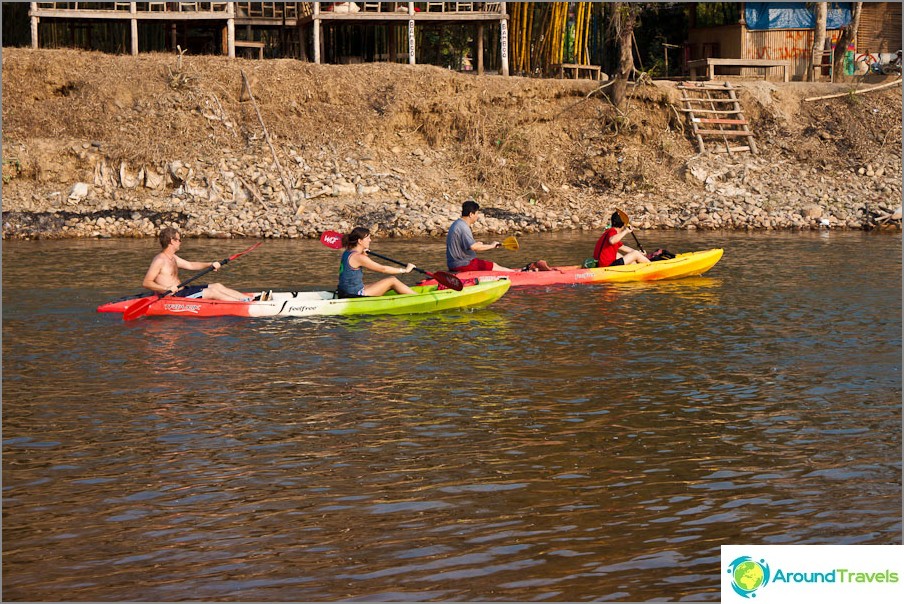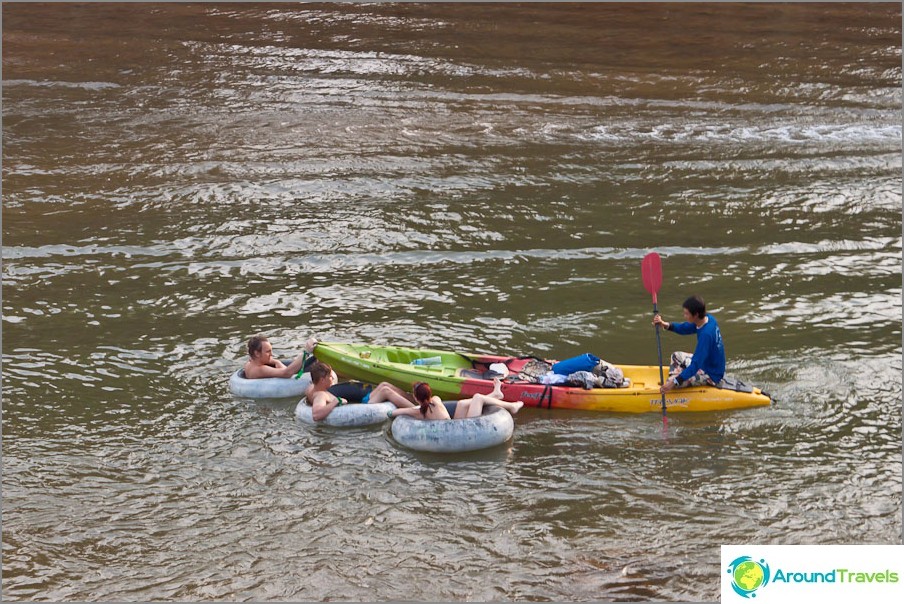 Due to the fact that foreigners here are somewhatmore than local time, everything is delivered to the stream by our stunning Lao: you want to cross the river bridge - 10,000 kip (40r), you want to enter the cave - another 10,000 kip. It is best to read a little, but on the map to see where to go and where not.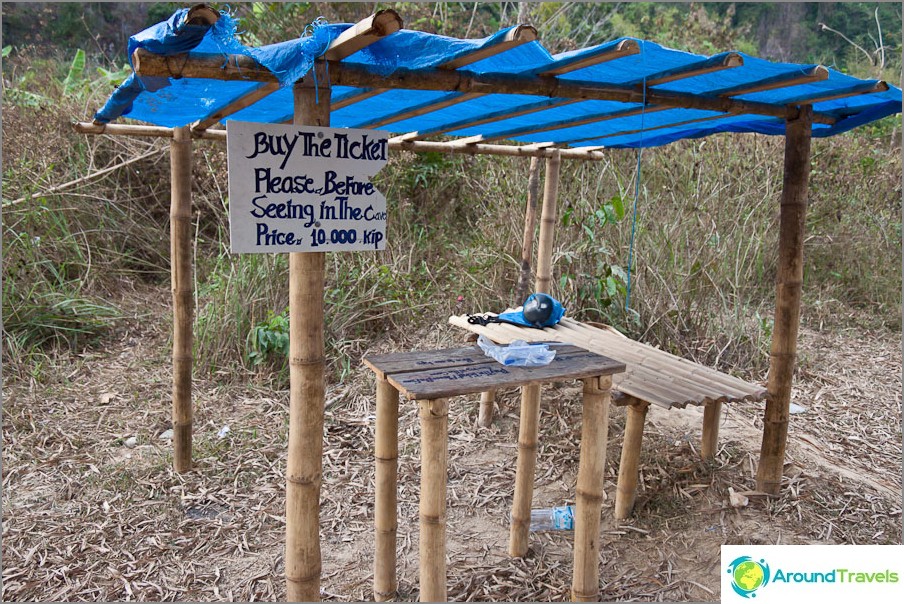 Caves worth seeing:
Tham Chang Cave Cave (Tham Jang Cave)

- a large illuminated cave, located just in2 km south of Vang Vieng, walk only 15 minutes. Next to it is a wonderful font with very clear water, only for the sake of it you can go. People are not very many. The entrance is 15.000kip (60r), plus payment for crossing the bridge - 2000 (8p) kip per person. I wrote about it here The surroundings of Vang Vieng - caves and pseudo-lagoon.

Water Cave or Tham Nam

- located 15 km north of Vang Vieng. There is water everywhere in it, and you move along it in a car tube (tubing) while holding your hands on a rope. We did not go, but the people were delighted. Entry 10.000 kip (40r), plus another payment tires. As a rule, everyone buys an excursion to this cave at a travel agency, which also includes kayaking. Next to this cave there are 3 more, they are not so interesting.

Poukham Cave Cave (Blue Lagoon)

- located 7 km west from Vang Vieng, throughthe river. One of the most popular places. Near the cave is the Blue Lagoon (Blue Lagoon), where everyone is swimming and jumping from the bungee. Entrance 10.000kip for the cave and lagoon. (! note, there are often pointers to pseudo-blue lagoons, so the locals entice tourists to them!)
Some prices on excursions to Vang Vieng:
- 130.000kip (520r) half a day rock climbing
- 180.000kip (700r) kayaking to Vientiane (really 2-3 hours on a kayak, the rest by car)
- 100.000kip (400r) one-day trekking to the mountains
If you do not want to pay for the excursions, then the main direction for the study of the terrain is the west. Take a bike, or a bicycle and drive, guided by the map.
Rent a motobike and bicycle
Rent here occurs at every turn, and probablyrises in price every year. The cost of a motorbike is 40.000kip (160r) pen, and 70.000kip (270r) automatic, use time from 7 am to 7 pm. When renting for 24 hours, the cost increases by 1.5 times. On the map I indicated a place with these prices. In other places, 50.000kip (200r) and 100.000kip (400r), respectively, and with round-the-clock lease even more expensive.
Bicycle rental 10-15.000kip (40-60r) for the city, and 30.000kip (120r) for the mountain. I do not recommend taking a city one, asphalt is only in Vang Vieng itself, and there are only dirt roads in the district. Mountain bikes, however, all killed completely, we went around 3 places and could not find ourselves working properly - either without brakes, then without pedals, the switches do not work. As a result, they found for 15,000 kip, killed, but for an adequate price.
Yes, even such a moment, on the dirt roads Vang Vieng is very dusty! So do not plan on foot for a long time to walk on them, very annoying.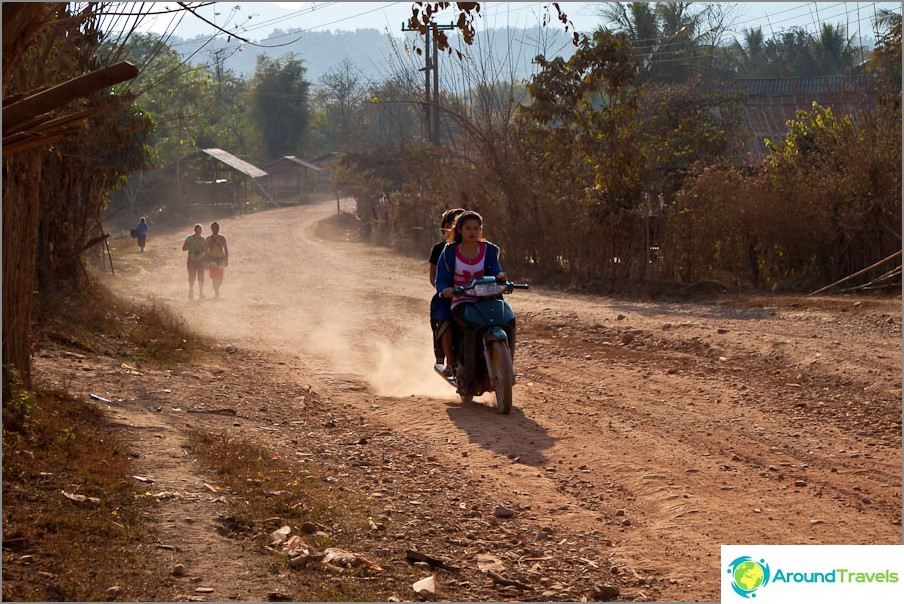 Map of Vang Vieng
By tradition, the map of Vang Vieng in the form of google maps with my labels, which can be useful.
And there are still very useful and detailed maps of WangVieng, with explanations, names and almost all routes. Highly recommend! It is better to print, because what is sold on the spot is not a map, but one name. I brought cards to a separate post - Detailed map of Vang Vieng.
Life hacking 1 - how to buy a good insurance

Choosing insurance is now unrealistically difficult, so to help all travelers, I compile a rating. To do this, I constantly monitor forums, study insurance contracts and use insurance by myself.

Life hacking 2 - how to find a hotel 20% cheaper

First, choose a hotel on Booking. They have a good offer base, but the prices are NOT the best! The same hotel can often be found 20% cheaper in other systems through the RoomGuru service.

Discount hotels