Not long ago, I did fotoryukzaka review Kata 3N1-33but after semi-annual exploitation it turned out to bestill not as universal as I would like, and I cannot always use it only. Therefore, I purchased a Think Tank Photo Digital Holster 20 V2.0 photo bag (well, and the name is long), which currently meets all my requirements and is suitable in cases where the backpack is not taken with me. Despite the fact that the market now presents many different options for carrying photographic equipment, it was hard enough to find something that suits me specifically. I'm not a fan of all sorts of bags at all, because I like when my hands are free, and that is why I have a weakness for backpacks.
The content of the article
FAQ for novice photographers
1. Which camera to choose a novice photographer
2. What lens is needed for and what to choose
3. Basic digital camera settings
4. How to take pictures while traveling
5. How to process photos in Lightroom and how to store them
6. Sample photo bag and fotoryukzaka for traveler
7. How to photograph the starry sky
0. What I photograph in travels
Think Tank Photo Bags Review
Life hacking - when shopping for Aliexpress you can receive cashback up to 11% through the EPN service (they have a browser plugin, a phone application). I wrote everything in great detail in my instructionswhat it is and how to use it. Well, Ali, and you already know why, because there is a lot of cheap things for photographers.
My last photo bag from Lowepro collapsed ina year and a half, and I was very much overwhelmed by my shoulder because a lot of things had been crammed into it, which is not necessary during photography. I cannot say anything about the new Think Tank bag in terms of its fortress, I need to check it out with time. Bags from Think Tank are of a different size (but of the same model), I chose "inside", so to speak, so that only a carcass with a lens (Canon 7d + 24-105L) and nothing more. What I liked about Think Tank products is that they use modular designs. You yourself can look at the site that they have.
Actually, this is the main feature of this bag.- Side-mounted lens case for Think Tank Photo Lens Changer 25 V2.0 lens. You can hang it not only in the end of the photo bag, but also on a jeans belt (or somewhere else). Covers come in different sizes for different lenses. In general, I can say that such a scheme, when the lenses hang on the belt is much more convenient than all the others, when they are inside the photo bags or photo backpacks.
The second feature of the bag is its elongated bottom.with a zipper. That is, if you unzip the zipper, then the carcass with twisted telephoto will easily fit into the bag. Of course, not all telephones will fit in, here you have to look at specific models. I do not have a telephoto yet, and it is irrelevant to me, but the lens 24-105L fits without extension.
Price of photo bag ~ 3000 rub.
Price lens cover ~ 1500 rubles.
Theoretically, it is also possible to make such a modular design from cases and bags of different companies bought on Aliexpress, because belt fasteners and fasteners of the cover to the bag are not difficult to implement.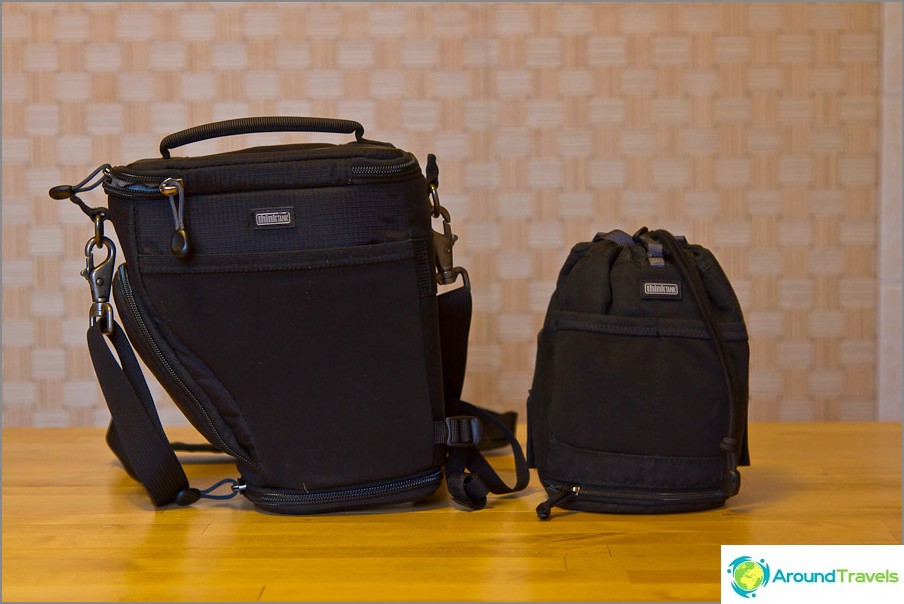 Think Tank Photo Bags Video Review
P.S. The bag is quite ordinary, but it seemed to me that it had washed away to tell about it because of these two of its features, which I personally really liked. The post, unfortunately, is not paid, although I would like to
Life hacking 1 - how to buy a good insurance

Choosing insurance is now unrealistically difficult, so to help all travelers, I compile a rating. To do this, I constantly monitor forums, study insurance contracts and use insurance by myself.

Life hacking 2 - how to find a hotel 20% cheaper

First, choose a hotel on Booking. They have a good offer base, but the prices are NOT the best! The same hotel can often be found 20% cheaper in other systems through the RoomGuru service.

Discount hotels