In short, do you need a visa to Cambodia?Russians, you can answer will be - yes. However, the options for obtaining there are different. A visa does not always mean preliminary preparation, sometimes it is enough just to buy a ticket to the country, as if it is visa-free. So with Cambodia.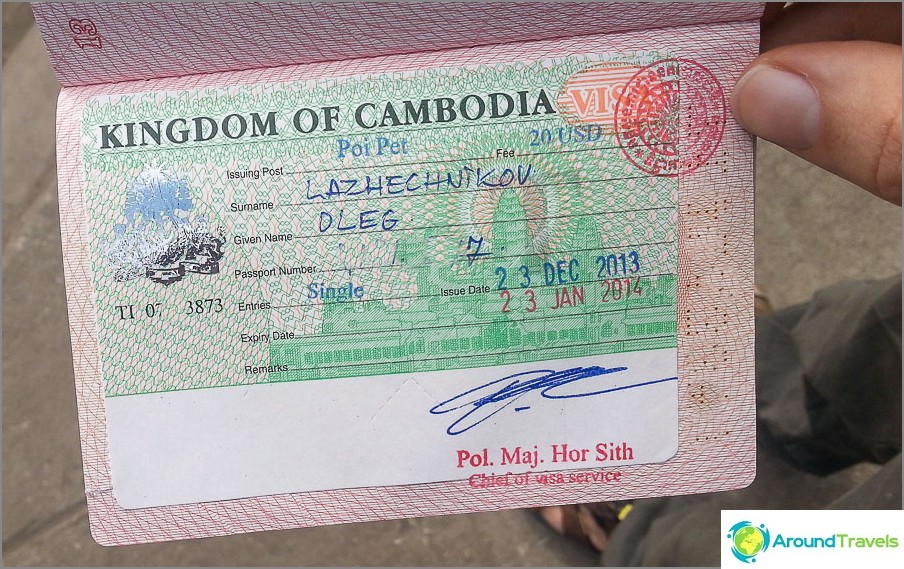 The content of the article
Visa to Cambodia upon arrival
A visa to Cambodia for Russians can be obtained atany Cambodia international airport. They, however, only two - Phnom Penh (Phnom Penh) and Siem Reap (Siem Reap). And also at any of the land checkpoints, the number of which is expanding every day.
Documents that will ask you for visa on arrival:
- a valid passport;
- one passport photo, face onwhich should be taken no later than six months ago. If suddenly you do not have a photo with you, then you will need to pay something like a "fine" in the amount of $ 3, and the documents will be received from you without ... photos.
- In addition, it will be necessary to fill out an application form that will be given to you right there on the spot.
The standard price for a tourist visa for a month is $ 30. Registration time - 20 minutes.
Well, if your stay in Cambodia is plannedfor a longer period than a tourist visa, it is best to immediately issue a business visa. It is also issued for 30 days, but in the future it can be extended by half a year or even a year. The cost of a business visa - $ 40, extension for 6 months - $ 160 and $ 300 - for a year (prices have changed, written approximate).
All of the above prices are applied toofficial rates at airports. But on the ground checkpoints visa is engaged in so-called. border mafia, which for its services takes the amount significantly higher than the stated.
Visa to Cambodia through the embassy
Visa to Cambodia for Russians can be issued without problems in any country where there is an embassy of Cambodia. For registration through the Embassy you need to prepare the following documents:
- a valid passport;
- 3 fresh photos, standard for such cases, size (4 * 6);
- either a questionnaire filled out in Russian (if in Moscow) or in English (the questionnaire is issued at the embassy).
The cost of a visa is $ 30 or the equivalent in rubles (if in Moscow). The term of registration is about one day. Time of submission of documents from 9 to 13, issuance from 14 to 17.
Electronic visa to Cambodia (e-visa)
Since recent times, it became possible to designvisa in Cambodia via the Internet (e-visa). True, there are still some reservations: for such a visa you can enter the country only through certain border crossings:
- International airports - Phnom Penh and Siem Reap
- Land border crossings on the border with Thailand - Cham Yeam and Poipet and land border crossing on the border with Vietnam - Bavet.
To apply for a visa online, you need tovisit the website of the Cambodian Ministry of Foreign Affairs and fill out an application form in English, to which you attach a scanned photo of your own JPEG or PNG format. Site address - http://www.evisa.gov.kh
As for the identity document,here the standard terms of its validity are valid - the passport expiration date is 6 months or more from the date of the intended entry into the country. If a positive decision is made, the applicant's e-mail address provided during registration will send a corresponding notification, which must be printed out and presented at customs control.
The cost of an e-visa is $ 37, which is paid by international plastic cards (VISA, American Express, MasterCard, Discover).
The validity of the visa is 3 months, and the stay is 30 days.
Also, this e-visa is convenientfor those who want to save space in the passport. Therefore, a real physical visa takes up a whole page, and for those who constantly go to vizarany is too much luxury.
Extension of a visa to Cambodia
Extension of any visa occurs in immigrationdepartment of cambodia. Documents for renewal can be submitted by yourself, but then the deadline may take up to 21 days, during which you will be without a passport in your hands. If you resort to the services of travel agencies (which will be a bit more expensive), the term of registration will be a maximum of a day.
The visa can be extended once for 30 days, but for $ 45.
If your visa is overdue, thendeparture from the country, you will be charged an additional $ 30 plus $ 5 for each overdue day. However, it is better not to joke with delay, because In some cases, for such an offense, they can even be put in prison.
Embassy of Cambodia in Moscow
The website of the Embassy of Cambodia is missing, at least for Russia and Moscow, so they just need to call or go to them.
Address of the Embassy of Cambodia in Moscow:
Starokonyushenny lane 16
Tel: (7495) 637 4736
Fax: (7495) 956 6573
E-mail: [email protected]
Life hacking 1 - how to buy a good insurance

Choosing insurance is now unrealistically difficult, so to help all travelers, I compile a rating. To do this, I constantly monitor forums, study insurance contracts and use insurance by myself.

Life hacking 2 - how to find a hotel 20% cheaper

First, choose a hotel on Booking. They have a good offer base, but the prices are NOT the best! The same hotel can often be found 20% cheaper in other systems through the RoomGuru service.

Discount hotels