While we are in Hainan (China), we are tryingto try on living here for a long time. It was interesting for me to calculate how much the visa issue (visa + borderland) will pour into money and how much cheaper / more expensive than the same costs in Thailand. After all, there now you will not live long on tourist visas, and student prices have risen, plus various restrictions appear.
By the way, at the moment I haven't found an alternative to Thailand for myself, in the aggregate pros and cons He is still leading in my personal rating. However, if you consider other options, such as a residence permit or proximity to Europe, then there are options. Is the same Serbiawhere absolutely for cheap and without other efforts (study, work) you can get a residence permit.
The content of the article
The cost of a visa to China
Need a multi-visa for a year, it is called a businessType M visa, or in other words, a business visa. It is given for a year with the possibility of being in the country for 90 days, that is, every 3 months you need to fly abroad and come back. You can make it, both independently, having received an invitation from someone, and in the agency.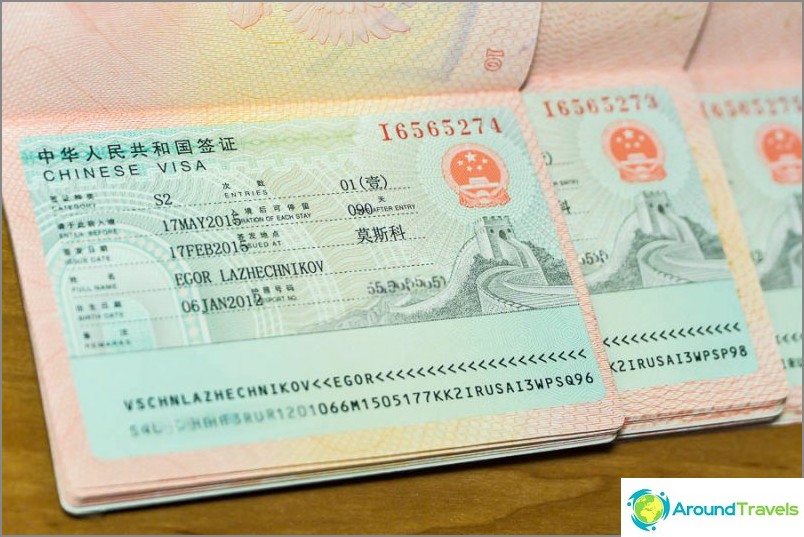 The first option will not be considered, it is cheap,but complicated, I think. Although, in fact, everything can be done quickly. I read that you need to find an exhibition in China, write to them about your desire to come, and receive an invitation from them. Not all will be sent, so you need to do several requests at once. Also, this business visa can be given not for a year, but for a shorter period, because the exhibition does not take long.
The second option is an agency. There is a visa of about 15 thousand rubles (two twos in Tai are now worth 10400 rubles for comparison) and is done in a few days without any documents. You can do, both in Russia and in Hong Kong.
Flight from Sanya to Hong Kong
Sanya-Hong Kong round trip fareone day will be released about 1200-1500 yuan. A ticket there will cost from 300-400 yuan, but in the opposite direction from Hong Kong about 1000. The thing is that morning flights from Hong Kong are cheaper, but they just do not have time, so you have to fly in the evening.
To save on a flight to Hong Kong you needspend the night and fly back in the morning. Then the return ticket will cost about 400 yuan, but you will have to spend the night, and as you know, Hong Kong is an expensive city. I looked in RoomGuru How much are hotels in Hong Kong, it goes anywhere from $ 30-50 for a very simple double room hostel level.
The next flight option is to fly to Sanya-Shenzhen (Shenzhen), tickets are cheaper, about 700 yuan back and forth. But the place will have to get to Hong Kong by subway to cross the border and back.
And finally, you can fly from Sanya to Hong Kong, and back from Shenzhen. Or, on the contrary, Sanya-Shenzhen-Hong Kong-Sanya. Accordingly, between Hong Kong and Shenzhen to move by subway.
The prices for the flight I have here are not the ones thatthey give us Aviaseels and Skyscanner (where prices are from 800 yuan one way), apparently the airlines do not give them the cheapest flights. If you go, for example, to the site of Hong Kong Airlines, then there we will just see some 300-400 yuan some days. Or another option is to put the Chinese application for finding air tickets, discounts are constantly offered there, and the ticket also leaves 300-400 yuan one way.
We will not take the cheapest option and the mostdear, take the average, that is, about 1,000 yuan for the flight. For myself, I would choose a flight to Hong Kong with an overnight stay, and that is exactly what will happen. But it may well be that it is not at all difficult to fly through Shenzhen (it is necessary to check whether the movement between Hong Kong and Shenzhen will be straining).
And a few words about convenience. If you live in Sanya, the airport can be reached in half an hour by taxi. The flight takes an hour and a half. That is, in general, the vizaran turns out to be quite comfortable.
Calculate costs
I will take a period of one year. It was just so convenient for us to fly to Russia once a year (or just to live for just one year). Flights to Russia to lay in the total cost will not, too many nuances. We would like to fly from Thailand in the same way, however, the flight would have been cheaper most likely. And if it is possible to take off with burning charters, you can generally save money, only they fly is not always convenient and not suitable for everyone. I will not stop in detail, I already wrote about cheap flights to thailand.
So here in Sanya from Moscow flight is not reallyprofitable is obtained. Only if you fly first to Beijing / Guangzhou (it is very cheap), and then by local airlines to Hainan, well, or something like that. In any case, you can also not fly to Russia if you want to save, but fly to Hong Kong for a new visa (or to Vladivostok, it may be cheaper to fly there).
According to the course for April 2015.
Total: 15,000 rubles for a visa + 3 flights of 1,000 yuan = 42,000 rubles per person (excluding flights to Russia).
Total: 20,000 rubles for a visa + 4 flights of 1,000 yuan = 56,000 rubles per person (if you fly all the time to Hong Kong without Russia).
So, it turns out that if we nowif we want to fly to China for a year (to Hainan), then we will need to spend 42 thousand rubles per person. While a student visa in Thailand will cost about 25-35 thousand baht or 40-60 thousand rubles per person.
It turns out comparable. But everything depends, of course, on a particular person. It is better for someone to spend money on study, but on the contrary, not to spend time on it. One will strain flights every 3 months, the other will use them as an opportunity to travel.
P.S. Small comparison Thailand and Hainan I have already done, and now we are talking exclusively about visa matters.
Life hacking 1 - how to buy a good insurance

Choosing insurance is now unrealistically difficult, so to help all travelers, I compile a rating. To do this, I constantly monitor forums, study insurance contracts and use insurance by myself.

Life hacking 2 - how to find a hotel 20% cheaper

First, choose a hotel on Booking. They have a good offer base, but the prices are NOT the best! The same hotel can often be found 20% cheaper in other systems through the RoomGuru service.

Discount hotels