I have already raised the options for solving the visa issue in the Kingdom of Thailand on the pages of my blog. Getting a one-time visadouble-entry tourist visa, newly invented semi-annual multivisa - information on them you can view the links.
And the option that I decided to highlight today,even if it is not suitable for everyone, it solves all the problems for entering and leaving Thailand for the next 5, 10 or 20 years from the date of purchase of membership in an elite club. Yes, you already understood from the title that it will be about Thailand Elite, and if you have not heard anything about this club, and if you are not confused by the price range from 500 thousand to 2 million baht, then the information below may interest you . Honestly, I myself thought about this visa if I had gone to Tai for years, otherwise they already had these vizarany and news about border tightening.
The content of the article
Thailand Elite Program
What it is
Thailand Elite is the official statethe program, which is designed within the framework of the activities of the Thailand Elite Card Co., Ltd., which is 100% owned by the Tourism Authority of Thailand (Thailand), which in turn is a division of the Ministry of Tourism and Sport.
The program was approved in 2003the Thai government at the suggestion of Thaksin Chinnavat, the country's former prime minister. The goal of the program was to attract funds to the state's treasury by simplifying the visa issue for people with income. True, since the program was launched, Prime Minister Thaksin Shinawatra has become a criminal who has fled the country. The program was closed in 2009, leaving the question of returning funds to the club members hanging, but it was subsequently reanimated. In the updated version, the package offers were adjusted, which slightly limited the list of services.
If you translate everything that is written on the site TaiElite from a selling language to a human, it turns out to be a rather simple picture: wealthy foreigners are offered to pay one of eight packages, that is, to make a one-time fee to join the elite club of "special guests of Thailand", whose members receive a special five-year Privilege Entry Visa, A number of additional luxury services are also provided that correspond to the paid package. Issues with government agencies are addressed through the involvement of personal assistants provided by the club. That is, you do not need to do anything personally; Thailand Elite will do everything for you.

How to buy a visa
The process of obtaining Privilege Entry Visa completelyreflects the essence of the program - easily and naturally. You call the company, and with your words fill out an application for a visa. Or fill out the application yourself, the form is on the program website. By the way, only this site is official, where all contacts for communication and consultation are indicated. Do not fall for intermediaries.
Then you are billed for payment, andsend details for both international SWIFT transfers and for internal transfer in baht. If you are in Thailand, you can also pay in cash without any problems, and an assistant will take the passport to insert the visa. When paying by SWIFT transfer from abroad, you will receive a visa upon arrival at Suvarnabhumi Airport.
How Privilege Entry Visa Works
The visa has a five-year term of validity. It is worth paying attention to the fact that Privilege Entry Visa (I will sometimes call it abbreviated NON-PE) is not a tourist visa. This type of visa was created exclusively for the participants of the program, and in principle it can not be obtained by anyone except as members of the club. The visa is not governed by immigration laws, and a special order of the Ministry of Internal Affairs of Thailand on February 22, 2013. According to this special order, NON-PE visa holders are allowed to stay in the country for 1 year at each entry. You can cross the border during this year, an unlimited number of times, and you are also allowed to extend your stay without leaving the country.
Summarizing: on arrival, in your passport border guards stamped for 1 year. After this period, the personal assistant extends your stay in the local Immigration Office for another year, without any border wounds and visa wounds. And so - five years in a row, during the term of the visa.
After five years the visa expiresactions, but if you are a cardholder for 10 or 20 years, you will automatically extend your visa for another five years. You yourself, or by an assistant, deliver your passport to the immigration office of Suvarnabumi airport, or to the immigration office of Chaengwattana in Bangkok, where you are pasted in a new five-year visa and stamped for one year.
With all the privileges of Privilege EntryVisa, for the owners, there is a need to do reports every 90 days (decided by an assistant), and the annual renewal costs the same 1900 baht, which are not included in the club card price.
Packages at Thailand Elite Program
It will be more convenient to compare package offers in the form of a table, which I took from the Thailand Elite Program website. They are a little confused, but you can figure it out.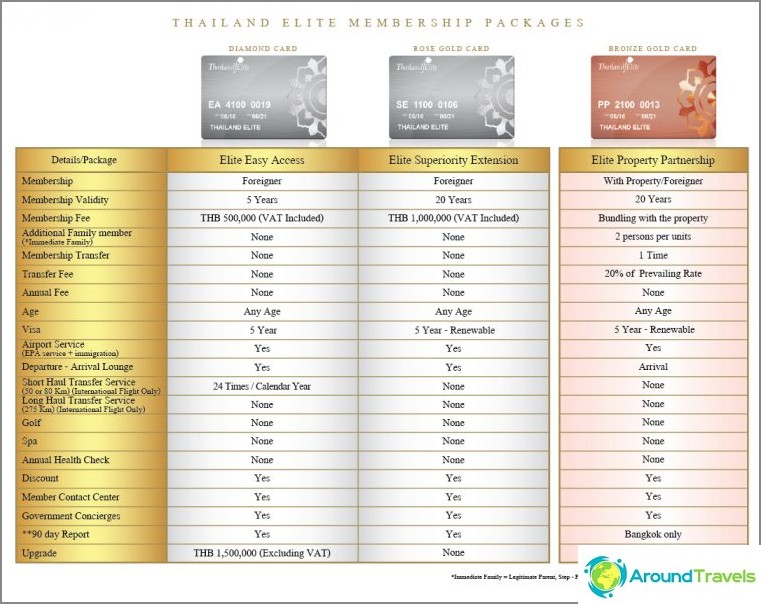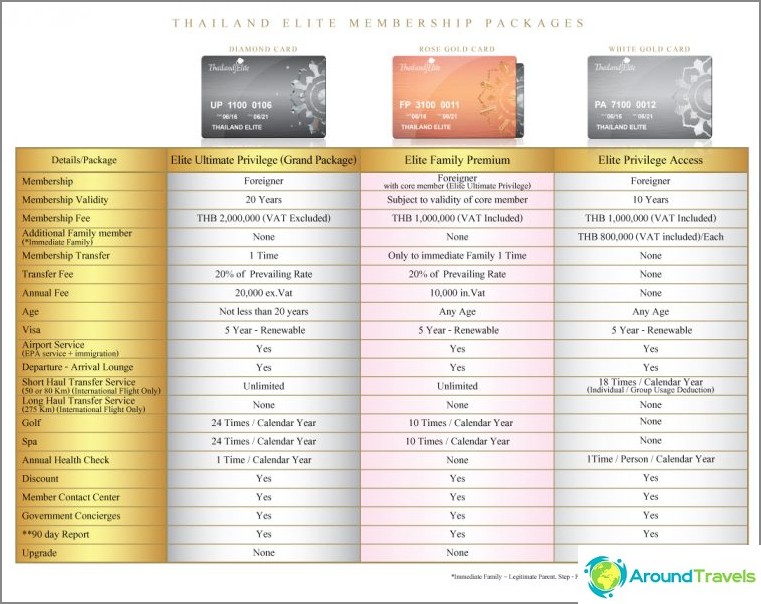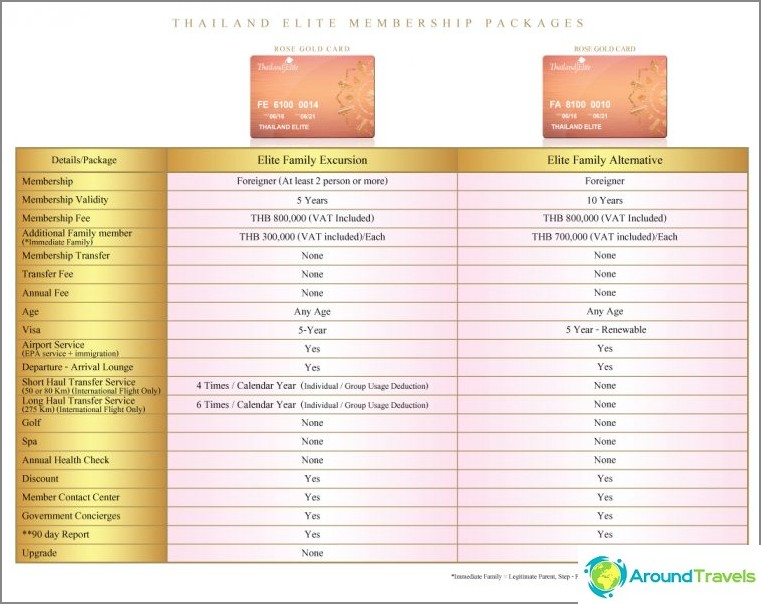 Price range: from 500,000 baht to 2 million baht. What is offered for this money? The program provides four types of club cards, three stays (5, 10 and 20 years) and as many as eight packages for all occasions. I will not consider everything, I will highlight a few basic ones.
Package Elite Easy Access. Visa for 5 years, with a minimum of options, worth 500 thousand baht. The solution with the lowest entry threshold.
Package Elite Superiority Extesion. A visa for 20 years, with a minimum of options, the cost of 1 million baht. This is the cheapest solution if you recalculate the cost of each code (only 50 thousand baht per year). For those who want to hang out in Tae really for a long time.
Package Elite Ultimate Privilege. A visa for 20 years, with all options, cost 2 million baht. For those who do not like compromise.
Package Elite Property Partnership. Provided for property owners. Unlike the previous options, it applies both to the main cardholder and to two members of his family, at no additional charge.
Family packages. For example, Elite Family Excursion, which allows you to buy a 5-year visa for two for 800 thousand baht (400 thousand baht per person), for each additional family member to pay only 300 thousand baht. But the option with a visa for 20 years for 1 million baht is still more profitable in terms of a year. Although I agree, 20 years for the majority is too long.
Additional visa services
Depending on the chosen membership option,You have access to various pleasant bonuses of the program. There are still disputes in the network, even among the owners of the Tai Elite cards themselves, how relevant and necessary these buns are. I will write as it is, and you already draw conclusions.
Personal Assistant who willaccompany you from the day of arrival until the expiration of the club card. He also provides assistance in the preparation of documents, quickly solves issues in the immigration office, helps with obtaining a driver's license, and with the registration of a work permit.
The privilege of accelerated passportcontrol. Previously, at the Suvarnabhumi airport, there was even a separate Thailand Elite stand, but now an assistant meets you, and leads you through a diplomatic corridor.
Personal transfer from the airport to the hotel. Transfers are divided into short (50-80 km) and long (up to 275 km). Available only for international flights, and the number of transfers for each package is different. If you decide to travel around the kingdom on domestic airlines, then this transfer is not provided.
Every year, 24 visits to the golf club. At each resort in Thailand, these will be their places, so I see no reason to list them. 24 visits are for the owners of the most expensive card, for the rest - see the table.
Every year, 24 visits to the spa, one visit - one hour, the remaining services are paid additionally. As in the previous paragraph, 24 visits are available only to Diamond Card owners.
Annual health survey. They write about it in all advertising texts, but in fact - it is available only to the owner of the main card using UP and PA packages, and does not apply to its family members.
Special discounts in hotels. Not all, of course, but only in the participants of the program.
Shopping at special prices in the Emporium Department Store, The Mall Department Store and King Power.
Special discounts in restaurants. Not all, but only participants of the program.
Informational 24-hour support in four languages: English, Chinese, Japanese, and Korean. Russian, as you can see - no.
Pleasant bonuses from Bangkok Bank, which takes the minimum fee for the implementation of international transfers and offers a number of other advantages in service.
Legal assistance of experts provided by the partner company.
VIP services at a discount. Private jet or yacht can be obtained at more friendly prices than the usual secure tourist.
Some nuances
NON-PE holder is not entitled to work onin Thailand, but in addition to it, he can obtain a NON-B visa, on a general basis, with the help of the Thailand Elite personal assistant. It also helps with the accelerated receipt of work permit - within one working day. But considering the cost of NON-B, which I have described below - I doubt that someone will want to combine these two not the cheapest visas.
Considering the cost of the card, resale is quiteAn urgent question for those who for some reason are unable or unwilling to continue their exclusive relationship with Thailand. So, out of the eight existing packages, you can apply for the transfer of your membership to a new member for only two: Elite Ultimate Privilege and Elite Family Premium. For this you have to pay 20% of the original value of the package offer.
The program has some drawbacks. In the provided visits to golf and SPA there are restrictions on the time and number of services, all that is not included is already at its own expense. The physical is not for everyone, the transfer is limited, it seems to be some sort of pettiness, especially in contrast to the total cost of membership. Also, VAT is not included in the indicated cost of the most expensive club card, and this is another 7% above. For the sake of fairness, I'll note that VAT is included in the rest of the "cheap" visas, so you can get exactly 1 million baht visas for 20 years.
But the main advantage of the program remains always -hassle-free and long stay in the country. You do not need to burden yourself with buying real estate or creating your own business. I agree, an expensive decision, because you don't invest money, but you practically bury it. But the high cost and the need for comfort - personal concepts. Especially against the background of constantly tightening nuts from the government of Thailand. All these vizarany, student visas, passing the border with a passport freaked-out stamps really take time, nerves and money. Plus, during the whole period of validity of the usual visa, the counter of days until the next trip is spinning in my head.
Calculate and compare with other visas
In runet, I met attempts to calculate the financialthe adequacy of membership in the Tai Elite, and, as a rule, there are examples with an investment visa or a business visa. The most desperate debaters are trying to argue the cost of tourist visas. But it's not appropriate to compare with tourists, because no one guarantees that you will get one-time free of charge for as long as five years, and you will not get problems at the border. Even a student visa for 5 years will not be given. More relevant, after all, to understand the costs of investment and business visas, so let's see the numbers, first of all, for them. Figures taken from open sources and from people who have these same visas.
For comparison, let's take the most profitable Tai Elite program, which is given for 20 years and has practically no additional bonuses. Such a visa is worth 1 million baht, or 50 thousand baht per year.
Business Visa (NON-B) and Work Permit
Speaking of official, not fake,these should be: registration of a company, search for five Thai employees (their registration with social insurance), mandatory office rent, which can be visited by the authorities, plus vizarany and other expenses. This is an option for those who want to do serious business.
When you start the company will need 117 thousand baht: registration of company registration 42 thousand; permission for a job 35 thousand; NON-B for 1 year 25 thousand; social insurance and registration of 5 thousand; a deposit for renting an office, even for one month, although they usually ask for much more than 10 thousand.
Add annual costs to them: balance sheet 15 thousand; extension of work permit 15 thousand; extension of a business visa for 1 year 25 thousand; payroll tax 815 (х12) = 9.8 thousand; Social Security contributions 3,6 thousand (х12) = 43 thousand; salary to Thai employees is 36 thousand (x12) = 432 thousand; accounting services 5 thousand (x12) = 60 thousand; office rent 10 thousand (x12) = 120 thousand
Total 720,000 + 117,000 baht in the first year, and then - 720 thousand baht each year. In a year, Karl! I think, you yourself can multiply by five, but it is obvious that the difference is not in favor of NON-B.
Okay, let's take the option when business is still being done, but the salary is not paid to the Thais, they do not exist by air (for a bribe). It turns out, about 290 thousand baht per year.
And take a completely semi-legal version whenA visa is obtained for the sake of the visa itself, and the business is not conducted at all. Such services cost an average of 70 thousand baht for the first 15 months, then 35-45 thousand baht per year. By the way, about the same will cost a student visa (training + extension + trip for a visa).
Investment visa
This visa is issued to foreigners who have invested inThailand's economy at least 10 million baht. It has a validity of 1 year and is renewed every time for 1 year during the whole period of ownership of the property. I understand that you can invest in the economy not only by buying property, but this is the most popular option among wealthy people who have decided to permanently associate themselves with Thailand. Investment is also considered the purchase of government bonds or securities of Thai companies. Well, or a fixed deposit in an account in a Thai bank, which has more than 50% of share capital owned by Thais.
In general, from all the above we are interestedonly one figure - 10 million baht. So, for these ten million, you get an indefinite multivisa for yourself and your spouse, with whom you are officially married. Profitable? Undoubtedly. The longer you own a property, the cheaper such a visa costs you.
Life hacking 1 - how to buy a good insurance

Choosing insurance is now unrealistically difficult, so to help all travelers, I compile a rating. To do this, I constantly monitor forums, study insurance contracts and use insurance by myself.

Life hacking 2 - how to find a hotel 20% cheaper

First, choose a hotel on Booking. They have a good offer base, but the prices are NOT the best! The same hotel can often be found 20% cheaper in other systems through the RoomGuru service.

Discount hotels