The Russian citizen is lucky - if he needs a visa to Thailand, he has a huge choice of ways how and where to do it. You can read about all this diversity here: Visa to Thailand or how to live here for a long time. One of the popular options is a trip from Thailand to Malaysia to see the country and make a visa.
In this article I will tell in more detail howThai visa is made in Malaysia (in Kuala Lumpur), based on their own experience. Here, our brother Russian (Ukrainian and Belorus) was also lucky - at the entrance to Malaysia we get just a stamp for 30 days and quietly cross the border without any Malaysian visa. Upon arrival you only need to fill in the migration card.
The content of the article
Registration of a Thai visa in Kuala Lumpur
Sometime in Kuala Lumpur they tightened the screws and did nottourist visas were issued, so everyone went to Penang, this is also Malaysia, an island, and there are flights from Thailand. But in 2017 there were reviews that a visa in Kuale can be obtained again. Yes, it takes more documents than in Laos, but they are quite realistic.
The cost of the visa and the time of the consulate
Consular fee: 150 RM for a single-entry tourist visa.
Apply for a visa to the consulate of Thailand from 09:30 to 11:30.
You can pick up a visa on the next working day from 14:30 to 16:30.
Single-entry tourist visa for 3 months in total. It is given first for 60 days, and another 30 days can be extended to the immigrant in Thailand itself. Renewal costs 1900 baht.
When planning your visit to Malaysia, check the opening hours,and most importantly, the days of his consulate (Official Holidays). Keep in mind that their traditional holidays do not always coincide with ours, and an ordinary working day may turn out to be a weekend (or even a long weekend), and you will then have a few days at the closed doors of the consulate.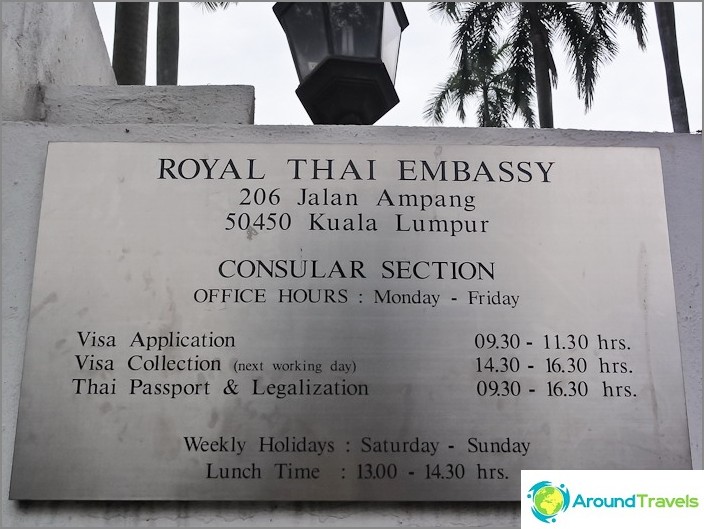 List of documents for Thai visa
Here is a list of documents from the website of the Thai consulate in Malaysia. Submit all the list.
Extract from the bank is not needed and the money also does not need to show. Each family member must complete the full set of documents listed below.
Passport valid for the next 6 months.
A photocopy of the first page of the passport (you can do in front of the consulate).
1 photo 4? 6 or 3x4 (including for a child entered in the passport).
Application for a visa. You can download on the Internet (from me below or from the website of the consulate), or take it at the consulate itself before submitting the documents and fill in the same place.
Tickets to and from Thailand. They say they roll unpaid armorthat make their way as confirmed. Under the link how to do them. As an option, buy a ticket at a return fare, such as Economy Premium FLEX from Aeroflot. Payment on it is returned in full.
The contract for housing in Thailand, if you live in a houseor apartments. Also, just in case, you can take a copy of the passport holder. Or do canceled booking on Booking. Since the Booking allows you to make a reservation for a maximum of 30 days, you will need to make 2 or 3 bookings in order to close all days of your stay in Thailand with them. All family members who apply for a visa must be entered in the reservation.
How to fill out a visa application form
Template questionnaire in pdf format. You can fill it right on the computer and then print it. An example of filling out a visa application form for Thailand can be found here.
Items that may cause some confusion:
Former name (Maiden name) - even though it was, I did not write it, there were no questions.
Nationality - Russian. Russia or Russian Federation - no difference.
Nationality at birth - wrote Russia.
Occupation - they wrote from the manager and engineer baldies, even the place of work did not indicate - a ride.
Issued at - do not write the police department, the Federal Migration Service and any other incomprehensible crap, you just need to write Russia, your city.
Current address - wrote the address of the hotel in Kuala Lumpur, some write a general address in Russia.
Name and Address of Guarantor in Thailand - left blank, no questions.
In any case, on the spot, you can fill in the rest and fix something.
The process of applying for a visa
We received a visa in Malaysia for a long time, but it makes sensestayed the same. At the checkpoint, present your passport, write down your data, get a visa application form and enter the main building. At the entrance you get coupons with a queue number in the machine. Until your turn has come, fill out the application form, if you have not done so at home, and dutifully wait for your number to appear on the board indicating which window to go.
We just took the documents about anything notwe asked, we didn't demand anything extra, we just gave us the tickets, which we successfully received the next day with passports with the desired visas.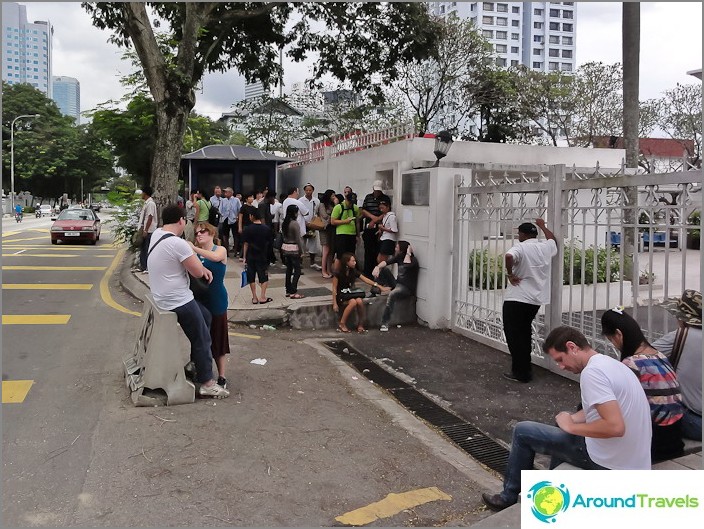 How to get to the consulate of Thailand
Embassy and Consulate of Thailand in Kuala LumpurLocated at: 206 Jalan Ampang, 50450 Kuala Lumpur. The address of the Thai consulate in Malaysia is Penang (just in case): No. 1, Jalan Tunku Abdul Rahman, 10350 Penang.
The transport network in Kuala Lumpur is very developedwell, and the embassy is located in the center of the city, so getting to it from anywhere is easy. The most convenient way is to take the subway - Ampang Park station, following the KLCC (green line Kelana Jaua Line). If you go to Uber or Grabtaxi, just show the address to the taxi driver.
From Jalan Ampang junction with Jalan Tun Razak onabout 500m east, go along the left side, go through the French embassy, ​​the Volkswagen car dealership, the Rozel car dealership, the police booth and immediately behind it are gray latticed gates and a sign saying that you have reached the consular department of the Thai embassy. On the other side of the road, chud further along the road is the Holiday Villa Hotel.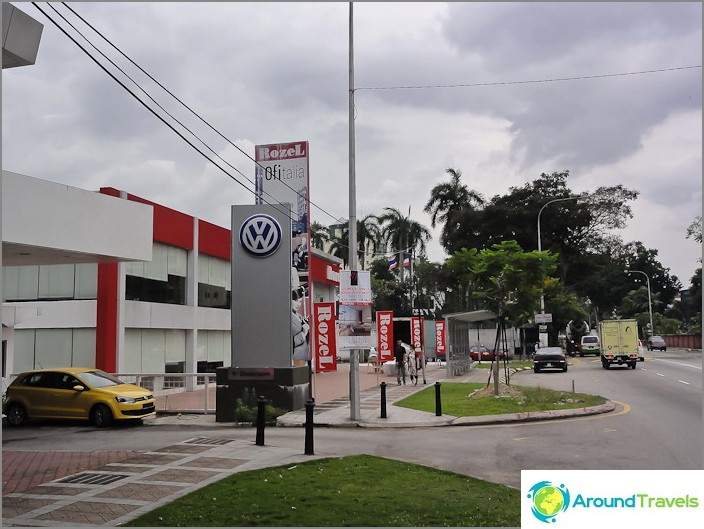 Other moments
The actual cost of the visa
It makes sense to calculate how much the whole trip to Malaysia will cost - flight, accommodation, meals, unexpected expenses. Here are some numbers, how it happened with us:
- Flight to Malaysia by AirAsia, Bangkok - Kuala Lumpur and back - about 4350 baht per person. It may be cheaper for shares.
- Accommodation in a hotel in Kuala Lumpur - about 1,500 baht per day from a double. There are cheaper, but there absolutely everything can be scary.
- Food at 40-100 baht and up for one dish, if you eat in a cheap eatery.
Total, our expenses for the transportation of bodies and for the stay of them for 4 days in Malaysia amounted to 14,500 baht for two.
Why it is worth doing a Thai visa in Malaysia:
- You live in Thailand on the border with Malaysia.
- The flight to Malaysia cost you very cheaply, for example, bought Phuket - Kuala Lumpur tickets for the promotion.
- You want to see Kuala Lumpur.
Where to eat cheap and tasty in Kuala Lumpur
If you are reading this article, then you are likelygoing for a Thai visa, which means you will pass by the Ampang Park shopping center, which is located right next to the metro of the same name. It is also 5 minutes walk from Petronas Twin Towers (Petronas Tower) or from the KLCC metro station, which is actually the same thing.
On the third floor of the shopping center Ampang Park there is a goodFood Court place where you can eat cheap and tasty. It works, however, only hours until 6 pm. Food Court is a large number of mini-cafes in one square, as is the case in Russia in shopping centers. Prices for Malaysia are very good - 4-7 RM per serving.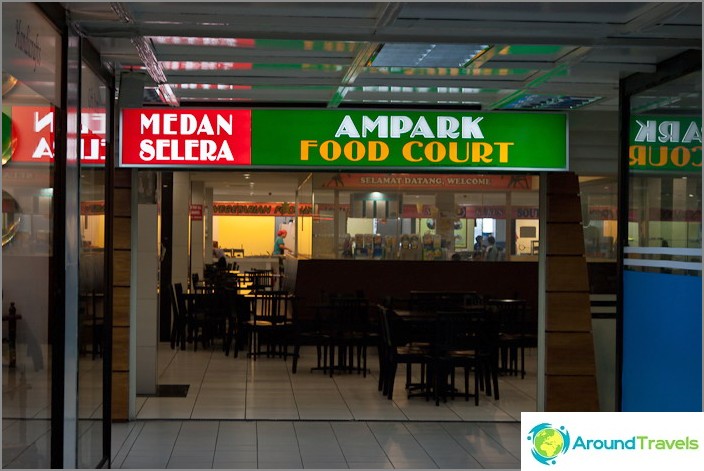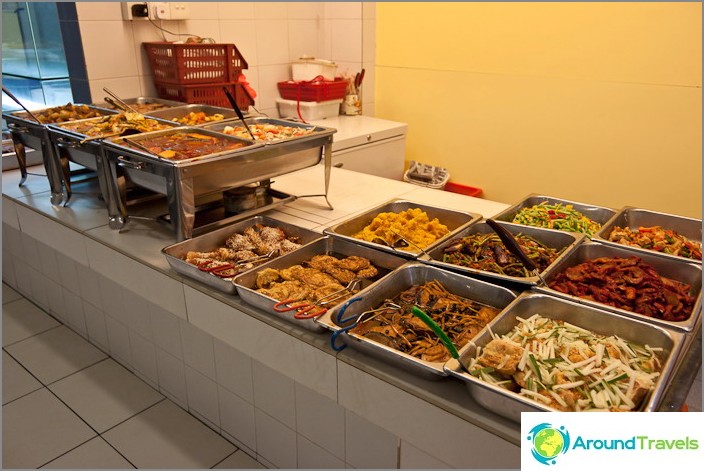 Visa registration in Penang
A separate item. The visa can still be issued in Penang, it is also Malaysia. Usually they travel from a travel agency to a vizaran overland, it turns out faster and sometimes cheaper than in Kuala Lumpur. But here we must look at the specific prices of air tickets to compare.
cost of
Vizaran is worth - 3800 baht (travel on two minibuses, hotel, breakfast, coffee / tea all day, dinner, breakfast and dinner)
Cost of visa - 1500 baht
200 baht - not to go to the embassy, ​​and the visa will be brought to the hotel
100 baht - entry to Malaysia
200 baht - photo
200 baht - a la bribe to a customs officer for the fact that he did not check the necessary amount of money on the road
Total: 6000 baht / person
List of documents
- Passport with emigration card
- 2 photos 3.5 * 4.5 (you can take a picture at the hotel + 200 baht / person)
- Flight tickets from Thailand to any country
- The lease agreement for an apartment, where every person is indicated who receives a visa (I don't know about the children if they should be indicated)
I heard that in other cities they asked for the scan ID of the tenant of your apartment.
Just want to tell everyone, check the date stampstraight at the border. The customs officer can inadvertently put on 1 month, instead of 2. But then in a local Thai immigrant you can fix this too.
Life hacking 1 - how to buy a good insurance

Choosing insurance is now unrealistically difficult, so to help all travelers, I compile a rating. To do this, I constantly monitor forums, study insurance contracts and use insurance by myself.

Life hacking 2 - how to find a hotel 20% cheaper

First, choose a hotel on Booking. They have a good offer base, but the prices are NOT the best! The same hotel can often be found 20% cheaper in other systems through the RoomGuru service.

Discount hotels