In anticipation of our planned and extremely long-awaited trips to france I looked into my old photo albums, andI remembered my amazing adventures in France, while participating in volunteer projects. There are volunteer organizations around the world that invite young people from different countries in the summer. Volunteer work is free of charge, but housing, food and interesting leisure activities are provided in return (Life and leisure volunteer units). All you need to do is choose a volunteer program abroad, get a visa yourself and find a way to get to a specified place at a specified time (Volunteer projects - what it is, countries and work).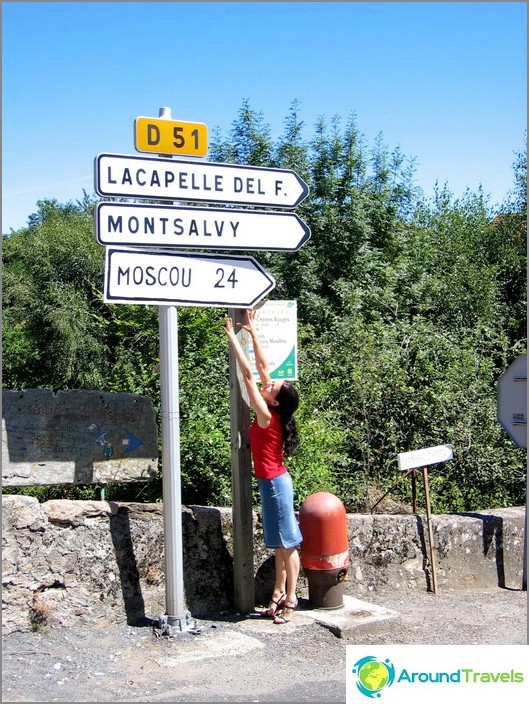 I will not describe all two trips to workas a volunteer, there is not enough space to tell everything in order. Just share with you the most vivid memories. I apologize in advance for the terrible quality of the photos - at that time, unfortunately, I didn't think about the importance of this.
Going on your first volunteer tripprograms abroad, I gained various warm clothes and souvenirs, and somehow forgot to estimate the weight of the backpack. I was helped to carry his brother to the airport, but upon arrival, I could not wear a backpack with my height and everywhere, like an ant, dragged him along. Can you imagine this picture!
I got on the plane, out of fear, decided that with no oneI will not talk. But fate decreed otherwise, putting me in the neighbors charming Frenchman, not a word not speaking either in Russian or in English. I had to literally save him from the annoying stewardess, who insistently suggested that he choose between chicken or fish. After my feat, the language barrier collapsed, and I started talking, realizing that it was not so bad, and, oh, a miracle, they understand me, and I understand the answer!
To the venue with the other participantsvolunteer squad I traveled with several stops, each of which had its own adventures. In Toulouse, one cute Arab teenager, taking me as a peer, decided to spit on me and offered to feed me for free in one cool place. And I, a naive girl, having understood only half of what he said, decided to go with him. It turned out that he brought me to, so to speak, a charity canteen for the homeless and the unemployed. But I didn't understand it immediately, after all, their "cream of society" looks and smells quite differently from ours.
This young boyfriend is pushing something for meHe said, sorry, about the toilet. I have this word associated with the same with what you have. No, I could not understand why he tells me about the toilet. Spas dictionary, prompted that in French the word sortir has a completely different meaning - to leave, take out and go on a date. It is good that I had a train that evening, which provided a good reason to refuse.
I was struck by the responsiveness of the French and the way theyreact to the map in the hands of a tourist walking through the city - like a bull on a red rag! Immediately jump up with the question whether you need help, whether to suggest where to go. Trifle, but so nice!
One of the funniest moments happened thenwhen our volunteer squad assembled for the first time. When I arrived at the meeting place, I was called Dasha out of habit, without even realizing that by adding Dasha, who had just arrived, to the list, the curator of our volunteer work also waited for some kind of Daria. They waited for about 20 minutes. Well, that my curiosity made me, in the end, find out that we are waiting for me, only under the name Daria. So, not even being late in fact, I still made everyone wait for me. Since then, all foreigners seem Daria.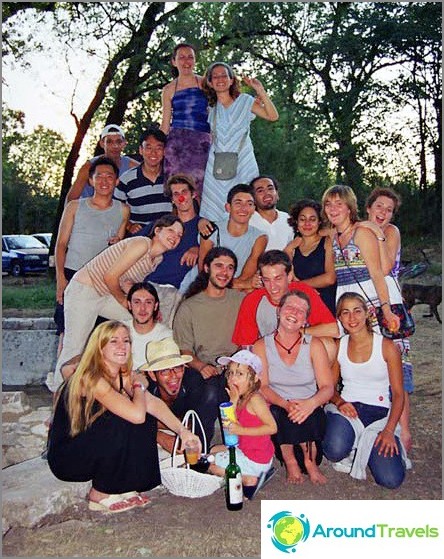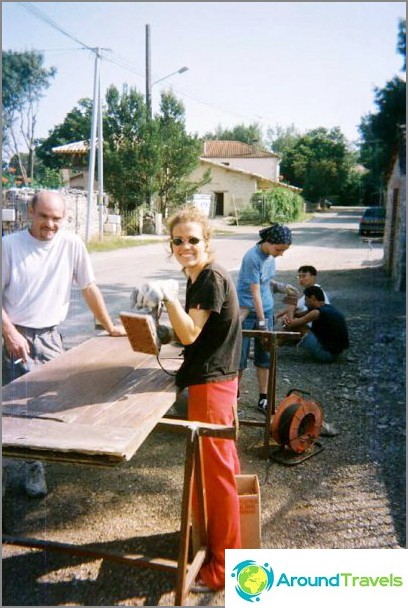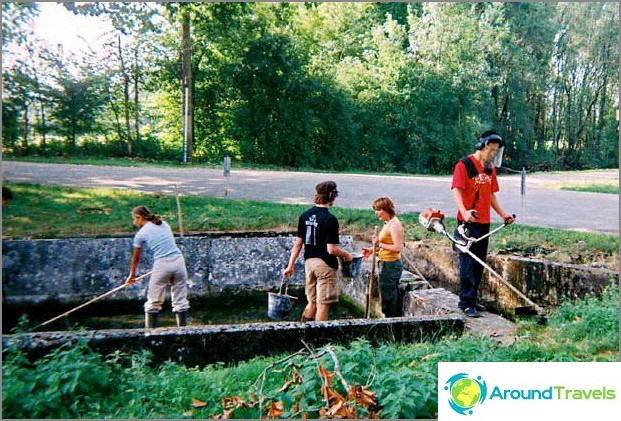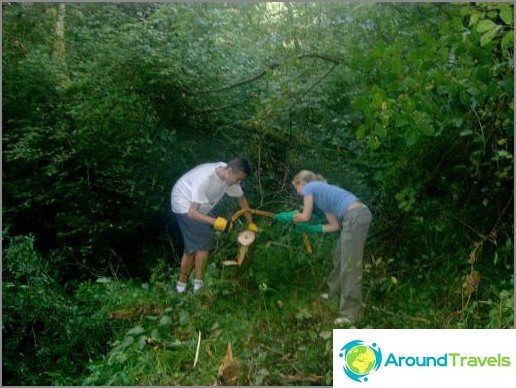 The first job as a volunteer was very successful inin terms of housing, we were settled in a private house, which the municipality bought from the former owner. They wanted to demolish the house, but then decided to place a volunteer group there. So we lived for 2-3 people in a room with our own toilet and shower! Heavenly life! In contrast to this, during my second job as a volunteer a year later, we were all settled in one big tent for 15 people, which started to flow with heavy rain. But still there and there it was great.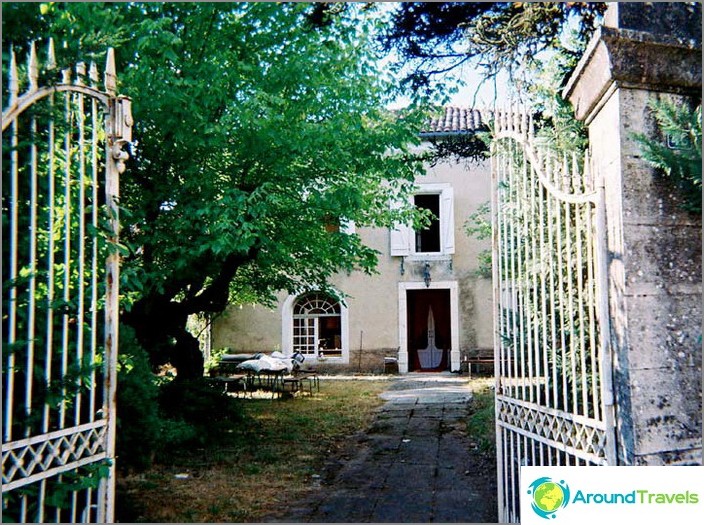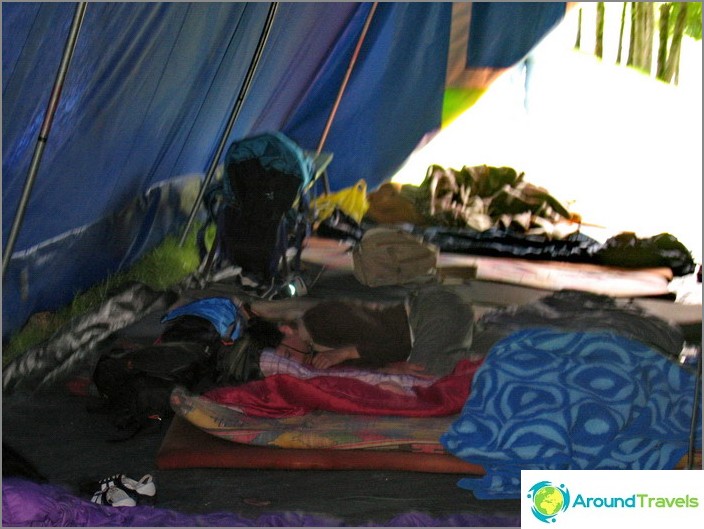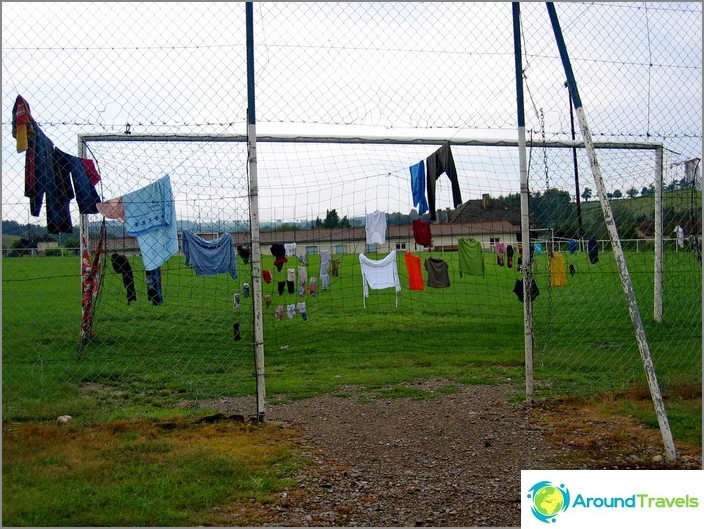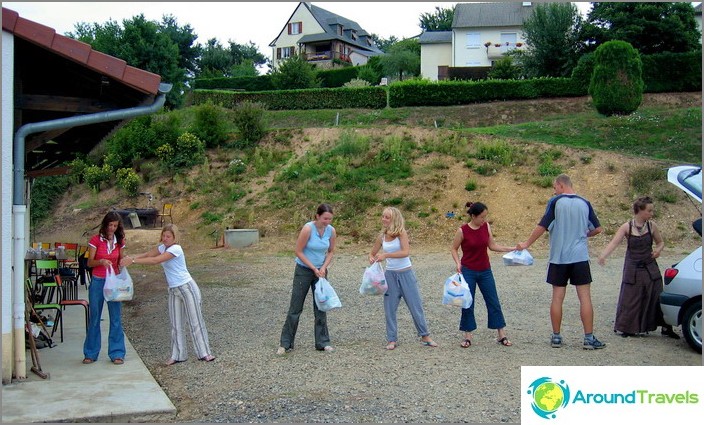 Every day a volunteer squad appoints twoduty officers from different countries who cook lunch and dinner at all. I once was lucky, and I was on duty in a pair with a cute Korean girl who barely spoke French, without understanding a word of either French or English in response. One person could not cook for a crowd of 18 volunteers, so I still had to work together. But can you just imagine what it was like, agree on what dish we will cook, and explain exactly how to cut carrots, onions, etc. A real pantomime theater, accompanied by laughter and the words "no, no, no!"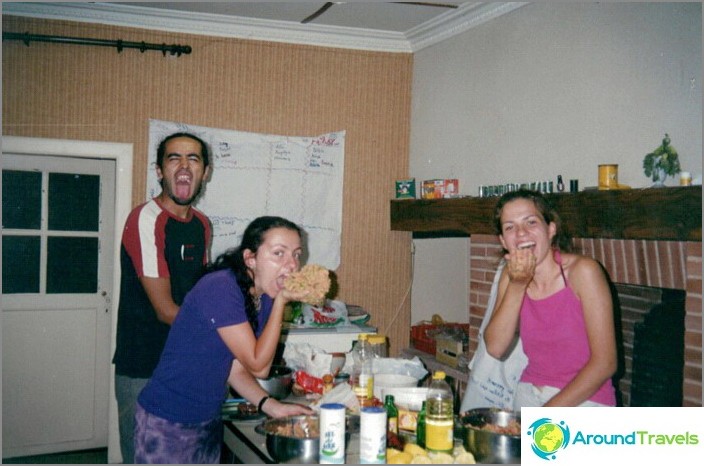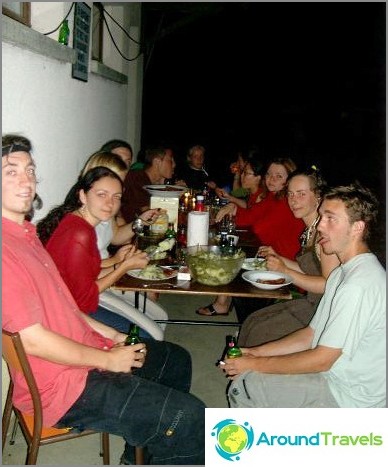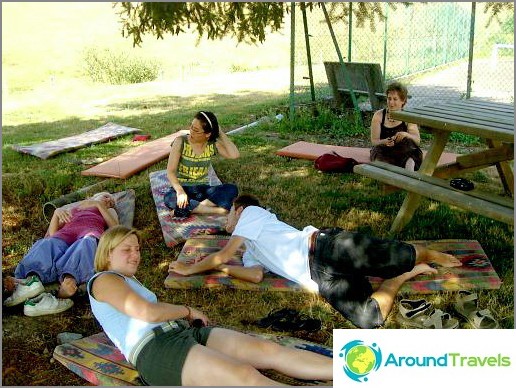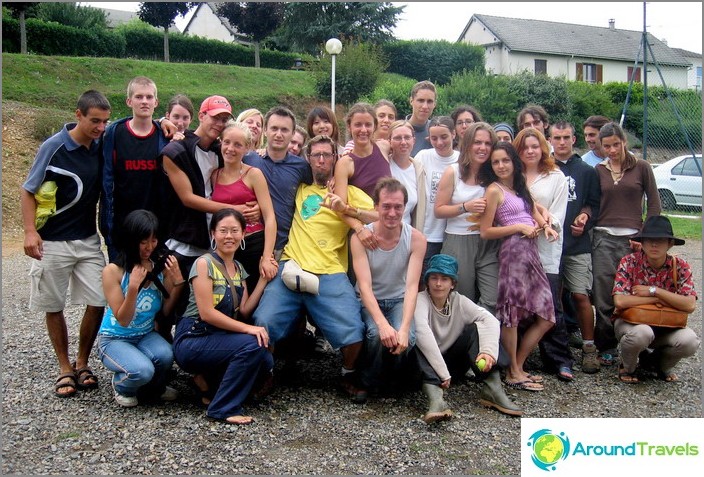 My first job as a volunteer gave me an acquaintancewith an amazing man who later became my very close friend, who revealed to me the real France. His name is Fred. I also have one funny case connected with it. As you all know, all foreigners think that Russia is a wild country, and bears are walking in our streets. Once Fred and I entered the shopping center and, taking a shower gel in hand, he began to diligently explain to me what it is, how and for what this substance should be used. No matter how hard I tried to convince him that such blessings of civilization, like shower gel, came to us a long time ago, and I know what it is, he thought I didn't understand him, and then diligently explained, and then even wanted me Buy it as an outlandish gift.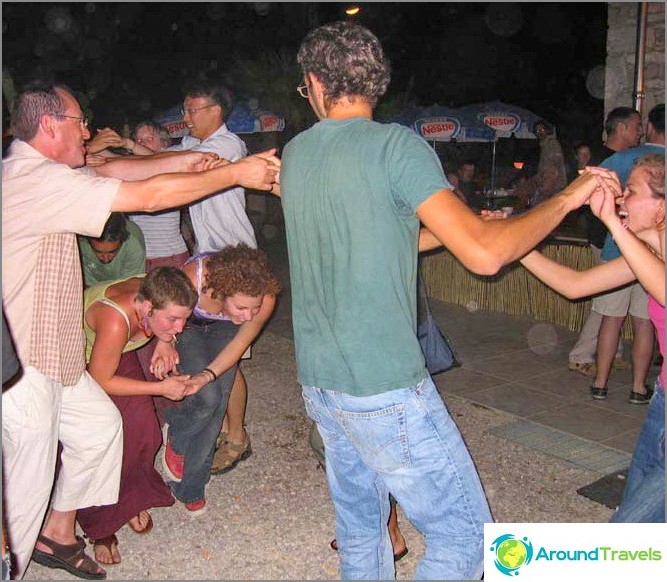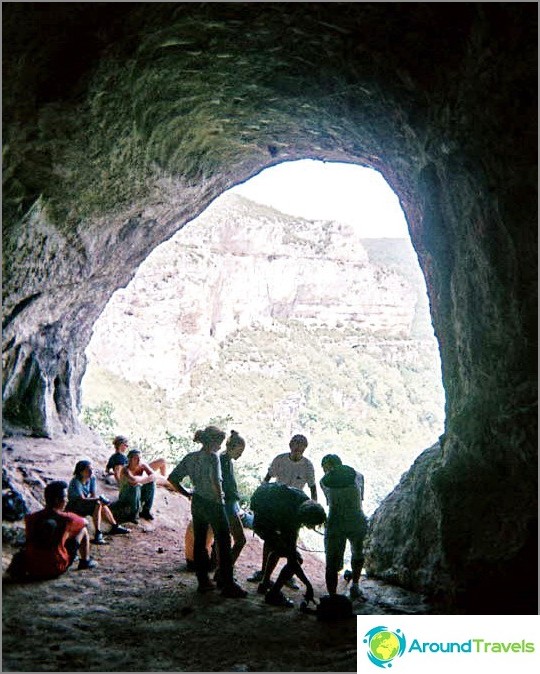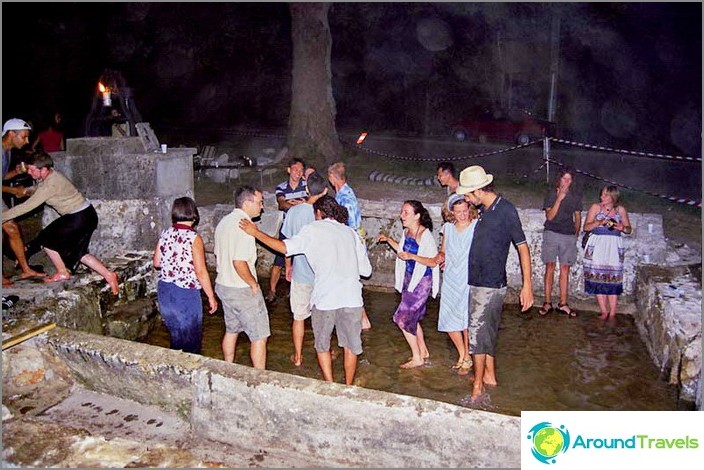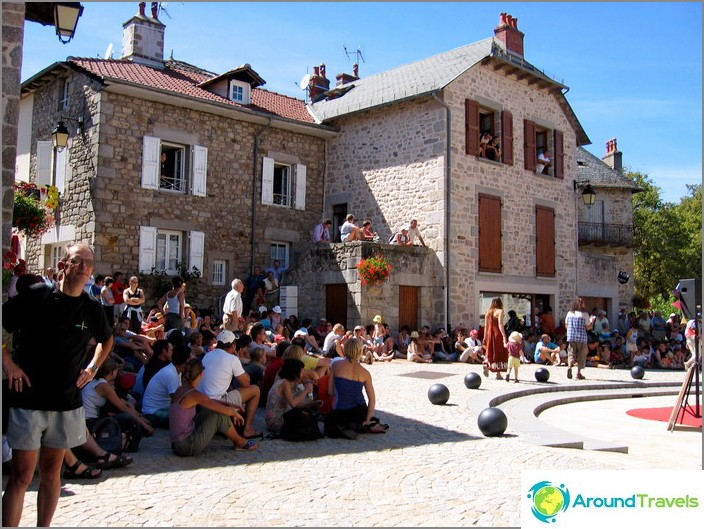 So much more just want to talk about life involunteer camp, and how we communicated with each other, learning the peculiarities of the mentality of people from other countries, and how we spent our leisure time, attending music festivals, went on interesting excursions, climbed, rafted along the rivers, visited local residents, participated in competitions on their national game Petanque. Volunteer work allowed me to try so much and learn so much that you can write about it forever. This is such an invaluable life experience and such an unforgettable adventure!
Life hacking 1 - how to buy a good insurance

Choosing insurance is now unrealistically difficult, so to help all travelers, I compile a rating. To do this, I constantly monitor forums, study insurance contracts and use insurance by myself.

Life hacking 2 - how to find a hotel 20% cheaper

First, choose a hotel on Booking. They have a good offer base, but the prices are NOT the best! The same hotel can often be found 20% cheaper in other systems through the RoomGuru service.

Discount hotels