Matured after returning for a small post aboutwhat to take to Thailand and what not to take. When we were going to Thailand, we did not take into account some points, although everything seemed to be very obvious, because the country is warm, cheap. And despite the fact that all things fit in a suitcase, I am sure that this number could be reduced without any problems. So not so much advice for the sake of, but how much for myself, I write a reminder note for the next trip. And then again, we type too much.
The content of the article
What kind of things you should not take with you
First, I would like to tell you that you do not need to take, because I have met various tips on the net, and I would like to refute some of them. I will list the points, it's easier.
Winter jacket, winter shoes, and generally warmclothes. It is better to ask someone to take to the airport than to drag it all along. We were taken, and we knew that it was warm in Thailand, but still for some reason we took a lot of warm things. One warm set of clothes is enough (sweaters, for example). As an option, all winter can be left in the storage room of the airport.
Waterproof jacket or windbreaker. I took a windbreaker with me, but I wore it only a couple of times when I was riding a bike. It is easier to buy a raincoat on the spot, which is sold in every 7-eleven.
Dishes. For some reason, we took with us mugs, spoons, bowls (the habit of a walker). If you go to a hotel, then you do not need to take anything, you will eat in cafes, and if you rent an apartment, then there will be a kitchen. In extreme cases, on the spot for a penny you can buy everything.
Towels and linens. We did not take and thank God. All this is in every hotel and is often available when renting houses and apartments for a long time (for short itself). Again, everything can be bought on the spot.
Shampoos, soaps, cosmetics. Total in bulk on the spot in the same 7-eleven. In many hotels in the bath put bottles with shampoo, soap, etc., however, not sure what is always of good quality. In any case, if you have any special means of hygiene, you should take it.
Mosquito repellent. This is a very useful thing and should not be neglected, but it is better to buy in Thailand, at 7-eleven or any supermarket. Local funds somehow have a better effect on local mosquitoes.
Separately mention once again about winter clothes. It may be needed only during transit in some Novosibirsk (my experience), or if you initially fly away fromMoscow (where you get to the plane through a heated hose), and from another Russian city, where you are taken to the plane in cold buses. Below on the photo is my compact, but warm down jacket, which is just suitable for traveling to warm countries, taking up very little in a suitcase.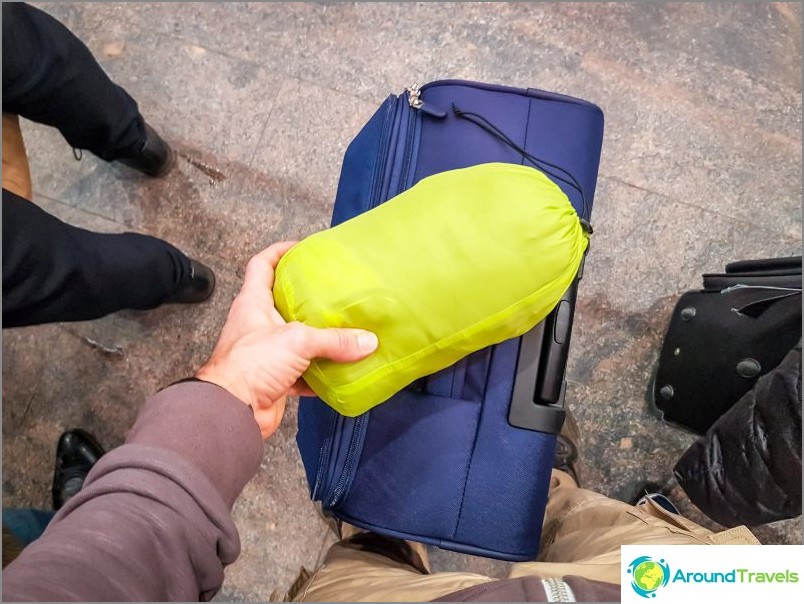 What to bring to Thailand
Main
international passport
Flights (how cheaper to fly).
Travel Insurance (all about insurance to thailand). Be sure to read and choose your insurance, even if it is cheap, so that you don't get money for anything. And do not save much better, medicine in Tae is expensive.
Money and bank cards. It is best to take a small amount in currency (dollars / euro), and the main part to carry on the card (travel card list), you can remove them without problems, and what currency in your account does not matter.
Preferably international driving license with category A, if you are going ride a bike. In principle, all drive without them and in the extremeIf you pay a small fine of about 500-1000 baht. Rights are checked mainly in Pattaya and Phuket. But I often travel by car, especially since I have international rights with category B. If anything, I recommend taking the car not in local rentals, but in normal international ones, especially if it is necessary by the day.
My insurance rating for Thailand>
Clothing and Shoes
Several light and light T-shirts / T-shirts. And if the tendency to burn in the sun, it is better with long sleeves.
A few shorts or skirts.
Can some easy pants, dresses.
Swim and swimsuits.
Lightweight and ventilated shoes: sandals, sandals, slippers and so on.
One set of warm clothes: sweatshirt, warm socks, pants. It will be useful if you ride buses or trains, there are terrible conditioners. Or, if you go to the north of Thailand from November to February, at this time there can be cool in the evenings and at night (up to +5 degrees).
Useful
Medication. You shouldn't take a lot, just the main thing just in case: nurofen (from temp and pain) and paracetamol (with Dengue, you can only take it), smect and rehydron (for poisoning and frustration), iodine and hydrogen peroxide, and so on. Just in case, an example of our first-aid kit. But in any city there is a pharmacy, everything can be boughtin place. However, if you have some specific disease or you are used to using certain pills, then you need to take them with you, so as not to search there, and not everything can be on sale. And so almost any analogue can be found on the active substance (how to search. But I, frankly, against self. Better to do normal insurancethen the doctor will prescribe the medicine after the examination and they will be given out right in the hospital (everything is covered by insurance).
Sunscreen. I would buy it on site in Tae, but if the protective factor is important to you (for some reason it's difficult to find the maximum factor in Tae, or if you are a supporter of some brands, then take it from home. The sun is really strong there; it is very easy to burn.
Masks and goggles for swimming. If you are going to snort a lot and at the same time you are picky, it is better to take with you all yours In Moscow, good masks cost from 1000 rubles in Decathlon. Rental on excursions so-so and often do not correspond to the size of the face or flow. But, of course, for the sake of one excursion, I would not drag it out of the house.
Sunglasses for bike. If you ride a bike a lot, it would be good to have glasses that close your eyes well, otherwise every rubbish comes into your eyes. Or on the spot to buy a helmet, as the rented glass is usually dull and scratched. I myself took the glasses again in Decathlon with interchangeable glasses, there are dark, there are transparent, convenient for any time of day.
A compact extension can be useful for active travelers changing the hotel behind the hotel. It happens that not enough outlets in hotels or they are located very uncomfortable. But in principle, any adapter or extension cord can be purchased on site if you suddenly need it.
Since I started talking about my favorite Decathlon. There is such a life hacking - when ordering online on the Decathlon website, but through the Letyshop cashback service, there will be a return of 2.5-5% for all goods. If someone does not know, then they now have a delivery, so you can order everything home.
Optional
Multivarka. A very useful thing if you go with your child for the winter. You can buy on the spot. I do not know how we used to do without it, it is much more convenient to cook with it. Plus, when moving between cities helps, in a hotel you can quickly make a child porridge or vegetables. Now we take on all travels.
You can take a kettle if you like to drink tea everyday. We once bought a small 2-cup teapot in Tae and took some time with us. But still, when it comes to wintering, it is easier to buy on the spot and then leave. And if we talk about spending the night in hotels, then in all normal hotels there are kettles, either in the room or in the lobby (in the guesthouses).
If you use 4G modems, you can take. Mobile Internet is well developed. But I personally prefer to surf the Internet via a smartphone, now everyone has this function. Read more about Mobile Internet in Thailand.
Tourist clothes and shoes if you are hiking. Otherwise, in Thailand, good things are expensive. But tourist equipment can not be taken, as on the spot you can buy "disposable" tents and sleeping bags of 500-1000 baht.
Non-working bank card. Sometimes they ask when renting a bike to scan a bank card instead of a deposit or to leave it as a security at all. Of course it is not necessary to take it, but if there is, then it is possible.
Below is one of the content options in the photo.my backpack, which I take to Thailand (depends on the type of trip). Since I have a lot of technology, it takes half. I even have a video on this topic: The contents of my backpack.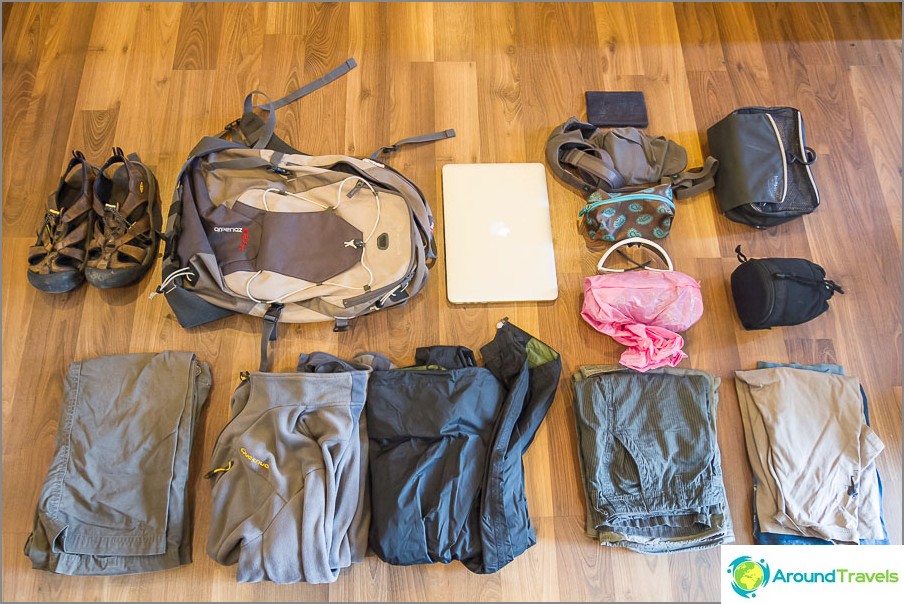 What clothes to take to Thailand
Separate paragraph. If you select the most important rule - it is only summer clothes and shoes! There really is besides shorts and T-shirts and their ilk, nothing more is needed, since it is almost always hot. And it is very desirable to have a light-colored top, otherwise I was tired of my dark T-shirts, I had enough sense to take them with me. Therefore, it is enough just to have a sweater or sweatshirt for an evening or stay in air-conditioned rooms.
And minimalists who prefer only withhand luggage to ride, in general, they can really take nothing - clothes on themselves and a purse with money. In Tae cheap casual clothing, you can buy and throw it away before departure.
P.S. This is all my personal experience, so your list of what to take to Thailand can be very different.
Naturally, when I go to wintering with my wife and child, and not on a trip, we take the bags and things turn out much more than in the example with my backpack. But then again, who drives like.
Life hacking 1 - how to buy a good insurance

Choosing insurance is now unrealistically difficult, so to help all travelers, I compile a rating. To do this, I constantly monitor forums, study insurance contracts and use insurance by myself.

Life hacking 2 - how to find a hotel 20% cheaper

First, choose a hotel on Booking. They have a good offer base, but the prices are NOT the best! The same hotel can often be found 20% cheaper in other systems through the RoomGuru service.

Discount hotels