Honestly, I did not think that I would write on thisthey ask me questions about where to start mastering the camera, ask for references, and I don't even have to answer, because I don't have anything on this topic, and I don't really read any other articles. Usually, if you have any questions, then just looking in a search engine.
Just want to warn. First, this small faq is aimed at beginners, so if you are already in the subject for a long time, then you will hardly find something new for yourself here, but if you add something useful in the comments, then you will also get into karma. Secondly, I am not a photographer and I don't make money selling photographs, so I'm excusable for taking pictures at the amateur level and telling the same non-professionals as I am. But if you correct some of my blunders, tell about a more efficient way, then I will be only too happy.
The content of the article
All parts of my FAQ for beginner photographers
1. Which camera to choose a novice photographer
2. What lens is needed for and what to choose
3. Basic digital camera settings
4. How to take pictures while traveling
5. How to process photos in Lightroom and how to store them
6. Sample photo bag and fotoryukzaka for traveler
7. How to photograph the starry sky
0. What I photograph in travels
Which camera to choose a novice photographer
Do not look at those who buy expensivecameras and a lot of lenses to them, you will need an entry-level SLR (like the Canon 600d 650d, Nikon D5100 D5200) for most purposes, from the blog to the family archive. And when you use it for at least a year and take 10-20 thousand pictures, you will understand the settings and techniques, that is, you will understand what is happening and what you are missing, then it makes sense to think about changing the equipment expensive, and it is not a fact that you need it at all.
The same with lenses, believe me, cheapCanon 18-55 whale, which often comes bundled with a camera (it's cheaper than taking it separately), an excellent lens, considering its cost. I remember that I compared it with my 24-105 L in terms of picture quality, which is almost 8 times more expensive, and I didn't see such serious differences. So shoot at the very beginning with cheap lenses and do not chase their number. I assure you that if you are just starting, it will be difficult for you to understand the difference in quality, and also to estimate what millimeters you will need in the future. As an option, take the carcass separately (body) and to it some kind of lens of 18-135 mm type, then you will immediately get the most necessary focal lengths. After a while you will understand which are using and which are not.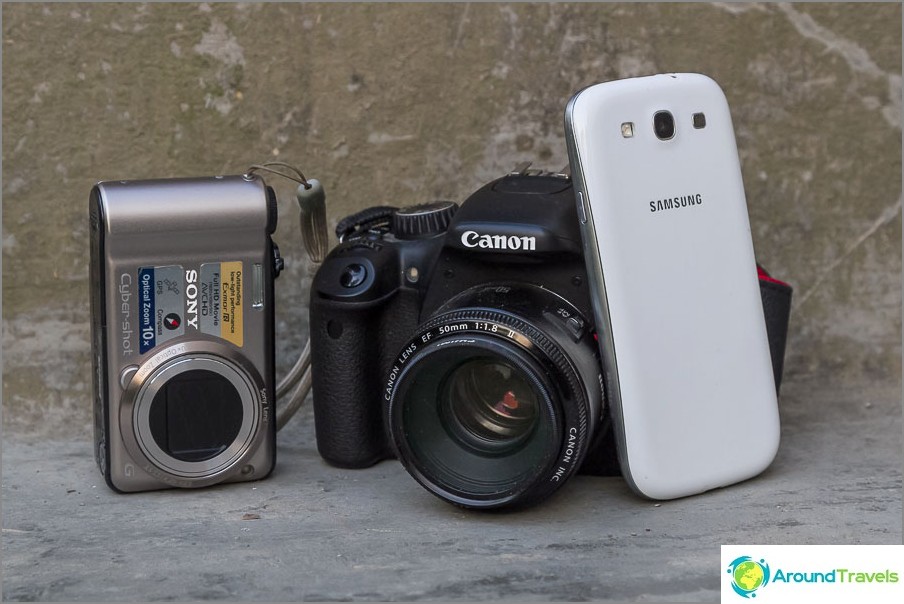 Why SLR?
A logical question, why a SLR? In fact, non-specular cameras with good viewfinders have already appeared (it is much more convenient than taking pictures through the display), with interchangeable lenses and fully manual settings. They are much lighter and smaller in size, which can not but rejoice when traveling, but I do not track technological progress and cannot name the models. When I bought the first DSLR in 2010, there wasn't much alternative to the image quality. And yet, if you plan to fully engage in photography for a long time, then I would advise buying a DSLR camera, albeit simple, because it will grow in terms of technical equipment, because the choice of lenses and other accessories is much wider.
However, if the plans are not serious intentions andwhile you do not see the difference between a snapshot from a DSLR and a snapshot from an ordinary soap dish (this is only about image quality, not about photographic techniques), then you may not need to change anything, you will be disappointed. The truth is to keep in mind that there are great shots from soapboxes, just the shooting conditions are needed more perfect and the processing is more serious. That is, higher level cameras provide more opportunities in terms of shooting conditions and forgive mistakes.
What are the advantages of good cameras?
- The matrix is ​​physically larger, the image quality is better.
- Replaceable lenses.
- Manual exposure settings and generally adjust various parameters.
- Large ISO work, easier to shoot in the dark and twilight.
- Good viewfinder.
- Fast and accurate focusing.
- Rate of fire (the number of frames per second during continuous shooting).
- Convenient and thoughtful control parameters, ergonomics.
- The format of files Raw, then helps to correct their mistakes through processing.
- Some DSLRs have dust and moisture protection, which is very useful when traveling.
And maybe still mirrorless?
UPDATE. Switched to mirrorless Sony Nex a6000read the link to my impressions. While I like everything! Great for traveling, as it takes up little space and is lightweight. At the same time the possibilities are the same. Only no water protection, like my Canon 7d.
After discussion in the comments decided yetadd this item. I was prompted by specific mirrorless models that have the most important thing for me - interchangeable lenses, the ability to shoot in Raw and a normal matrix with a crop factor of 1.5. In particular, they talked about the Sony alpha nex-3, nex-5, nex-6 and nex-7 series.
In fact, to draw any conclusions,you need to try in practice, because reasoning will suit or not purely theoretically, stupid. As soon as this opportunity presents itself, I will do it and write about it. In the meantime, I am confused by the price, it is comparable with amateur DSLRs (talking about nex-3 and nex-5), or even higher (talking about nex-6 and nex-7). At the same time, in the younger models there is no viewfinder and not very long battery life, such a fee for compactness. With the lack of a viewfinder, you can probably be reconciled, but here's how autofocus works, if it is fast and often misses, if the soap soap doesn't bother you, all this needs to be checked in practice. Well, and of course, the question arises about the lenses, their quality and price ...
Do I need a soap dish?
I used to be opposed to every kindsoap trays, but now I understand the harsh truth of life. Firstly, it has become very popular to upload photos to social networks and instagram, with the most common household, but where there is some interesting point. And, of course, that which is built into your smartphone is most suitable for this. Moreover, as a rule, it already has internet. He photographed and posted on the network, spending literally a couple of minutes. If this is a DSLR, then you need to come home, drop the photo from the flash drive on the computer, import it into the processing program and only after that upload it to the Internet. Do we often remove masterpieces in everyday life in order to pass this way?
Secondly, something small is comfortable with you.Carry, and in the case of a smartphone, it will always always be in your pocket. I honestly tried to take my photographic kit everywhere and everywhere, but to be honest, it is tiring. It is clear that if I go for a walk, there is no problem to wear it all (I want good pictures), well, and if I just went to the store for bread and didn't plan to take pictures, then I'd rather have a soap box than nothing.
Thirdly, the quality of soap dishes is growing every day andI have already more or less begun to arrange what my smartphone can do in terms of memorizing the moment. The next model is sure to be even better. Of course, he still can not replace my main camera, but this is not required.
So the soap dish / smartphone is as convenient asAuxiliary tool that is always at hand. By the way, some people can start with this in order to understand at all whether you will shoot or not. Although, on the other hand, I became interested in photographing only after I bought a DSLR, and before that I had a soap dish for several years and there was no desire. In any case, buying a DSLR is a long time; you don't need to change it every year, so once you buy it, you can use it for a long time.
Life hacking 1 - how to buy a good insurance

Choosing insurance is now unrealistically difficult, so to help all travelers, I compile a rating. To do this, I constantly monitor forums, study insurance contracts and use insurance by myself.

Life hacking 2 - how to find a hotel 20% cheaper

First, choose a hotel on Booking. They have a good offer base, but the prices are NOT the best! The same hotel can often be found 20% cheaper in other systems through the RoomGuru service.

Discount hotels