It seems to have repeatedly wrote about which bank card to choose and why are they even needed, about how to withdraw money in thailand, but a specific answer to the question, what moneytake to Thailand remained behind the scenes. Although somewhere in the comments it is said or glimpsed in the articles themselves ... But since with a certain periodicity I receive exactly this question, I fill the gap in the form of a separate article.
I want to note that this post is relevant not only for Thailand, but also for other foreign countries, especially for those where the currency is Tug (not the euro and not the dollars).
The content of the article
Briefly about how much money to take to Thailand
The currency in Thailand is Thai Baht. In Russia, you can buy them not everywhere, and I would not do that. And why? Take your dollars with you and you can't go wrong; exchangers in Thailand are at every turn. Only in Russia, in the exchanger, the better course is more profitable.
Another option without labor costs is to take witha bank card, which you use in everyday life. The main thing is that this card is accepted abroad, that is, those intended only for Russia will not work. Any suitable, but better not lower than Visa Classic or Mastercard Standart. The currency of a bank card account (if not to bother) is not so important, but with other things being equal, dollar cards are preferable. Actually, I already wrote why do you need bank cards traveling, recommended to usetravel credit cards for payment or debit cards for cash withdrawals with a good exchange rate. It has long been trying to minimize cash spending, although it is hard to do in Thailand, terminals only in large stores.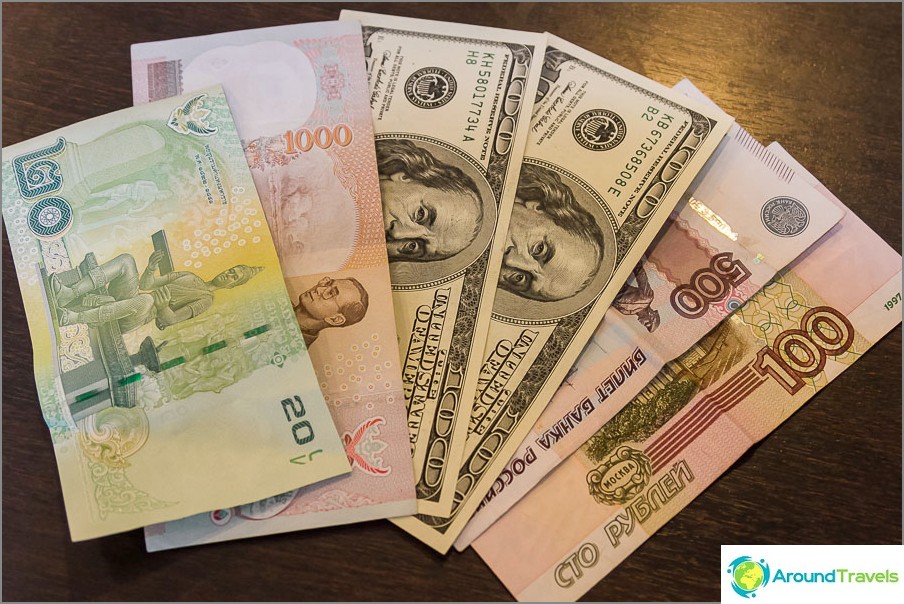 Details on how much money to take to Thailand
Briefly answered the question, now moreWe will consider all possible cases, because if you go deep and try to minimize losses on currency conversions, you will have to sort out a bit about the topic. But if you do not want, then I have already written the tips above.
All options that take
Rubles. They are taken in Thailand mainly only in Pattaya / Phuket / Bangkok and then not everywhere, so you can consider them relatively useless, have to look for an exchanger, and the course will be so-so. I also read that Bangkok Bank began to accept, but did not check it myself. The course on their website is indicated and it is predatory.
Cash dollars and euros. On the spot, they can be exchanged for Thai baht in any exchanger or bank, of which there is more than enough in the country. This option is great for those who do not particularly use bank cards, or simply do not want to bother.
Bank card with a ruble account. In my opinion one of the most convenient options without any problems, if you go for a couple of weeks on vacation. All these troubles with special cards, for the sake of saving a few kopecks, come to nothing. And you need to know that a bank card is much safer than cash. If you lose cash, then it will meet, and the card can always be blocked, plus there are limits on the operation. In Thailand, with a ruble card will be shoot thai baht at an ATM or bank or pay for purchases in supermarkets. There will be two conversions, usually in dollars (THB => USD => RUB).
Bank card with a dollar account. More profitable option. But suitable for those whose income comes in dollars, or who follow the exchange rates and on time purchased dollars and euros. On such a card there will be only one conversion (THB => USD). Withdrawing of money is exactly the same: in ATMs and banks. It is better to take Mastercsrd, usually on it less commissions.
Bank card with a Euro account. Usually so-so, because it is needed for countries where the euro is in circulation, and not tugriks. You need to find out from your bank how the conversions take place, because there is a risk of getting into 2 conversions (THB => USD => EUR).
More about that how to convert rubles to baht, you can read in my article. There I gave a specific example of commissions and conversions, if the baht were withdrawn from the ruble card and from the dollar one.
Card with ruble or dollar account?
Why do I think that a bank card withruble account one of the convenient options? First, it makes no sense to get a currency card for a two-week trip abroad, save a little. Rather, zamorachka with maps for travel or those who want to be confused, or those who often travel abroad.
Secondly, the majority of income in rubles andruble cards are already in stock. Especially, if you make a card with a dollar account specifically for the trip, exchange rubles for dollars and replenish your account, you will receive exactly the same conversion scheme (baht => dollars => rubles), just one of the conversions (dollars-rubles) you spend yourself in Russia in the exchanger before the trip. And here you need to understand that if you buy dollars in advance at a good rate, and the dollar continues to grow, you will win. If everything goes the other way, and the dollar falls, you lose. If not clear, read this post, there is a detailed dismantled.
Of course, if you follow the exchange rate, you knowthat the dollar is growing and will continue to grow, then you most likely will not have any questions about which card and in which currency to take with you. Obviously, you can safely buy dollars and put them on a dollar card, it is unlikely you will lose. And again, those who follow the foreign exchange market usually have in stock both ruble cards, and dollar, and euro, and know how quickly to exchange the necessary currency online. But for an ordinary person who is going on vacation - it can only be extra trouble, however you can see my selection of travel maps.
Cash dollars
Most vacationers just take with them.cash dollars. As I said above, this is a good option for those who do not want to understand. We went to the exchanger, bought several thousand (well, or how much you need there) and that's all, no additional actions and hassle of asking for bank card fees. Actually, this can be done further. Even if the course suddenly changes for you in a worse way (the ruble will rise and the dollar will fall), then in the short term (vacation) it is unlikely that you will lose much. That is, the course changes will not be noticeable for you.
However, I would still advisestock up with a bank card, ruble or dollar. Since the money can run out, and the emergency reserve is better to keep in the bank account, and not in your pocket, safer. Well, and wintering, in my opinion, without a map anywhere. It's one thing to plan spending for 1-2 weeks, and another for 6 months.
How to cut commission costs
Does it matter how much money you carry to Thailandif you are going to wintering, and not for a couple of weeks on vacation? I answered "no" for myself, and go further with bank cards (different currencies) and take a bit of cash with me just in case. However, here's what else you need to do in order to reduce your expenses on commissions:
Find out what banks are in your city andfind out what real commissions they have for conversions (call the bank, read on the forums), as well as who has no commission for withdrawing cash at an ATM of a third-party bank. Thus, you can try to reduce the cost of any commission, of which there may be a lot over the entire wintering. True, it will take time. You can start from my selection of maps.
To remove not in ATMs, but in the cash desk of the bank, there is no commission 180 baht for withdrawal.
Translate your income into dollars, starta dollar bank card in Russia, open an account in a Thai bank and get a Thai card to which you can transfer money from Russian accounts or withdraw WebMoney (if you have them).
Well, after you have decided that to take dollars, rubles, or bank cards, you need to know, and how much money to take to Thailand. True, during wintering, spending may be quite different, both in the smaller side and in the larger.
P.S. Just in case, it is always good to have several hundreds of cash bucks in your wallet on any trip abroad, what happens to the card, or even what the situation is, that it is impossible or inconvenient to withdraw from the card, and you need an cash urgently.
P.P.S. In connection with the instability of the ruble, it makes sense not only to take a dollar card, but also to transfer half (or even more) of your savings into currency.
Life hacking 1 - how to buy a good insurance

Choosing insurance is now unrealistically difficult, so to help all travelers, I compile a rating. To do this, I constantly monitor forums, study insurance contracts and use insurance by myself.

Life hacking 2 - how to find a hotel 20% cheaper

First, choose a hotel on Booking. They have a good offer base, but the prices are NOT the best! The same hotel can often be found 20% cheaper in other systems through the RoomGuru service.

Discount hotels