Cover all the moments of baby food in Thailandthis article is not possible, so everyone has their own problems with feeding, and children also have different ages. Therefore, I will talk more about our case.
Although Yegor is almost two years old, but in terms of nutritionIt can be put on the annual level. This means that he still eats mostly puree-shaped food from a spoon, and almost no pieces of fruit type can be given to him. However, about feeding older or not so selective children, I will also tell you a little.
The content of the article
How to feed a young child in Thailand
I remind you that you must make medical insurance, at least for a child. Who knows what? Some angioedema or just getting into the hospital for 1 day, and you can get on the money. Take a look My main post about insurance. There all is collected at once: how to choose the right way to use insurance, what options are needed and which are not, that insurance does not cover, and so on. Plus, there are already 1000 reviews from readers and also with useful info. I try to update the post promptly so that you can always choose more worker insurance.
Purchased mashed potatoes
When we flew to Thailand, we were worried about the question of whether there are some purees that we are used to in Russia (post, how to find familiar foods in Tae). No, we do not feed them all the time, and in general we try to buy only those that do not contain flour and starch. Usually we cook the food ourselves, but the easiest thing on the way is the purchased mashed potatoes. And just when moving, while you live in a hotel, it is not always possible to cook something. Therefore, we took 10 jars with us from Russia, and this was correct (I recommend). Although, as it turned out, there are pureles in Thailand! About this below.
Food in jars sold here only in largeSupermarkets: Tesco Lotus, Big C, Villa Market, Tops Market, etc., that is, not always within walking distance (in almost any grocery store there is a homeland). Baby food in Tae is less familiar in terms of components, its choice is more scarce, food costs more (50-90 baht), because it is mostly imported (Heinz). The information in pure Thai purees is written in Thai, but the ingredients are in English.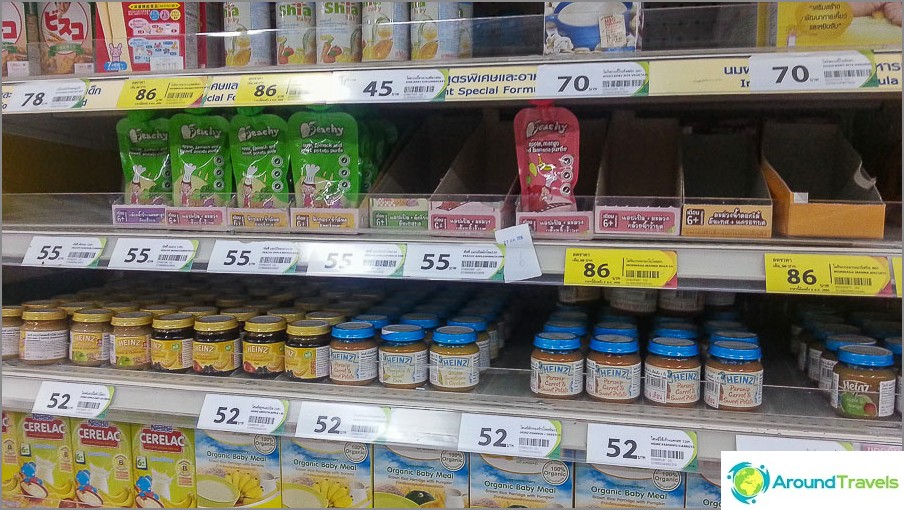 Taste examples: apple + mango + banana, apple + banana, apple + mango, apple + currant, apple + spinach + sweet potato, sweet potato, spinach + sweet potato, parsnip + carrot + sweet potato. Basically, there are fruit purees, and we can say that there are no vegetable vegetables that we are used to. Fish mashed potatoes did not see, the chicken met once. By the way, mashed potatoes are sold in two containers: in jars, like ours, and in soft packs. The last thing is very convenient, you can feed it like an astronaut, squeezing it directly into your mouth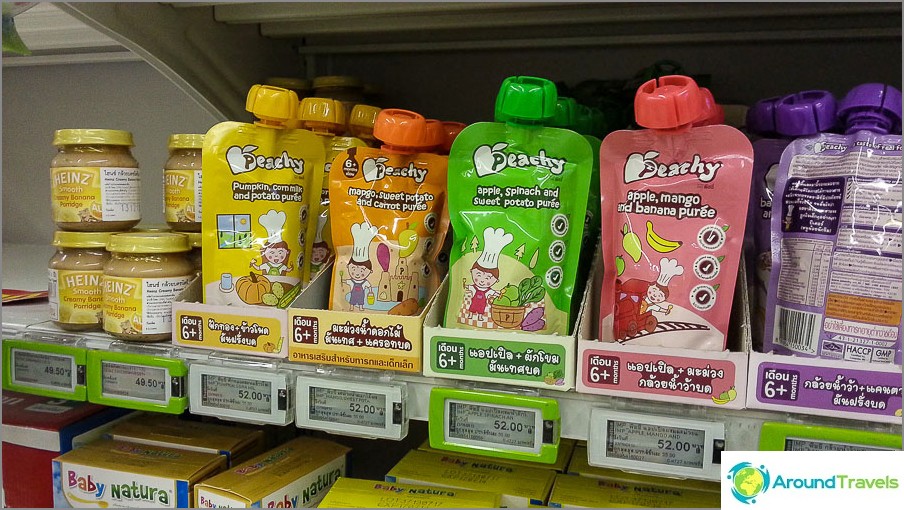 What else is sold in large supermarkets from baby food? There are various cereals (mainly from Nestle), milk formulas for very young children (a large selection), all sorts of different muesli.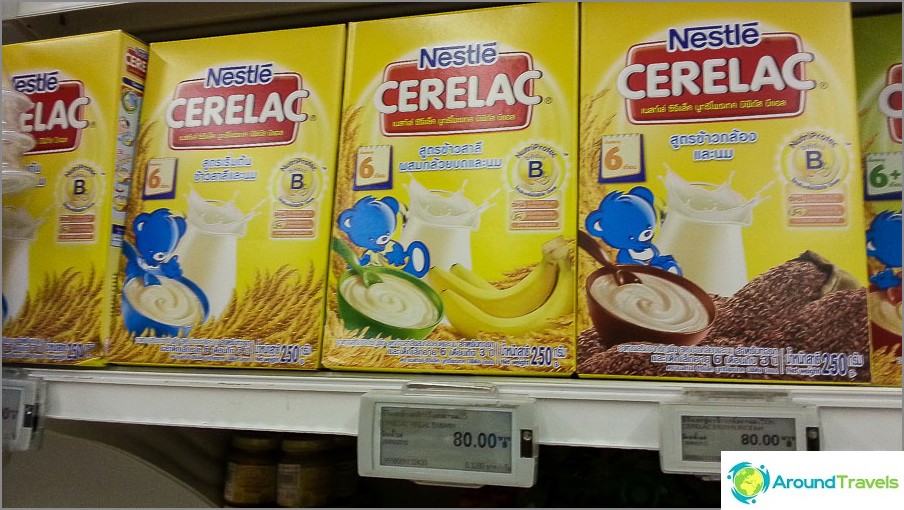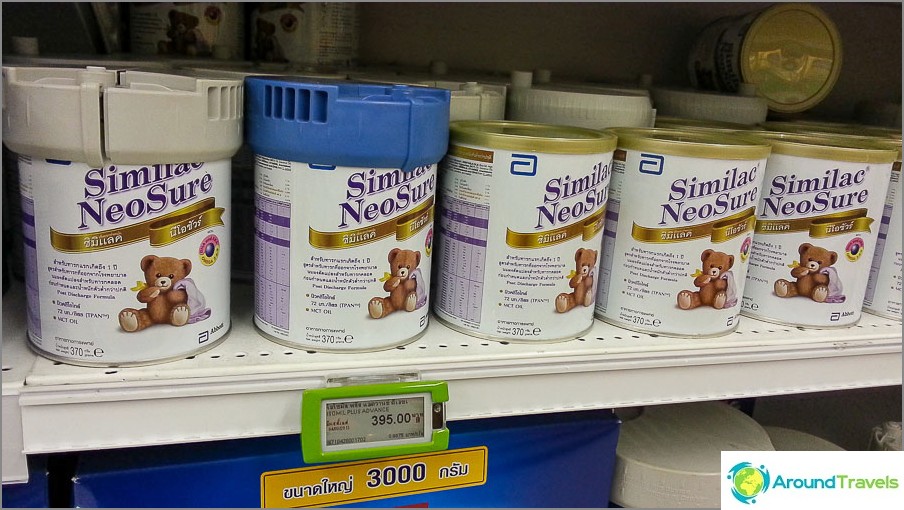 And a little on a close topic. If you need a highchair, then you should think about this issue in advance. For example, on Samui we could not find anything suitable for ourselves and regretted that we did not take our compact high chair from home (it fits easily into a suitcase). All that we managed to find here is similar to the copy in the photo. We were not satisfied with the price (there were other wooden ones for 4900 baht) and the lack of a normal attachment (we need, as in a wheelchair with straps over our shoulders).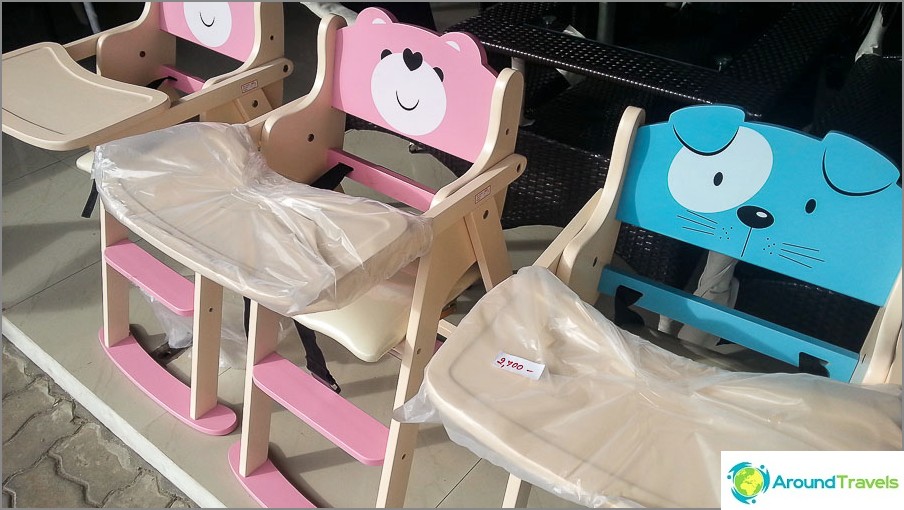 Food at home
Since we feed with purees only for the most part.travel, or when too tired, then at home we just cook. In the morning, Yegor consistently eats rolled oats (Oats) with chopped fruit. Most often it is a mango, but it can also be a banana, papaya, dragon fruit, watermelon, apple, or a mixture of several fruits. We also add a linen urbech brought from Russia, a very useful thing. However, I saw flax in the Villa Market in Bangkok, so you can buy it in Thailand and then make something similar out of it.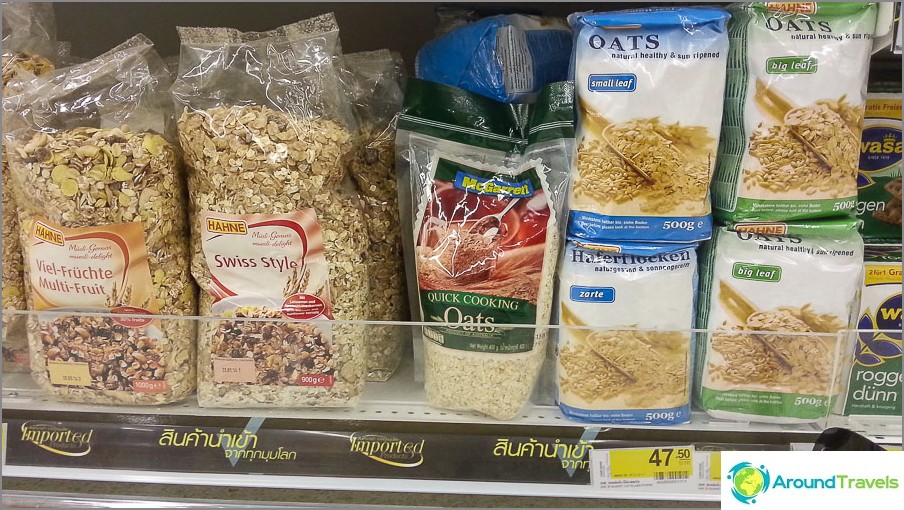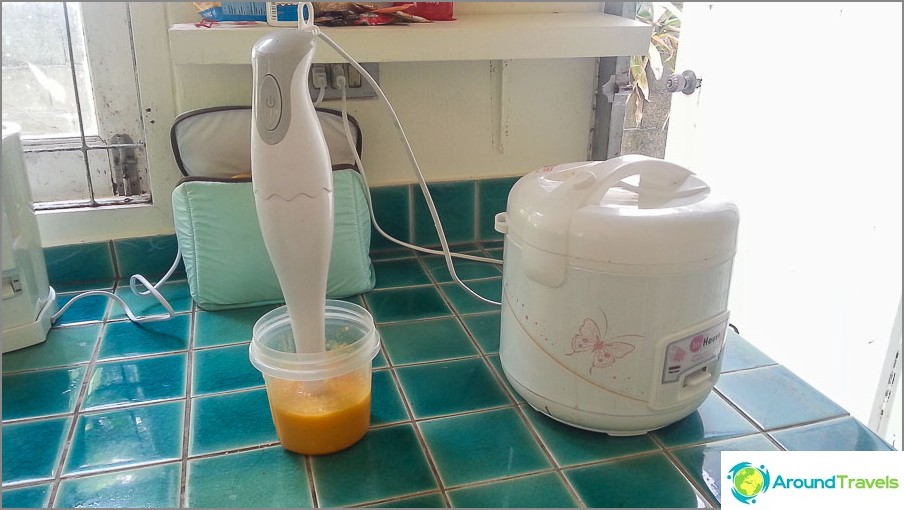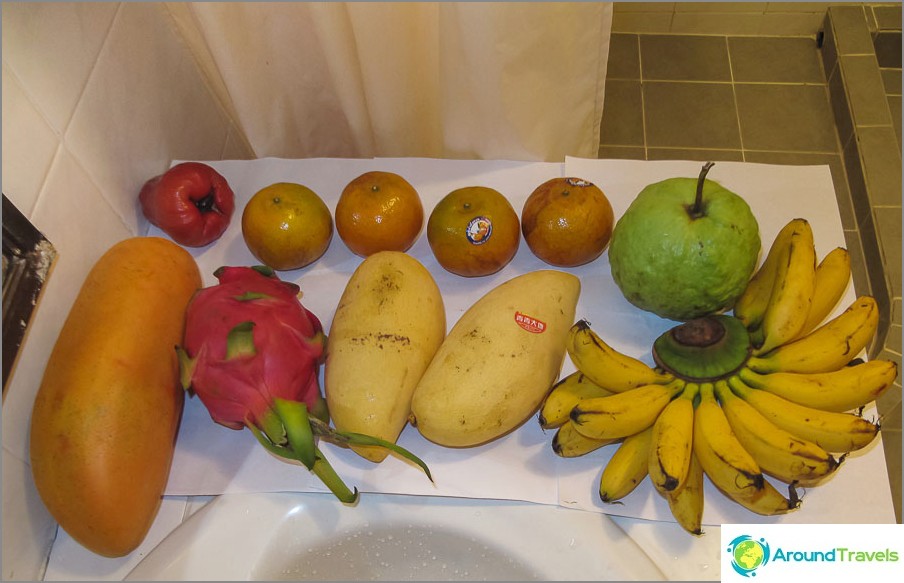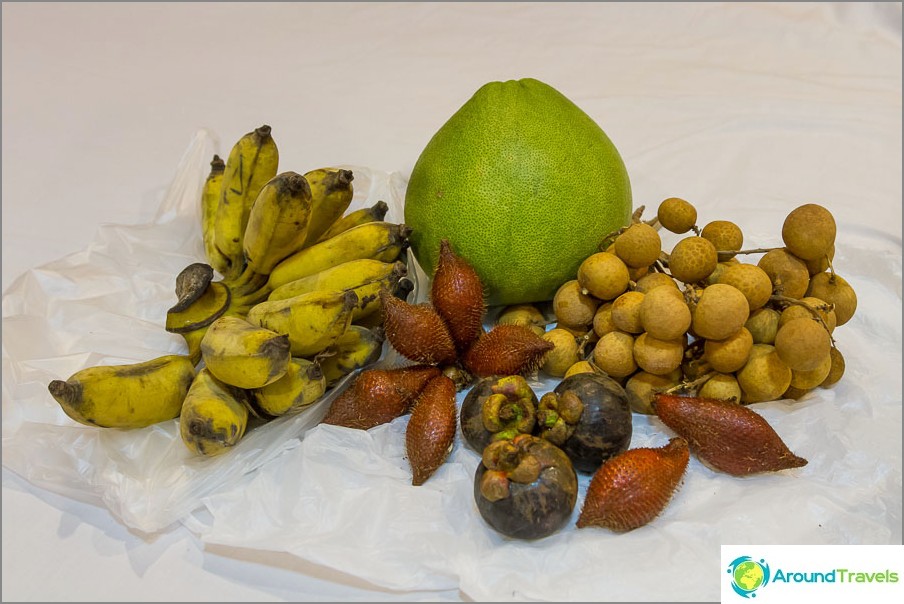 For lunch and dinner, we make rice in rice cooker (brown,red, black, white), chop vegetables with a blender and add some shrimp. As a rule, such vegetables: onions, carrots, zucchini, broccoli, cauliflower, tomatoes, potatoes. All vegetables are fresh and can be bought at the supermarket or on the market. Price plus minus the same, you can see it in the photo. We also bought frozen vegetables once, but the price was about 150-200 baht per pack.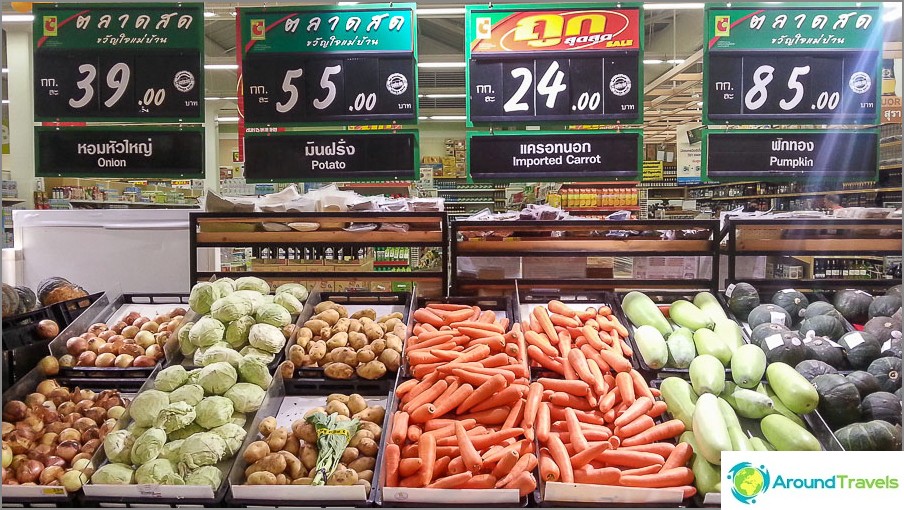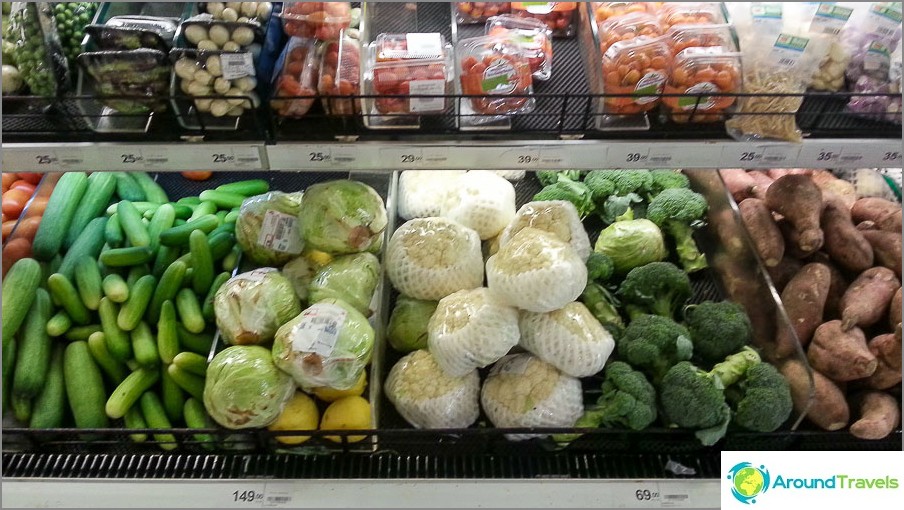 Also in Thailand there are ordinary eggs for sale andquail, fish and seafood, all kinds of meat, both fresh and packaged. All this is also sold in the supermarket and on the market. Even in supermarkets and minimarkets 711 / Family Mart you can buy yogurts and milk. Of course, imported yogurts are only available in large supermarkets.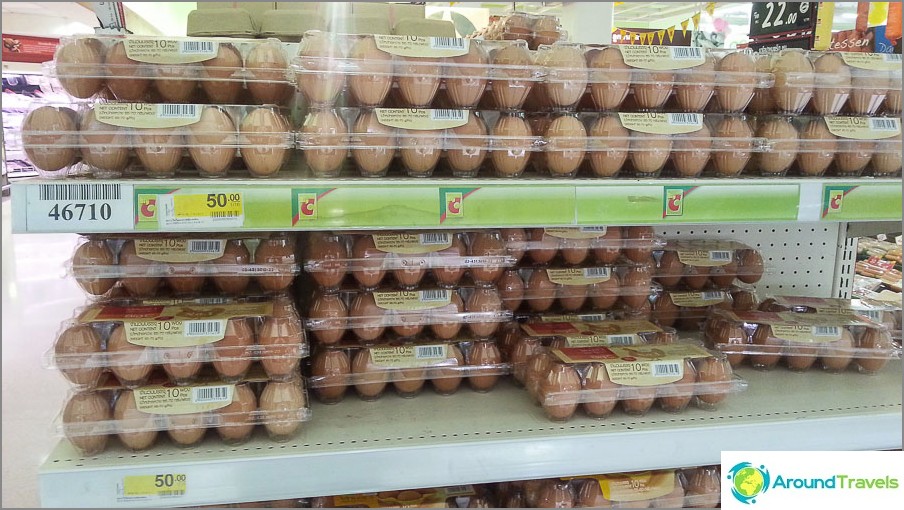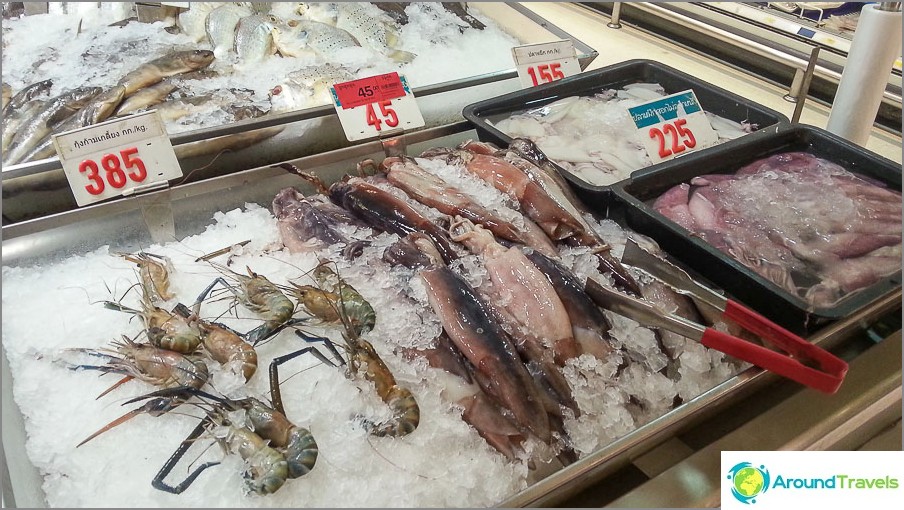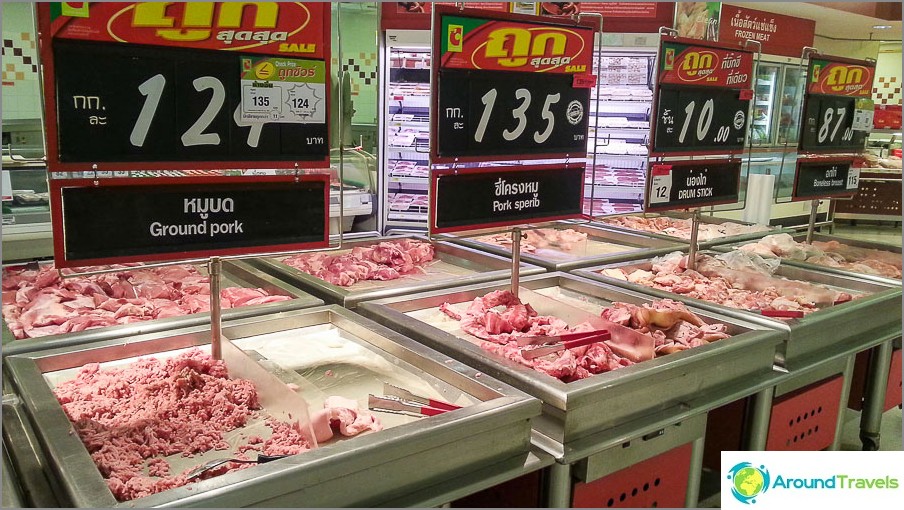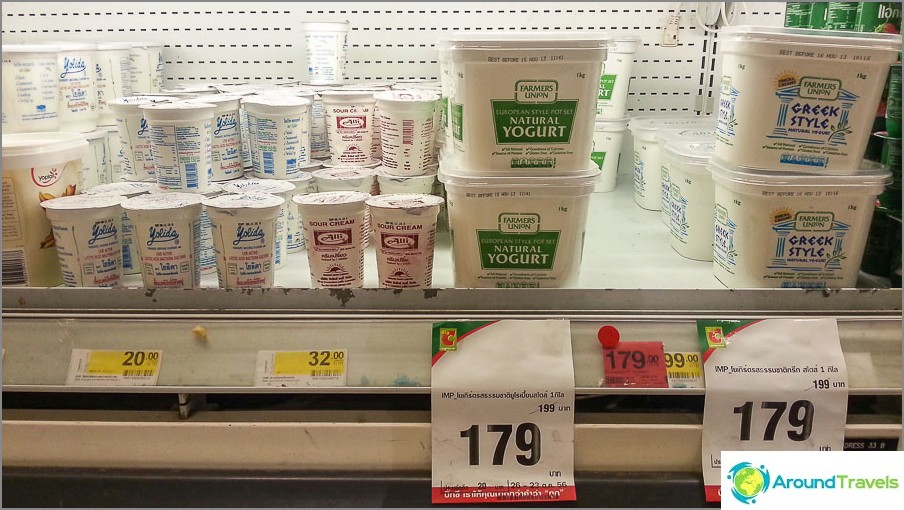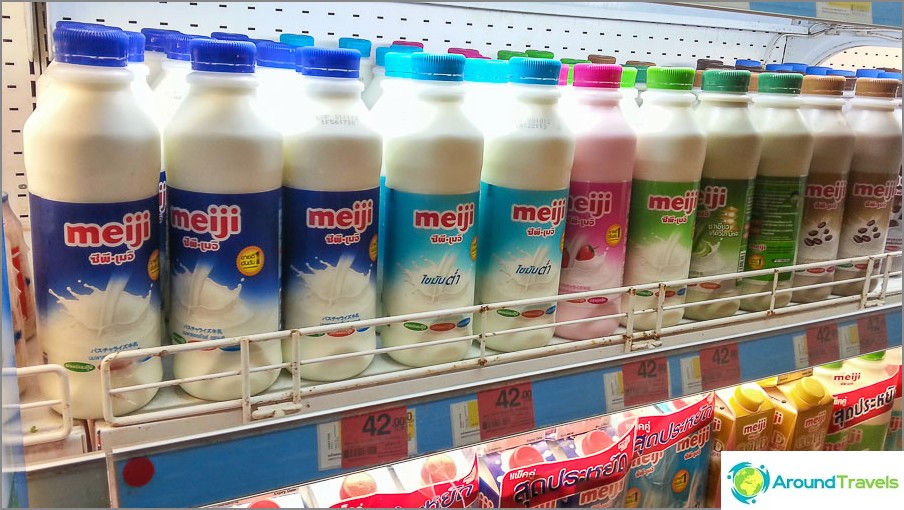 Food in the cafe and on the street
If you give a child everything that you eat, then inprinciple, nothing prevents to give him any Thai food in the cafe. Just ask that there be no spicy (know spicy), and you can still show the child with any explanations, so that they understand it more clearly.
One of the most simple dishes, often found andAn adapted one is Kau Man Gay (steam rice and chicken), that is, rice + a bowl of broth + chicken. No spices and other things, just like in Russia. Or a good breakfast dish - Kau Nyia Ma Muang (sticky rice and mango), that is, sticky rice + coconut milk + mango pieces. But it is so for a start. Then try different things yourself and decide what you can give the child.
Since Egor doesn't eat anything like this,we at the cafe sometimes buy him boiled rice (steam rice / kau) and to him, or store-bought prey pures, or boiled shrimps (kung). You just need to ask that they do nothing with them either (no salt, no sauce). You can still take ordinary boiled vegetables, but we don't have anything to turn them into in a cafe, so take it home for the occasion and cut it. In general, at the moment we often simply take fresh juice with no ice and sugar (no ice, no sugar), and feed it at home.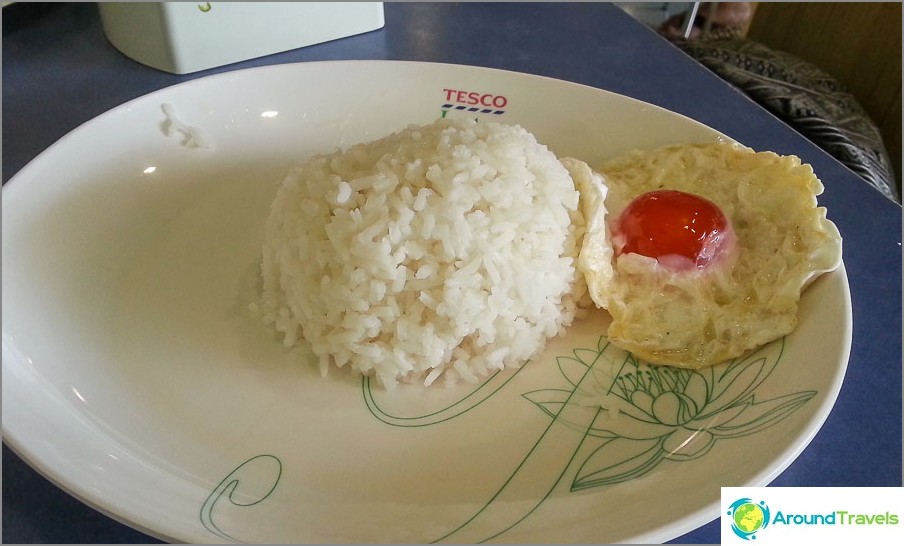 What to feed a child older or not so fastidious
If you just answer, then feed the same that you eat yourself. Most likely, if you like Thai dishes, then you will feed the children with them, and vice versa, if you do not like them, you will not.
I think everyone understands that Tai is not Europe, andeating habits among locals differ from ours with you, which means that not everything can be found in supermarkets (but very much), especially at the price we are used to. With a cafe the same situation, only Thai food is really cheap. Nevertheless, even under these conditions, it is quite possible for oneself to eat less habitually, for good reason there are so many foreigners living there. You just need to prepare yourself and lay the budget for the purchase of imported products. As an option, walk around the European / Russian cafes, who like more.
Personally, we found here everything that is needed. Well, maybe except for a few products we need, which can be ordered from Russia with an opportunity. Some fruits are worth something! I immediately recall that "paper" something that lies on the shelves in Moscow in the winter. Brrr ... In general, children, from the experience of our friends, happily eat local fruits, drink juices, eat Thai or cooked food.
P.S. Got something to add? Please write in the comments. We have not been here for so long, maybe we didn't take it into account or have forgotten it.
Life hacking 1 - how to buy a good insurance

Choosing insurance is now unrealistically difficult, so to help all travelers, I compile a rating. To do this, I constantly monitor forums, study insurance contracts and use insurance by myself.

Life hacking 2 - how to find a hotel 20% cheaper

First, choose a hotel on Booking. They have a good offer base, but the prices are NOT the best! The same hotel can often be found 20% cheaper in other systems through the RoomGuru service.

Discount hotels