It was very interesting to know survey results about the blog and read comments with opinionsreaders. Thank you all very much, it really became much more clear! And I talked with some also in PM and I was given direct specific recommendations. I will not say that I agree with everything, and not the fact that absolutely everyone will like what I would like to do in the end. But in my opinion, some changes will give Daria and me more freedom, as authors, and readers will have the choice to read (at least everything, selectively), and in person: if you're on a blog from a search engine, you will have a better understanding of what it is for the resource.
Blog development directions
First of all, I want to say that the blog will remainblog. That is, nothing will change drastically, on the blog will continue to be articles related to us, and there will be articles about travel. Actually, I didn't really want to divide it into two physical resources, because this is a loss of traffic in any scenario, and in time I won't pull two SDLs. Therefore, I still try to do everything within one resource, and then it will be clear.
Many have advised me to make new sites, butthe problem is that I don't really like to make websites for earnings, where articles from copywriters do not have much value, and in fact only litter the search engine output. For me, this is akin to the boring work in the office, from which I once left. If you really do, then do it with benefit and so that it will be most interesting, and this is no easier and no more profitable than this blog. Therefore, if I do something completely new, it will be a project not related to content. In fact, I now need something ala "100 thousand / month with a couple of hours a day," and not just another injection. I would gladly make some useful service, but for now everything is waiting for a million idea
So, I will list what I will try to do in 2014 with a blog:
Visual separation between personal and travel. I have not yet figured out where to include articles about blogging, but most likely everything will be personal, except for travel. In fact, the structure and menu will simply change in some way. The ability to read articles will remain the same.
Different subscriptions and different Rss-feeds. Most likely two: personal and travel. Accordingly, who wants to read everything, everyone will read, who wants only personal or only travel can choose.
I hope I will decide with the change of design as a whole, since for half a year I want to replace the template with a simpler one, but more technological. Actually, it will be divided into two sections.
This will return a rubric of 365 days, whichOnce was on our blog. This is just minor news about us in a free format, ala photo + a couple of paragraphs. If you do not go (neither we nor the readers), then remove it again. The link to the rubric is already in the OUR MOVEMENT block, and our news is called.
As an option heading 365, try to shoot a videoabout us and Yegor (sort of video podcasts), it's much easier than writing articles about us that we don't write and therefore there are very few personal things on the blog. If you have any ideas on what can be captured on video, write in the comments.
We will try to write this year a little more aboutEgor and a little more articles from Daria, her opinion. Thus, the blog will be more balanced, informational articles will alternate personal. Again, who is not interested in personal, can not subscribe, there is a choice.
I really want to make a platform for communication. I see that sometimes she misses her blog. There, people will be able to create topics for discussion or ask questions. The theme will not be the same, but about the same as on the blog (travel, Tai, children, anti-consumption, etc.). Actually, again, you can go only in the section of interest. We already had a forum, but it didn't go, perhaps because we didn't do it at all.
Other authors will be involved in writing.articles, both on a voluntary and on a fee basis. But you can not worry, such articles, as well as a platform for communication, will be highlighted in a separate section. The ability to read only our blog will remain.
Surely, there will be some minor changes andsamples. For example, announcements of future articles have already appeared in the sidebar on the right (Soon on the blog!), And you can see what will happen next week. From the same planned trivialities: Donate button in a prominent place; a normal map with all the places where we were and links so that you can go directly to the article; Any convenient feedback form or question-answer rubric (can it be reformal?); polls in the sidebar and so on.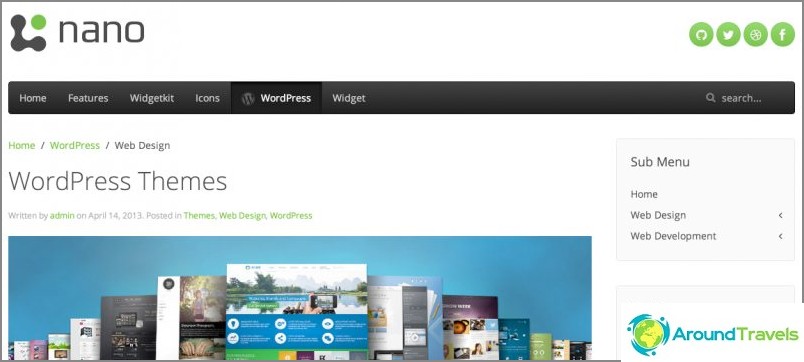 Don't ask for specifics yet
I do not know how everything will look and whenI'll do it all. That is, thoughts are different, a new template has already been selected, and a couple of forum plug-ins have been tested, but a full understanding will probably come only in the process.
Other directions
In short, I will write another small list from which I will choose, and what else to try to do next, maybe in 2014, and maybe later. By results, I will naturally accomplish my goal
Sales of something tourist (like a mini online store). Maybe some backpacks or something for camping ... No one knows a good affiliate program? With it you could start.
To promote the topic of paid consultations on a blog, otherwise I almost never advertise it anywhere. Make landing page and all that.
Paid course in Thailand. However, this is a separate time-consuming direction, and it embarrasses me to use the classical principle of information business with its sickening selling pages, and without them there will be no sense.
There is a desire to spud any other countrybesides Thailand, for example, European. But this is how it will turn out, because without a family I can't leave for a long time, but it's not a fact that I can. Ideally, in the summer and autumn it would be screwed somewhere where Yegor can work out and breathe the sea air, and I would study the country.
WhiteLabel for flights and hotels, both on the blog and as a separate site. The site is already separate, just deadly and God forbid brings 1500 rubles per month.
P.S. In fact, I wrote all these lists for myself too. I will glance sometimes in order not to stray from the course.
Life hacking 1 - how to buy a good insurance

Choosing insurance is now unrealistically difficult, so to help all travelers, I compile a rating. To do this, I constantly monitor forums, study insurance contracts and use insurance by myself.

Life hacking 2 - how to find a hotel 20% cheaper

First, choose a hotel on Booking. They have a good offer base, but the prices are NOT the best! The same hotel can often be found 20% cheaper in other systems through the RoomGuru service.

Discount hotels