Having received another letter asking whatI use photographic equipment, I decided to write a small post on this topic, so as not to repeat more. I am not a professional photographer and I do not pretend to him. The experience of communicating with the camera is calculated for several years. I did not go to various courses (although the desire arises from time to time), I did not read clever books, so everything that is written here, the opinion of the teapot, keep in mind
The content of the article
The list of my equipment at the moment
I decided to update and rewrite the post a little about myphotographic equipment, as its composition has changed quite a lot. An almost complete upgrade was made and now, I hope, in the next few years, nothing more will be needed.
Progress does not stand still and I switched to mirrorless just a couple of years ago. First, it was the Sony a6000 camera (crop 1.5) with a single Sony 18-105 f4 lens. This kit is more compact and less in weight than my previous Canon 7D + Canon kit 24-105 times in 2. Probably, when you don't earn money directly from photos (weddings, photosessions, etc.), then after a while you want compactness and you don't I had to carry a whole photo backpack every time. Read my post Which camera to choose a novice photographer.
After 2 years of using Sony's mirrorless and sheIt already seemed to me too big with a lens of 18-105: you can't put it in your pocket, but it also takes up a decent place in a city backpack. Nevertheless, after a couple of years, I changed the Sony a6000 to the Sony a6500, the lens remained the same. This is a new model, but in the same line, where they made a touchscreen and added a stabilizer built into the carcass.
I also bought a Canon G7x mark 2. Initially I took it for a video selfie (I tried to shoot a video), but also in terms of travel blogging, it showed itself well. Built-in stub, touchscreen, quite comfortable focal (24-105) with a non-interchangeable lens, and very compact! I traveled with her for 2 months in Thailand and she was with me every minute, she was in her pocket. To be honest, I'm not sure that now I will take Sony with me so often. Of course, Sonya shoots much better, the focus is faster, in the dark and iso working up to 3200 compared to 800 for Kenon, but our compactness is everything.
Also recently I started doing andphotos on the phone. Tell me someone is at the beginning of blogging, I would not believe it. But modern smartphones (I have a Galaxy S7) make pretty good photos under good shooting conditions, especially if it is not an artistic picture, but documenting some moment, an inscription, a shop, a menu in a cafe, etc., that is what you often need travel information bloggers.
Past Kits (all sold)
- Mirror Canon 7d and Canon 500d.
- Sony HX5V soap dish, was bought sometime for shooting HD video.
- Lenses, 3 pieces: portrait Canon EF 50 f1.4, canon 24-105L and shirik Tokina 11-16 f2.8
- A photo bag for the carcass and photopack KATA 3N1-33.
- The tripod is big and small.
- The remote control - has long wanted to shoot the stars and generally at night on a long exposure (how to shoot stars).
- 2 polarizing filters for different diameters, conventional protective filters, and other trifles.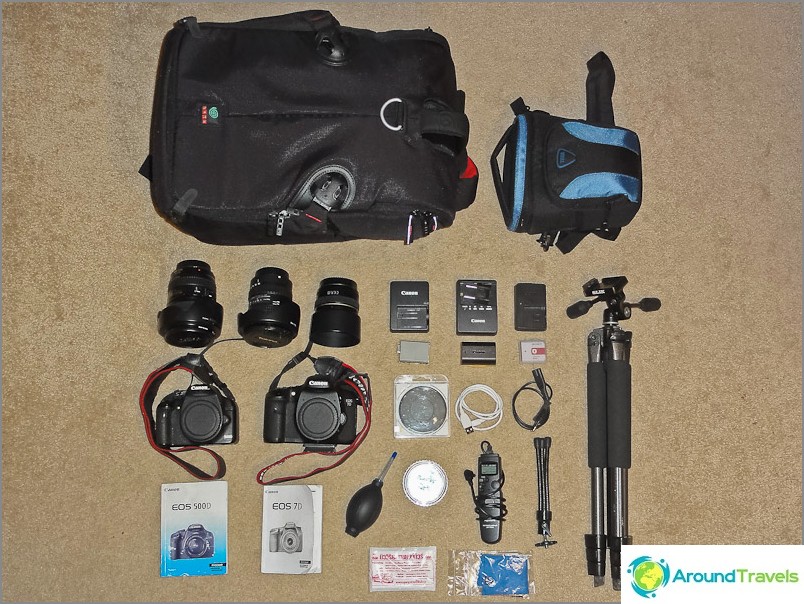 Once, quite a long time ago, I shot on the usualsoap box just for the family archive, so to speak. The first few articles on this blog are just with photos from this soap box. But as time went on, requests grew in relation to the photo, and travel has become more frequent. Therefore, I bought a Canon 500d SLR. It so happened that he joined the ranks of the Kenonovods. After a year and a half, it became clear that the camera would be better. I began to miss the normal autofocus, a large ISO, more convenient control. Therefore, acquired the Canon 7d and a pair of lenses. Well, and then went mirrorless camera.
Separately, I want to write about the wide-anglelens tokina. When I first fastened it, I just marveled at how much everything could get into the frame. There was a feeling that the blinders were removed from me, and I finally see the world. Yes, it is not always applicable, but in some cases it is even very. And although now I have no breadth for Sony, I periodically try to buy it, it really hurts me to like this type of lens.
Principles of shooting on a journey and in general
I have my own principles regarding taking photographs. I wrote about them in detail in a post - How to take pictures while traveling - ready-made scheme and common mistakes.
I rented in moderation. If conditions do not allow, in my opinion, I often don't even try. But if you really like the view, then I can stand there for half an hour and calmly make 50 photos with different settings and angles. Here you just have to understand when and why you will shoot. One thing is for the sake of pleasure (for example, a starry sky), another thing is for a blog, when it is very important to make informative pictures.
Often I take a few pictures with different settings in order to see on the camera screen what is best. If anything, here I have a post about basic digital camera settings
In the dark I try to use a tripod (for example, mini), or just do not take off. Because a blurred photo, in which nothing is clear, I still will not post later.
I try not to take photographs of "I, like a column, standing near a monument," I do not like. But I do a selfie in order to later add to the post and show that it was really me there.
I also lay the time for photographing on trips,so friends are not always happy when I take a camera - they have to wait a lot for me. Ideally, it is better to do 2 trips: one for seeing with your eyes, the other for taking photographs.
Photo processing
I take all photos in Raw format and importin Adobe Lightroom, driving at import through a filter (preset), which I made for myself. Then manually, I tweak the balance of color, brightness, etc. in some of the photos, I crop it, and sometimes I add the preset Matt's Deep Blue Sky. True, my preset is already called differently and its parameters have been adjusted. For a blog, I export photos in the size of 2048px in width, and I impose a watermark in the same place in Lightroom. I have a hosting of 50 gigs, so you can not save on the amount of downloaded photos.
Especially for using Lightroom almost nothingdo not read. I just tried it by typing, and only when I wasn't clear on the Internet. Therefore, I still don't know some tools in it, but I don't use them. I rarely use Adobe Photoshop, only for some deep processing. I have a very detailed post about photo processing - How to process photos in Lightroom.
Photo storage
Previously deleted a lot of photos, probably 50%, butSince then, much time has passed. I began to make less shots, more often to shoot what I need. Therefore, sometimes I do not delete anything at all. Of course, all smeared and with unsuccessful angles go to the basket.
All photos are stored on an external hard drive4 TB in size. I keep in those formats in which I shot - from a mirror in RAW, from a soap box / phone in Jpeg. Video sources are not always stored, and ready-made videos are in AVI or MP4 format. In addition to the main base, I make 2 backups, one to the second external hard drive, the second to the Dropbox cloud. More wrote about everything in the post How to store photos .
Life hacking 1 - how to buy a good insurance

Choosing insurance is now unrealistically difficult, so to help all travelers, I compile a rating. To do this, I constantly monitor forums, study insurance contracts and use insurance by myself.

Life hacking 2 - how to find a hotel 20% cheaper

First, choose a hotel on Booking. They have a good offer base, but the prices are NOT the best! The same hotel can often be found 20% cheaper in other systems through the RoomGuru service.

Discount hotels