Ao Nang is conveniently located in relation to the mainattractions, so it is well suited as a base for exploring the interesting places of Krabi province. Ao Nang has a lot of housing and tourist infrastructure, there is where to stay and where to go in the evening (compared to other places in this region), while you can easily get to any attraction. Most tourists from Aonang travel to the surrounding islands to their beaches. The most popular nearby islands are Koh Poda, Koh Hong and Chicken Island, while the closest beaches with sights are on the Railay peninsula. It is easy to reach by longtail (long tail boat). The trip takes only 10-15 minutes.
You can also take a boat to Phi Phi Islandor to Koh Lanta. These are the major attractions of Krabi, but they are located away from Ao Nang. If you go the other way, deep into the mainland, you can see the sights of Krabi town, as well as the Emerald and Blue Lake, the hot springs of Saline Hot Spring Khlong Thom, the Ron Waterfall waterfall, the Khao Pra park Tiger Temple, Khao Phanom Bencha National Park, Huai To Waterfall Waterfall, Tha Pom Mangrove Forest, Rope Park Tree Top Adventure Park.
Most distant sightslisted above are about an hour from Ao Nang. In addition, you can fly over the land on a zipline, ride a canoe, swim with an aqualung or simply with a mask, try climbing, trekking and horseback riding - there are many activities in Krabi for every taste.
The content of the article
What to see in Krabi and Ao Nang
Russian speaking excursions
You can ride all the sights of Krabion your own, or you can buy a tour on the spot, in one of the street travel agencies. If you have little time to search and want to get the option without much hassle, you can order a tour, both ready and with an individual program. True, the maintainer will only speak Thai or broken English.
But you can find Russian guys who are engaged in organizing excursions in Krabi. I know some of these, and who have everything officially. And then there are a lot of illegal immigrants in Tae, look for them later, if that.
Peninsula Railay
On the peninsula you can see very beautifulWest Railay and Phranang beaches, as well as Ton Sai - a beach for rock climbers. Almost steep cliffs rise over the very beach, on which it is interesting to climb. If someone is not keen on rock climbing, he can try his hand by taking a rock climbing lesson right on the beach. In addition to the beaches at Railay, Phranag Nai and Phranag Cave caves are also interesting. The latter is known as a cave with a phallus and with it, of course, a legend. There is also an observation deck on Railay, offering breathtaking views of the peninsula, beaches and surroundings.
And in the depths of the peninsula hides the so-calledPrincess Lake (or Princess Lagoon) is a small pond with azure water, where you can swim and where you need to climb the rocks in the jungle. It is a difficult journey, but adventure is assured. Just like everywhere in the area, on the beaches of the peninsula you can rent a kayak and ride along the rocky coast. Read more about Reilly attractions Peninsula Raleigh in Krabi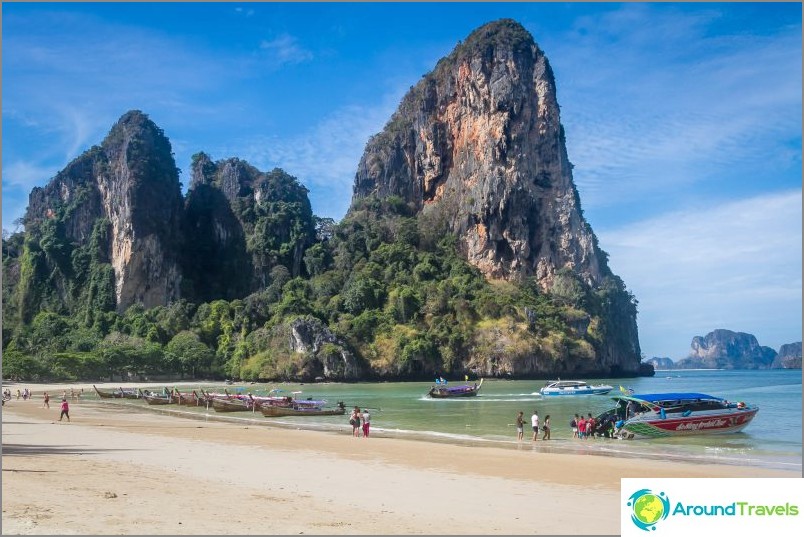 Emerald Lake (Emerald Pool)
Natural park with three small lakes -Emerald Lake (Emerald pool), Crystal Lake (Crystal pool) and Blue Lake (Blue Pool). This place has many names, for example Crystal Pond or Sa Morakot in Thai. From Aonang, these sights are located about 70 km to the east. Emerald Lake (Emerald pool), is the most popular among tourists. On weekends, many Thais come here, so it is better to choose to visit a weekday. From the parking lot and the ticket office, with a small market spread between them, to the Crystal Pool Lake you can walk along the path through the rainforest. The water in the lake is clear, clean and of very beautiful color.
Blue Pool or Blue Lake is further inthe depth of the forest, a couple of kilometers from the first one, and it is impossible to swim in it, just walk along the nearby walkways, but it is very beautiful and the color of the water is unusual, as if glowing from the inside. Between them is the same, the Emerald Lake, which is available for swimming and has a pleasant emerald water color. Read about the sights of this park. more here.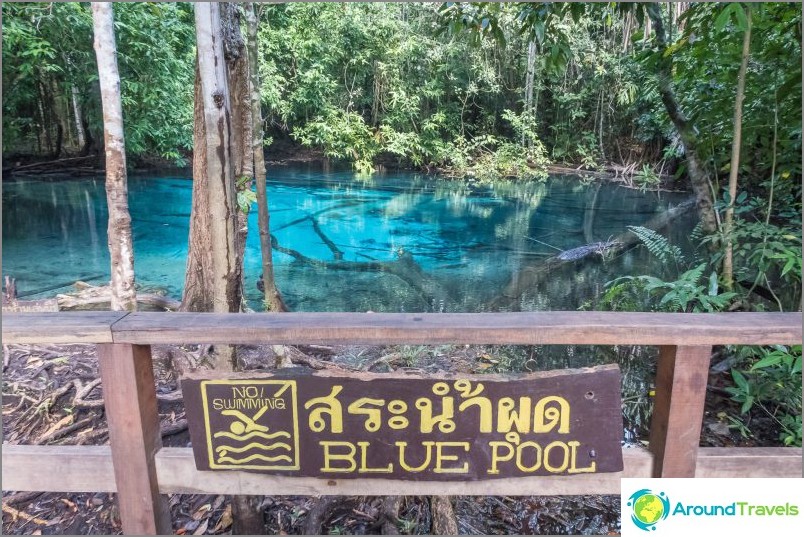 Hot springs with waterfall Namtok Ron Hot Stream Waterfal
One of the most interesting sights in70 km from Ao Nang is a large natural park with thermal springs and a small waterfall - Hot Springs Waterfal and Ron Waterfall. Hot springs with a waterfall and three lakes from the point above are located literally a few kilometers from each other, so that they can be viewed in one go. You will find here a system of natural and man-made pools located in the park. Natural thermal springs form a stream, which cascades along the slope of the coast, between the roots of trees and flows into the river with a small waterfall. Read more about this Krabi province attractions - Hot stream waterfall.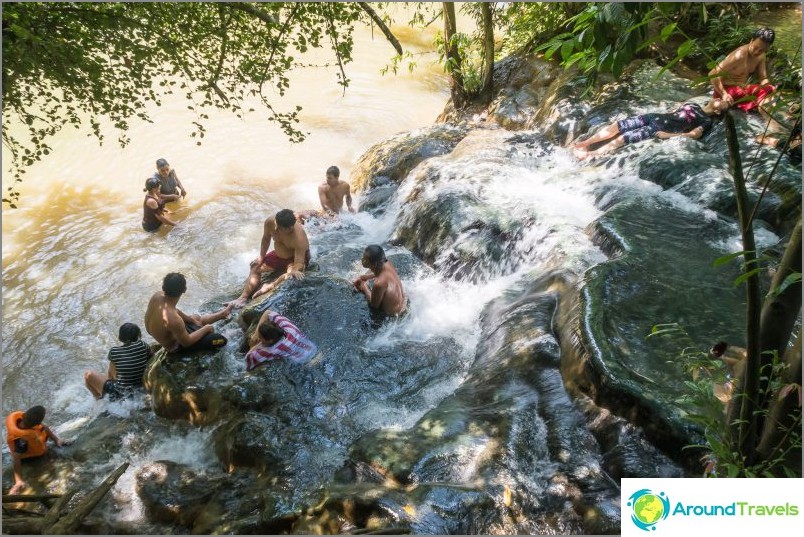 Temple of the Tiger in Krabi (Tiger cave temple, aka Wat Tham Sua)
Another popular place in Krabi is the Tiger Temple.(Wat Tam Sua). This place is located near Krabi town. On the large territory of the complex there are several interesting objects - the tiger cave itself with the figure of a tiger (why is the tiger? Of course there is a legend about it!), A pagoda with tiger statues, a pond, a monk's settlement with tropical forests and caves. As well as one of the main attractions, it is a staircase in 1237 steps, leading to the mountain, to the statue of the golden Buddha, offering a breathtaking view of the surroundings. More about all the beauties of the Tiger Temple - Tiger Temple in Krabi (Wat Tham Sua) and its surroundings.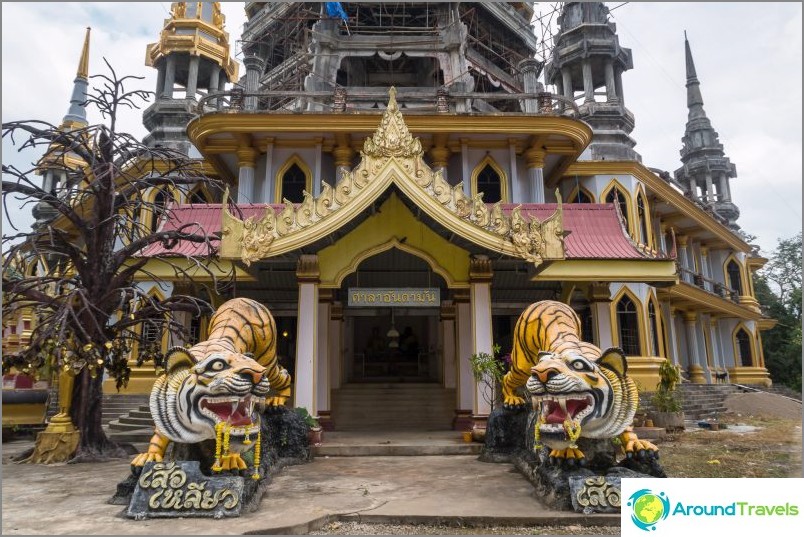 Poda and Chicken Islands
Koh Poda and Chicken Island - the most popularboat trips from Ao Nang and other Krabi resorts. The islands of Poda and Chicken are the largest of the group, but there are also smaller ones around. During low tide, a sandy spit is exposed in this place, where you can walk, enjoying the views of the islands, azure water and Raleigh rocks. This place is interesting snorkeling and beautiful beaches with white sand and azure water. The islands are located a few kilometers from the coast in the area of ​​the Railay peninsula and you can reach them by long tail boat in about half an hour.
Monkey trail
The trail from the main beach of Ao Nang, leading through a mountain covered with forests, to the neighboring Pai Plong beachwhere Centara Grand Beach Resort is located. The trail is not long, it starts from the left edge of Ao Nang beach (if you look at the sea), where the river flows into the sea. It is necessary to cross the river and wooden walkways with handrails and steps upwards will immediately begin. In addition to the beautiful views and the actual visit to the nearby beach, the trail is interesting because there lives a large colony of monkeys. They are very, very much, including females with young cubs. It is interesting to observe monkeys, you can photograph them, but whether to feed them or not is a moot point. Monkeys are used to people, but sometimes they behave quite aggressively if they see food. They can even take away bags and things. It should be borne in mind that these are wild animals that can attack and at least bite.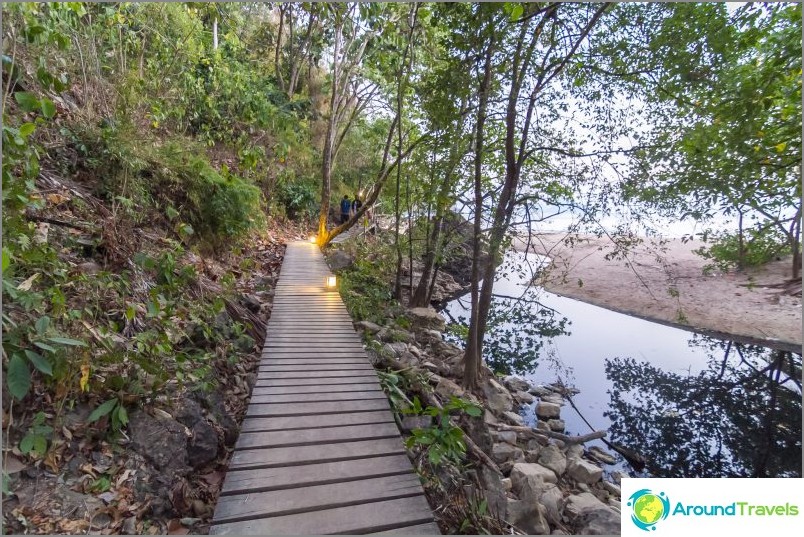 Krabi catfish farm - Giant Catfish farm
You can drive to the farm by the road leading from AoNang to Klong Muang beach. This place is next door to the Elephant Safari. There are many interesting things on the farm, you can spend a few hours here. Not only catfish live here, but also other types of fish, various animals, some of them can be ironed and fed. In addition, you can walk through the jungle, there are gazebos, bridges across the river, a cafe and even a place for swimming in the large, picturesque farm area. It will be nice to take a walk with the children here, the farm is also good for picnic. The price of the entrance ticket includes a bag of fish food.
Elephant Safari - Elephant Safari
Next to the som farm, on the road from Ao Nang toKlong Muang beach by the road has a place with a small parking for cars and a pen for elephants, from where you can ride them through the jungle. Hourly walk costs around 800 baht. Elephants can also be fed for a fee, food is sold there too. If you have not ridden on elephants in Thailand, it will be interesting, especially for children.
Thai Boxing - Thai Boxing Stadium
At the stadium you can watch fights in whichincluding children involved. Thai boxing is an amateur spectacle, but this is one of the symbols of Thailand and many tourists want to see the fight with their own eyes at least once. In the same place at the stadium, if you wish, you can take Thai boxing lessons.
Snake Farm King Cobra Snake Show and Monkey School
Traditional tourist attraction in Thailand- snake farm, where you can watch the show, listen to an excursion about different types of snakes, look at them in serpentarium and buy something themed in a souvenir shop. In addition to shows with snakes in this place also arrange a show with the participation of monkeys. Children will be interested to see animals. Adults, if they have not been to such shows, will also be curious once.
Horse Riding - Krabi Nature Horse Riding
15 minutes from Ao Nang there are stables from where you can ride through rubber, pineapple and palm plantations through the rainforest and admire the panorama of beaches and islands away.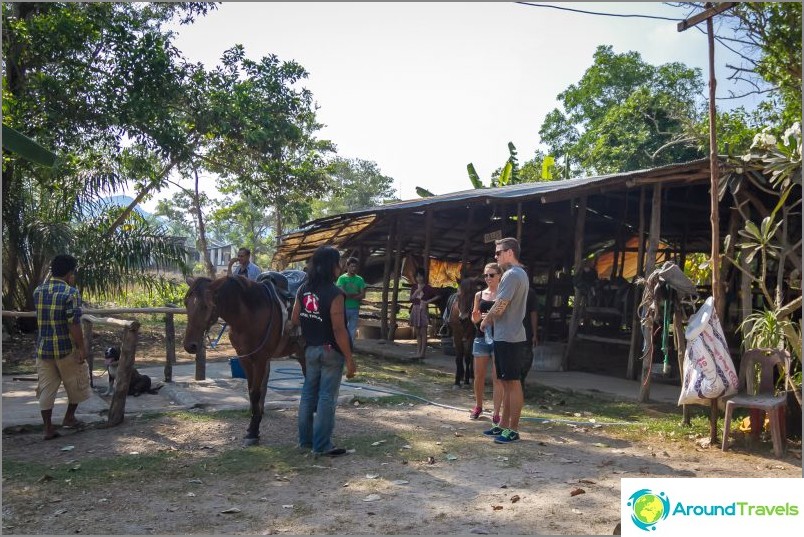 Ziplines and Bungee - Tree top adventure park
For lovers of active holidays in Krabi there isexcellent place - rope park Tree Top Adventure Park Krabi. There are several trails of varying difficulty, passing which you need to climb up, pass obstacles, and climb platforms that are located in the trees. Trails are marked in different colors, from green to red. Suspension bridges, bungee, ziplines and platforms are located at different heights, from 3 meters to 20, in accordance with the complexity of the route. I personally love these things, you can have fun 1-2 hours, both alone and with a group of friends.
Day Trips to the Islands
The most popular tours from Aonang are walks tothe islands of Koh Poda, Koh Hong and Chicken Island and other smaller uninhabited islands of the bay. Here are beautiful beaches almost untouched by civilization, stunning cliffs, pristine tropical nature, clear water with many inhabitants. Boat trips to the islands are one of the most popular excursions from Ao Nang. In addition to the small neighboring islands, Ao Nang can also be taken to larger and distant islands of Phi Phi or to Koh Lanta.
Water activities
Kayaking, rafting, snorkeling, diving,fishing tours - all of these activities are available in and around Ao Nang. Kayaks or surfboards can be rented on almost any Krabi beach, and raft and dive tours, fishing tours are sold at most street travel agencies in Ao Nang. Snorkeling is almost always included in day trips to the islands.
Trekking on Mount Tub Kaek
Northwest of Ao Nang, there is a hiking route toMount Tab Kak Hang Nak, where you can escape for a couple of hours from civilization. The highest altitude is 565 meters above sea level, the length of the route is about 4 kilometers. Entertainment is not for the faint of heart, you need to prepare yourself mentally and physically, wear sensible sturdy walking shoes and storm the mountain seriously, preferably in the morning, so as not to die in the heat for the next 3-5 hours. At the entrance you will be recorded in a notebook lifeguard. Given that there are two dangerous places on the top, which are chosen by tourists for selfies, such precautions are far from superfluous. Read more about the climb in the post. Tub Kaek Hang Nak.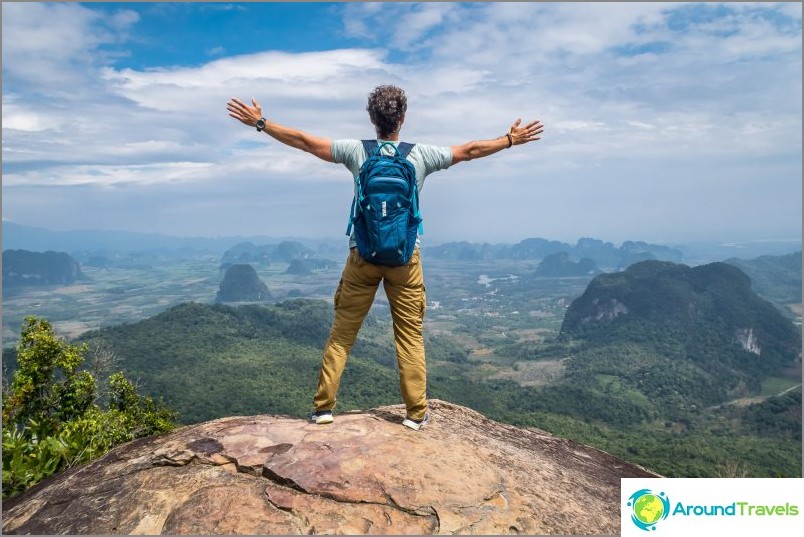 Krabi Kart Speedway Speedway
1 km long race track and paintballKrabi Paintball Park is located nearby, roughly midway between Krabi Town and Ao Nang. The racetrack will be interesting for both children and adults. But children here can ride cars only with adults.
Rock climbing
Rock climbing is one of the main activities andKrabi characters, especially for the Railay Peninsula, where Ton Sai Beach has the largest climbing spot and party. Even if you have never tried this sport, you have a good chance to start, in Krabi there are all conditions for this, including experienced coaches who give lessons, conduct thematic excursions.
Sightseeing map of Krabi
Sights of Krabi
Sights of Krabi:


Life hacking 1 - how to buy a good insurance

Choosing insurance is now unrealistically difficult, so to help all travelers, I compile a rating. To do this, I constantly monitor forums, study insurance contracts and use insurance by myself.

Life hacking 2 - how to find a hotel 20% cheaper

First, choose a hotel on Booking. They have a good offer base, but the prices are NOT the best! The same hotel can often be found 20% cheaper in other systems through the RoomGuru service.

Discount hotels