About Thai supermarkets I already wrote, but about the popular stores7-eleven (7/11) no. It is urgent to correct this omission, because in them a lot of things are sold useful for the traveler, and they are found at every turn. Until now, we find something new and previously unnoticed ... Although it would seem that the shop is small, what else could it be?
There are also Family Mart minimarkets thatThe assortment is very similar, but I personally like 7/11 more, and somehow I am more accustomed to having everything inside. In general, I invite you to a small tour of this store.
The content of the article
general information
What you can pay
For a long time at 7-eleven you could only payin cash. But in 2017 they began to accept Visa cards. Unfortunately, so far only Mastercard and them in the span, apparently could not agree, or else for some reason did not fit.
When paying by credit card there is a restriction, the purchase must be from 300 baht.
How to find 7-eleven
Enough to take to the streets and look around. If you are not in a particular perdy, then somewhere on the horizon you will see him, he has a very recognizable sign. True, there are fakes with stripes of the same colors, but 7-eleven will not be written there, but something similar.
You can also open Google Maps and search there, he will tell you, he knows most of the minimarkets.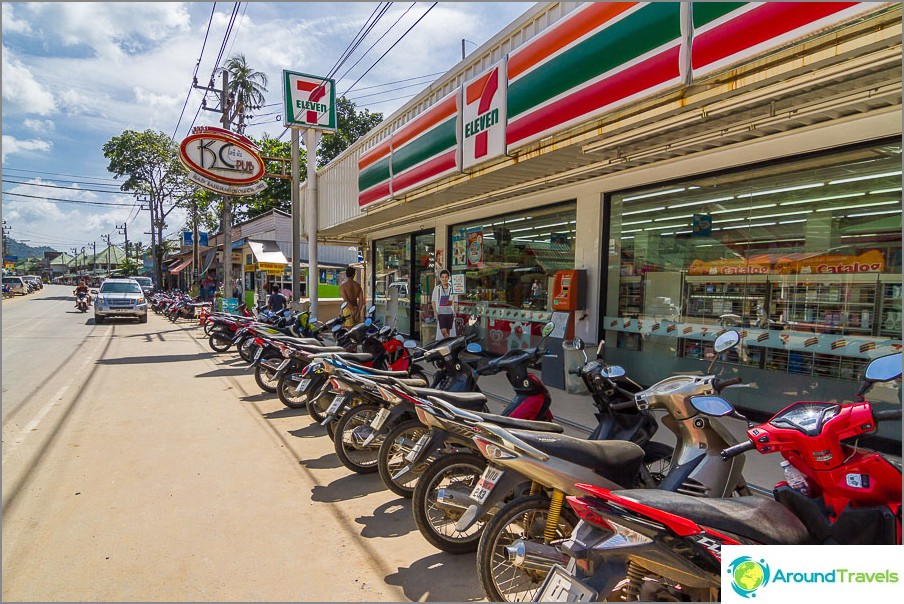 What sell in 7-eleven
You will not find here normal products, such asfruits, vegetables, etc., mostly just fast food. These stores are convenient to travel in Thailand, when the cafe is far away or there is no time for it, and you need an emergency snack. Of course, fans of healthy food will have to pass by, then they will be able to purchase only water for themselves, but the rest will find something to profit.
So, I will try to enumerate from memory what can be bought in 7-eleven. Just remember, the shops are different in size, and their range because of this is different.
Ordinary products
Milk (plain, chocolate, fruit), yoghurts,drinking yoghurts (for an amateur, IMHO as milk flavored, not yogurt), betagen (Thai milk drink), soy milk, coconut milk, rice in packs, palm / sunflower oil, butter, canned fish, sauces, sausages, eggs , oatmeal porridge in bags, condensed milk, honey, instant cocoa, instant coffee, tea, water, juices. Also sold alcohol (whiskey and beer) and cigarettes.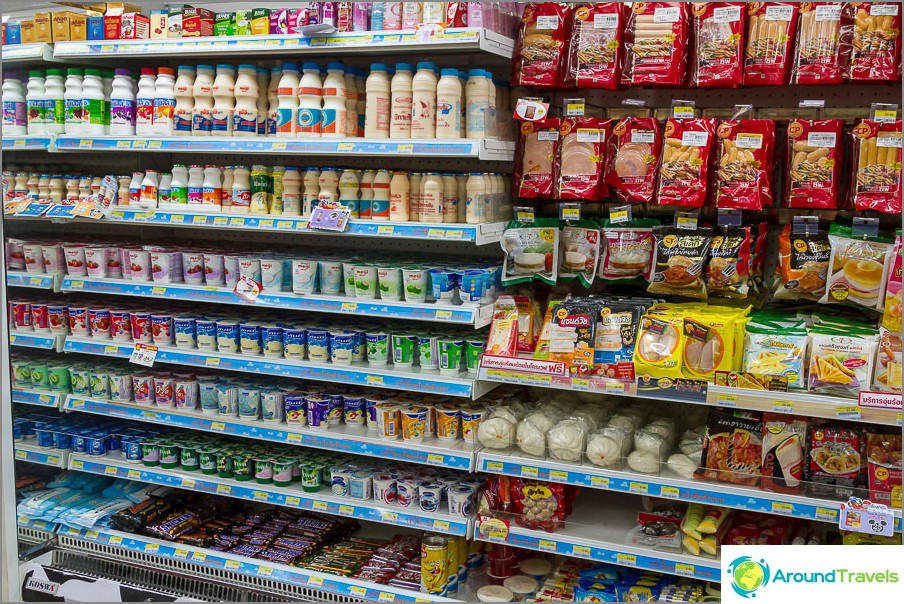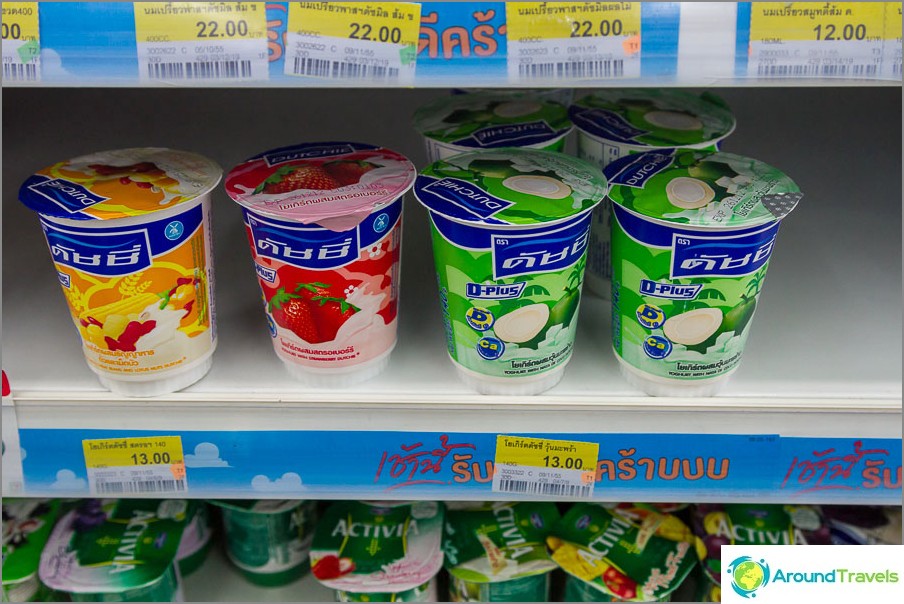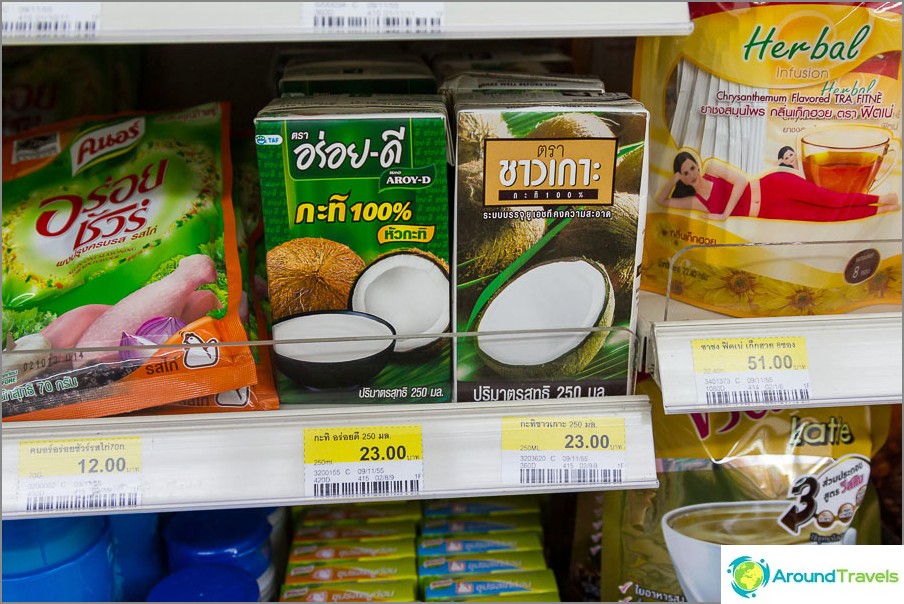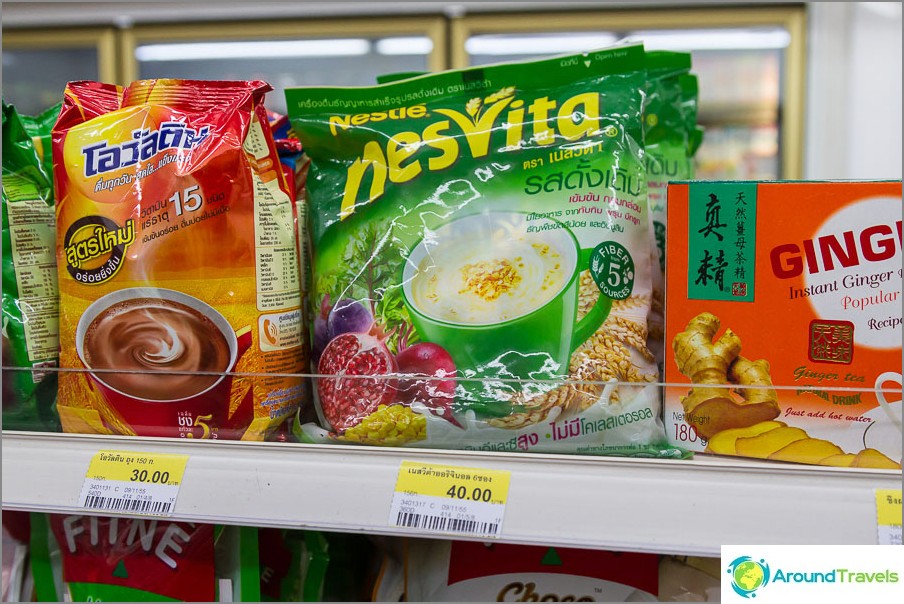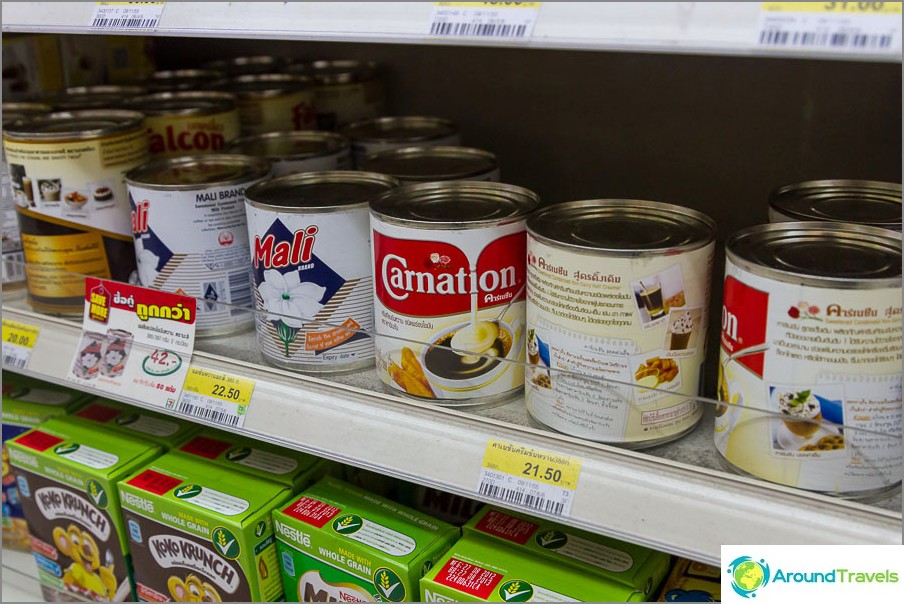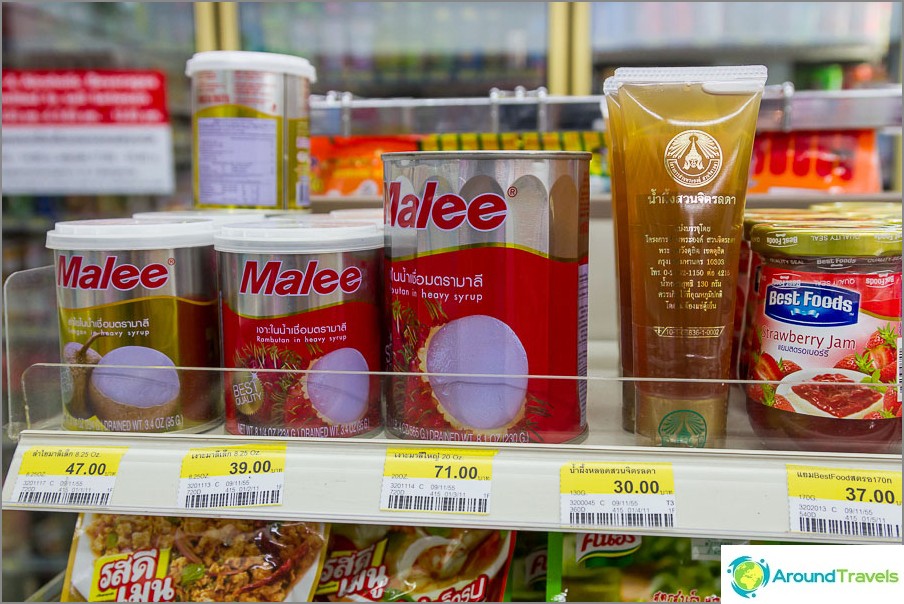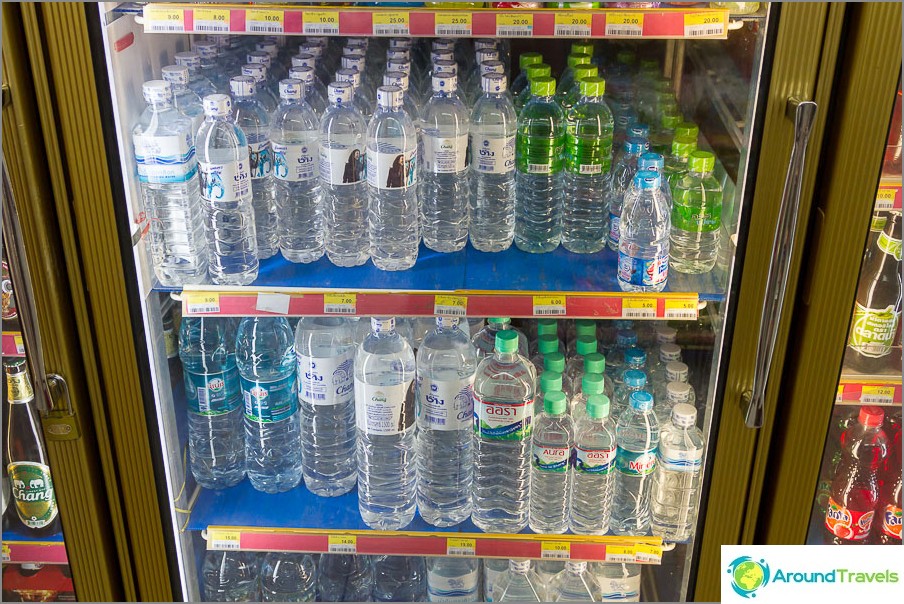 Fast food
Chips with different tastes, dried fish and squid,seaweed with different flavors, snacks, cookies, waffles, rolls and muffins, sneakers and other chocolates, nuts and seeds, "Rolton", soda, ice tea, energy.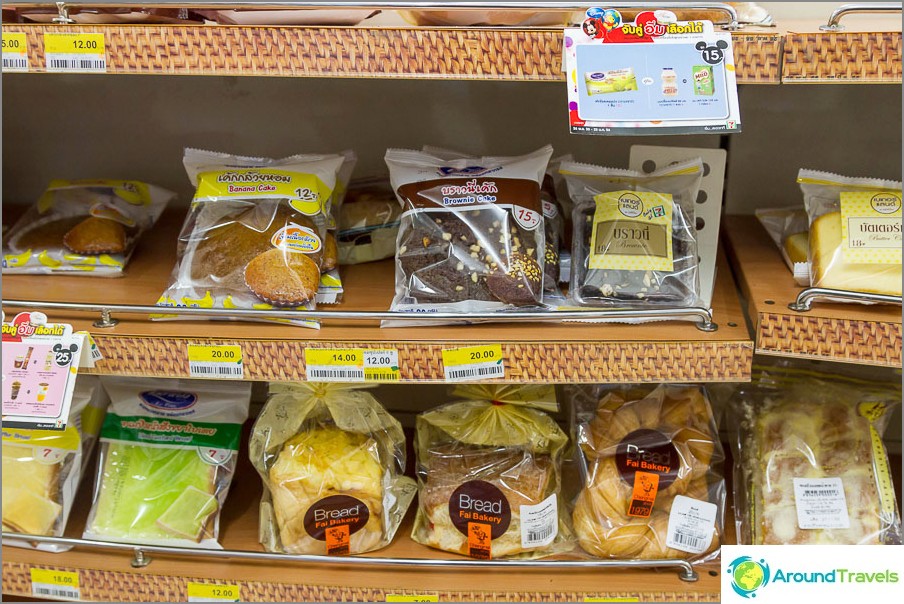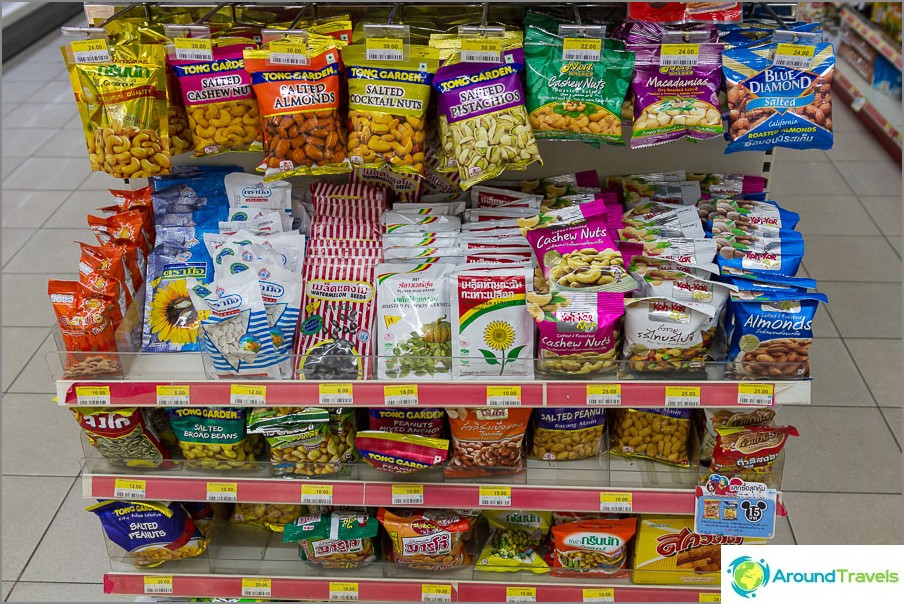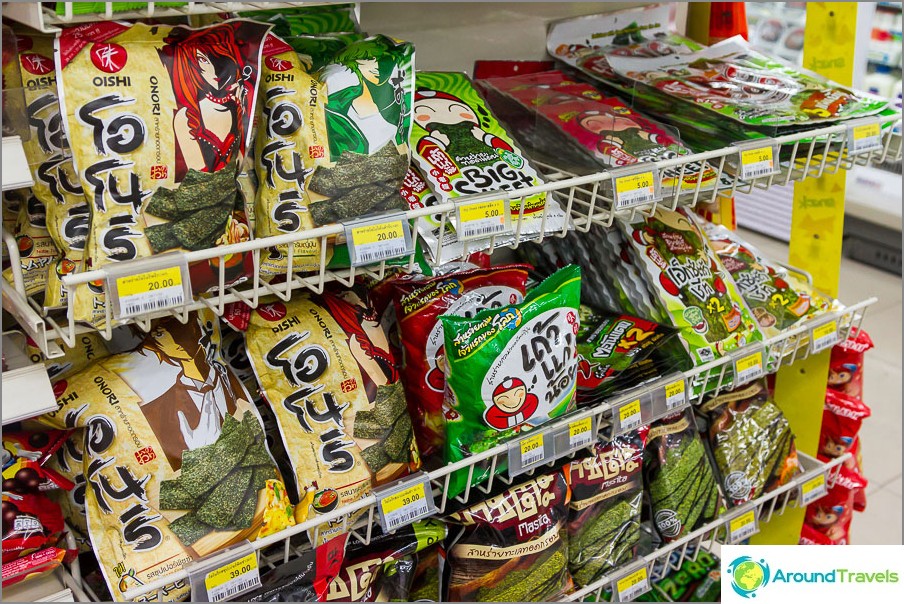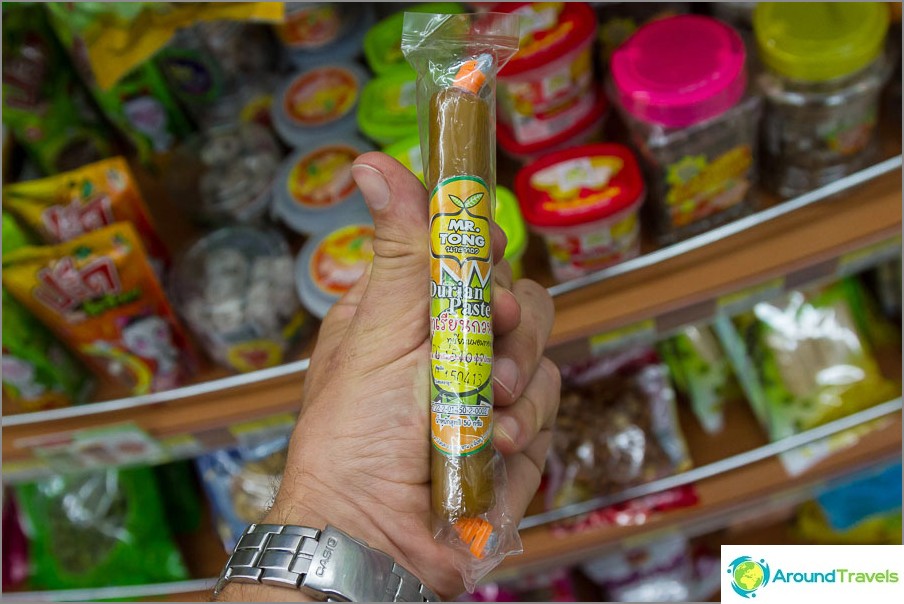 Hot meal
Sandwiches with various fillers, hotsausages, frozen boiled / fried rice with shrimps / chicken, frozen dumplings (wonton) with shrimps, hot tea, hot coffee. All the frozen can be warmed in the microwave, and the doggie to collect on their own (for example, add lettuce leaves). Spoons / forks are attached to any such food so that you can eat everything immediately.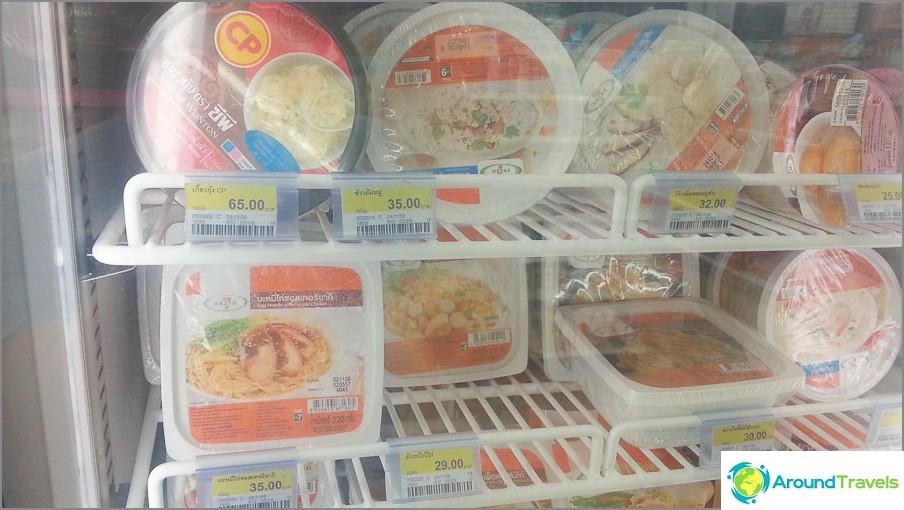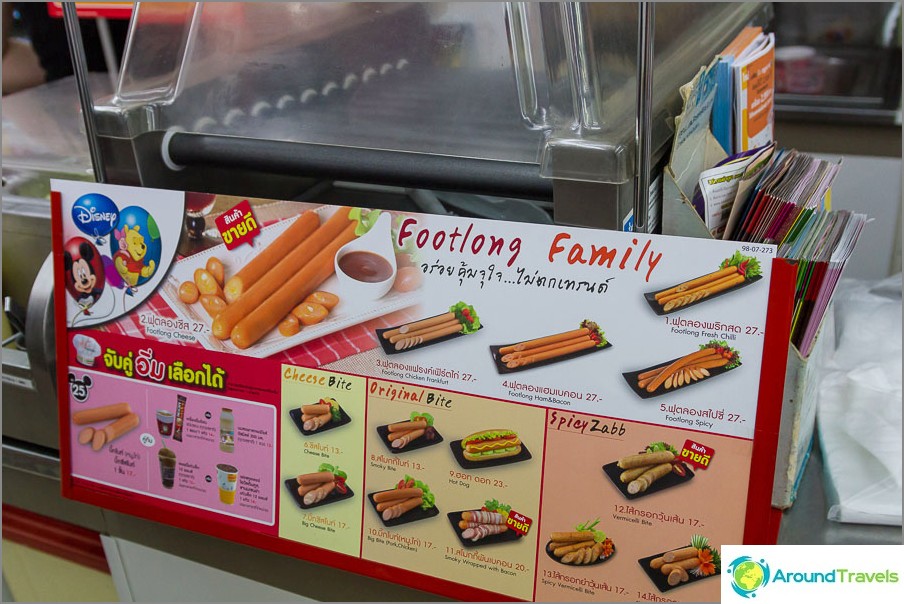 Manufactured goods
In addition to the food here you can find a lot of things.other necessary and useful. Most of all I like that there are all sorts of shampoos and toothpastes in small packages. This is true when you have a backpack, what's the need to carry extra kg.
And so there is all household chemicals, deodorants,cosmetics, sun cream, mosquito repellent, diapers, pads, cold ointment, etc. In addition, raincoats, umbrellas, tape, thread with a needle, charging for the machine, extension cords, batteries, magazines, office, spoons / forks, rubber gloves. Now I can not list everything, just do not remember. But as I wrote above, in the very small 711 the assortment is small - there is nothing but food, and then mostly fast food.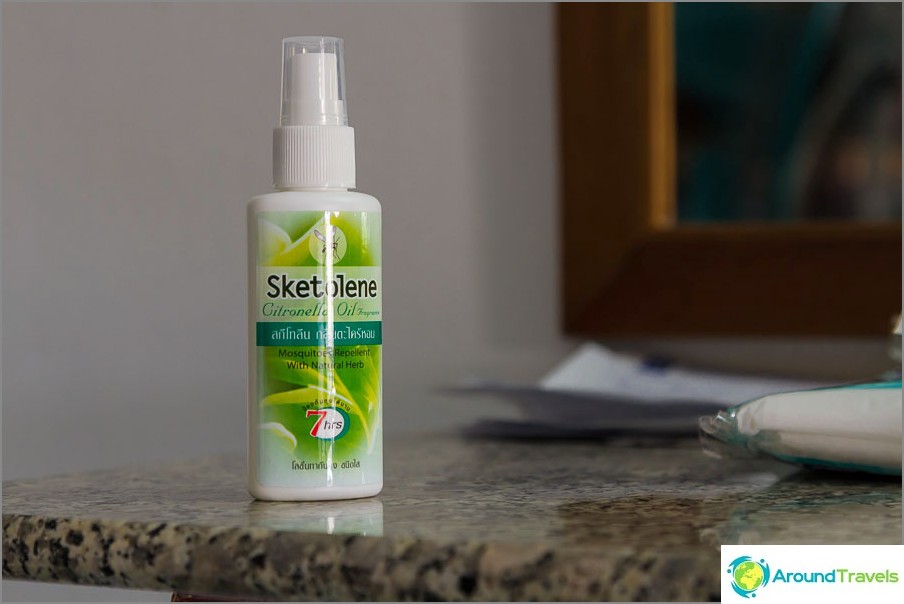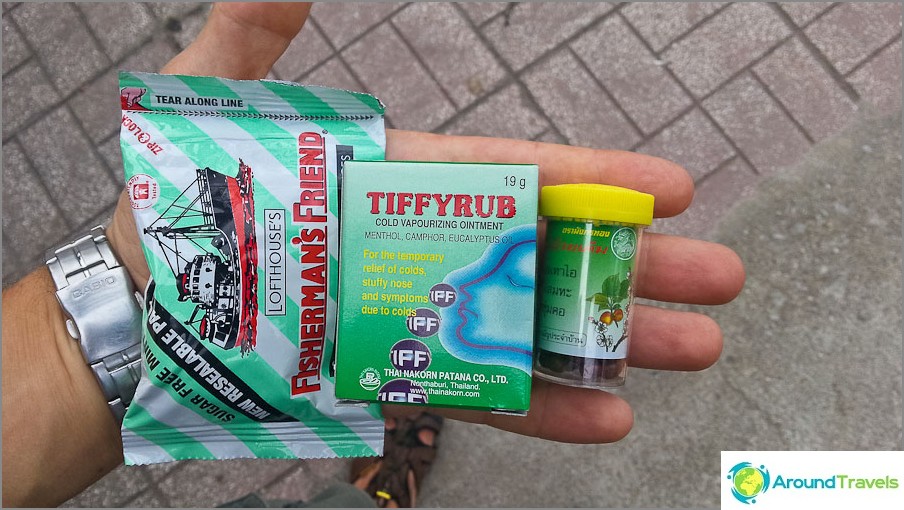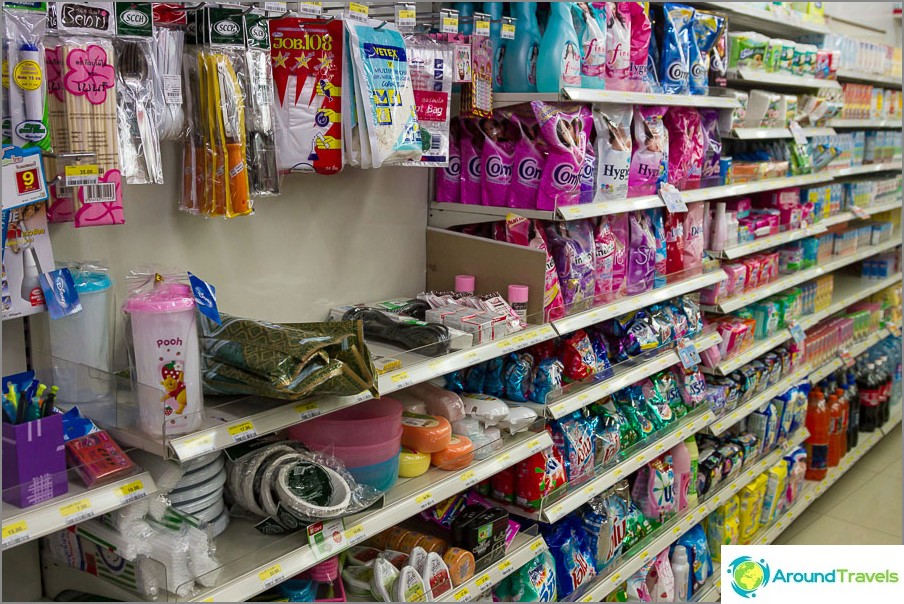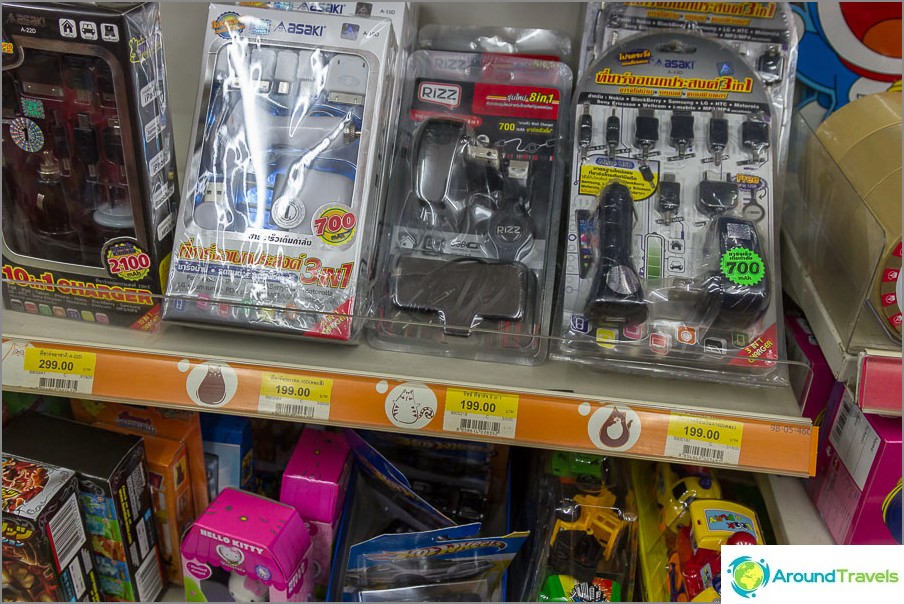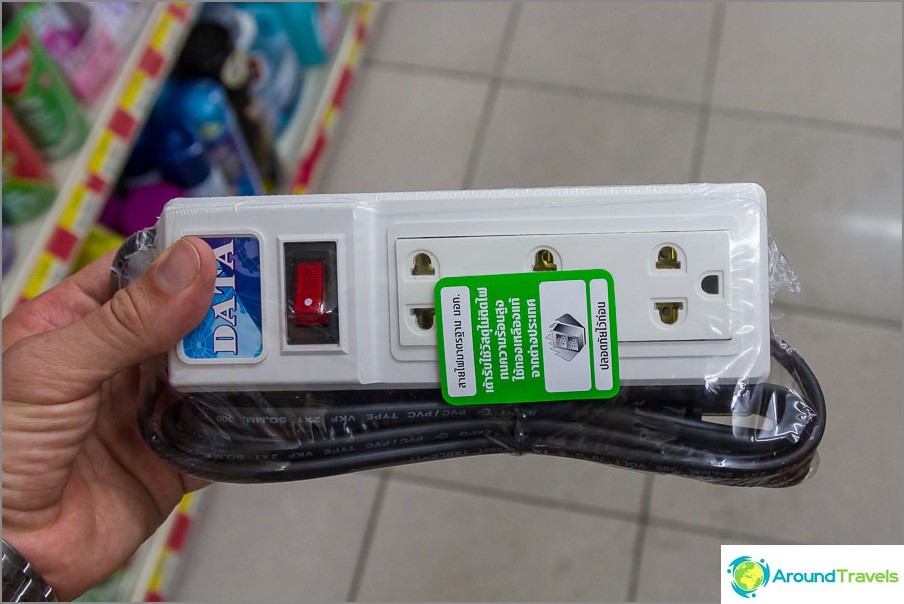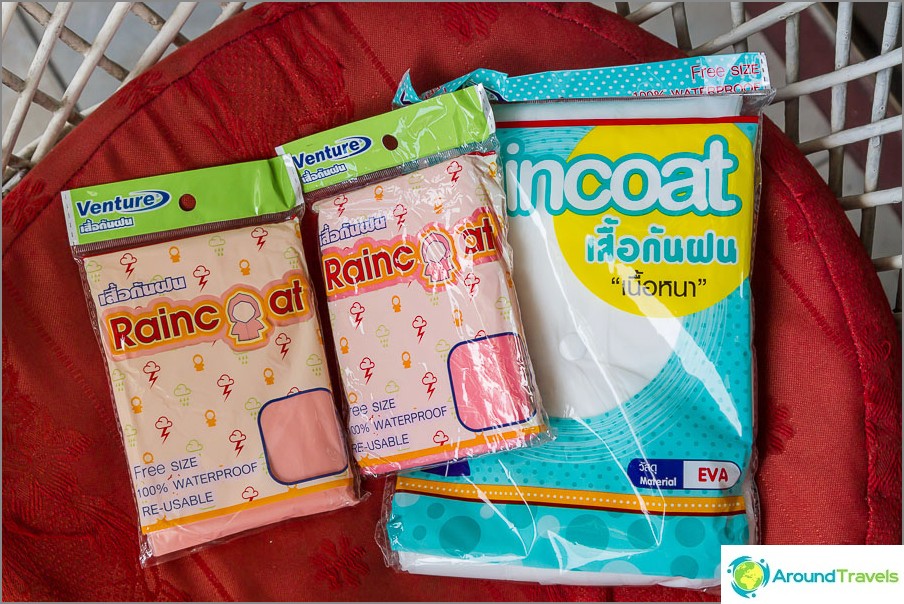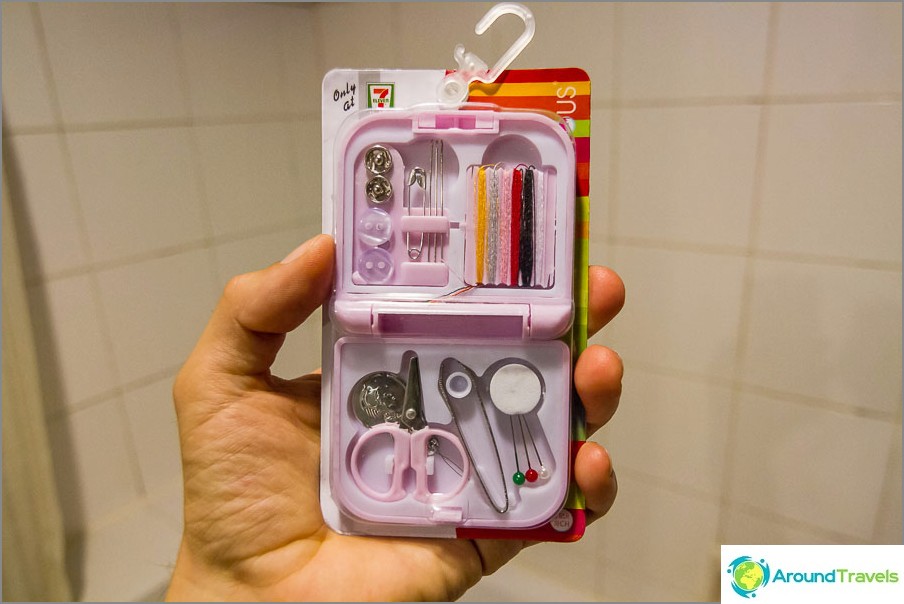 Nearly every 7-eleven also has an ATM, a scale (checking the weight for 1 baht), a couple makashnits and urn!
Services
Not everyone knows, but you can also put in the Sevensmoney on the mobile phone numbers of the main Thai operators (True Move, Dtac), pay bills for e-mail, Internet. You can replenish the balance and pay bills at the checkout, with the help of sellers, or you can do it yourself at the terminal inside the store or at the entrance.
In the shops of 7-eleven, you can even pay for plane, train or bus tickets purchased online. To do this, when booking, for example, on the AirAsia website, you need to select a payment through Counter Service.
Through the same Counter Service you can buygoods in Thailand online stores. This is a convenient way if you do not have a local bank card, because Russian bank cards for online shopping in Tae are unlikely to work.
Well, plus all of the above, like all networkers, 7-eleven offers a system of discounts and bonuses, holds promotions, earns points, gives out coupons and prizes.
Life hacking 1 - how to buy a good insurance

Choosing insurance is now unrealistically difficult, so to help all travelers, I compile a rating. To do this, I constantly monitor forums, study insurance contracts and use insurance by myself.

Life hacking 2 - how to find a hotel 20% cheaper

First, choose a hotel on Booking. They have a good offer base, but the prices are NOT the best! The same hotel can often be found 20% cheaper in other systems through the RoomGuru service.

Discount hotels