Six months ago, I fooled on card selection for travelbut this is not over. While searching for a card, I found out about cashbacks, the use of credit cards, the TCS ladder (Tinkoff bank deposit system), and replenishable withdrawn deposits. This whole set allows, if not to earn, to save on its costs, spending almost nothing, except for its time at the beginning. In other words, you can save money and save it.
It only seems that some commission in2% (withdrawal + conversion abroad) is a very small amount. If you take the expenditure on the card for the whole year (for example, 50 thousand rubles * 12 months = 600000 rubles), then the commission of 2% of this amount will be already 12000 rubles. To add to this a fee for annual maintenance, add the absence of a cashback of 1-2% (6,000-12,000 rubles) and the fact that the money was just without interest and did not bring anything. Total we have on average a new smartphone a year from nothing. But it all depends on what expenses, how much money in general, and what commissions your current bank has. The commission may not be 2%, but 4%, for example, then it will be 2 smartphones.
Before, I absolutely did not think about it,I used the Sberbank ruble card abroad with a not very good conversion rate, and the savings were in Alfabank on a regular account, not even on a deposit. For a couple of years of this approach, I think I lost a good amount.
The content of the article
Money storage scheme
Scheme
I brought out for myself some scheme thatpretty obvious (the advanced ones won't find anything new for themselves here), but I didn't know anything about it until I started reading the forums. Surely, you can somehow do something, if you tell me, I will be glad, in fact, I do not pretend to the only correct option. Here are the main components:
The bulk of the funds lies on the deposit with high interest rates, for example, in the Lesenka TKS.
The intermediate part lies on the replenishable withdrawn deposit or on the money-box.
Money to pay in stores is spent with a credit card.
The cash is deducted from the debit card, which has a percentage on the balance.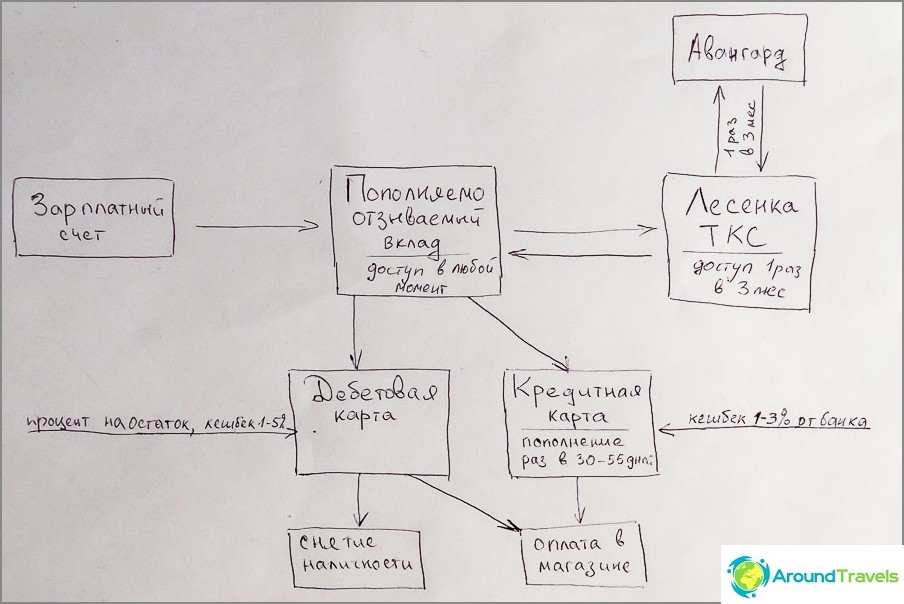 Everything can be more complicated than in the picture, becausethat there may be several debit cards, credit cards, deposits, plus foreign currency deposits and dollar cards, but that's the point. In the same way, everything can be much simpler, the Tinkoff ladder (or simply a replenishable contribution at high interest rates), and a couple of debits. It all depends on how much you want to have links. This is also important, because it is not always comfortable to have dozens of deposits / cards and constantly monitor changes in conditions. Everyone chooses how he is more comfortable. I have a certain medium variant here, when the scheme is not very branched.
Consider the situation. Income to the payroll account. There it makes no sense to keep him and I throw money on a replenishable-withdrawn contribution, this is an intermediate stage. Then from there, when the time comes, I transfer it to the debit card I need (for withdrawal), to a credit card (loan repayment), or I increase the deposit on the TKS Ladder.
Perhaps now not everything is clear, but I also hadit is not clear how to do this so that all the money is always under interest and not to pay for annual maintenance. I remember, from the choice of cards and deposits, the eyes ran, but I chose once and everything is fine with Yes, and as I wrote above, there is still the comfort factor, I made as many links in the chain as I didn't bother me as much as I can in my head.
Interbank transfers
When building a scheme, it is necessary to take into account the cost of an interbank transfer between accounts, otherwise it may eat a part of your earnings.
For example, in the Avant-garde interbank costs only 10 rubles,it is free from TCS, Alfabank takes a commission of 0.3%, Sberbank 1%, Homecredit is also free. Foreign exchange banks are always paid. Therefore, to move money between the steps of the ladder, TKS most people use Vanguard. And, for example, I sometimes transfer the entire amount from the IP account (I have a payment of 30 rubles), and then scatter it to other places (10 rubles for a payment).
You also need to remember that the interbank does not work on weekends.
How to keep money
I will review the main elements of the scheme. All the nuances of paint will not work in one post, so consider my post as a review for those who are not in the subject.
Replenishable deposit
As a rechargeable deposit, you canuse a piggy card. Typically, these cards give somewhere 5-10% per annum. If you use a card, then you may not need a separate rechargeable-withdrawable deposit, because from this debit card you can periodically withdraw cash and pay it. But the deposits have higher interest rates than on the money boxes, and it is better not to shine a card once again with a large amount on it. Again, the choice is left to those who build this scheme.
Terms of deposits / cards change, so do notalways get to use the same. Also, it seems to me that it is safer to keep money in TOP banks, where the interest is not too high. In the summer, I did not fall for the most profitable ones, such as 12% for the 2T bank, which some preferred then, and well, since their license was revoked. Although interest is now growing everywhere, while the ruble is falling, and the rates of 12% are already quite normal. By the way, from the top banks really good interest rates in the ICD (Moscow Credit Bank), but the interbank payment is not encouraging.
Theme about piggy bank cards
Topic about replenishable deposits
I have as a piggy bank card TKS Black with 8% onthe rest (and it seems to me that they will soon increase the rate). The card is good because it can also be used in everyday life by setting limits in the Internet bank for security. We are waiting for the accumulation of accounts at the TCA, so that you can not keep money on the card itself. And as a rechargeable deposit, I temporarily use the deposit. Good news 9% from Homecredit, it is convenient to transfer from it to a credit card even at the weekend. As you can see, not the best deals, there are rates from 10-12% for these purposes. The choice is yours.
Debit cards
I will not repeat myself, I listed the cards in a post about card selection for traveleach used for specific purposes. Specially chose without banking service, so as not to worry that I do not use the card, but the money is dripping.
There are two main debit cards now: Tinkoff Black for withdrawing money in Russia, Corn for withdrawal and payment in stores abroad. Since Corn has no interest on the balance, I don't keep much money on it, I throw it at it a couple of times a month with cards attached to it in my personal account.
Credit cards
Credit card is needed for payment in stores. Instead of using your funds, they should rather be on deposit and bring a small profit. In addition, it is convenient that you do not need to think about how much money is left on the card. The main thing is not to forget to replenish it in time, until the free period (grace) has ended. Or, for example, when renting a car on the Internet, an insurance deposit of 20-50 thousand rubles is blocked on the card, it is more convenient if it is not your own money, but borrowed money. The main thing is not to withdraw cash from a credit card, otherwise it will be hit on high interest rates for withdrawing and departing from the grace. Read more about using credit cards I wrote a whole post. Damn convenient joke, you just need to use it correctly.
In principle, the credit card is optional, insteadthe piggy bank card will also fit, then there will be one more link less. But it must be borne in mind that some credit cards have a good cashback, which can easily block a piggy bank at a profit. For example, a Tinkoff AllAirlines credit card gives cashback of 2% -10 in the form of miles. There are different offers, it is necessary to look current and choose the most appropriate. I basically now use credit cards with cashbacks and in particular this AllAirlines.
Cashback on bank cards
Briefly talk about cashbacks, if someone does not know. The bottom line is that a certain percentage is charged for card transactions, most often it is 1%. Obviously, in order to be profitable, you need to use the card everywhere. In large Russian / European cities, this will not be a problem, considering that it's not very convenient to carry cash in your wallet, you need to constantly think about it not to end and then look for an ATM in the store to withdraw money. In Thailand, unfortunately, you only get to pay in supermarkets, with rent a car from network distributors, yes in some stores in the shopping center.
You say 1% is not enough? In fact, cashback 1% is comparable to a deposit of 10% per annum, or a money-box with 10% for the balance, although the difference seems to be as much as a percentage 10 times
Thus, cashback from 2% (and sometimes it is 3% or 5-10% in selected categories) is more profitable than a deposit. Read more about various cashback cardshow to choose and so on.
Ladder deposits Tinkoff
I turn to the most important thing, if possible soto tell. The topic has been living for a long time, it is used, but I found out about it, so to speak, last. If anything, the bank is also aware, and does not repair any obstacles. In order to use it, you need to either order the Tinkoff Black card or open a deposit at Tinkoff. After that you will get access to the Internet bank, where you can open / close any deposits at any time.
Description of the scheme
Interest rates on deposits of Tinkoff Bankchanged, and the bonus for interbank became only 0.5% (previously it was 1.5%), so the ladders lost their relevance. That is, the ladder can be made, but it is not so profitable. Note, the information in the post / comments could be outdated, too often everything changes.
The fact is that when replenishing a contribution to Tinkoffa bonus of 1% of the transferred amount is given. This is positioned as compensation for interbank expenses. Accordingly, if the interbank market is free, then this 1% is your additional profit. Naturally, this one-time bonus is not enough (although it already increases the interest rate on the deposit), so the deposit system, the so-called Tinkoff deposit ladder, is made. It is necessary to open a new deposit and close the old one every 3 months, thus the bonus will be every 3 months. This approach now brings (after lowering the rates in mid-2015) about 16% per annum with the built-up stairs.
I will sound the scheme. Always except the very beginning, you will have 4 deposits open. One main one with the entire amount transferred once every 3 months back and forth (via Avangard) with a 1% bonus, the remaining deposits from 50 thousand rubles for fixing, since this is the minimum amount of replenishment (previously there were 30 thousand). The minimum amount to build stairs 200 thousand rubles.
So after a while there will bebuilt a ladder of deposits of 4 annual deposits. The great advantage of such a scheme is that we have a high percentage at the same time with access to funds once every 3 months. Indeed, during the round trip, we can take the required amount and use it. While other banks will have to open an annual deposit (to ensure maximum interest), but in most cases access to it will be closed during the whole year, maximum replenishment, early withdrawal of 30% of the amount, or early withdrawal of the entire amount with loss percent.
Exсel ladder - the data may be outdated, as the TKS changes the stakes, but they can be changed in the file.
3-6-6-12
First stage: you open 3 deposits: for 3 months (principal amount), for 6 months (50 thousand rubles) and for 12 months (50 thousand rubles).
Second phase: After exactly 3 months, you have a 3-month deposit with the principal amount closed, you transfer this money to Avangard, and send it back to the 6-month deposit. In parallel, you open more deposits for 6 and 12 months. That is, you now have 4 contributions: for 6 months, 6 months, 12 months, 12 months.
The third stage: The 6-month deposit with the principal amount closes, it is distilled into Avant-garde, and sent back to the 6-month deposit. Open a new contribution for 12 months. Now you have such contributions: 6 months, 12 months, 12 months, 12 months.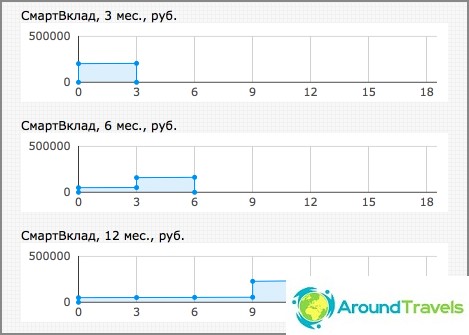 3-6-9-12
Slightly less profitable scheme, but more understandable.
The first stage: you open 4 deposits: for 3 months, for 6 months, for 9 months and for 12 months.
Second phase: Exactly 3 months later, your 3-month deposit is closed, you transfer this money to Avangard, and send it back to the 6-month deposit. In parallel, you open another deposit for 12 months. That is, you now have 4 contributions: for 6 months, 9 months, 12 months, 12 months.
The third stage: Similarly, the 6-month deposit with the principal amount closes, is distilled to Avangard, and sent back to the 9-month deposit. Open a new contribution for 12 months. Now you have such contributions: 9 months, 12 months, 12 months, 12 months.
Restrictions
You can have no more than 6 deposits in one currency.
Each contribution has a time limit for receiptBonus - replenishment with a bonus is possible 85 days before the end of the deposit. That is, if you build a ladder the day to day, then you will have about 5 days. If you top up after 85 days, the bonus will not be credited. The Internet Bank has all the dates, you can set yourself a reminder, so as not to forget. You can also make a "gap" more to worry less. And it should be borne in mind that the interbank does not work on weekends and holidays, and the latter can be very long, such as New Year's, and then the ladder may be interrupted for a while if the interbank falls on these dates.
Diversification of funds
With the fall of the ruble, it became clear to allCurrency need to keep money - in different! At least in rubles, dollars and euros. More experienced people probably store in other currencies (in some yuan), and, most likely, not only in currencies, but in stocks, real estate, gold, and so on. But this is not yet my level, so I am not writing for them.
Alternatively, you can build currency ladders, butcurrency interbank costs money (not always a percentage of the amount, but a fixed amount of 15-20 ye for each transfer), so part of the 1% bonus will be lost. It makes sense to build a currency ladder with a large amount, near the threshold of the DIA (700 thousand rubles) or higher, then the losses will be less noticeable.
I thought about diversification in the summer and autumn of 2014,when the dollar was still not so high, so we managed to save some of our small savings. And this is great, because when you are abroad, the course is felt most acutely. In Russia, prices have not yet increased by 2 times (but this is a matter of time), and we in Warsaw immediately felt a sharp rise in prices in ruble terms. And the rehabilitation of Egor has risen in price exactly in 2 times, and now not all Russians can afford to come here, sorry.
I don't know in what proportion to keep currencies. But in the long run, it makes sense to keep it in several: the ruble has fallen - so we have the dollar and the euro, the currency has fallen - so we have the ruble. Otherwise, you will have to constantly monitor the course and shift it back and forth. True, lately it is not at all clear where the ruble's bottom, at such a rate, it will not be possible to cover losses even in the long run and at the expense of any ruble ladder TCS. Plus, there are various horror stories that something can happen, up to a ban on dollar circulation in Russia. Why diversification can include an item on how to keep money at home under the pillow.
P.S. I don't know the answer to the question of whether to buy dollars now, and don't even ask
Ideally, now you have to sell bucks boughtin the summer of 2014 and take profit. Type bought in the summer of $ 10,000 for 300 thousand rubles, and now sold them already for 600 thousand rubles. Consider a profit of 100% for six months and you can buy a car.
P.P.S. As an addition to this post - went into the currency and reduced the number of banks (essentially simplified the scheme), and then the crisis is such a thing that there is no confidence in the banking system at all.
Life hacking 1 - how to buy a good insurance

Choosing insurance is now unrealistically difficult, so to help all travelers, I compile a rating. To do this, I constantly monitor forums, study insurance contracts and use insurance by myself.

Life hacking 2 - how to find a hotel 20% cheaper

First, choose a hotel on Booking. They have a good offer base, but the prices are NOT the best! The same hotel can often be found 20% cheaper in other systems through the RoomGuru service.

Discount hotels