Where to eat is a question that confrontsa man that first came to the Russian resort and is not guided by local realities. Only on his second or third visit, through trial and error, does the tourist select the best options for himself, based on his finances and needs. But even very economical people enter into their budget one or two trips to the institution from the top list. To leave from vacation was not only the aftertaste of inexpensive khachapuri, but also a couple of pictures in the interior above average. Just a memory of a pleasant time. Below I share with you a different-sized collection of edals that I tested personally, I recommend you to visit them, or vice versa - I discourage them.
The content of the article
Where to eat in Sochi
You will definitely need to do something in Sochi, so I have a separate post - What to see in Sochi. There are all the main attractions, and almost all I visited myself, so there will be no spatial descriptions, but my personal experience.
Here you are just in case my post - A selection of cheap hotels. With a good rating and reviews. You will not come for a day, but for a couple of weeks, and you will need to stop somewhere.
A selection of hotels in Sochi>
Cafe Tubeteika
One of the iconic cafes of the city of Sochi, whichabsorbed only the best dishes from different cuisines of the world. Despite the fact that the institution pretends to be an Uzbek restaurant, its menu includes Georgian names, Russian, Armenian, Uzbek or European. It is convenient to go here by a large company, which makes it difficult to agree among themselves on eating habits - here everyone will find what they like for him. The place is very cozy, positive, authentic and with great staff. My review of the place, with photos and a map, can be viewed here - Tubeteyka Cafe in Sochi - an oasis of oriental cuisine.
CORKs
Halftones and twilight, strict geometry in linesinterior and brick arches, bas-reliefs, soft comfortable furniture of inconspicuous colors, many details from natural material - all this creates an atmosphere of a slightly gloomy, strictly semi-basement in a European mansion. Meals are served in the form of finished works of art, which I still have yet to try - this restaurant belongs to the best of the best institutions, and I'm just going to get here. If you already have your own impressions - share them in the comments, please.
Pizzeria Sicily
Pizzeria located on the main pedestrian streetSochi, on the first floor. Behind the glass walls of the place you will find an elegant, light, well-thought-out design that sends you to one-story Europe and teases you with the pleasant aromas of fresh pizza. They cook well, but different impressions remain from different dishes. The institution has wide popularity and is in demand even in low season. Not only tourists who come to spend money like to come here, but also locals. My review of the place, with photos and a map, can be viewed here - Pizzeria Sicily in Sochi is a good place, but with nuances.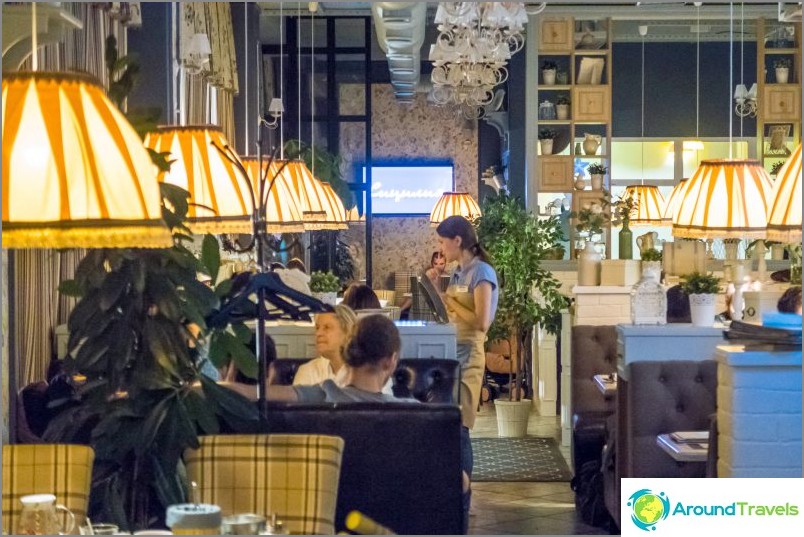 Trattoria fettuccine
Another top restaurant that is requiredneed to visit (but my hands did not reach) - Italian cuisine in Sochi. An elegant serving of dishes, hookahs, a summer terrace, a light, light interior, a homely cozy atmosphere and an endless stream of guests, which is not surprising - after all, the chef from Italy The people fall apart in compliments and frantically like the karma of the restaurant, so I add it to my wish list, but welcome your comments if you already have something to say about this establishment.
Cafe Snake
Monopolist at Zmeikovsky waterfalls. A small two-story cafe with a balcony, a bridge across the river and several gazebos on the other side of the river is a very unusual location and exterior. In principle, there is nothing catchy, designer and pathetic, on the contrary. Very pleasant homely atmosphere, personal attendance of the staff, simple serving of dishes and damn delicious cooked kebabs. I definitely recommend to visit: lunch in a cafe, in the background of which a waterfall rustles, is worth a separate trip. My review of the place, with photos and a map, can be viewed here - Cafe Snake - the only institution at Zmeikovskie waterfalls.
Coffee Shop My Coffee
Funny institution in the middle of the folk trail in the verythe center of Sochi, near the seaport. Externally coarse, glass building with outdoor furniture from building pallets, inside turns out to be a delightfully furnished coffee house. With a children's corner and great coffee. A multi-page tom with a selection of coffee, tea, desserts and other snacks, a cozy interior with closely spaced tables and chairs, pleasant music and cheerful, lively waiters. My review of the place, with photos and a map, can be viewed here - My Coffee in Sochi - a coffee shop with a million varieties of coffee.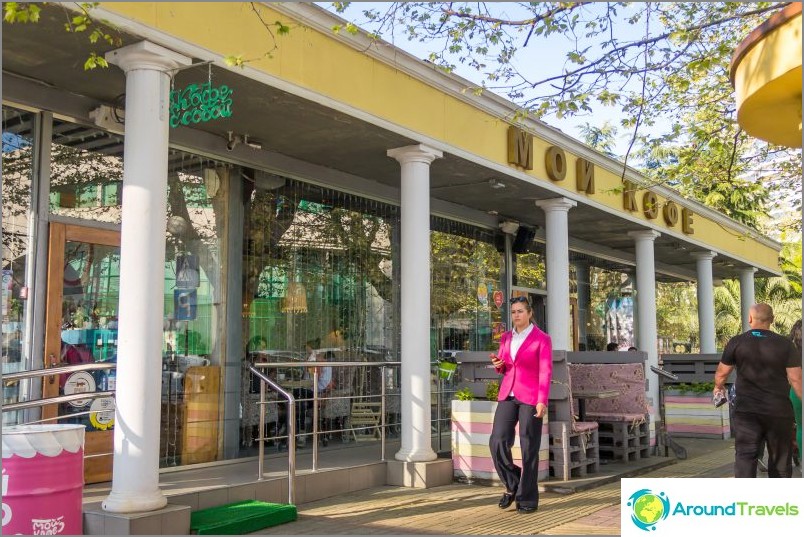 Cafe Del Mar
That case, when the name correspondscontent, and the institution is so amazing that it falls in love with the first sip of lemonade from orange and passion fruit, and in return leaves a pleasant aftertaste, emotions and photos. A very atmospheric establishment on the central embankment in Sochi, with a diverse interior and inimitable serious service. Is it tasty cooked? Yes, friends, I was impressed and discouraged - the perfect one and a half hour of my life. My review of the place, with photos and a map, can be viewed here - Cafe Del Mar in Sochi - a cafe where you want to go back.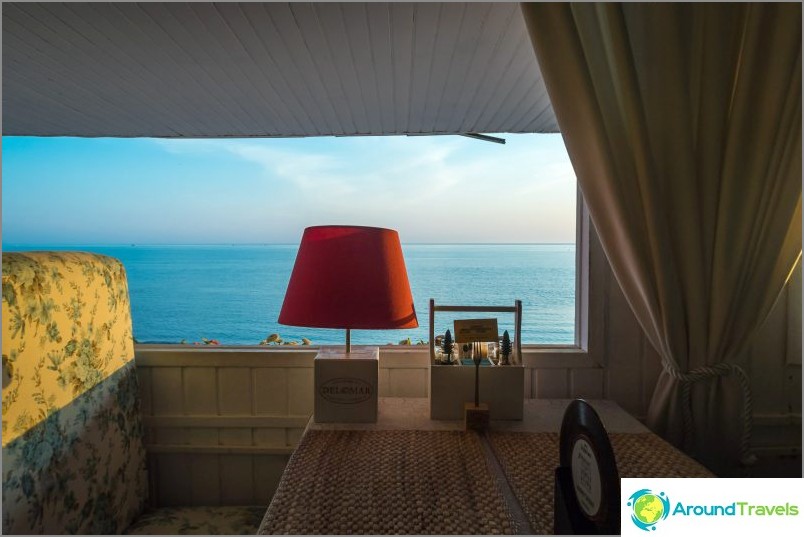 Restaurant GastroKub
The restaurant is located on the first floor of the hotel."Rousseau Tourist", in close proximity to the waterfront, which means - to the sea and sunsets. This institution I have not yet brought to my knowledge base, but I have already written into the plans for the next visit. On the recommendations of people close to me and friends, the place deserves attention and some financial costs. A rich wine list with a selection of local wines, original delivery, pleasant service, a children's corner, an amazing terrace and, most importantly, a view. Great view of the sea. If you have already been here, tell us how it is worth it or not?
Where to eat in Adler
Restaurant Hmeli & Suneli
The restaurant is located inside the shopping center "NewCentury ", which is difficult to get by car, so it's best to park somewhere in advance. Despite the neighborhood with boutiques and escalators, endless chains of customers and harsh security guards on the floors - your impressions of the visit will not be blurred by the negative. Very solid, quiet, quiet place with excellent service and pleasant atmosphere. My review of the place, with photos and a map, can be viewed here - Restaurant Hmeli & Suneli.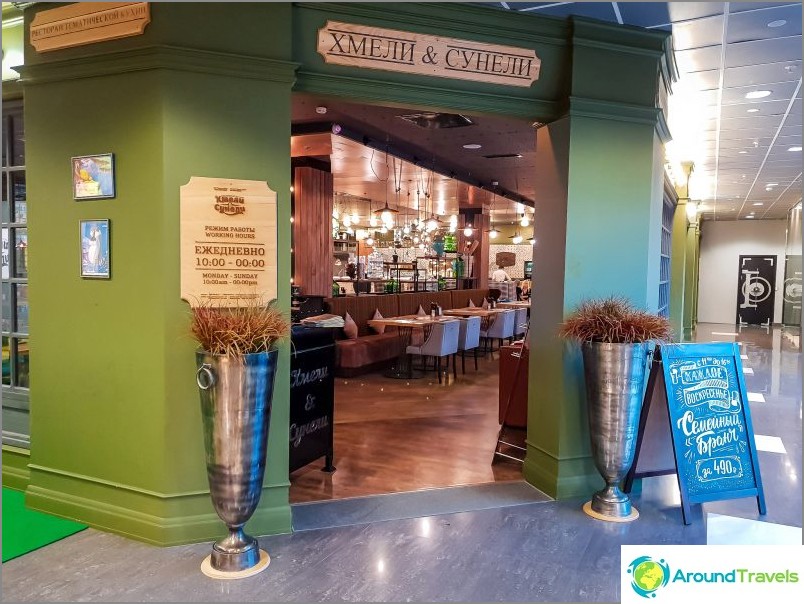 Fisht Pizza
One of the top pizzerias in Adler, whichIt causes people contradictory emotions, but personally I liked it just by the design and serving of dishes. I do not undertake to judge the quality of food, service and atmosphere, but I definitely plan to do this in the next race. From the words of people close to me, there is a relaxed atmosphere, a very nice design that looks even more interesting than the photo, a huge menu and high prices. The last point annoys me a little, but from the experience of going to a superfood of expensive restaurants, I already know that it is possible to eat a budget meal there, if you do not lean on alcohol.
Pizzeria Milano
Pizzeria in the style of minimalism. There is a square building on a half-empty street, with a half-empty parking, with a booming hall and distant tables around the perimeter. The furniture is unpretentious, the design is absent in principle, but you forgive everything for the great pizza they cook in a real oven. The service is very friendly, polite and tactful. I come here to regularly close the holiday season. First of all, the institution will be relevant for those who live in the private sector near the Olympic Park, since there is almost nothing there. My review of the place, with photos and a map, can be viewed here - Pizzeria Milano.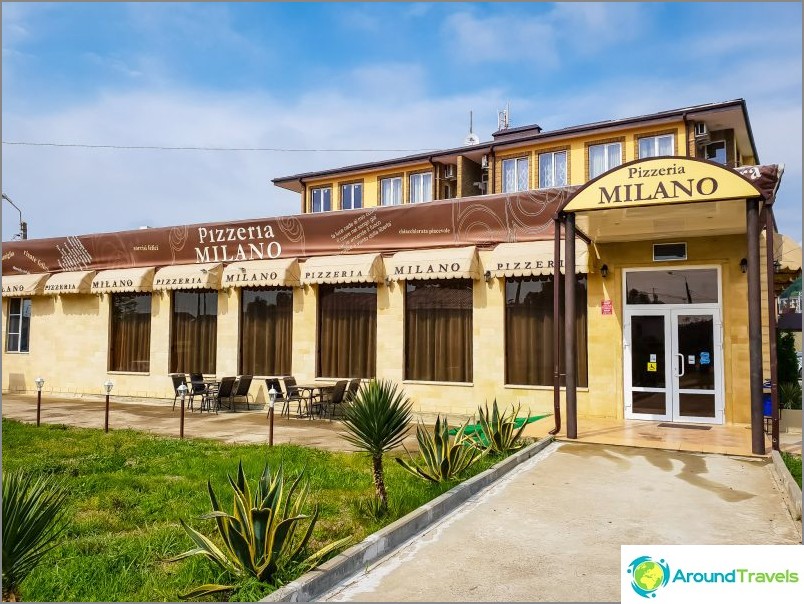 Dining-Room Ate
Sat-Eat - is a network of canteens budgetary power. A place where for a penny you can be obozhatsya three dishes and dessert, but - not tasty. At least, I went several times, and I did not go. Considering that in general I often eat in canteens, and some of them can compete with home cooking from my grandmother. Therefore, I would consider Seli-Poeli as an extreme option when there are no other canteens nearby, but you need to eat very budget. This is a classic, dining room, albeit with a fresh interior. Severe staff, dry cutlets with buckwheat, that's it. My review of the place, with photos and a map, can be viewed here - Dining-Room Ate.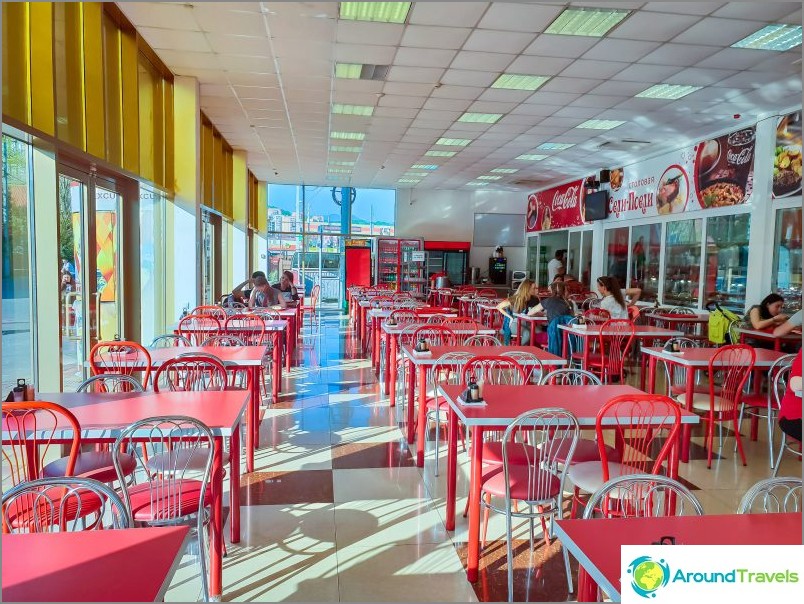 Cafe Parus
Not to say that the original, and quitenot cheap place on the waterfront in Adler. If it were not for its excellent location (convenient parking, access without traffic jams, ten meters from the sea), then I don't see much point in visiting it. Large plates with lonely portions of food, some not very serious staff (I was transplanted 3 times and confused the order), in general - I liked it as a whole, but in detail - not very. Sunset is gorgeous, but behind it you can go to a much more comfortable place. In the spring on an open veranda there are gas burners and give out blankets on request. My review of the place, with photos and a map, can be viewed here - Cafe Parus in Adler - tasty, beautiful, expensive.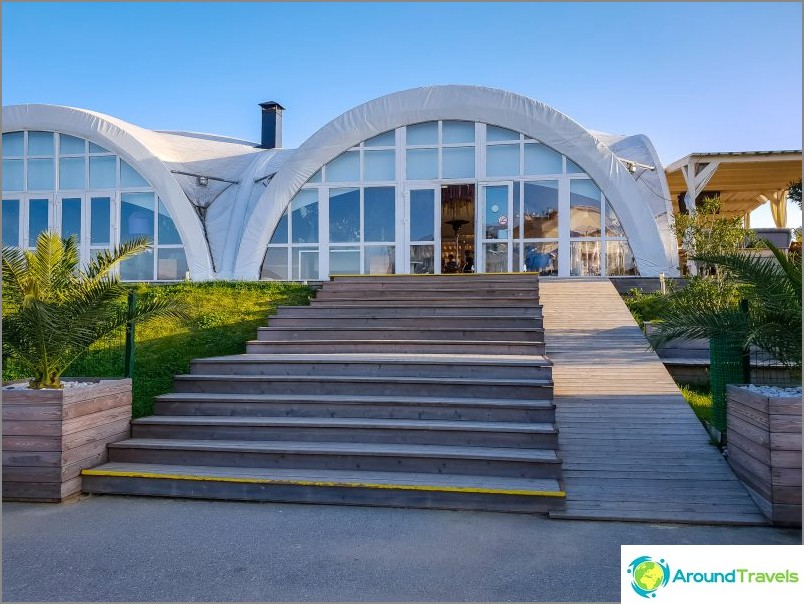 On the map
Cafes and restaurants of Sochi
Cafe Snake:
Coffee Shop Rolls in the Mountains:
Pizzeria Sicily:
Tubeteyka Cafe:
Restaurant Tavern Trikoni:
Cafe Parus:
Coffee Shop My Coffee:
Cafe Del Mar in Sochi:
Paul Bakery:
Pizzeria Milano:
Surf Coffee:
Cafe Guests:
Leaf Mustard:
Cafe Em and Em:
Dining Eat:
Restaurant Height 2320:
Cafe Pear:
Cafe Alaska:
Cafe Berloga:
Balagan Cafe:
Restaurant Hmeli Suneli (Adler):
Restaurant Trattoria, Gorki City:
Cafe Top 2200:
Dining Seli Ate:
CORKs:
Restaurant Fettucine:
GastroKub:
Pizza Fisht:
P.S. Add in the comments restaurants and cafes that you liked in Sochi and Adler, another poet will also find it useful. Well, I will complement, as I am regularly in Sochi.