Not long ago, I visited the resort of Khao Lak,which for some reason is still not popular with our compatriots. I am sure that many still do not even know where Khao Lak is on the map of Thailand, not exactly to go there. In order to eliminate this injustice, wrote this post, the town is good and great for a relaxing holiday.
The content of the article
About the resort of Khao Laka
Short description
Khao Lak is a quiet and uncrowded resort even inpeak season. Since there is a bit of entertainment in it, the contingent is mainly pensioner. Therefore, if you need nightlife and constant activity, then Khao Lak, most likely, will not suit you. There is only nature, waterfalls, nat park and all. But for those who seek relaxation or come with children, it seems to me that you should like it here.
First of all, there are gorgeous beaches throughout the resort, andmost importantly, they are not crowded. You can find a place smaller (where with a small child is good), you can go deeper. And along the entire length of the beach you can walk, than many vacationers do, there are kilometers for walking. I already wrote my a review of Khao Lake and a detailed overview of its beachesI will not repeat.
There are 7 beaches / areas in total, but it makes senseOnly stop at 4: Bang Niang, Nang Tong, Khao Lak, Khuk Khak. Arranged in descending order of infrastructure, and in the latter there is none at all, only the one that will be in your hotel. But in Bang Niang there are 7/11, and full of cafes, and hotels for every taste, and there is even McDonald's on Nang Thong
Here you have a selection top hotels in resort.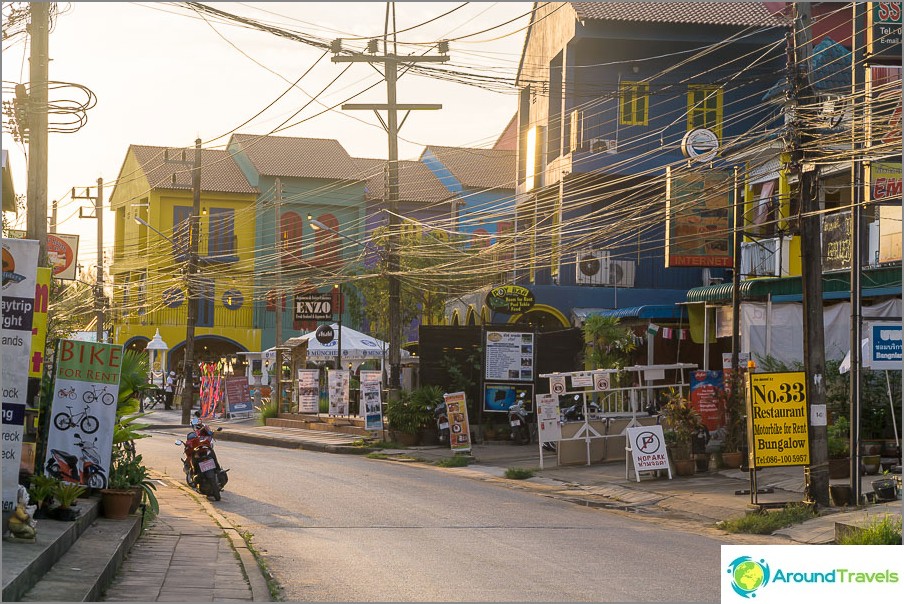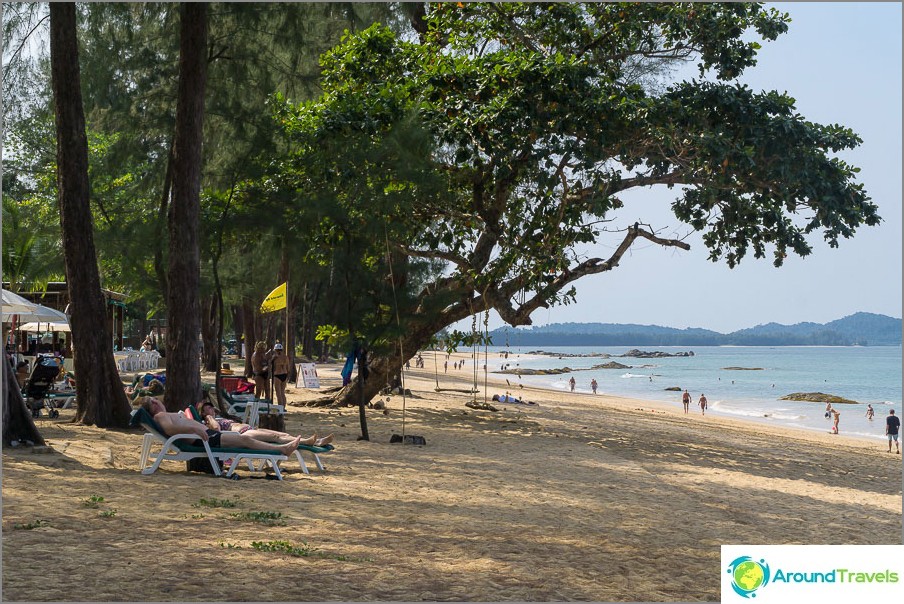 Where is Khao Lak
Khao Lak is located on the mainland (not on the island)north of Phuket on the Adaman coast. And getting to it is easier from Phuket. That is, you can fly to Phuket airport and from there you can get to the resort. Moreover, going to Khao Lak from Phuket airport is about the same as to the southernmost point of Phuket, therefore there are often traffic jams on Phuket.
Look at the very bottom of the post at the map to make it clearer.
How to get to Khao Laka
You can reach in several ways. Easiest and faster from Phuket airportif we talk about the flight from Russia. If you arrive in Bangkok, it will take much longer.
By car
The easiest way to get the car. Drive into the navigator (Google Maps or another program) Khao Lak and follow its instructions. If you get from Phuket, immediately after leaving the bridge over the bay, you need to keep to the left along 402 and then continue along the Adaman coast along highway 4. Then all the time along the main road, not turning until you reach Kao Lak. The distance from Phuket Airport to Khao Lak (Bang Niang) is about 80 km, and it takes no more than 1 hour and 30 minutes to go, and you can get there in 1 hour if you do not stop anywhere and drive fast.
From Bangkok to get us longer, as if you were traveling From Bangkok to Phuket. After passing through Chumphon, you will needturn right onto Route 4006, and follow it to the Adaman coast to Route 4. Either go to Chumphon and Suratthani, and just after Suratthani, go right onto Route 401 and go past it Kao Soka to the coast of Adaman and highway 4.
In my opinion, the easiest way is to book through Economybookings. Immediately on one site you will see offers from all major distributors. And the price will be lower than if taken directly.
Discounted car rental>
By taxi
A taxi is also easy to reach, but it costs more,than the bus. You can take a taxi, both at once at the airport, and just on the island, by contacting any street travel agency and ordering it. The price will be around 1800-2500 baht, depending on the car (the minibus is more expensive) and the impudence of the taxi drivers. In this regard, it is best to order in travel agencies, they have less fixed prices, they will not be called from the ceiling. Well, and if from the airport, then there are all rates on the counter. You can probably bargain and find someone who is cheaper to take, but I don't know how real it is. I'd rather order through the Internet in advance, but more on that below.
Online transfer
Alternatively, order a transfer online viaKiwitaxi or 12go. For the price, everything is the same as a regular taxi, but in general a minimum of movements, you will be met with a sign and will be taken away by the hand. And it is convenient that you can book through the Internet in advance at home. Recommend!
I already went to the transfer from this company and was completely pleased with it. Met with a sign, put in a car and taken to the hotel. Here is my review of kiwitaxi.
Transfer to Khao Laka>
By bus
From Phuket Airport you need to get tominibus to the bus station (cost 100 baht), there already buy a ticket for the bus Phuket - Khao Lak (cost 100 baht). You need buses to Suratthani, Ranong, Chumphon, Takua Pa. As an option, from the airport on the tuk-tuk, get to the highway where the buses run and catch them there (this is faster than the bus station). But personally, I don't like this method because it's not at all clear what kind of bus is traveling, you can't have enough time to slow it down. Yes, and when he is already passing by, the sign is not always clear, maybe in Thai.
In the opposite direction to get from Khao Laka toPhuket - get on the track and catch the bus in the direction of Phuket. It's all much easier, because all the buses will go there. If you need an airport, then tell the bus driver and he will stop near the turn, from where you can reach the airport by a tuk-tuk.
Khao Lak on a Thailand map
I specifically placed here a map with beaches, notjust one point denoting the city, because all these beaches belong to Khao Laku. You can immediately estimate the geographical location and approximate size of the resort. But! I remind you that it consists of several small villages and it is best to live in Bang Niang or Nang Thong. Moreover, the area called Khao Lak is not the most successful, but in principle the beach is good there, so you can stay in it.
Khao Laka Beaches
Beaches of Khao Lak:


Life hacking 1 - how to buy a good insurance

Choosing insurance is now unrealistically difficult, so to help all travelers, I compile a rating. To do this, I constantly monitor forums, study insurance contracts and use insurance by myself.

Life hacking 2 - how to find a hotel 20% cheaper

First, choose a hotel on Booking. They have a good offer base, but the prices are NOT the best! The same hotel can often be found 20% cheaper in other systems through the RoomGuru service.

Discount hotels