To all who come to Thailand, as on vacation,and wintering, the question arises, where to go to what resort. It is clear that everyone will most likely go to rest in any case to the sea, therefore we will speak about sea resorts. Of course, there are those who are indifferent to the sea, in this case, you can go north to Thailand in Chiang Mai.
All information about Thailand is collected in my guidebook. How to go to Thailand. If you have any questions, first of all, take a look there.
The content of the article
Where better to relax in Thailand
Despite the fact that I am a fan of quietand not tourist places, but I also love civilization with all that it implies. Therefore, I visited all the popular Thai resorts, somewhere just rested, and somewhere lived for several months. So, at the moment there are several resorts where Russian tourists usually come: Pattaya, Phuket Island, Krabi, Koh Samui and Phangan Islands, Koh Chang Island, and Hua Hin. There are other places, but they are less known.
When you choose where to rest, do not forget to see my post about Weather in Thailand for months, as the weather conditions in certain months, including the behavior of the sea, can dramatically differ from each other.
Pattaya
If you take the usual tour package,then in most cases it will lead you to Pattaya or Phuket. Less often, they go to Samui, for they are more expensive. For this reason, the most popular is Pattaya, there are the cheapest tours. In Pattaya, I was a few weeks, but did not live, too noisy for me and the beaches are not very.
If you like parties, nightlife, bars,carrots (girls for sex), then you just here. No, this does not mean that the whole city is buzzing with nightlife, but here it is most of all in Thailand. If you don't need it at all, then just avoid several central streets in the evening and at night. And, settling on the outskirts, you can not even see this nightlife. In addition to low prices, Pattaya attracts many with the fact that there are so many Russians there, and therefore the corresponding infrastructure: Russian cafes and groceries, Russian gardens and schools, and Russian shops. In principle, and in ordinary cafes there is a menu in Russian, and even sometimes there are Russian-speaking Thais. Someone will actually be easier among compatriots, and it will always be easy for wintering to find a company, both with and without children. In Pattaya, in general, most of the infrastructure after Bangkok: shopping centers, supermarkets, hospitals of all networks, Tukkom electronics store, water park, amusement park, mini-Siam, bot garden and so on.
The nature and terrain in Pattaya are pretty ordinaryeverything is flat. City beaches, unfortunately, are dirty and not everyone can swim there, I would disdain. There is a way out of this situation - go to the beaches in the vicinity of the city or to Koh Lan island, it takes only 30 minutes to go by ferry.
Pattaya beaches overview
Review of beaches Koh Lan
How to get to Pattaya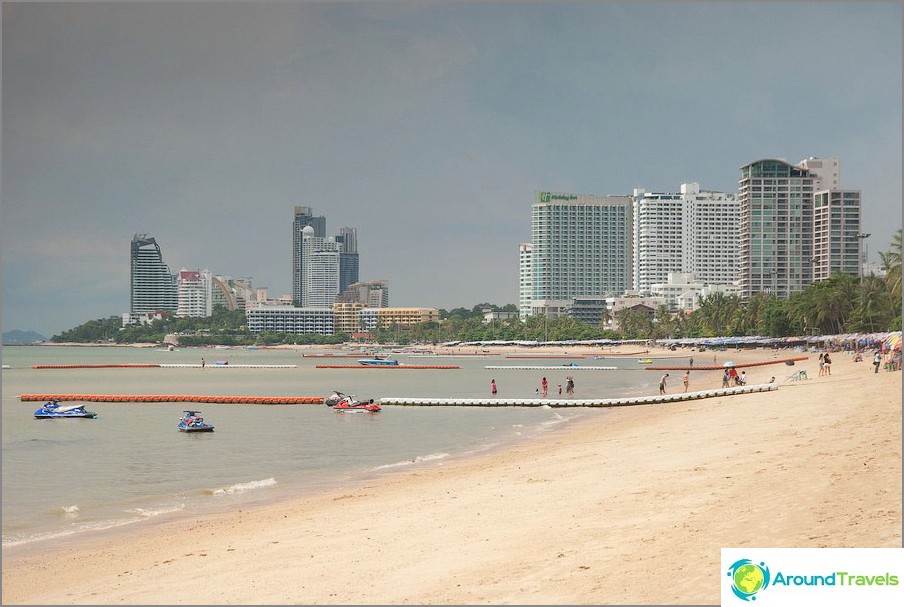 Phuket
The next in noise and the number of Russians isPhuket Island, they predict the fate of Pattaya, but I did not notice. Phuket is already a real ocean in existence, beautiful beaches and beautiful mountainous landscapes. Yes, there are a lot of tourists here during the season, no less than in Pattaya, but most of them are concentrated on Patong Beach and its neighbors: Karon and Kata. On the beaches of Bang Tao and Nai Harn, where usually wintering men live, many people only in the peak season (December and January). It is here that it is worth staying if you come for a period of one month. Actually, I'm on these two beaches and winter already 2 times. But if you go just to rest, I recommend choosing between Karon, Kata, Kamala and Knighton, in descending order of civilization.
Phuket is also enough entertainment and parties. But the main thing here is a trip to various islands, of which there are very many around, just like behind beaches and beauty, and snorkeling. And if we talk about nightlife, then it should be looked for in Patong, there is also enough of everything, although less unbridled compared to sex capital Pattaya. By the way, it is on Patong that the beach is dirty and less beautiful (than everyone else), but you can swim. However, no one bothers to live on a quieter beach, and come to Patong to have fun in clubs or shopping in malls. Although it is possible to go to shopping malls in Phuket Town, they are concentrated on the main highway. With hospitals here, too, everything is in order.
If I was asked where I would go on toureither on my own, in Phuket or in Pattaya, I would definitely choose Phuket. Moreover, there is an international airport and you can fly direct from Moscow.
Phuket Beach Overview
How to get to Phuket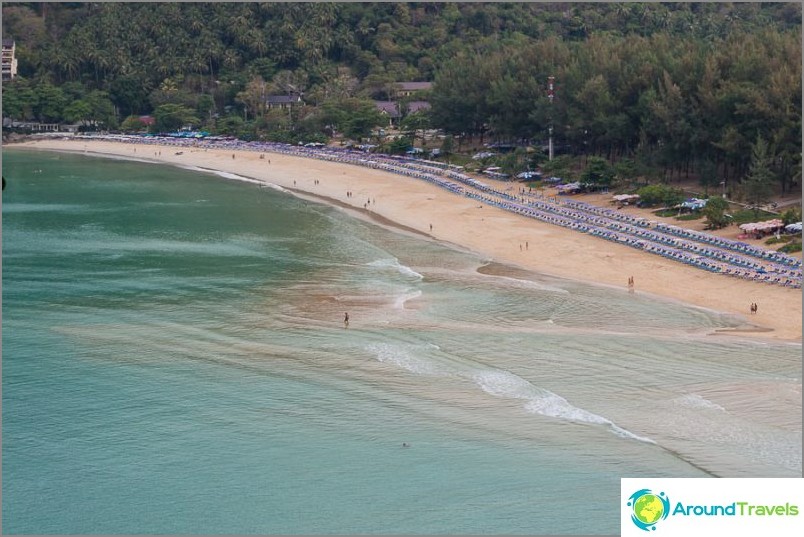 Koh Samui and Ko Phangan
If nature is important to you, beautiful island beachesand at the same time you want fewer people, it makes sense to think about the rest on the islands, in particular on Samui or Phangan. They are located in the Gulf of Siam close to each other. Samui is bigger and close in popularity to Phuket, that is, there are many people, but still less than in Phuket, and there are almost no packs. In addition, there are very uncrowded beaches, even in season, for example, Maenam or Bang Po, I spent the winters on them, like many. Given that the island is small, you can get from any point to the supermarket in 20-30 minutes by bike or car. At the same time, if you need nightlife, cafes and restaurants, then you can go to Chaweng Beach. Of course, he is far from Pattaya or Patong in Phuket, but for many it will be enough.
Getting to Samui is harder than to Phuket,You will need either a bus + ferry or an additional flight. It is still a little longer to get to Phangan, since there are no airplanes flying there, either to sail from Samui or also from the mainland by ferry. Perhaps this is why there is still not such a large flow of visitors.
Infrastructure on Samui basically enough forIn total, there are several large shopping centers with supermarkets, and a couple of hospitals from large networks. But the island of Phangan is less civilized, but even now there are already 3 supermarkets built. Phangan is also known for his Full Moon Party and the fact that all sorts of different informal people go there: yoga lovers, raw food vegetarians, etc. However, if you don't go to their parties, you will not see them.
Samui beaches overview
How to get to Samui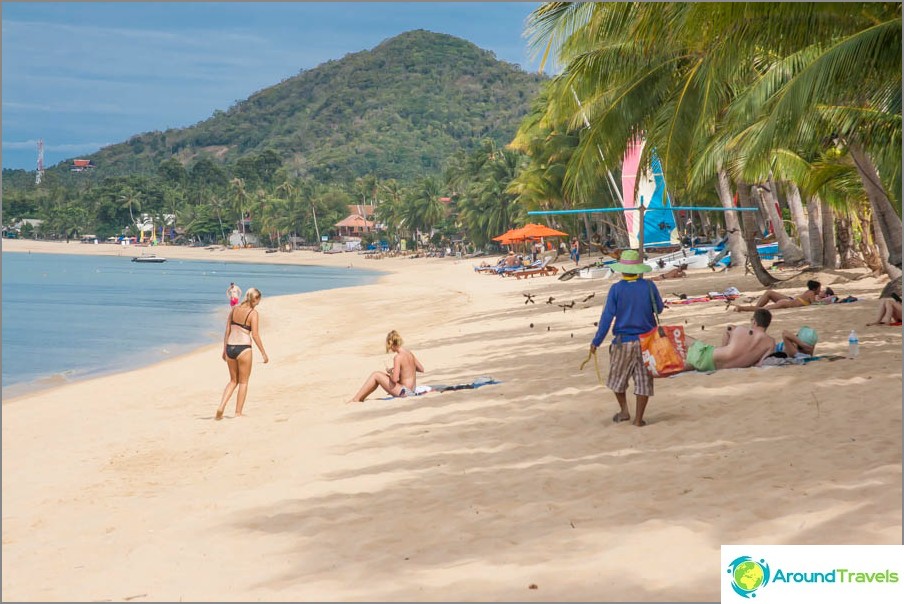 Koh chang
Chang Island is much closer to Bangkok than allthe rest of the island, go 5-7 hours. With nature and beaches, everything is in order, in my opinion. The infrastructure is normal for a holiday resort, but not quite suitable for wintering, because there are no normal hospitals and very little normal housing for the month. Well at least there is now a supermarket, but not that long ago it was not there. But still, the island is more suitable for a couple of weeks rest. Therefore, I just came here, did not winter. Although some still live here.
On Koh Chang there are beaches where there are manyvacationers, and those where there is almost no one. But in general, the island is not very big and you can drive the main part in an hour. For privacy, I would put it somewhere between Samui and Phangan.
Overview of the beaches of Koh Chang
How to get to Koh Chang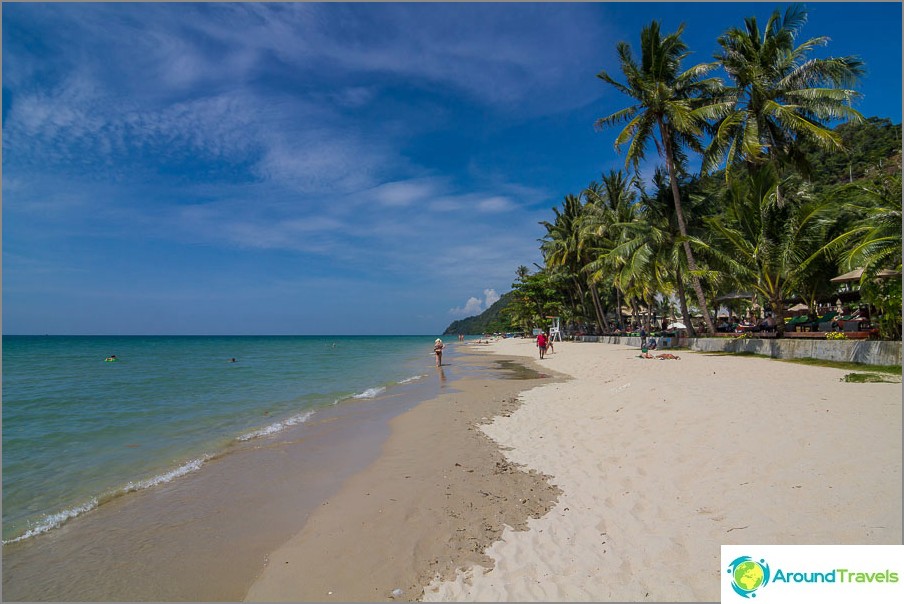 Krabi
Krabi Province has only recently begun.attract Russian tourists. Europeans, I suppose, have long been fond of it. Usually they come here for natural beauty, and although this is not an island, Krabi calls the country thousands of islands, because some rocks resemble scenes from the Avatar movie. In my opinion, these rocks have not left anyone indifferent. And you can settle down so that they will be visible from the hotel window. True, for this we must live closer to the sea. I lived 5 km from the shore and from the window of my house was a rather ordinary view.
The main and one can say the only resort -Aonang village. All the winterers live in it and in its surroundings, as well as those who came just to rest for a couple of weeks. But also this village serves as a transit point for those who are going to sail on Raleigh Peninsulawhose beaches go to the tops of the beaches. Actually, there is only 10 minutes to swim there from Aonang, so you can live in the village and swim on Railay every day. But you can immediately settle on Rails at the hotel. True, the place is quite deaf, with virtually no infrastructure, it may be enough to live a few days. Just remember, during the season on the Rails during the season it's just darkness to the people, all come with excursions.
Browse Krabi Beaches
How to get to Krabi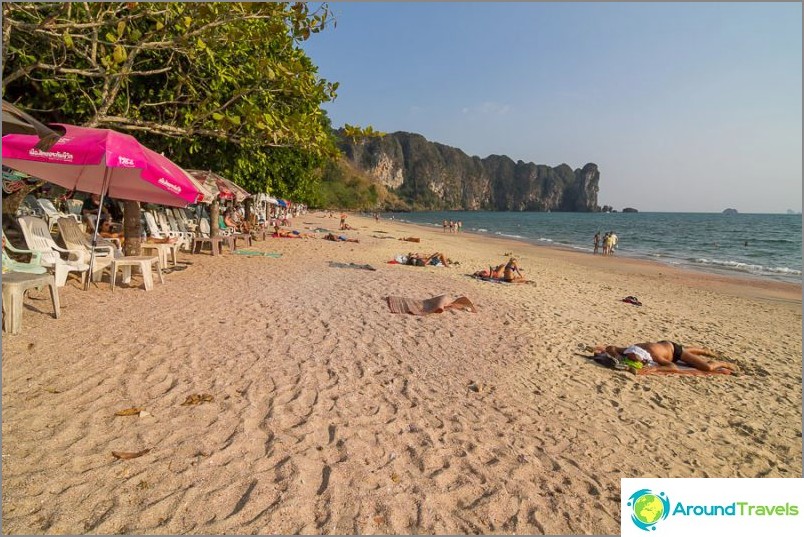 Hua Hin
Hua Hin poorly suited for recreation. They usually go there to spend the winter, and those who understand why they need it go. On the one hand, from Bangkok to Hua Hin is also quick and easy to get, as well as to Pattaya, but here the beaches there are absolutely for an amateur, far from bounty. No, they are not dirty, like in Pattaya, and there are not many people there, just fine, waves and wind. It's rather good to go there to learn kiting, than to swim and sunbathe. But on these beaches you can perfectly walk (trampled sand), which I did during one of my winter quarters almost every evening, there you can just walk for miles.
Hua Hin is located on the coast of the Gulf of Siam andis the summer residences of the king. The nature here is simple, but in my opinion a little better than in Pattaya. Plus, the contingent is different, there are no package tourists and tourist agiotage. You can call it a calm resort for Europeans. There is more than enough infrastructure: several shopping centers with supermarkets, several large hospitals, an aquapark and an amusement park near Cha Am.
Hua Hin Beaches Overview
How to get to Hua Hin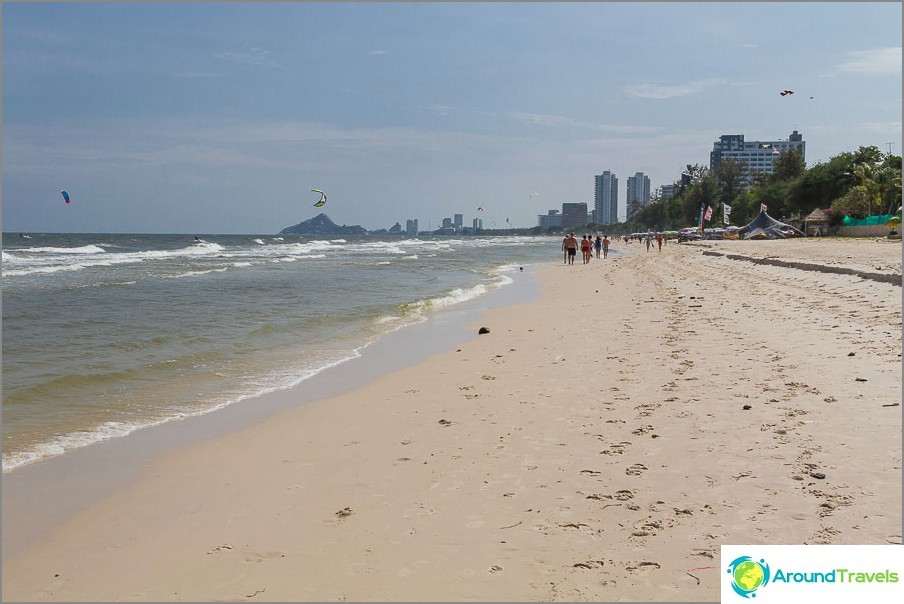 P.S. Airplane tickets are convenient to search and choose on Aviasales.ru and Skyscanner.ru, I myself use these services in my travels.
Life hacking 1 - how to buy a good insurance

Choosing insurance is now unrealistically difficult, so to help all travelers, I compile a rating. To do this, I constantly monitor forums, study insurance contracts and use insurance by myself.

Life hacking 2 - how to find a hotel 20% cheaper

First, choose a hotel on Booking. They have a good offer base, but the prices are NOT the best! The same hotel can often be found 20% cheaper in other systems through the RoomGuru service.

Discount hotels