Recently, in a rush to bring order to their work,I wondered, why does a blogger need a public post on Vkontakte or a Facebook page? Well, really, why? Subscription? Or never realized desire to create another media? Went through several blogs and all public, I am no exception.
Clearly, if this is not about a personal blog, thenyou need a certain distinction between work (public) and friends (personal profile in the social network). For example, a person made a site about transformers, and posts to a group posts from the site, plus some news on this topic. Of course, his friends Vkontakte do not need to see all this in their news, so you need a public. But if a blogger writes about personal, puts photos of himself and his travels, then the public and his friends too need it.
Periodically, I really want efficiency. When a lot of cases come on, their list only grows, and you rummage, do something, but there is no result. And then, when you rake, again the whole list is made. And it would be okay to earn millions already, so no, it's still there. Therefore, there is a desire to get rid of all the excess. As you know, only 20% of the activity brings 80% of the result, and this is still the best case. And in blogging so much useless ...
So this is why a travel blogger groupVkontakte or Facebook? I will talk about this type of bloggers, because it is so. And you know, I could not answer this question. After all, if you deal with a group or a page seriously, then this should be a separate project with its own time costs, with its monetization and payback. It will be necessary, either to post a lot of interesting news (mostly strangers, since there are not enough of their own), or somehow sharpen the group specifically for a specific affiliate program. That is, you have to collect the audience and monetize all this somehow due to one or another advertisement. With a regular blog, such a group will be weakly connected, traffic will bring little, and in most cases this traffic will not be convertible. Therefore, it turns out that there is practically no point in making a public just as a subscription.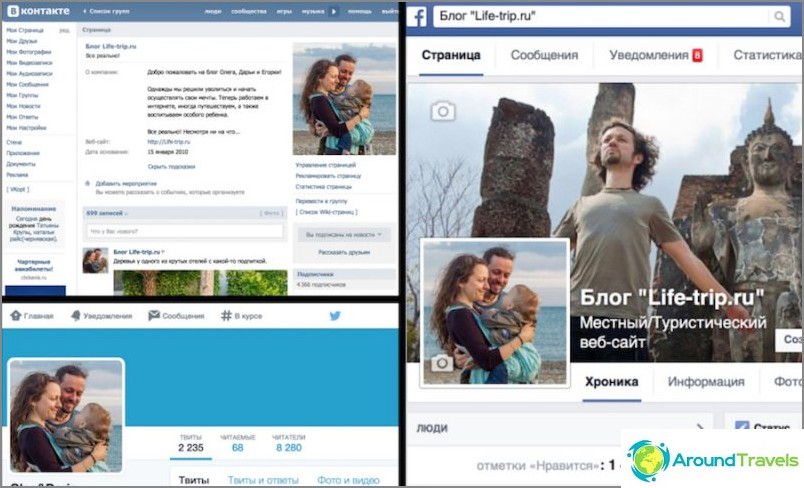 As a subscription is better suited in thisThe case is the usual most profile. From my own experience I see that there is confusion, someone subscribes to our public, and someone knocks on friends. Thus, part of the audience sits in public, some in friends. And as a result, cross-posting from the blog announcements is necessary both in public and in the social network profile. Butter oil. What for duplicate work? Yes, even if you automate, you still have to control the process, but comments are already checked in several places.
And then, when you want to upload photos to Contact orFacebook, then every time you think, where to post them to yourself on a wall or in public? Here, you can come up with a distinction, they say, everything connected with traveling goes to the public, the rest goes to the profile. But! The audience is already divided initially, therefore, in a good way, it is necessary to make a repost either from public in profile, or from profile to public. Again, some dubbing, and one thing is sure to be purely repost.
As an option, I see all the activity (announcements from the blog, photos, statuses) lead in public, and keep the profile wall almost empty. Seen so doing.
But something more I come to think that if notpromote a group or page on a social network and do not make a whole project out of this, then it's easier to limit yourself to the usual profile and throw all relevant content onto its wall. After all, we write about ourselves, about personal life. Let all friends are added, or in subscribers. And it will all be more intuitive when everything is in one place, and the profile is more alive. And not as it happens, one blog announcement in public and one status on the profile wall, and repost each other.
Then you can create another profile, not public, only for close 10-20 friends. Well, if there is such a need.
P.S. What do you say, do we need a group of bloggers or not? Time is a valuable resource, is there any point in wasting it when you can ask for it all?
Life hacking 1 - how to buy a good insurance

Choosing insurance is now unrealistically difficult, so to help all travelers, I compile a rating. To do this, I constantly monitor forums, study insurance contracts and use insurance by myself.

Life hacking 2 - how to find a hotel 20% cheaper

First, choose a hotel on Booking. They have a good offer base, but the prices are NOT the best! The same hotel can often be found 20% cheaper in other systems through the RoomGuru service.

Discount hotels