For the past week we have been living in the house of our friends. Thank you guys so much for this opportunity! About itself Ecovillage Glorious I already wrote last summer. Then we spent here a few days away and lived in a tent. Now we actually eat the life of an ordinary settler according to the full program. Of course, in winter it would be even cooler, but spring is also well suited for diving. It's funny, we know this all in theory for a very long time, since we ourselves wanted to go live in the village and read a lot on this topic, but we didn't really try on it ourselves.
The content of the article
Wooden house is a dream!
For a long time my parents in the apartment hall was fromburnt wood and I really liked it. It is a pity that they removed and made a modern with wallpaper and a wardrobe. In my apartment I was thinking of sheathing everything with wood, but later refused this idea. So, a wooden house is a dream for me! Light, comfortable, better breathe, home as if alive, with its own atmosphere. Well understand those who change the concrete box on a wooden dwelling. And in this house there are no internal walls and it is small in area, but we made a conclusion for ourselves that somehow there seems to be even more space here than in our apartment, although it is a bit bigger. And for the games of the child, the whole area can be used here, things can be stored in the barn, wash to go to the bathhouse, and no one else bothers to build a small guest house, workshop, office, etc. Opportunities to expand the sea space!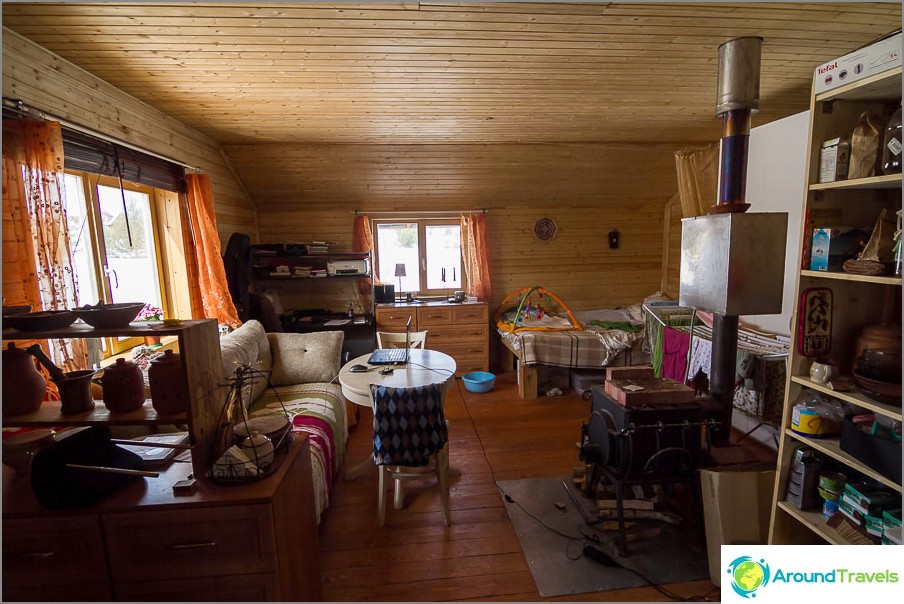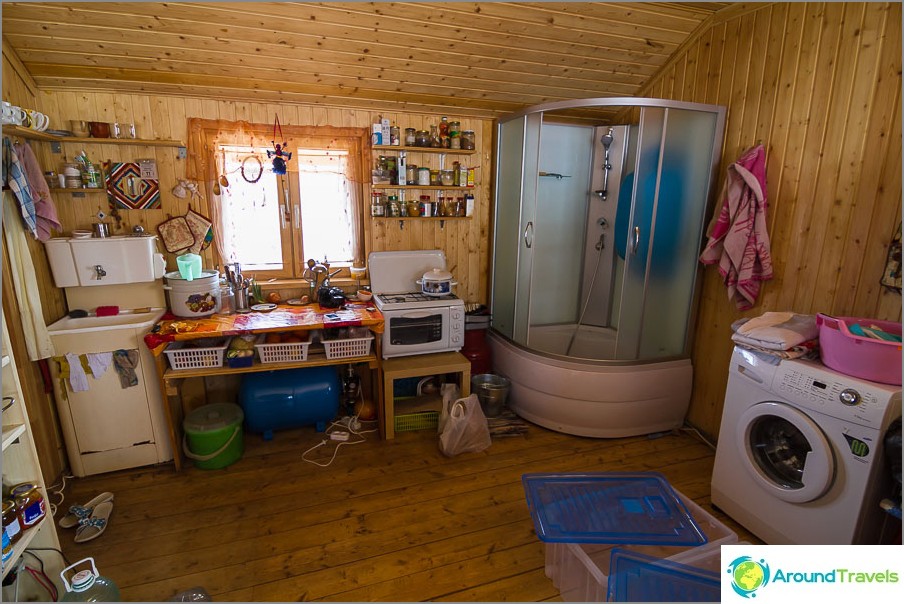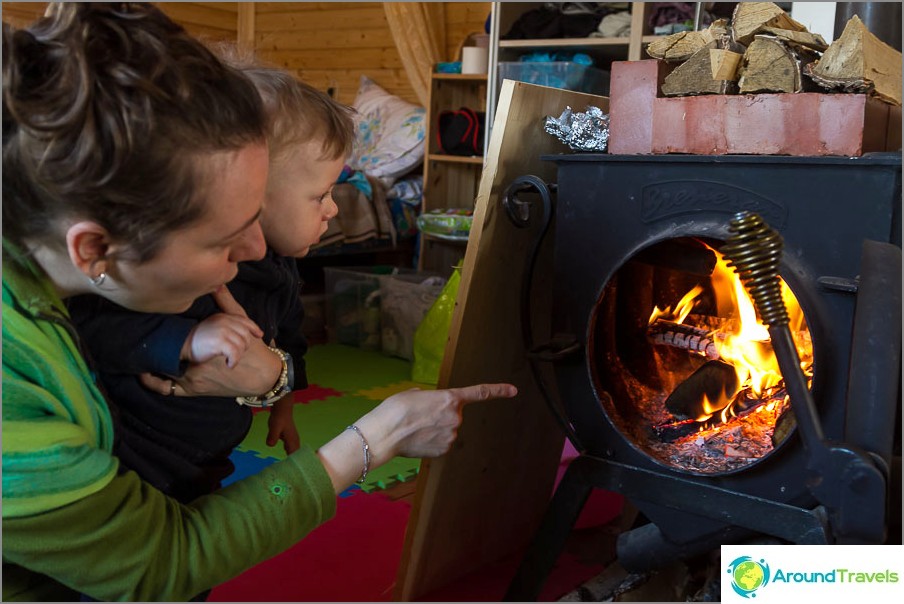 By the way, I never thought it was so importantso that inside the living space should be a lot of natural light. In conjunction with the sun's rays, it gives just some kind of burst of mood! If we continue to live in South Butovo (the best district, yes!), Then we still need to change the apartment to a brighter one, we will immediately get depressed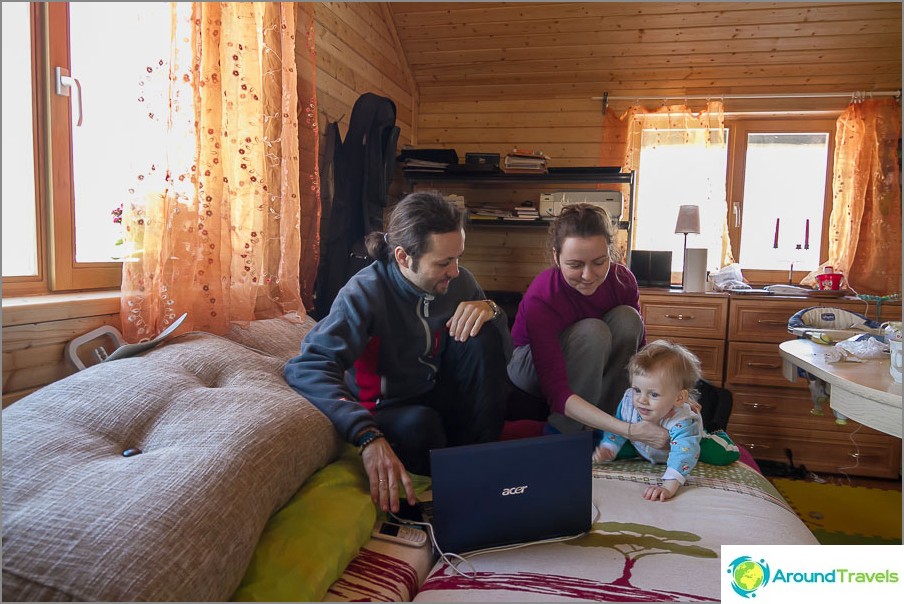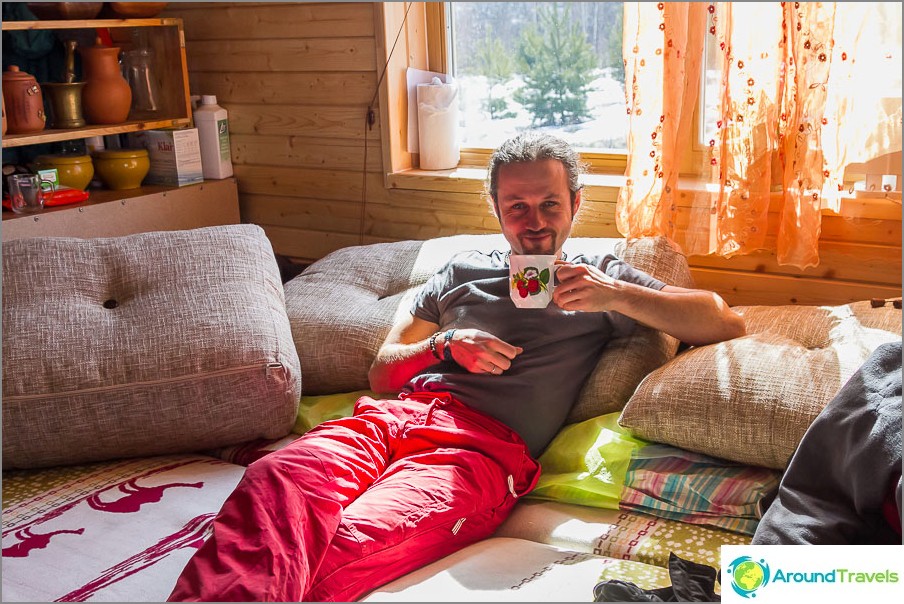 View from the window
When they went to bed the first night, they saw from the window starry sky, it was so unusual! The last time I saw stars in Moscow was a long time ago ... And in the afternoon, in the same window, there was no traffic jam from the buzzing cars, but a field and a forest. You go out into the street, and there the birds sing, the butterflies fly, the trees rustle. We are probably some kind of people turned in nature, but it seems to me that it's so simple, left Moscow for the village, and immediately raised its standard of living. Of course, in some ways there will be a fall, but here it is necessary to weigh the pros and cons, each has his own view of it.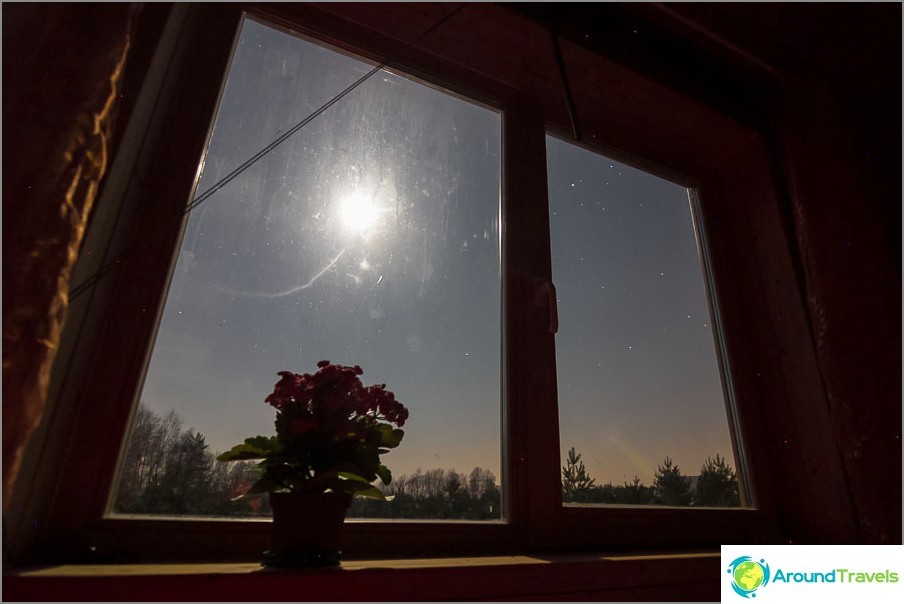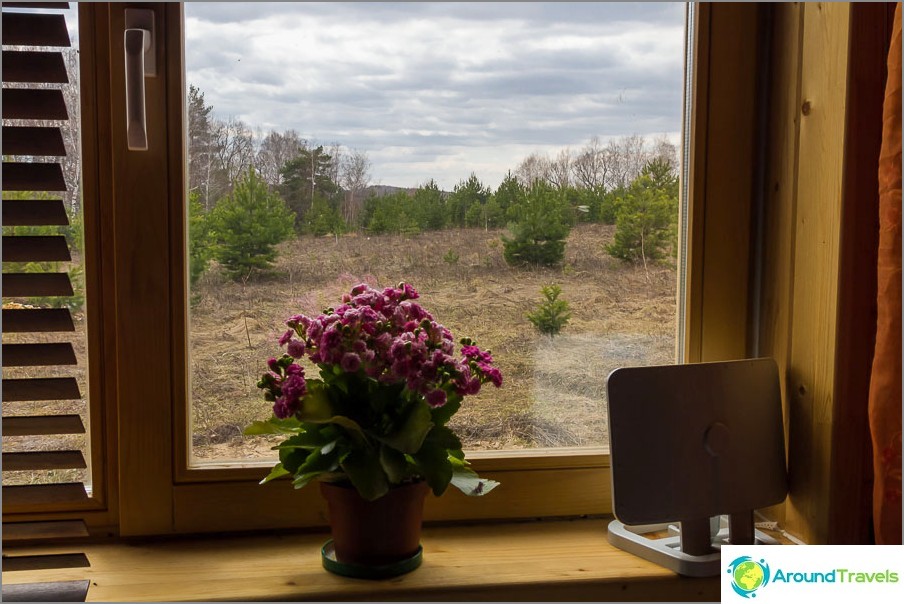 On the issue of changing the apartment, not only should there be light in the dwelling, but a pleasant view from the window is needed! I remember once I laid out views from the window of our apartment.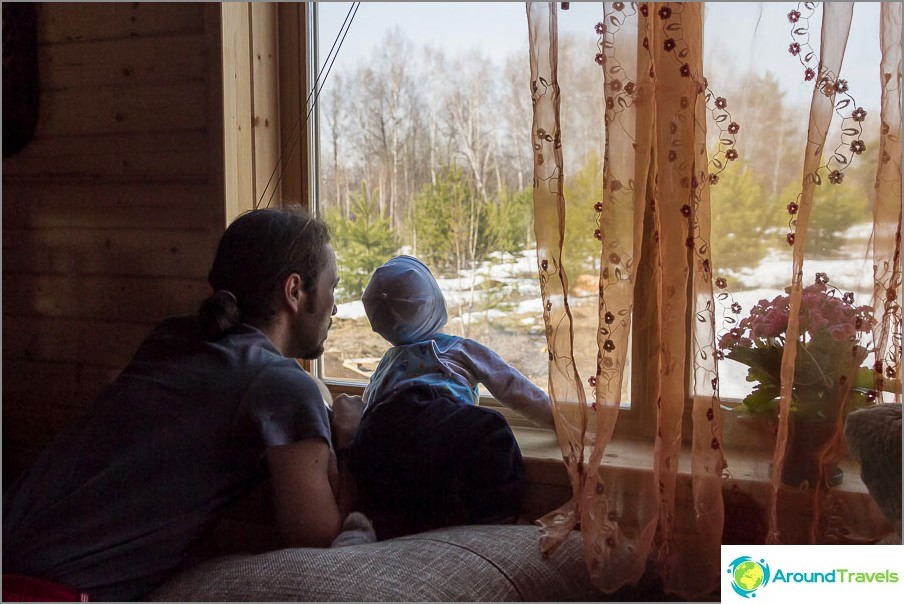 Walks are simplified
Going out has become much easier put ongaloshes, and you are already in the open air, you do not need to change clothes, nor do you need to overcome stairs with elevators. In addition, it is also almost immediately through the threshold that you find yourself in nature, to which we have 15 minutes to cut in Butovo. And if you forgot what you're home, then 5 seconds and you're home again. Kayf! It is so convenient when there is a small child.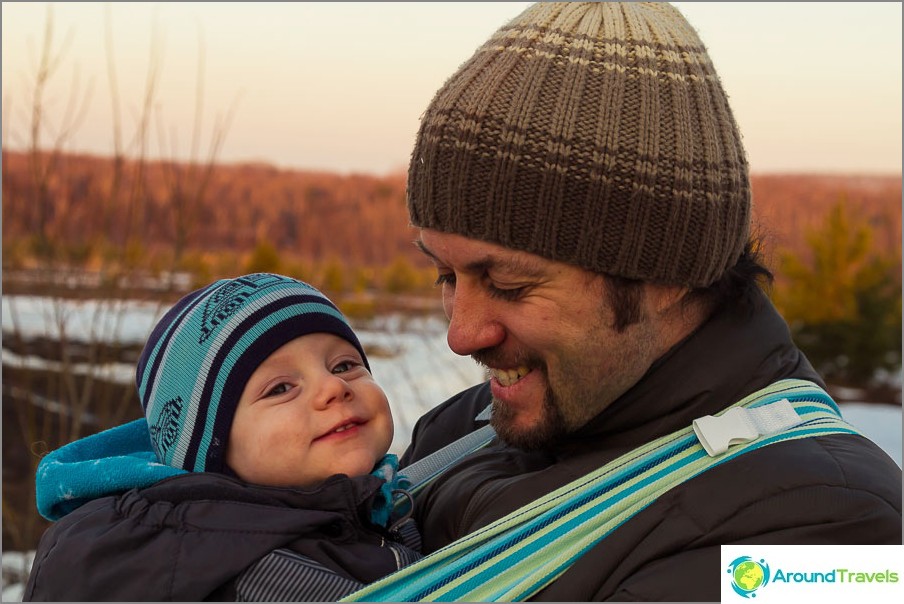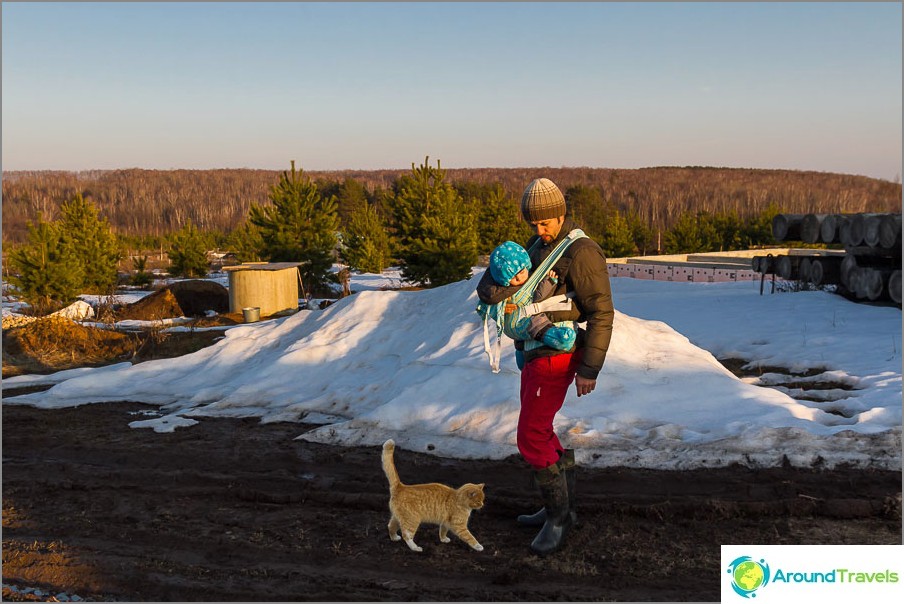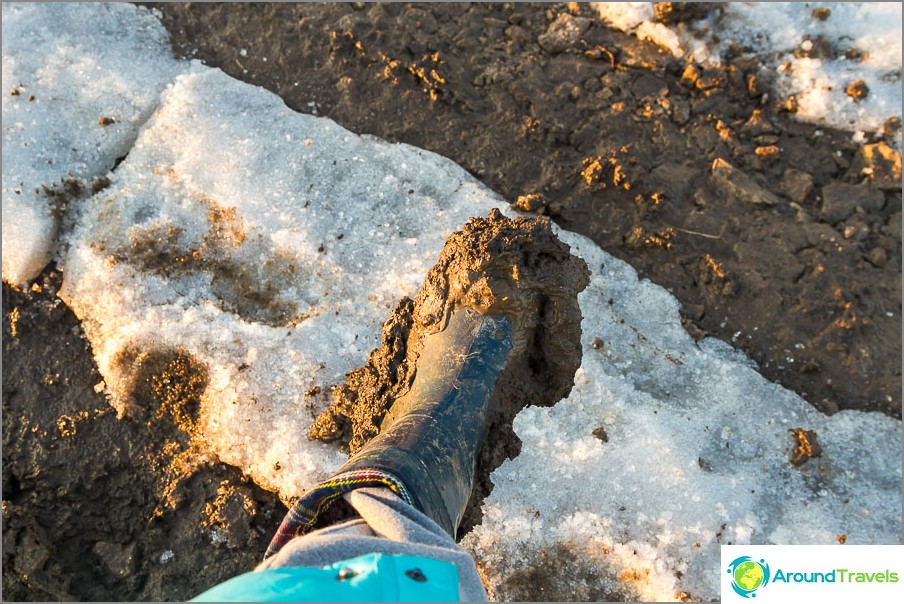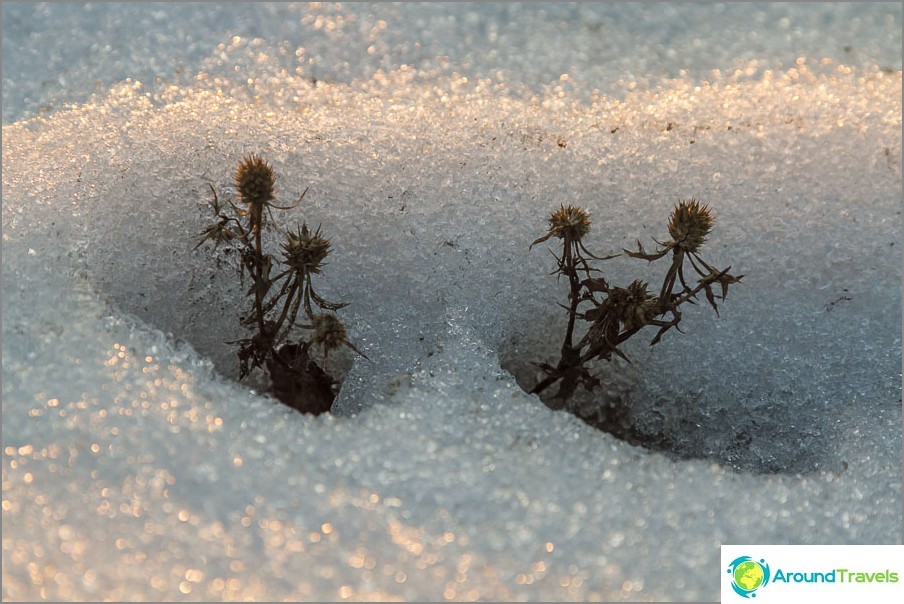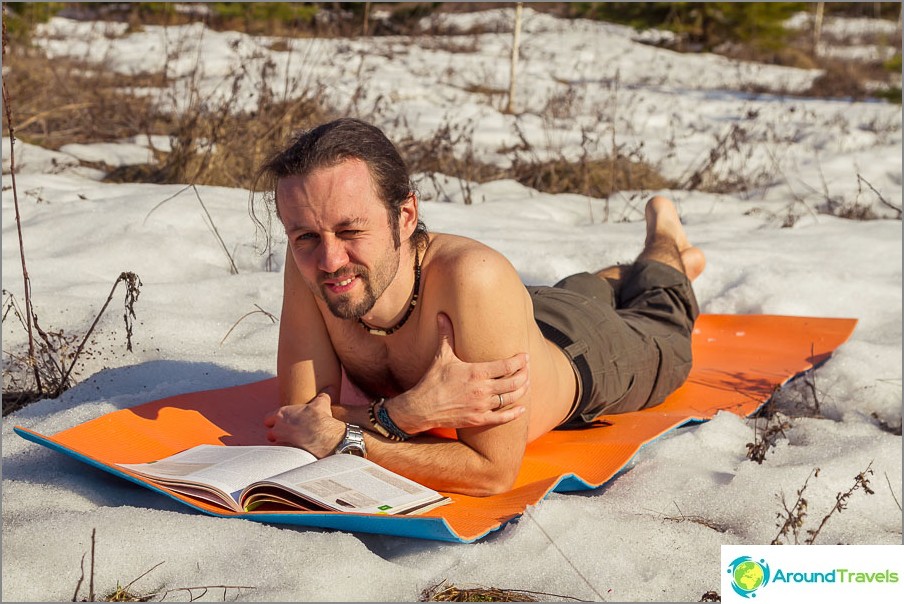 Yes, when we first arrived, there was slush anddirt on the site, especially not walk on it, although you can go to the main road, it is gravel. The snow melted in a week and everything dried out pretty quickly, so I think there is only a couple of months in the year so dirty. Well, no one bothers to pave the path sooner or later. I almost forgot, spring snow turns out to be white, not gray / brown / black.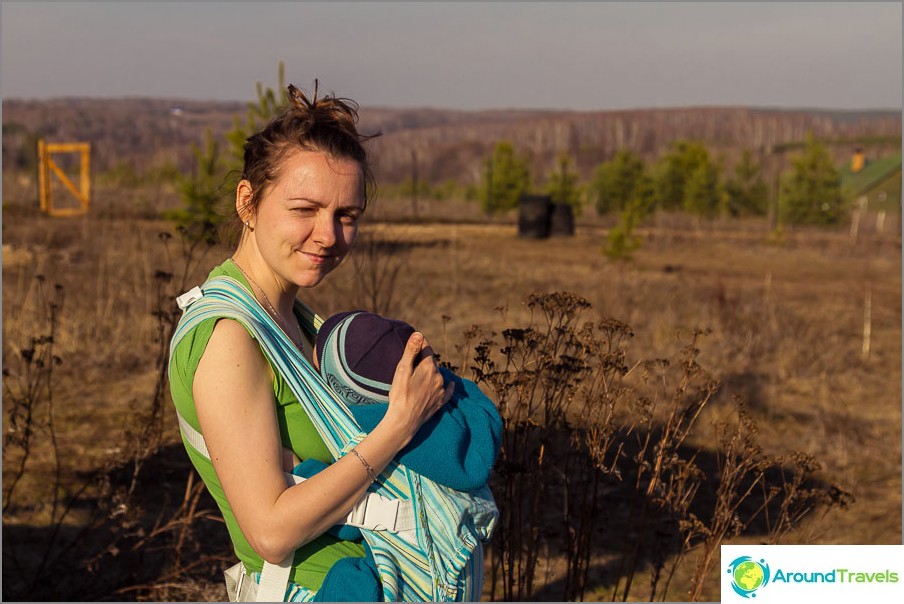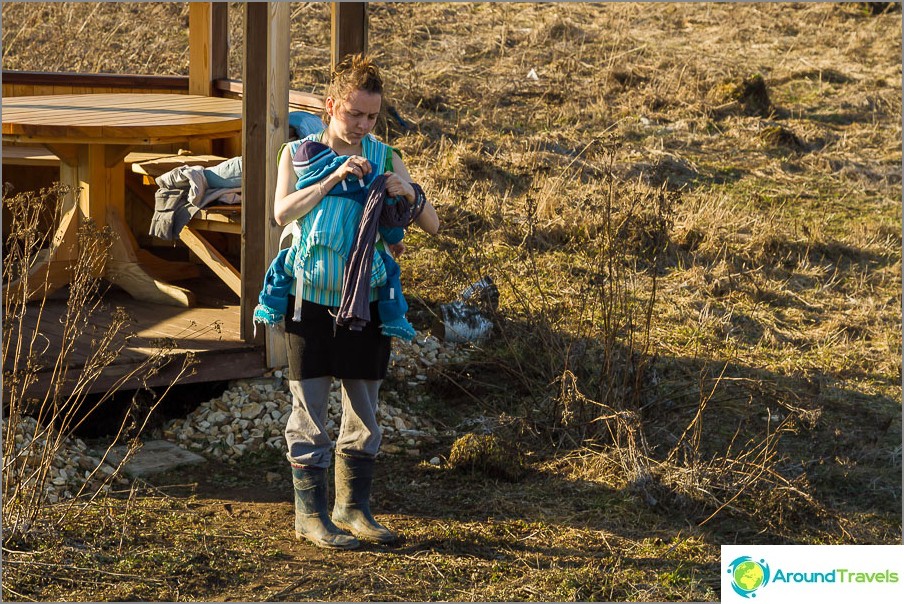 Pure air
Plots in ecosettlement somewhere 1-3 hectares,therefore, cramped, as on the suburban 6 acres is not felt at all. The gaze rests on the forest on the horizon, and the silence is broken only occasionally by the generator of the neighbors somewhere far away and the noise of airplanes in the sky. And the air is so pure that the soul is resting to the fullest. Then I understand all those who are tired of the hustle and bustle. I traveled here to Moscow the other day for things, and even after a whole week of living in the wilderness, the contrast is already felt so strongly: everyone is running somewhere, cars are scurrying in all directions, around signboards and advertising. And what do people feel who have not been in the city for years, what is it like?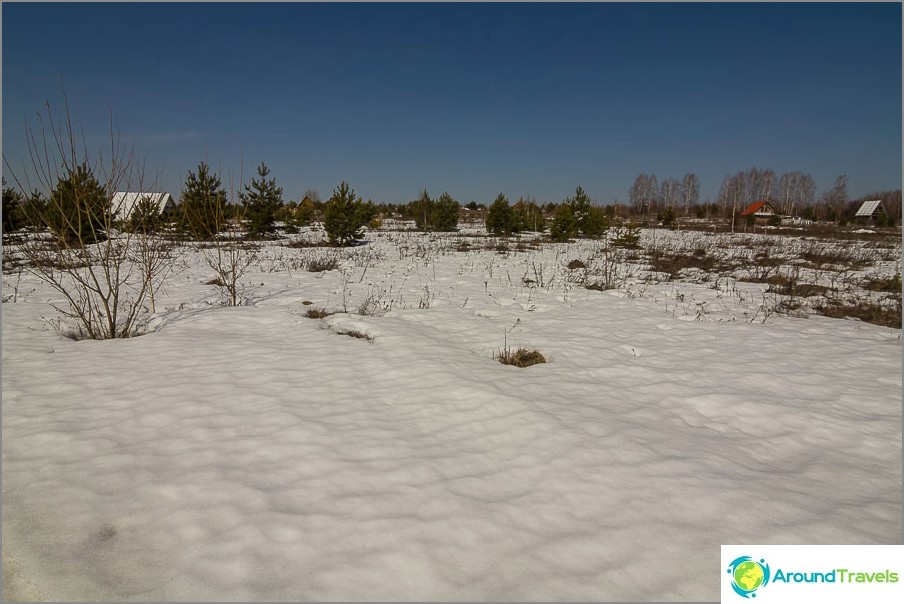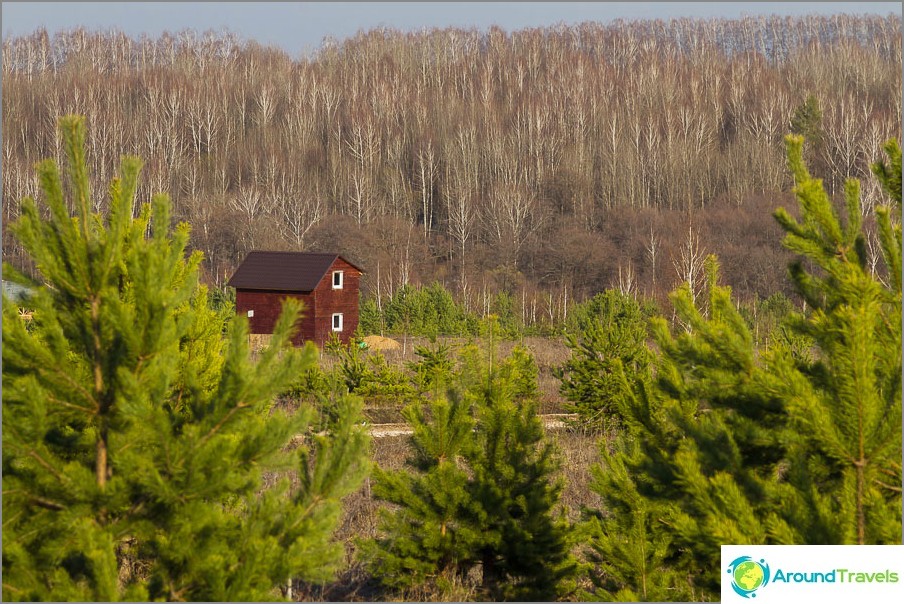 Lack of centralized communications
Honestly, I can't take it as a plus, becausethat only visual aesthetics improves, there are no pillars in the street, there are no gas pipes, as in villages. But a certain positive effect is still there, and it lies in the fact that you see how much water goes, how much garbage you produce, how electricity is spent, and so on. That is, you personally see how much you consume. Therefore, if you are concerned about this topic, then you want it or not, you will think about ecology and saving resources. In principle, a contingent like this is chosen here, they don't come here for comfort, well, or at least they don't put it in the first place.
I also liked the separation of garbage - cardboard andpaper in the stove, organic matter on the beds, plastic back into the city or into the fire. I was surprised that with such a scenario, the choice of garbage bags was 2-3 times less.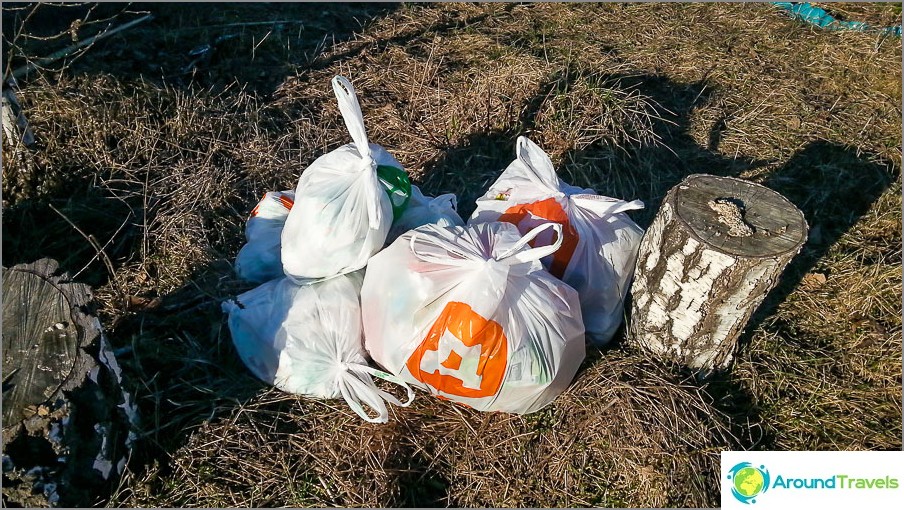 Own food
Most moved to eco-settlements in orderto grow your own food. It's no secret that in ordinary supermarkets in Moscow it is almost impossible to buy normal vegetables and fruits, as well as dairy products. Some of our friends buy such food from farmers or on special bio sites. Prices are exorbitant, but probably worth it. And as an alternative - your plot, your garden, your farm.
From my summer resident and no farmer, but I love to eat. Now we are buying milk, cottage cheese, eggs from people who live nearby, that is, proven and entangled on eco (What is the difference between ecovillage and ordinary village?). The prices are sane, much cheaper than any "bio", it is not known from whom. True meat will not wait, most vegetarians.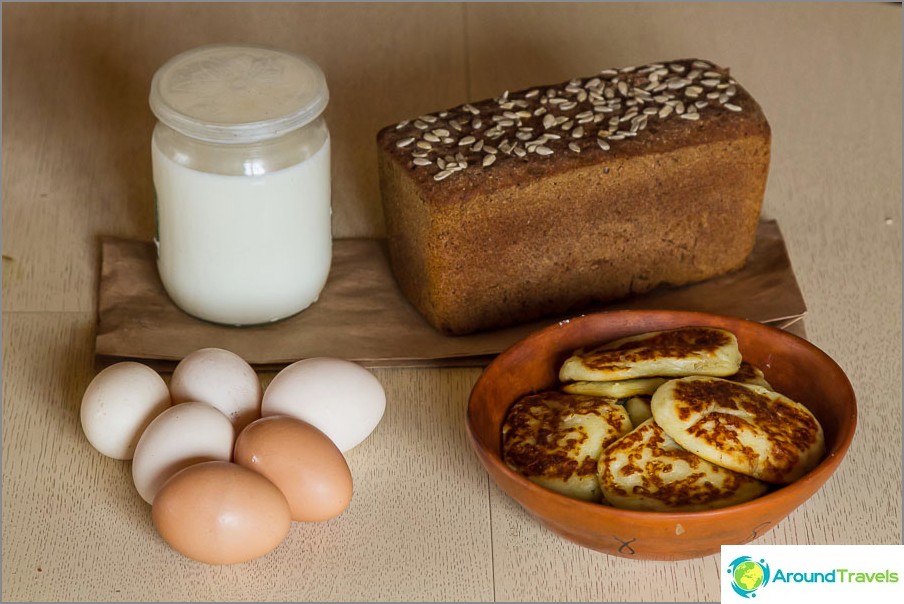 More recently, someone wrote to me that live in the villageit cannot because of the smell of cattle, and so in settlements it hardly ever will be, because usually only a few families keep the animals, and the plots, as I said are large, the smell will not come at all.
findings
The conclusion is simple - we liked it.
Yes, here the house was completely not sharpened bya little falling boy who likes to touch everything and climb everywhere, but we still like to live here. Now I try to make a list of things that makes life easier for parents, that is, for us to clearly understand what exactly we did in our apartment for convenience, so that later it could be recreated anywhere. Of course, for now, in our case, puzzle floor mats play a big role, but you have to understand what else. And, by the way, it would be great to come up with some kind of mobile design so that all the interesting things below can be closed quickly and efficiently.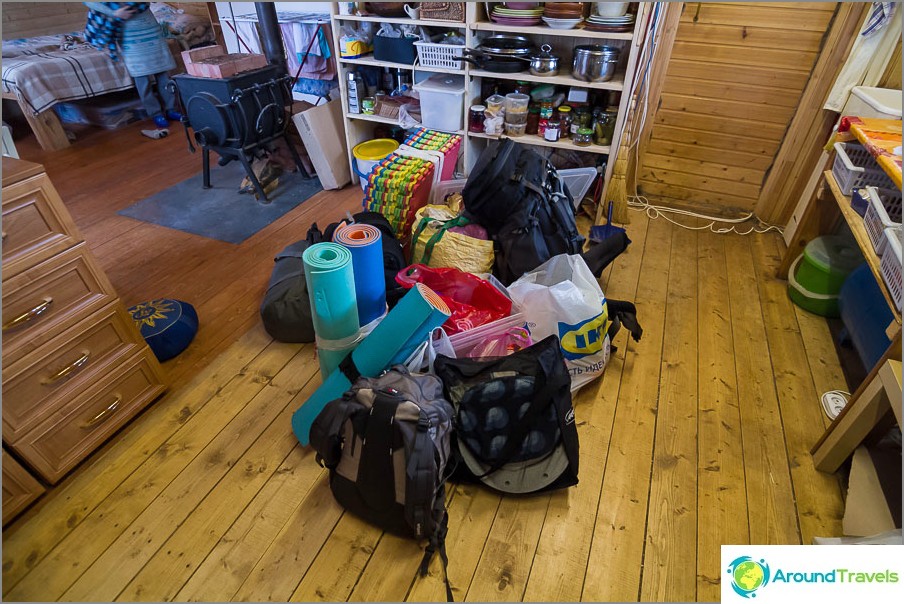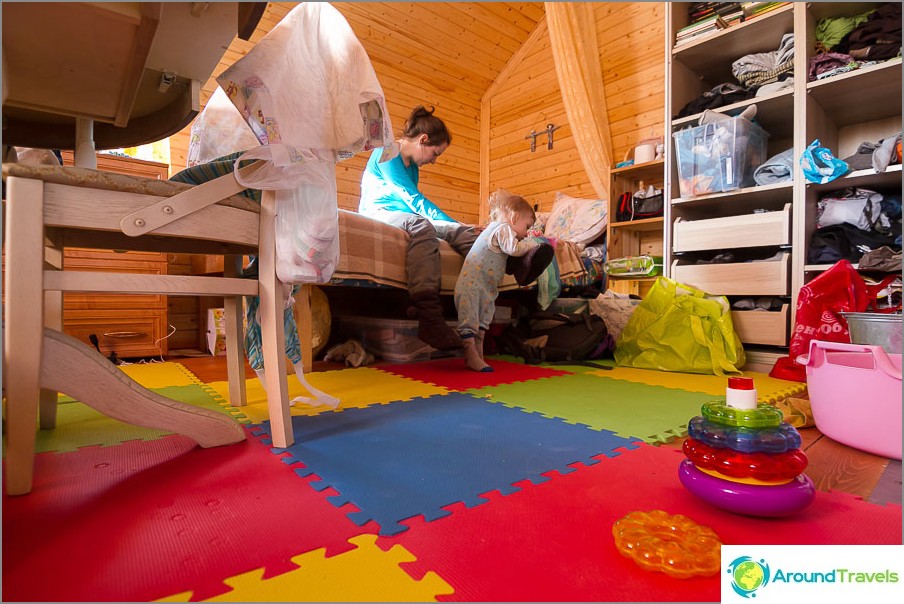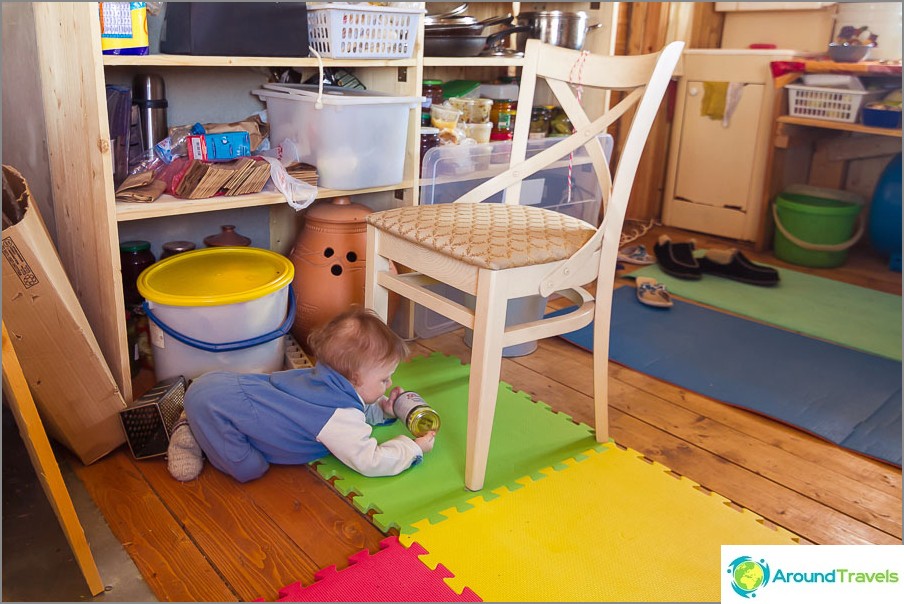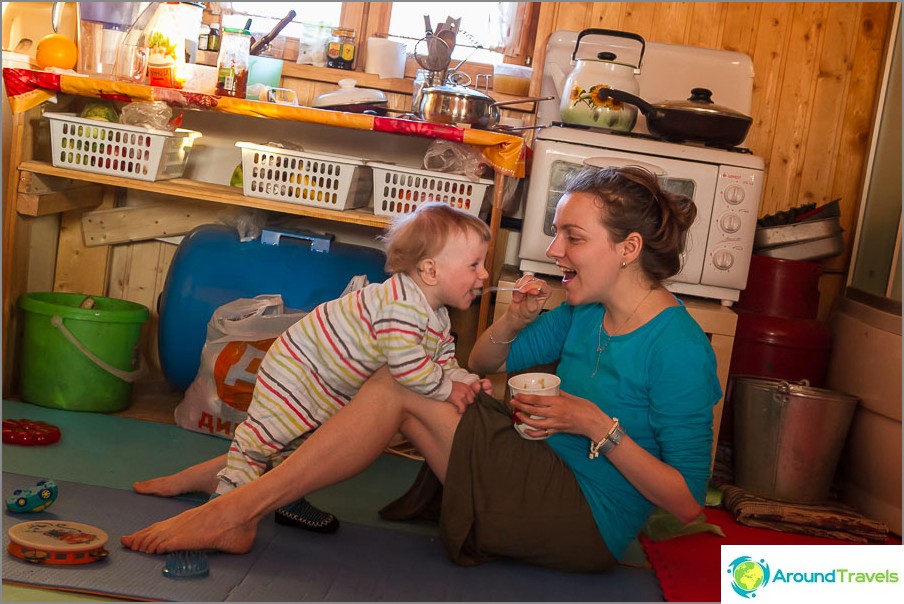 P.S. In the next article read about the specific living conditions in the house... No centralized communications, continuous alternative energy.
Life hacking 1 - how to buy a good insurance

Choosing insurance is now unrealistically difficult, so to help all travelers, I compile a rating. To do this, I constantly monitor forums, study insurance contracts and use insurance by myself.

Life hacking 2 - how to find a hotel 20% cheaper

First, choose a hotel on Booking. They have a good offer base, but the prices are NOT the best! The same hotel can often be found 20% cheaper in other systems through the RoomGuru service.

Discount hotels