Having run several times with conventional wiredheadphones, it immediately became clear to me that this is not my option. And I started looking for not only wireless (Bluetooth), but also sports headphones right away. As a result, they became iSport SuperSlim from Monster. So catch my review.
Those who read me on social networks and inInstagram, know that I started running six months ago. Honestly, I do it not regularly, but for me it is a great feat that I started and continued to run even in winter. True, part of the winter I ran in Thailand, but still. Since I don't really like to run, I needed some kind of distraction. The ideal option was listening to music or audiobooks. Actually, that's why I was puzzled by the search for headphones. Moreover, the headphones will be useful in traveling too.
The content of the article
Running in travel
First of all, I would like to say once again aboutrunning. Someone will say what for to run, if you don't like it. But I tried different physical activities and in fact I am not a fan of anything. But you need to keep yourself somehow in shape, considering that I have been sitting at the computer all day, because running was chosen. So let's say, it's easier for them to make themselves busy. So much so that sometimes even like it.
And when traveling or at various moves -This is generally a very handy thing. For running, essentially nothing is needed: neither equipment (dumbbells, horizontal bars), nor a special place (such as a gym), nor a mat, nor a company (as with sports games). Need only desire. It is clear that it is more pleasant to run along the sea, on a separate treadmill, in running shoes, with sports headphones, but you can do without it. In any case, it is not difficult to take sneakers with headphones, they will not take up much space in a suitcase. That is, even when traveling, it is difficult to think up excuses for yourself, they say, I don't know where the gym is, or there are no suitable conditions.
Why running requires wireless sports headphones
Having run wireless headphones for almost half a year,I can say that I do not want back to the wire. Moreover, not only during the run, but in general. I do not know how the others, but the wires are constantly confused and interfere, it is not convenient the same. Therefore, now only without wires! By the way, you probably know that Apple has got rid of the headphone jacks in the latest iPhones. So, this is a hint of intelligence, there is simply no point in wired devices.
The only plus to wired headphones isthat they do not need to be charged and they can not be discharged at the most inopportune moment. But on the other hand, I have already got used to constantly charging various gadgets, so I personally do not soar. Simultaneously with the phone and charge the headphones, no matter after all, put on charging 1 or 2 devices. And in fact, if you forget to charge the phone, you will not use the headphones anyway, since I listen to music from the phone, and not from a separate player. Do not forget about the power banks, which have already become an indispensable attribute of not only the traveler, but also the ordinary person on the way to work.
I also realized that you need to run exactly insports headphones. Firstly, they do not fall out of the ears under any shakes of the head, and, secondly, they have some kind of waterproofing. I'm lucky, I also have a waterproof phone, so if it starts to rain, then I'm not afraid of it.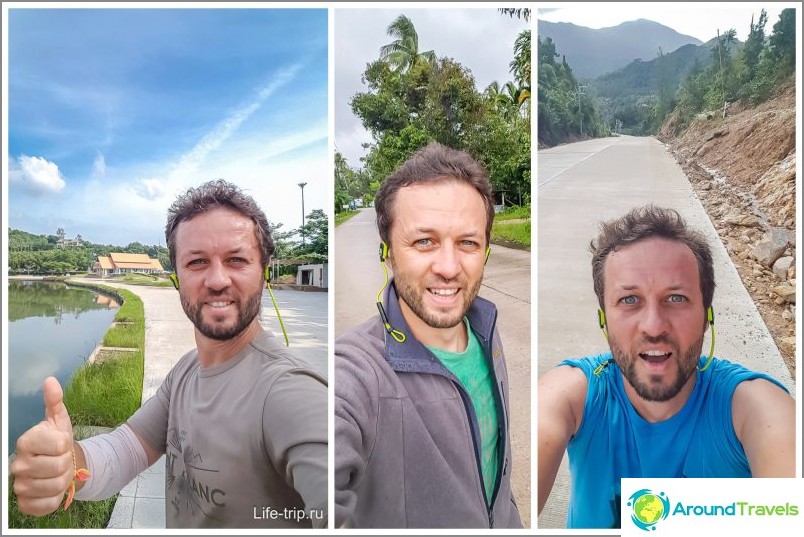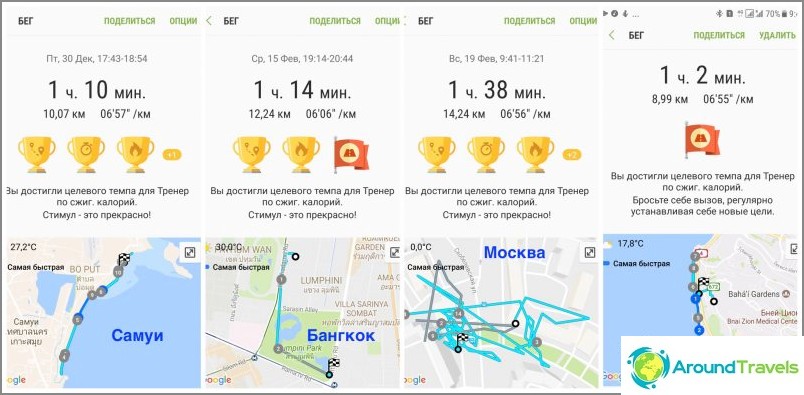 My review of Monster iSport SuperSlim headphones
Despite the fact that the headphones made me completelythey are satisfied and I personally have nothing to complain about (except perhaps the hard wire), but they cannot reach the best wireless headphones - the price tag is bullied. Moreover, in the States they can be taken 1.5 times cheaper. On average, such headsets in Russia cost about 5,000 rubles, in theory, somewhere around this amount the price tag should fluctuate. By the way, there is a model iSport Achieve Wireless for 3500 rubles, another thing entirely, but I can't say anything about them, I haven't seen it live, but judging by the descriptions they have a worse sound and they fit more tightly in the ear. The analogue of my model is rather the new model iSport Victory, the same sound, much easier packaging, 8 hours of work, the price is less.
However, the choice of sports headphones in principleis small. Apparently a narrow niche, so there are not so many alternatives. I do not compare it with all wireless headphones, but only with sports ones, and where there is water protection and a microphone. You can see for yourself, the models are just nothing. Although Yandex.Market will give out a sufficient number of options, but upon closer examination it turns out that it doesn't smell "sporty", some are too bulky (we need compact and light ones), some will fly out of the ears at the first kilometer (we're looking for active sports). ). Nevertheless, there are alternatives, and cheaper ones. But I cannot recommend specific models, there is no personal experience. Before that, I had only wired sports headphones, but it is not correct to compare them with them, we need them without wires.
Specifications
Range: stated 15 meters and somewhere it is.
Charging time: 1.5 hours.
Hours: 5 hours stated, in real life, work 3-4 hours.
Price: ~ 10500 rubles (on Y.Market from 8900 rubles).
Description on the site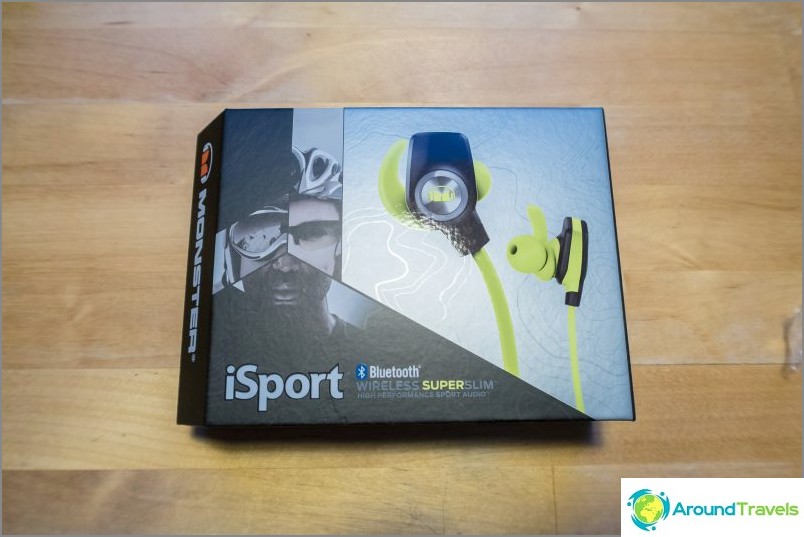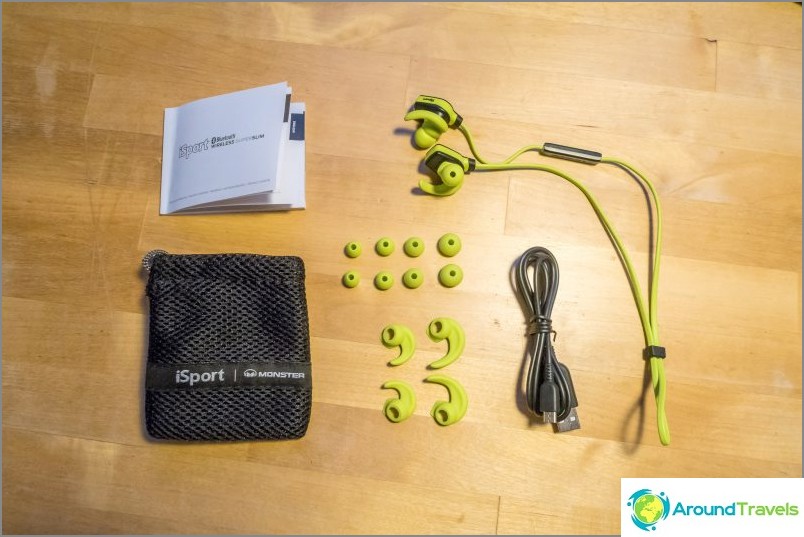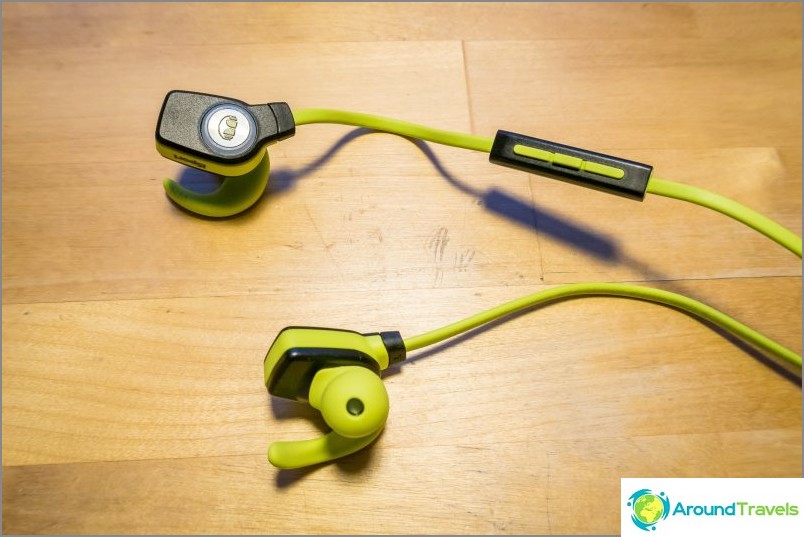 By the way, I tried to headphones not only run,but also practiced in the gym, rode a bike in Thailand, tried to specifically shake his head. I do not know what needs to be done so that they fly out of the ears. After my usual Sennheiser plugs, at best you can only walk, you can relax with iSport SuperSlim in this regard. And I also wanted to add that, although they are larger in size than usual ones, they look pretty organic. Although they are not very suitable for the cap, they stick out to the sides, since all the stuffing is in the headphones themselves, and not separately (for example, on the neck).
On charging, in principle, everything has already been written above - 3.5hours is not enough, I would like more. If you are used to listening to music all day, but it will not work. But I hardly ever play sports for so long, I mostly just run around in them, I watch movies on the plane and talk on Skype. As a result, I charge no more than once a week. Charging takes place through the usual micro-usb connector built into one of the headphones, that is, any charging for the phone and any power bank is suitable.
Sound insulation is good. Perhaps even too much for sports headphones. Therefore, for pokatushek on a bike fit with tension. I know that many rally lovers prefer overhead headphones in general to hear everything that is happening around them. But for the subway completely.
One of the important parameters for Bluetooth headphones- whether there is interference and how far you can move away from the phone. Believe it or not, but for half a year of use I have never encountered interference, naturally, if I was near the phone. And you can go quite far, 10-15 meters in direct line of sight without any problems hold, if closer, it also breaks through 1-2 concrete walls. That is, within the apartment they can be used quietly.
Well, the last, sound. For me, it's pretty pleasant, there are soft bass, the detail is present. But I mostly listen to electronic music, so I can't say if they are suitable for classical or some jazz.
Video review
Life hacking 1 - how to buy a good insurance

Choosing insurance is now unrealistically difficult, so to help all travelers, I compile a rating. To do this, I constantly monitor forums, study insurance contracts and use insurance by myself.

Life hacking 2 - how to find a hotel 20% cheaper

First, choose a hotel on Booking. They have a good offer base, but the prices are NOT the best! The same hotel can often be found 20% cheaper in other systems through the RoomGuru service.

Discount hotels