With a certain frequency I get questions aboutwhether there is work in Thailand and how to find it. Moreover, they also ask those who want to just earn a little money, having funds, and those who go there without any money, so to say, all-in. Therefore, I decided to answer these questions with a separate small article in order to simply provide a link in the future, otherwise you get tired of answering each time.
Immediately I say, it will not be a direct instruction on how and where to find work in Tae, I will not take away the handle
This will be my opinion on this issue and basic information, both for reflection and for the direction of further actions.
The content of the article
Foreword
First, I'm not going to portray here.advanced expat and grumble about how people reach that life by downshifters, and that Thai laws are being violated. Secondly, I will not talk about how easy it is to find a job, and that they don't have to listen to anyone, go and look.
That is, I do not want to take any of the partiesbecause I think this is wrong. It is generally strange for me to listen to these two sides. Some of them are all such righteous, Thai laws do not violate, although the business itself is built according to a gray scheme (and they probably started in black), and even in the Russian Federation, more than once they broke the law. The second - dolt, telling everyone how easy it is to make money here and neglecting the laws in principle.
So I will not judge "correctness" and notI will give advice. Anything in life happens, not for us to judge. Everyone has his own head on his shoulders, and I am convinced that if a person does something, he understands why he does it, and, accordingly, accepts responsibility for his actions.
Work in Thailand
Work is illegal
This is the most important thing to know! All those who seek to find vacancies for a tourist guide, waiter, diving instructor, photographer, cook, etc., will work in 99% of cases illegally. there is List of prohibited professions in Thailand, and there are almost all the professions that are heresuggest to engage foreigners. So the authorities protect the interests of their citizens and jobs. IMHO, they are doing the right thing, it would not hurt us in Russia either, at least partially. In general, you can own a restaurant, but you cannot be a cook. You can not be a tourist guide, but you can be a "translator" with him. Something like this.
However, illegally working and living just by tourist visas it's taller here, especially in season. Look at the various offers on the Internet, which is just not there. But most of all photographers, it seems to me. What is the percentage of caught and planted, I do not know, was not interested. Yes, yes, they plant for it (3 years). Well, if you have nothing to buy off. This is also possible, as the country is corrupt. The amount of the fee will depend on the presence of connections among Thais and the suspension of your language. But it seems to amount to tens or even hundreds of thousands of baht. Again, I will not say for sure, such data is not advertised on the network too much.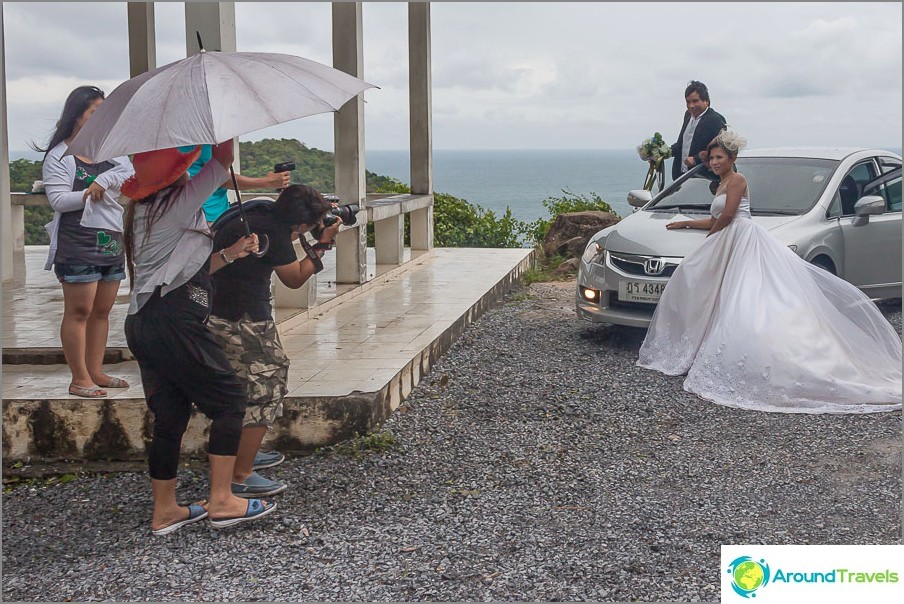 So is it worth working without a work permitor not? To decide only you. Many work and do not know the problems, and some come across. Personally, I'm not very close to breaking the law, so I don't seek to expand my activities from the Internet to Thai offline. I even finally decided in Russia register SPso as not to break the law there. Just do not think, I do not build myself as a saint, I sometimes break road rules, and I also drove a group to Tai illegally (although I no longer feel like it).
Official job in Thailand
If you have a decent work experience, knowledgeEnglish and other skills, you can try to find here and legal work with work permit (work permit). The fact is that good specialists are in demand almost everywhere, in any country. Here, both programmers are officially organized, and teachers in language schools, I know these. Naturally, we are talking about permitted professions, and not about professions from the list, the link to which I gave above. By the way, it is precisely the vacancy in a language school that, it seems to me, is most likely to be found. But in general, I do not observe straight mass official employment. Mostly people work legally, or with large tour operators as guides (all other guides are illegal), or in small real estate firms with acquaintances.
Most of the long-lived expats aredirectly by the owners of their business. But you cannot own the company alone, yours is only 49%, the rest should belong to the 2nd Thais. Therefore, usually make out a business through proven law firms that write down these percentages on the "dead souls" with the rejection of any claims in your direction. Of course, most often they are engaged in something related to tourism, for what else to do. And then the entrance goes and illegal moments, the type of employment of their own compatriots without work permite. It is better to search for business details not in forums, but in real life, and it must be understood that business in Tae is not always profitable.
How to look for a job in Thailand
Before you go to Tai work trylearn more about it, but rather take a trip to the country, but look at it. It would not hurt to learn first-hand information from expats, but only from those who worked there. Especially, it concerns illegal immigrants, there are different nuances, for example, where it is better not to appear, being an illegal guide or photographer, how to behave, etc.
Work is sought in three ways: sending summaries, through friends and contacts, direct searches and communication on the spot (just go and ask). Any of the methods implies your presence in the country, because there is no point in doing this from Russia.
There is a moment that is definitely worth it.know. A company may be ready to hire you illegally, promising to otmazma in case of anything, but really will merge you if you have problems. The fact is that there are many who want it, one will leave, another will come, and officially it is not very profitable to officially employ someone from a financial point of view. It will not always be right that way, but you need to remember this. So the connection is your everything! Come, talk, make friendship, both with local, so with Russian and foreigners. It may be that you agree on a friendship to work in some small company with a further execution of the work permit, show yourself and get a work permit. I know that some firms have shifted the financial burden of registering permit to the employee's shoulders, and this may be an option, it's better to pay yourself, but to work officially without fear. Just do not forget about caution, you should not be led to fabulous speeches ...
Yes, I almost forgot. They can still squeal on you, if you pass someone on to the road.
What salary to claim?
If you are not some advanced specialist,as in Russia, you can not count on a large salary. Moreover, there is competition here (people donate money here to earn money) and generally low wages. I think about 15-20 thousand baht for illegal, and maybe a little more for the official one. In this case, you still have to plow. Not the golden mountains, right?
With photographers and private guides who themselvesimagine the situation is different. In fact, they themselves charge for their services. For example, almost all photographers in Tae have Moscow rates, so there are so many of them here. I bought a DSLR and ticket to thailandand you're already a cool photographer in Thailand
Remote work is in any country
Who do the remote workers work?
A significant proportion of visitors to Thailand orhibernating here, works inconspicuously for the Thai authorities: website development and programming, photo stocks, blogging and copywriting, development of their websites and online stores, traffic arbitrage, SMM, forex and stock exchanges, sale of Thai goods or handmade goods to other countries, remote engineering projects with drawings and calculations. Here you can transfer for a long time, but it all comes down mainly to either freelancing or making money on the Internet. All my friends earn this way. Alternatively, you can still rent an apartment, if it is.
All of the above activities cansafe to engage in any country and not violate anyone's legislation. Because there is no way to check what you are doing, and your activity with Thailand is in no way connected. In fact, only a slippery tax issue remains, which can be solved, but you can leave it hanging, because you don't really check it out either.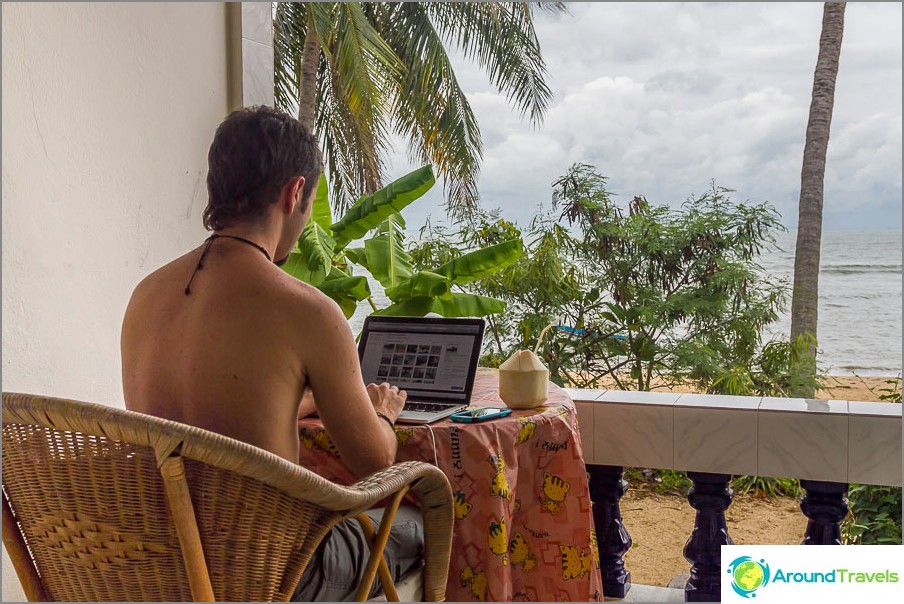 Yes u freelance there are pros and consbut I advocated such an activity andI continue to ratovat. This gives a much greater stability than to come and work the season as an illegal Thai guide with incomprehensible perspectives. Freelance with udalenkoy stay with you and on his return to Russia. But, here it's a hoyazin sir, who likes what.
Where to begin
As you may have guessed, I myself am a blogger andI earn on the sites the past few years. This is not a freebie, as it seems to some, no. When you make a business from a website and traveling, you have to work more than in the office. Moreover, it is necessary not only to write articles, engage in promotion, but also to organize the process itself, which includes planning, analytics, employee management, and so on. Many nuances, I will not stop. In any case, I like much more what I am doing now than my previous engineering work. I like the format of work, I like the opportunity to spend the winter sometimes in Thailand, I like the prospects (I earn more than in the office). I even wrote a post about how to become a bloggerBut there are the basics, the very beginning. Yes, and yet to be the site owner or, in other words, the publisher is an amateur.
Therefore, I would start by tryingunderstand which activity is closer to you. Naturally, we are talking about freelancing, remote work and earnings on the Internet. This is the safest thing to do in Thailand, and indeed in any country. And most importantly, that you are not tied to a particular workplace, you can move to other countries, or go back to Russia.
P.S. There is only a general info about working in Thailand, so your own bumps will have to fill in on their own. But the main thing is to do something, to try, otherwise you will know yourself under a rolling stone ...
Life hacking 1 - how to buy a good insurance

Choosing insurance is now unrealistically difficult, so to help all travelers, I compile a rating. To do this, I constantly monitor forums, study insurance contracts and use insurance by myself.

Life hacking 2 - how to find a hotel 20% cheaper

First, choose a hotel on Booking. They have a good offer base, but the prices are NOT the best! The same hotel can often be found 20% cheaper in other systems through the RoomGuru service.

Discount hotels